Looking for clean keto-approved Christmas recipes? Look no further! Here are the best clean keto Christmas recipes that you can find online.
From appetizers to desserts, these recipes are so easy to make. You'll enjoy Christmas Eve stress-free!
CLEAN KETO CHRISTMAS APPETIZERS
If you want to take boiled eggs to the next level, you have to try this Soy Sauce Egg recipe. They are so easy to make, and the result is a salty, savory flavor bomb.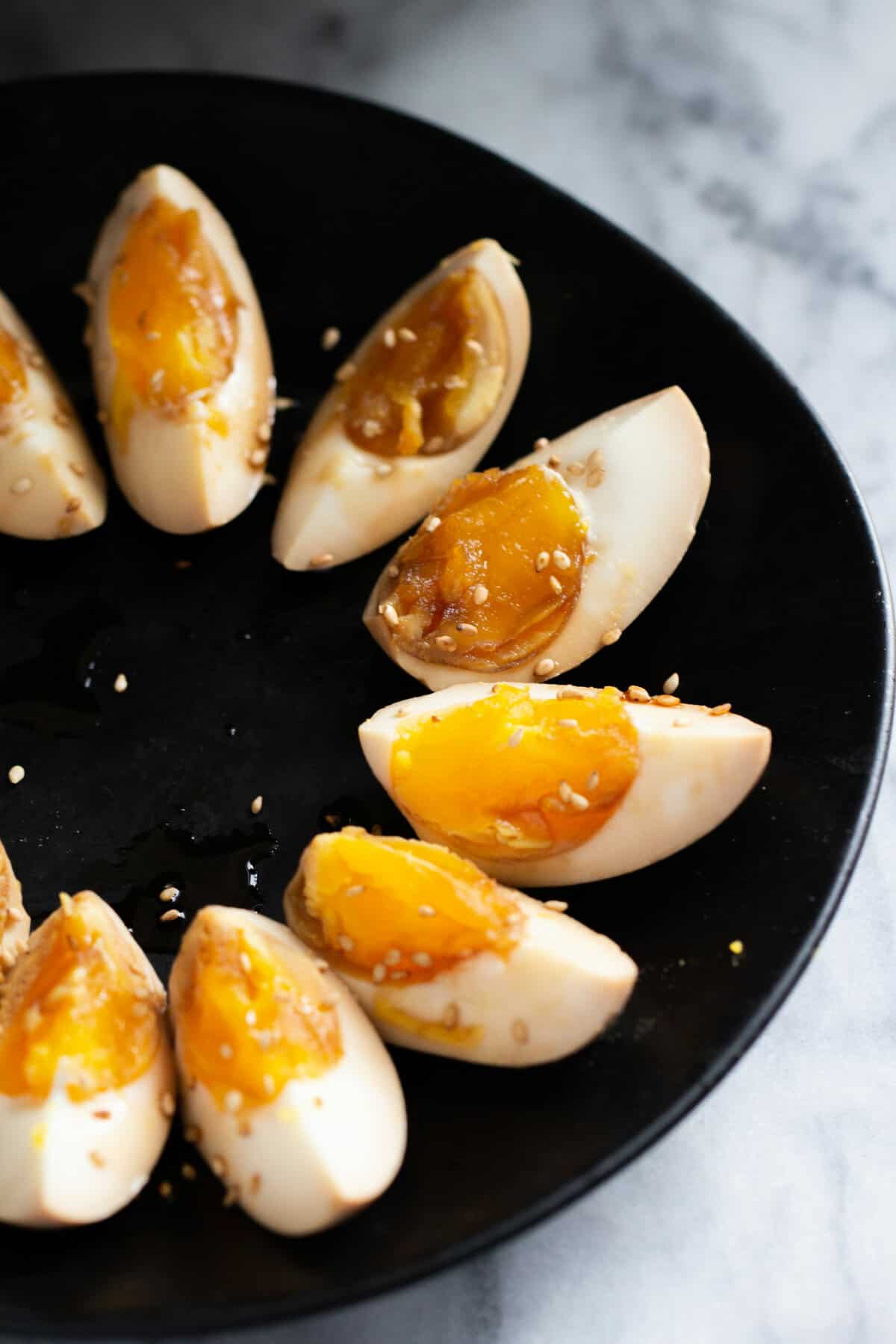 This keto bacon-wrapped asparagus bundle with maple glaze will win over even non-asparagus lovers!
These Keto Spicy Deviled Eggs with bacon are so delicious, they will be a hit at your next party.
These easy buffalo cauliflower bites are spicy, tender, and flavorful. These are one of the best ways to classic buffalo flavor — all while sneaking in a veggie and without deep frying.
This dairy-free buffalo chicken dip is Clean Keto approved and the perfect appetizer for any party, really.
CLEAN KETO CHRISTMAS MAIN DISHES
Smoked Pork Crown Roast. A beautiful and flavorful roast that is sure to steal the show.
This Red Wine Braised Brisket recipe is special because it's our family's Christmas Eve Tradition and we look forward to it every year!
These Coconut Milk Roasted Short Ribs are so tender and flavorful, they will be worth the cooking time, I promise!
Serve this Bacon-wrapped meatloaf with a side of cauliflower mash (topped with butter, of course) for the ultimate low-carb comfort meal.
Bring ham back to your table with this amazing glazed homemade keto ham recipe! You only need four ingredients to make this delicious tangy glaze for your keto ham!
CLEAN KETO CHRISTMAS SIDE DISHES
This low-carb pecan stuffing uses Keto Cornbread, apples, and pecans to make a perfect dressing for your roast.
This is a great recipe to use for entertaining. Your guests won't even know they aren't eating potatoes because these are so light and fluffy.
This Keto Gravy uses turkey necks and soy sauce which packs an umami flavor to your mashed Cauliflower or Roast.
Try this Keto Asian Butternut Squash recipe. It's full of Asian flavors and a bit of spice goes well with the sweetness of the squash.
This easy green bean almondine recipe is buttery, garlicky, lemony, and packed with crunchy almonds! Just 6 ingredients and 10 minutes to make.
CLEAN KETO CHRISTMAS DESSERTS
These keto snowball cookies taste so similar to the original ones we used to have over the festive season.
Combine a crispy, crunchy cookie with a chewy, rich, chocolate brownie and you get delicious keto brownie cookies.
The best keto gingerbread cookie recipe to make your holidays merry and bright. These low-carb sugar-free gingerbread cookies have just 1.4 net carbs each!
Delicious spiced keto pumpkin cookies will warm your heart and tummy with pumpkin spice and rich sugar-free chocolate. A fabulous low-carb, gluten-free cookie perfect for fall or any Christmas treat table.
Love chocolate and peanut butter? Then these No-Bake Chocolate Peanut Butter Balls will become a favorite!
Looking for a soup recipe that you can make for Christmas? Check out my Clean Keto Butternut Squash Soup. It's so simple but flavorful!
More Keto Recipes to try:
More articles about Keto Diet: