These Keto brownies are fudgy and chewy and OMG I couldn't stop eating them!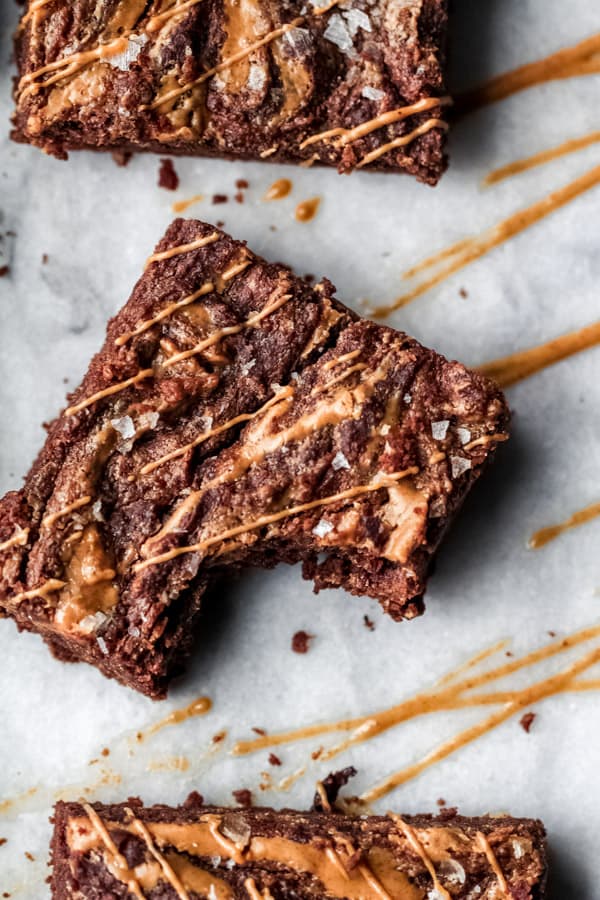 Are you ready for the best Keto brownie recipe ever? You know the saying if you first don't succeed, try again? Well, in this case, I tried four more times.
Yes, that is right; it took me five tries to get this recipe right. I almost gave up too because I was about to restart Clean Keto Reset and couldn't eat any sweeteners, but I thought, what the heck, I'll give it one more shot.
I am so glad I did.
Let me start by telling you how much I love brownies. My love for brownies began back in my teens, with boxed brownies, of course. I would make them any chance I get. Rainy day? Brownies. Bad breakup? Brownies. Sweet tooth? Brownies. Brownies were the answer to all my life's questions.
Anytime I would go out to a restaurant and see brownies on the dessert menu, I was done. Yes, please!!! I could not pass up the chewy, fudgy, chocolaty dessert.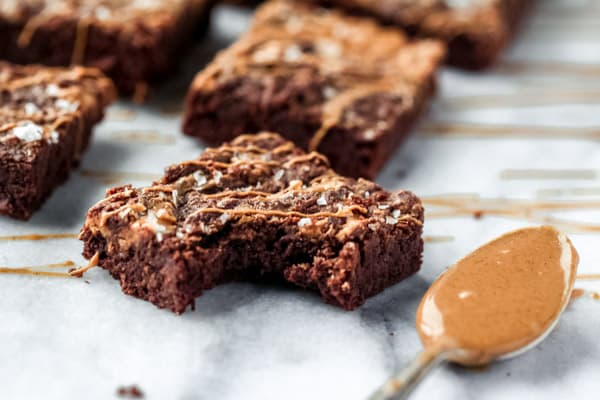 With that being said, I stopped eating my weight in brownies a few years ago when I started this Keto journey, and although I feel much better about this lifestyle, something was missing in my life…BROWNIES.
Let me tell you; I have tried LOTS of Keto brownie recipes. I started making them years ago. I tried paleo brownies, gluten-free brownies, and my fair share of Keto brownie recipes.
They all sucked. They tasted like cocoa-flavored cardboard.
But in all seriousness, they were all pretty bad, so I gave up on Keto brownies. I figured brownies were the one thing that can't be "Certified".
Well, a few weeks ago I woke up with a burning desire to make brownies. I was on a mission. I researched the best brownie recipes and tried to make them Keto.
The first batch was good. However, they were "too cakey." The second batch was less cakey but too cocoa-tasting. For the third batch I used mayo instead of butter, and they were moist but not chewy and fudgy. The fourth was still too cakey and way too dry.
FINALLY, on the fifth try, I got them right.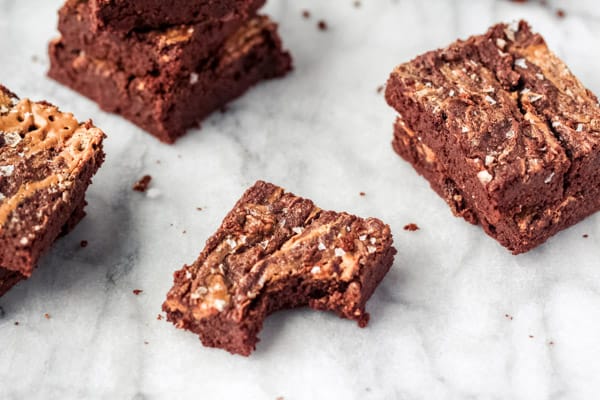 After doing some research about brownie baking tricks, here is what I learned:
READ ALL OF THESE TIPS TO GET THE BROWNIES RIGHT
How to make Brownies fudgy and chewy
Make sure the eggs you use are at room temperature
Don't over-mix the batter
Use cocoa powder AND chocolate
Don't use a lot of almond flour
DO NOT OVERBAKE THEM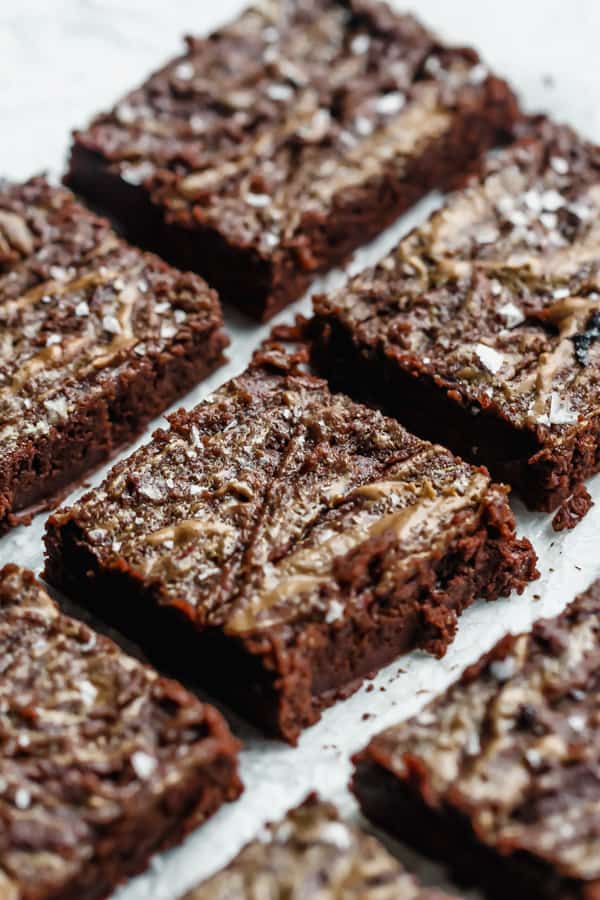 Our keto brownie recipe stands out thanks to its special ingredients: salted butter, unsweetened cocoa powder, baking chocolate, Lakanto Monk Fruit Sweetener, large eggs, and almond flour.
These ingredients combine to create a rich, chewy texture, and deeply satisfying chocolatey taste.
Let's dive into the recipe and the magic behind the chewiness of these brownies.
Ingredients:
4 oz salted butter
0.25 cup cocoa, dry powder, unsweetened
0.25 cup baking chocolate (Lily's chocolate for a sweeter brownie)
0.25 cup Lakanto Monk Fruit Sweetener- use code eatbefitexplore for 20% off
3 large eggs (room temp)
0.25 cup almond flour
Now, let's cover why these keto brownies are so chewy and amazing.
The Best Cocoa Powders for Keto Brownies: An Ultimate Guide
Creating the perfect batch of keto brownies requires a careful selection of ingredients, and one ingredient that significantly influences the end result is cocoa powder.
It's the heart and soul of any brownie recipe, providing that rich, chocolatey taste we all love. In this blog post, we will explore some of the best cocoa powders for your keto brownies.
When choosing cocoa powder, look for one that is unsweetened and has no additives.
This will not only ensure that it's keto-friendly but will also give your brownies a robust chocolate flavor. Here are three cocoa powders that fit the bill:
1. Hershey's 100% Natural Unsweetened Cocoa Powder
A common name in most pantries, Hershey's 100% Natural Unsweetened Cocoa Powder is a reliable choice for keto brownies.
It's free from sugar and other additives and has a robust, full-bodied chocolate flavor. Its fine texture blends well with other ingredients, ensuring your brownies have a smooth, consistent texture.
2. Ghirardelli Majestic Premium Cocoa Powder
Ghirardelli Majestic Premium Cocoa Powder is another excellent choice. Known for its superior quality, this cocoa powder boasts a rich, deep chocolate flavor that takes your brownies to another level.
It's unsweetened and contains no added sugars or fillers, making it perfect for keto recipes.
3. Valrhona Pure Cocoa Powder
Valrhona Pure Cocoa Powder is a favorite among professional bakers and for good reason.
This French brand is renowned for its exceptional quality and intense flavor. It's slightly more expensive than other options, but its deep, complex chocolate notes make it worth the investment. Like the others, it's unsweetened and additive-free.
While these are excellent choices, the best cocoa powder for your keto brownies ultimately depends on your personal preference.
We recommend experimenting with different brands until you find the one that gives your brownies the flavor and texture you love.
Remember, cocoa powder isn't just for flavor; it also plays a crucial role in the texture of your brownies. It absorbs moisture and, unlike flour, doesn't contribute to gluten formation, which can make brownies cakey rather than fudgy.
When making your keto brownies, ensure to sift your cocoa powder to break up any lumps.
This ensures a smooth, even distribution throughout your batter for a consistent, rich chocolate flavor in every bite.
Also, remember to store your cocoa powder in a cool, dry place to maintain its freshness and flavor.
Whether you're a seasoned keto baker or just beginning your keto journey, choosing the right cocoa powder can make all the difference in your brownies.
Explore these options and discover your favorite. Happy baking!
The Magic Behind The Chewiness
The secret to the chewiness lies within our selected ingredients. The almond flour, with its higher fat content and coarser texture, yields a richer, chewier brownie compared to traditional wheat flour.
The eggs, particularly their protein content, also play a crucial role. As the brownies bake, the proteins in the eggs set, provide structure and contribute to that sought-after chewy texture.
Room-temperature eggs are best as they mix evenly into the batter, ensuring a uniform texture throughout the brownie.
Baking Tips & Tricks
A common mistake many bakers make is overbaking brownies. For the perfect chewy keto brownies, you must avoid overbaking.
Brownies continue to cook as they cool due to the residual heat. Therefore, remove your brownies from the oven when they're still slightly underdone.
A toothpick inserted in the center should come out with a few moist crumbs clinging to it. If it comes out clean, they're overbaked.
Another tip: Melt the butter and chocolate together gently over low heat or use a double boiler. This ensures an even, smooth texture and prevents the chocolate from scorching.
Recipe Swaps
If you have dietary restrictions or certain ingredients aren't available, there are several swaps you can make:
Butter: You can substitute coconut oil for a dairy-free option.
Eggs: For an egg-free version, use a flaxseed or chia seed "egg".
Sweetener: If you don't have Monk Fruit Sweetener, erythritol or stevia can be used.
Almond flour: If you have a nut allergy, sunflower seed flour or coconut flour can work as a substitute.
Remember that making swaps can alter the texture and taste of the brownies. Always experiment to find the best combination for you.
How long does it take to bake brownies?
The last one is probably the most important one. If you use erythritol as your sweetener, baking time for the best keto brownies recipe should be around 17 minutes, give or take. Use the toothpick test to determine when to take these out. The toothpick should still be moist but not too saturated with the batter.
If the toothpick comes out dry, you overbaked them. I'm sure they will still taste good, however, they won't be fudgy and chewy so don't leave mean comments that your brownies weren't fudgy.
How to make brownies sweeter?
If you want these to be sweeter, use Lily's chocolate bar instead of the unsweetened baking chocolate. That is what I used, and they were pretty sweet. Baking chocolate is bitter and so is cocoa powder so the brownies won't be as sweet.
You can find Lily's Chocolate on Amazon, Whole Foods, Kroger, and even Walmart.
How many carbs are in Keto brownies?
This recipe makes about 12 brownies, and if you are using peanut butter each brownie is 7g of total carbs and 6g of net carbs. If you omit the peanut butter, each brownie is 6g of total carbs and 5g of net carbs.
You can cut the brownies into smaller pieces and it will reduce the carb content.
In conclusion, I am not saying that these taste just like Ghiradelli boxed brownies but they are pretty darn close! The peanut butter makes these so much better and adds more moisture to make them chewier.
Try these, bake them for ONLY 17 MIN, and comment to let me know how they turned out!!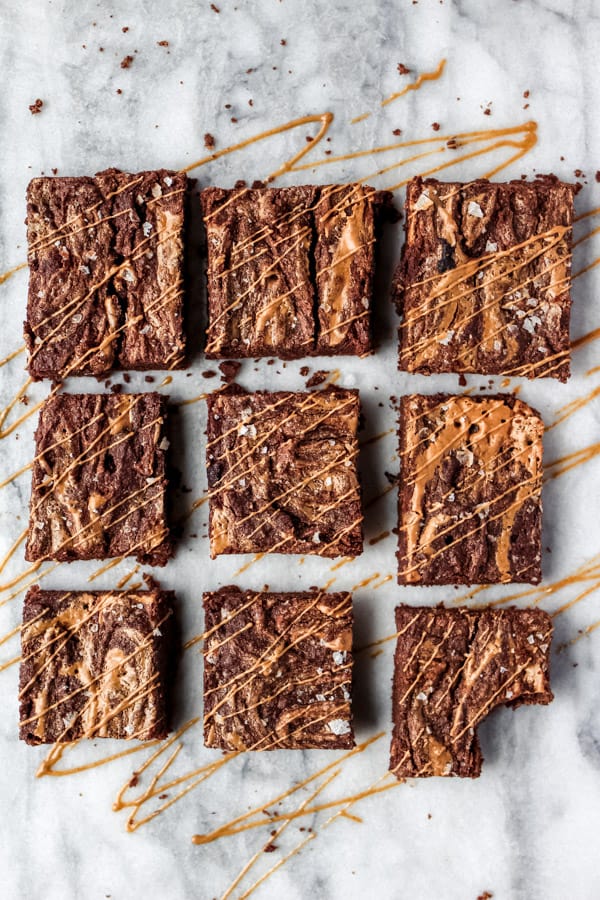 Storing and Freezing Your Keto Brownies
Our keto brownies aren't just delicious — they're also perfect for storing and freezing, meaning you can enjoy them whenever the craving strikes.
Whether you're meal-prepping or just want to have a stash of guilt-free treats handy, here are the steps to store and freeze your keto brownies:
Storing Your Brownies
Once your brownies have completely cooled, cut them into squares. For the best taste and texture, place them in an airtight container, separating layers with parchment paper to prevent sticking.
Store the container at room temperature, where they'll stay fresh for up to four days.
If you live in a particularly hot or humid climate, consider storing your brownies in the fridge instead. The cool temperature will keep the brownies fresh for a bit longer, usually around a week.
Freezing Your Brownies
If you want to keep your brownies for a longer period, freezing is the way to go. Not only does this allow you to savor your keto brownies for months, but it also ensures you have a ready supply of a healthy treat whenever needed.
To freeze, begin by allowing the brownies to cool completely. Then, wrap each brownie individually in cling wrap, ensuring they're fully covered. This will help maintain their moisture and protect them from freezer burn.
Once they're wrapped, place the brownies in a zip-top freezer bag or an airtight container. These brownies can be stored in the freezer for up to three months.
Reheating Your Brownies
When you're ready to enjoy a brownie, take it out of the freezer and let it thaw at room temperature for a few hours. If you're in a hurry, you can also defrost them in the microwave. J
ust be careful not to overheat them, as this can make the brownies dry. A few seconds should be enough to bring them back to their original, delicious state.
More Keto Recipes to try: