This Keto Gravy uses turkey necks and soy sauce which packs an umami flavor to your mashed Cauliflower or Roast.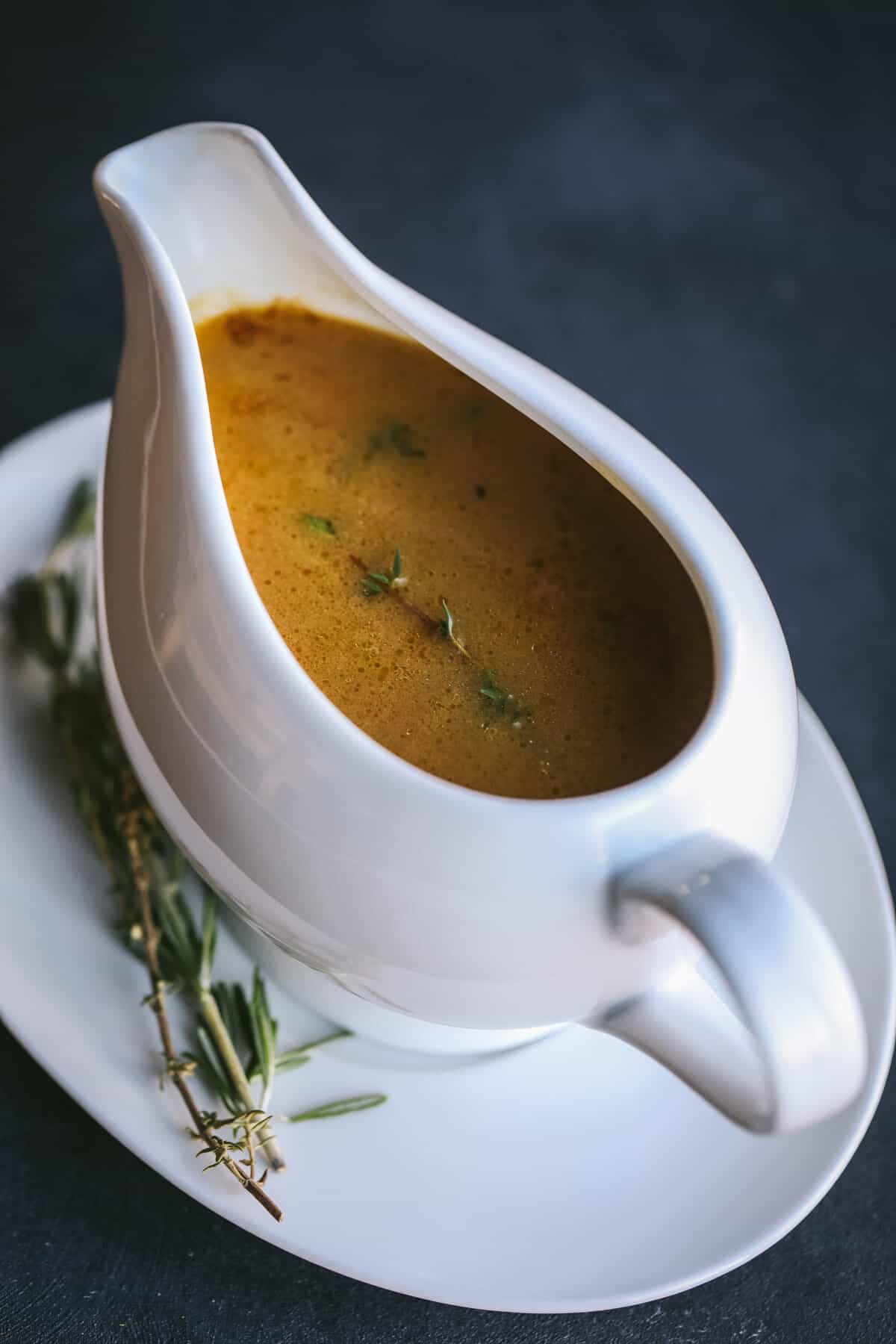 Any gravy fans out there? I must admit, I have never really loved gravy. Sure, it pairs perfectly with mashed potatoes at Thanksgiving and goes nicely with a roast as a complimentary sauce but I was never all about the gravy.
Wow, I said gravy a lot in this post already. Anyway, I discovered that the key to "blow your socks off" gravy is to make your own stock using Turkey parts.
That all changed last year when I hosted Thanksgiving and made Anthony Bourdain's Red Wine Turkey Stock Gravy. I then realized the problem, I've never had good gravy and that is why I was never into gray.
I also realized that not a lot of people do that anymore. Every year, I struggle to find those parts at the store weeks before Thanksgiving. This year I called every Whole Foods and butcher shop that I knew and no one had any turkey necks.
Finally, my husband suggested I call Meijer, and surprisingly they had them. They were frozen, but that didn't matter at that point. I bought enough turkey necks and wings to last me at least five years of making gravy from scratch.
This recipe was inspired by a gravy recipe I had seen in Bon Appetit Magazine in their Thanksgiving issue. I noticed the ingredients had mushrooms and soy sauce and I thought that would make an amazing-tasting gravy.
Well, it did! However, there was one problem; thickening it.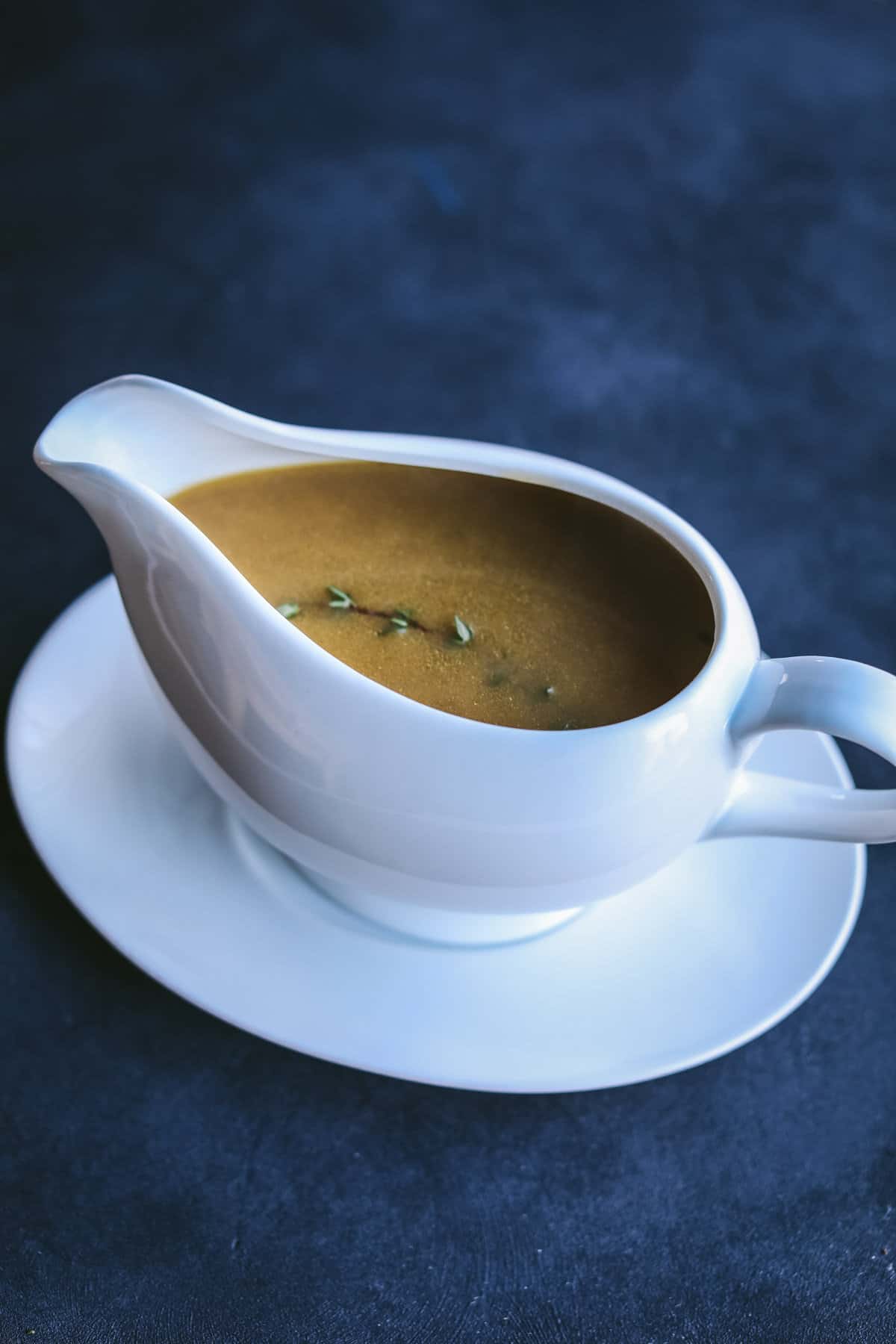 For anyone following Keto, you know that flour is a no-no. Unfortunately, most gravy recipes use flour to thicken the gravy. Yes, there are some flour substitutes for Keto, but they can change the flavor and texture of the gravy and I didn't want to risk that happening.
So, what are some thickening agents you can use on Keto? Here is a list of the ones I know of:
Since I didn't want to affect the flavor or texture of the gravy, I decided to use beef gelatin. In the past, I had used Xanthan Gum to thicken food and ended up putting in too much which turned the food into a solid glob and gave it a really weird taste.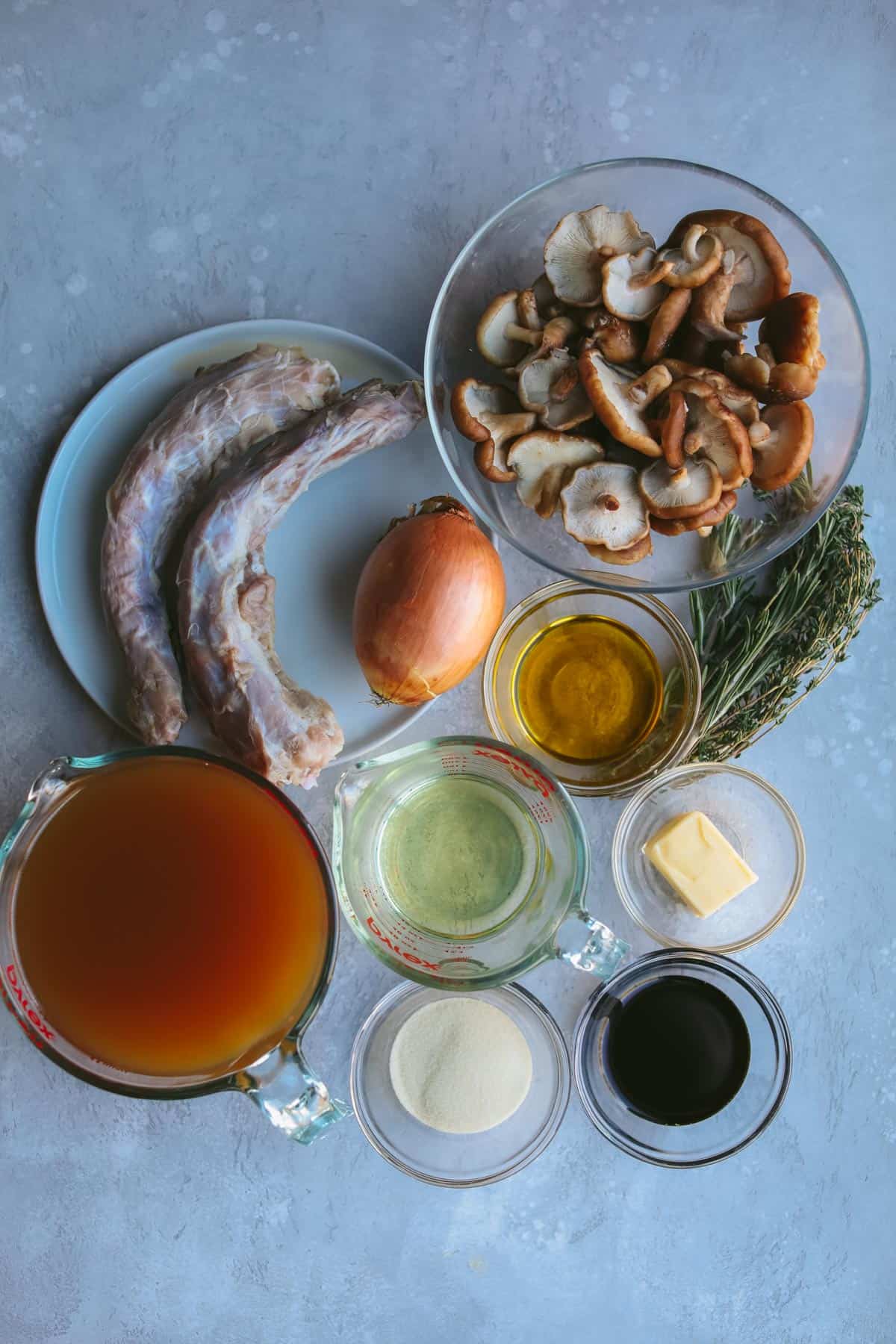 If I was making this gravy for myself and could just experiment with it, I may have tried Xanthan Gum again, however, this was one of my Keto Christmas Dinner Party menu items and I didn't want to risk it going bad.
Let me just get to the punch line; the gravy didn't thicken. I started with 1 tsp of beef gelatin, then 2 and eventually I put in 2 tablespoons but it was still liquid.
After chilling overnight the gravy became jello-like until I reheated it, then it was back to liquid form. Frustrated, I had two options; I could use another Keto thickener alternative, or I could just leave it as is.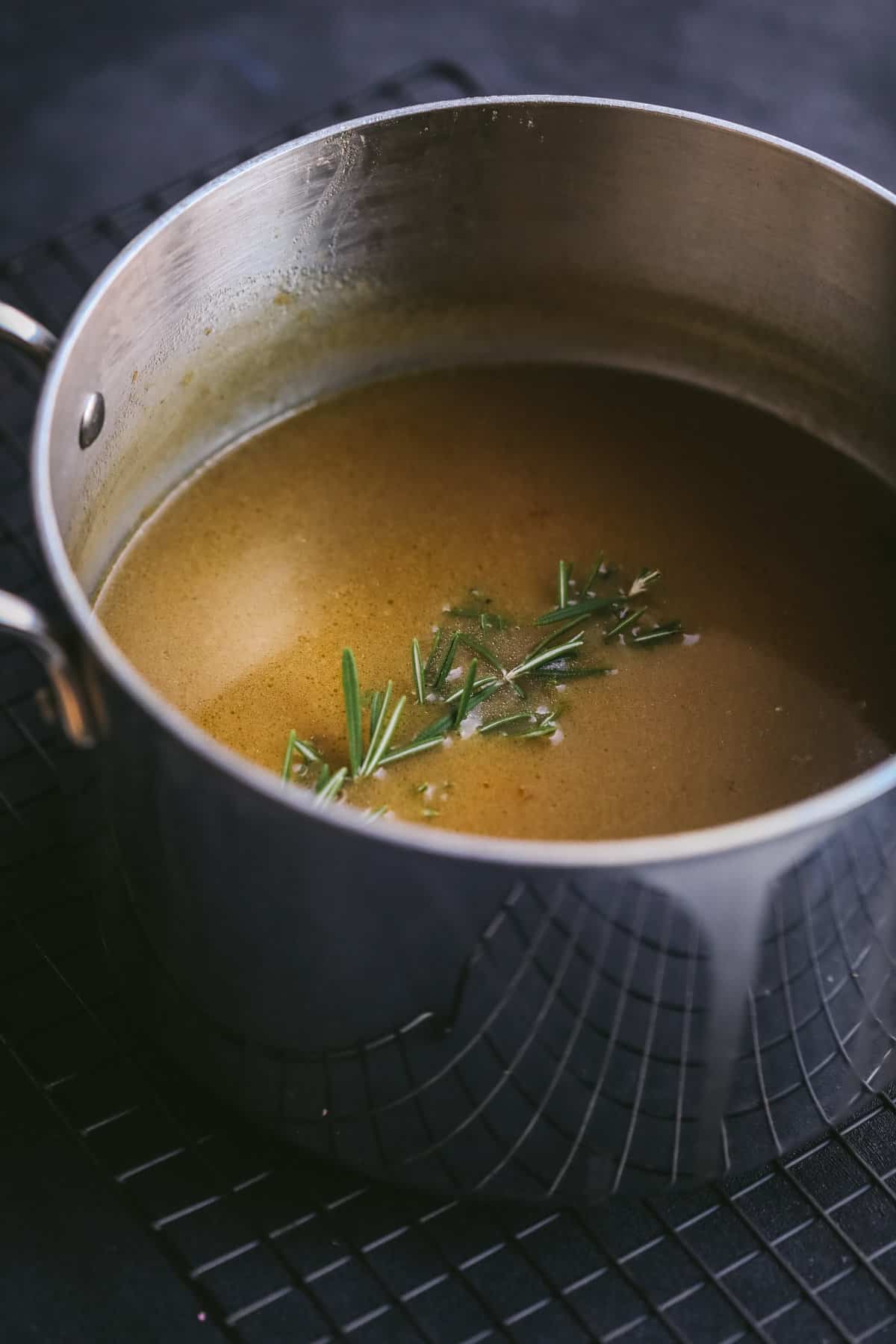 For the sake of not ruining the flavor, I left it. It was very delicious, but not gravy consistency. I'm telling you all of this so that if you try this recipe you don't get frustrated that the gravy isn't thickening. Feel free to try the other thickening agents and if you succeed without ruining the taste and texture of the gravy, please comment below and tell me what you used and how much of it so I can redo the recipe.
Eventually, I will figure it out and I will edit this post to accommodate the changes that make this Keto Gravy thick like gravy is supposed to be. For now, let's say this is a very flavorful gravy "sauce" for Cauliflower Mash and Roasts.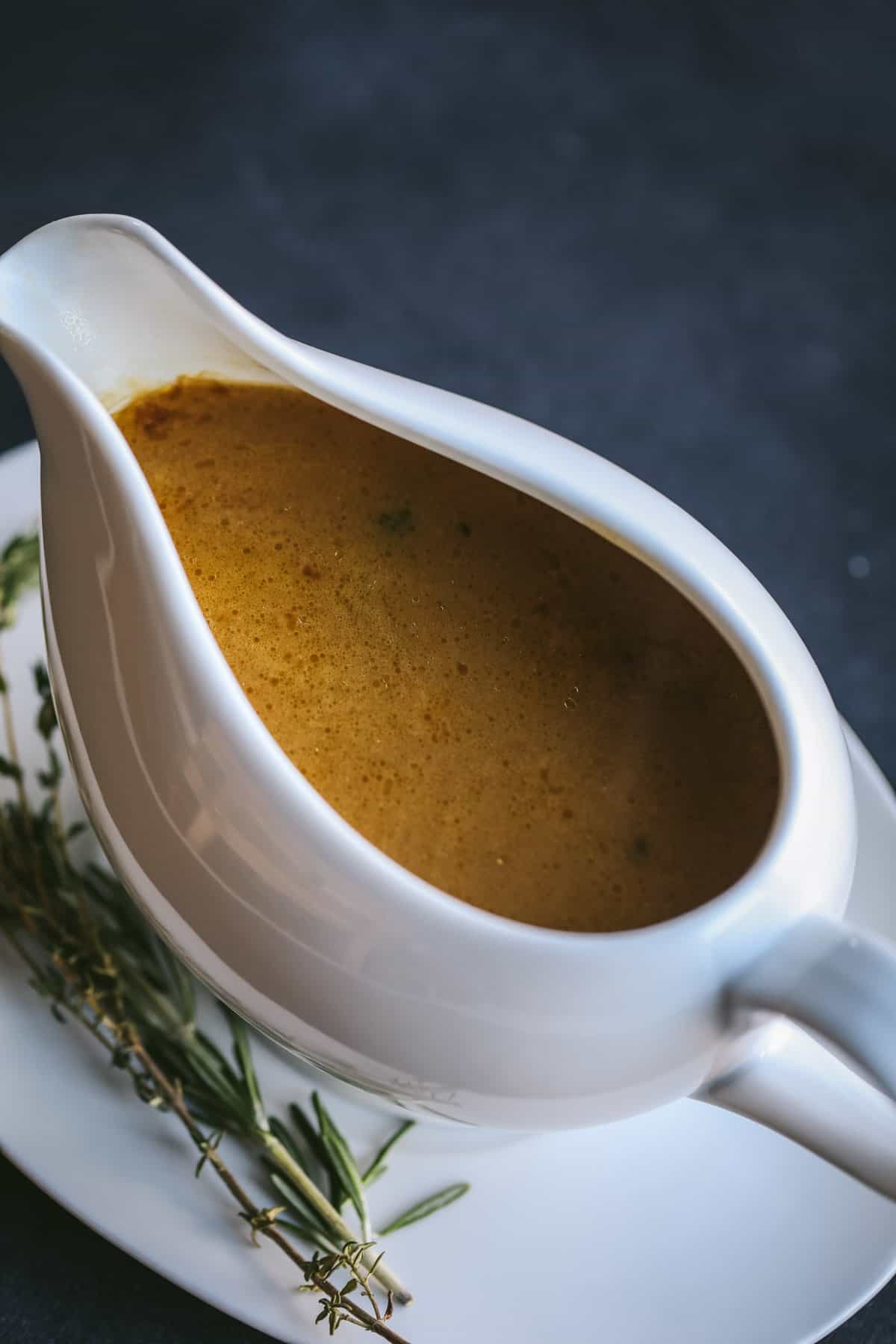 Want to see the rest of my Keto Christmas Recipes? You can find them HERE.
More Keto Recipes to try:
This post contains an affiliate link in which if a purchase is made I receive a commission at no additional cost to you. Thank you for your support!