Keto Roasted Chicken with Lemon and Rosemary is the perfect weeknight meal that requires little effort!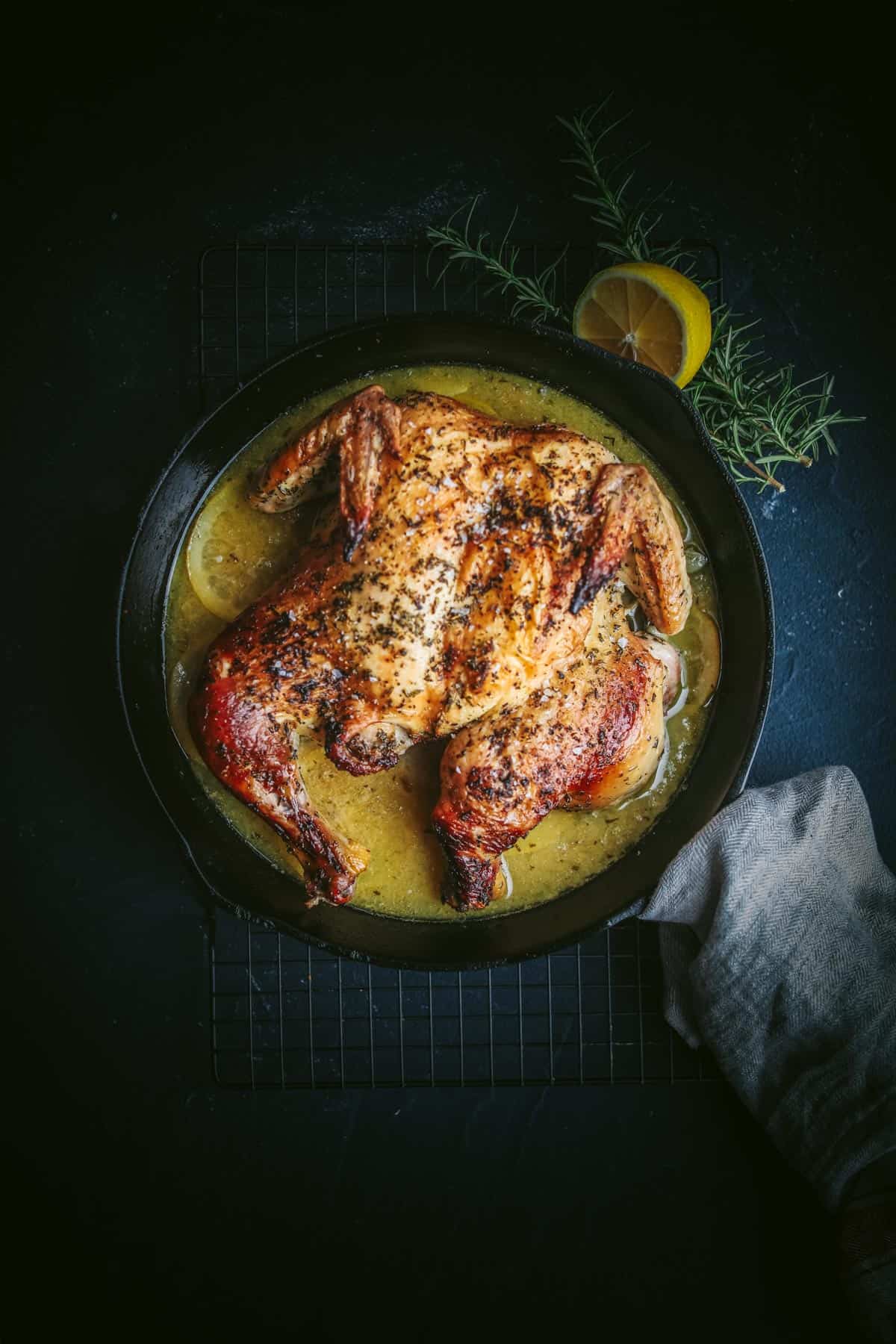 Roasted Chicken is such a timeless dish that never goes out of style. Whether you're cooking for your family, hosting a dinner party, or simply looking for a satisfying meal, roasted chicken is a versatile and delicious option that can be customized to your taste.
There are countless ways to roast a chicken that will leave you with juicy meat and crispy skin. In this blog post, we'll explore another easy roast chicken recipe that will surely impress your family and your guest.
I put a spin on my roast chicken recipe and added Rosemary which makes the chicken so much more flavorful. The combination of rosemary, garlic, and lemon makes this chicken dish stand out from other roasted chicken recipes I have tried.
This Keto Roasted Chicken with Lemon and Rosemary will become a staple in your house! It will make your house smell delicious. It's the best roast chicken recipe that you can find!
Let me show you how to choose the right chicken and prepare it or the oven to achieve a perfect roast. So grab your apron and let's get cooking!
Is roasted chicken good for keto?
Roasted chicken is a versatile and flavorful option that can be an excellent addition to a keto diet. Chicken is a great source of protein and is relatively low in fat compared to other meats, making it a healthy choice for those following a low-carb lifestyle.
When roasted properly, the whole chicken becomes tender and juicy with a crispy skin that adds a satisfying texture to the dish.
To make roast chicken keto-friendly, it's essential to avoid any sugary marinades or high-carb seasonings. Instead, opt for simple and delicious seasoning options like salt, pepper, and herbs like rosemary, thyme, or oregano.
These herbs can add a subtle flavor to the chicken and complement the natural taste of the meat without adding any unnecessary carbs.
One of the best parts about roasted chicken is its versatility. You can use it in a variety of keto-friendly dishes, such as salads, stir-fries, or as a main course with roasted vegetables on the side.
Plus, perfect roast chicken is easy to prepare and can be cooked in a single pan, making it a convenient meal option for busy weeknights.
When it comes to roast chicken, the possibilities are endless. By sticking to keto-friendly ingredients and seasoning options, you can enjoy this classic dish without breaking your low-carb diet.
So, whether you're a fan of simple and classic seasoning or like to experiment with more complex flavors, roast chicken is a great addition to any keto meal plan.
How to Choose the Right Bird for your Roast Chicken
Keto roasted chicken is a delicious meal that requires the right type of bird to get the best flavor and texture. But how do you choose the right one?
With so many options on the market, it can be confusing. Fortunately, there are a few tricks that you can use when selecting the perfect bird for keto-roasted chicken.
Let's discuss the various types of birds available, what to look for in terms of flavor, texture, and fat content, as well as some tips and strategies for choosing the right bird. Armed with this knowledge, you'll be able to make the most out of your keto-roasted chicken experience.
Look for organic, pasture-raised chicken: When shopping for chicken, opt for organic, pasture-raised chicken as it is leaner and has more nutrients than conventionally raised chicken. It is also free from antibiotics and hormones.
Choose a smaller bird: For a keto-roasted chicken, it's best to choose a smaller whole bird as it will have less fat and calories. A 2-3 pound chicken is a good size for a keto meal.
Check for freshness: Make sure to check the expiration date on the chicken package and look for signs of freshness such as firmness and a lack of odor.
Consider bone-in, skin-on chicken: Bone-in, skin-on chicken is the best option for roasted chicken as it will be juicier and more flavorful. Plus, the skin will become crispy and delicious in the oven.
Avoid pre-seasoned or marinated chicken: Pre-seasoned or marinated chicken often contains added sugars and other non-keto ingredients. Instead, opt for plain chicken and season it yourself with keto-friendly fresh herbs and spices.
By following these tips, you can choose the best chicken for a keto-roasted chicken recipe and enjoy a delicious, healthy meal that is perfect for any occasion.
Prepping the chicken
Remove the backbone of the chicken and butterfly it.
You can butterfly the chicken yourself, but if you are anything like me you will probably mutilate it so severely that it is just better to have the professionals do it. Practice makes perfect, and I'm still perfecting my spatchcock method.
Pat chicken dry with paper towels.
By adding butter underneath the chicken skin, the roast chicken will turn out juicier, adding fat is always a good thing when you are eating Keto.
Making the Marinade
Combine rosemary, salt and pepper, and olive oil in a food processor.
If you are not a fan of Rosemary (how dare you) you can use fresh thyme instead or any other herbs (fresh is best). Using dry herbs is fine, but the chicken won't taste as flavorful.
Brush the oil mixture on both sides of the chicken evenly.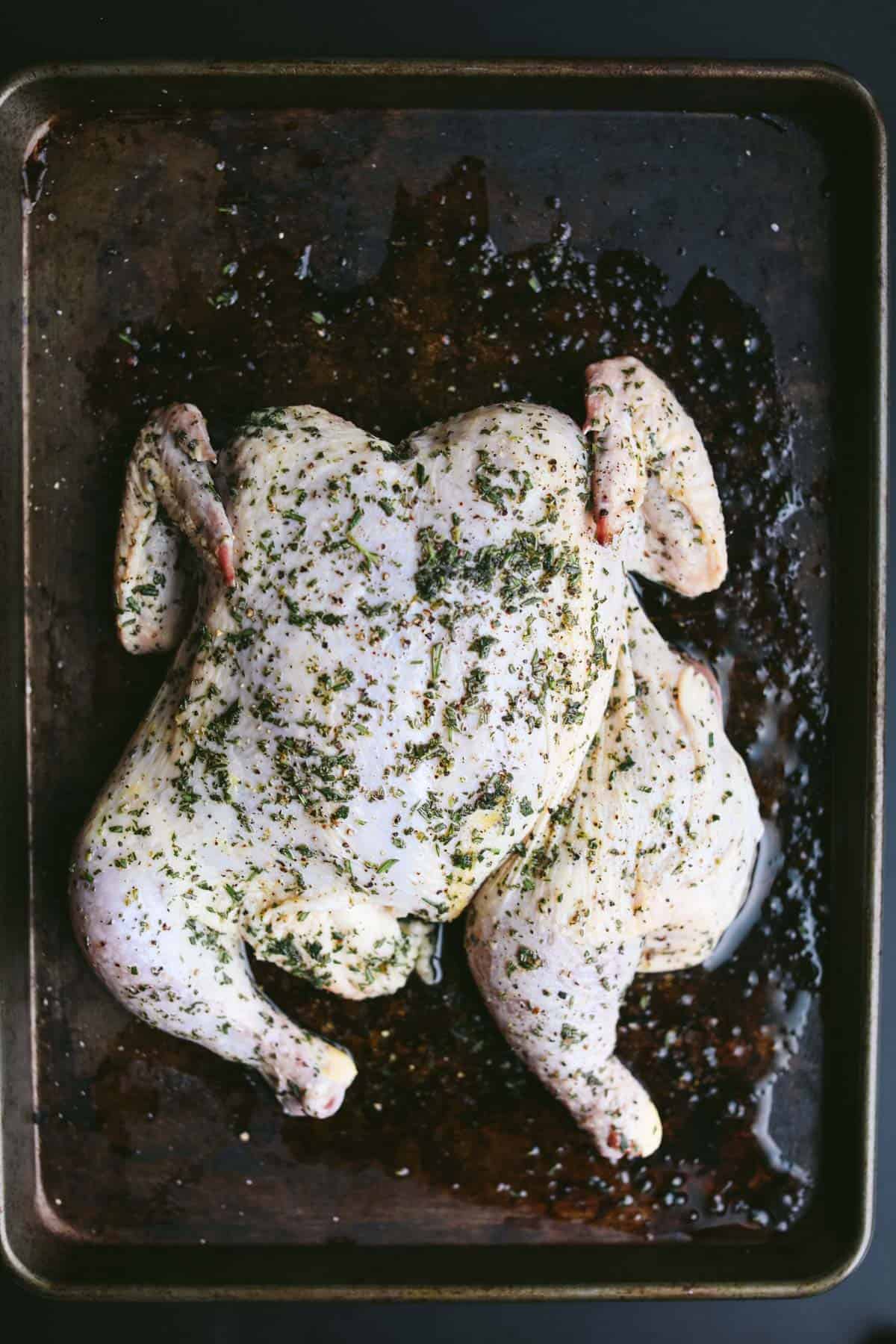 Roasting the Chicken
Slice lemon, onion, and garlic and place on the bottom of a 12-inch cast iron skillet.
Make sure your cast iron skillet or roasting pan is big enough to fit the entire whole chicken. Usually, a 12-inch roasting pan will hold most chickens.
I usually mince my garlic, but this time I sliced it thin. If you don't like big pieces of garlic, feel free to cut them into smaller pieces.
Pour wine into the Roasting pan.
Now for the wine. The drier the wine, the better.
The number one reason is that you don't want to pick a bottle of wine with high carb content if you are Keto and you don't want the flavor of the wine to overpower the other components in this recipe. The wine serves as an accent flavor.
I use the My Fitness Pal app when I am at the store and scan the barcodes of the wines to see which one has the least amount of carbs when purchasing wines to cook with or to drink.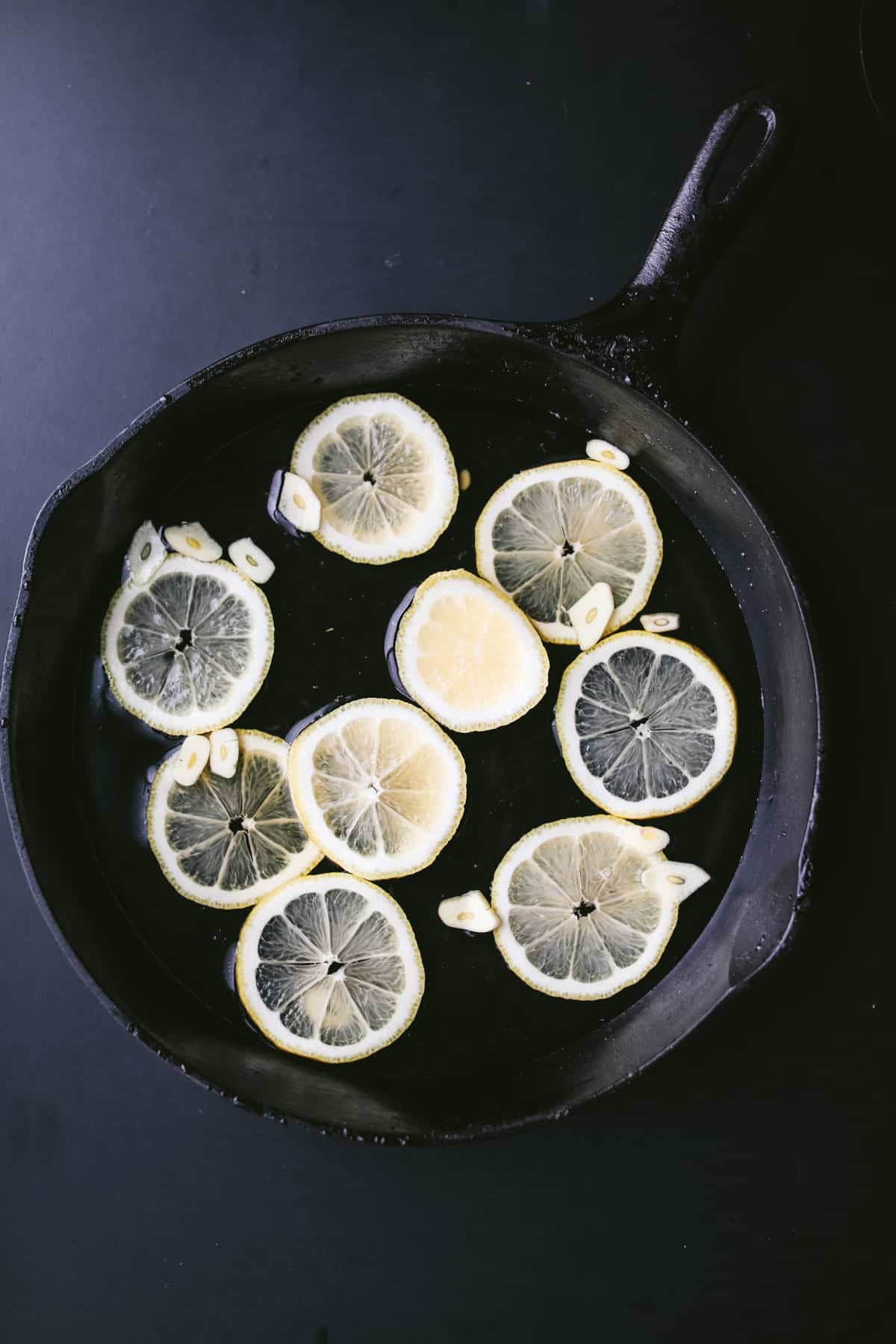 Place chicken in the skillet skin side up.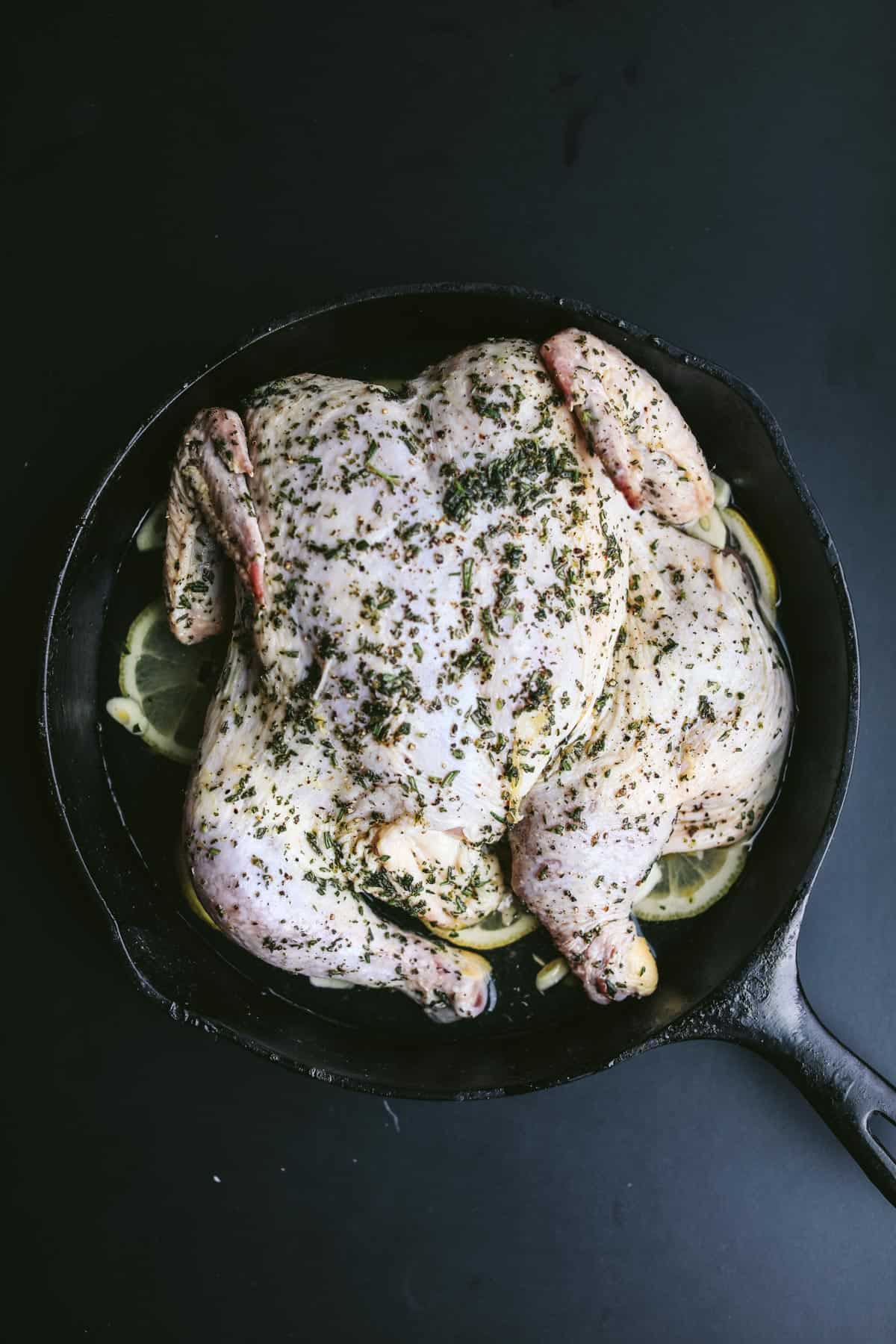 Roast the chicken for 45-50 minutes or until it the thermometer reaches 165 degrees.
Ensure you take the temperature of the roast chicken before you take it out of the oven. As a former health inspector, I can't stress this enough.
The roast chicken may look done, but it may still be raw on the inside. Taking the temperature is the only way to ensure you have cooked it thoroughly.
When you check the temperature place the meat thermometer in the thickest part of the chicken, try not to temp through any bones.
If you like the skin to be more crispy, you can leave it in the oven longer or place it under the broiler for a few minutes. Be careful not to overcook the chicken, so it doesn't dry out. The butter underneath the chicken skin helps to retain moisture.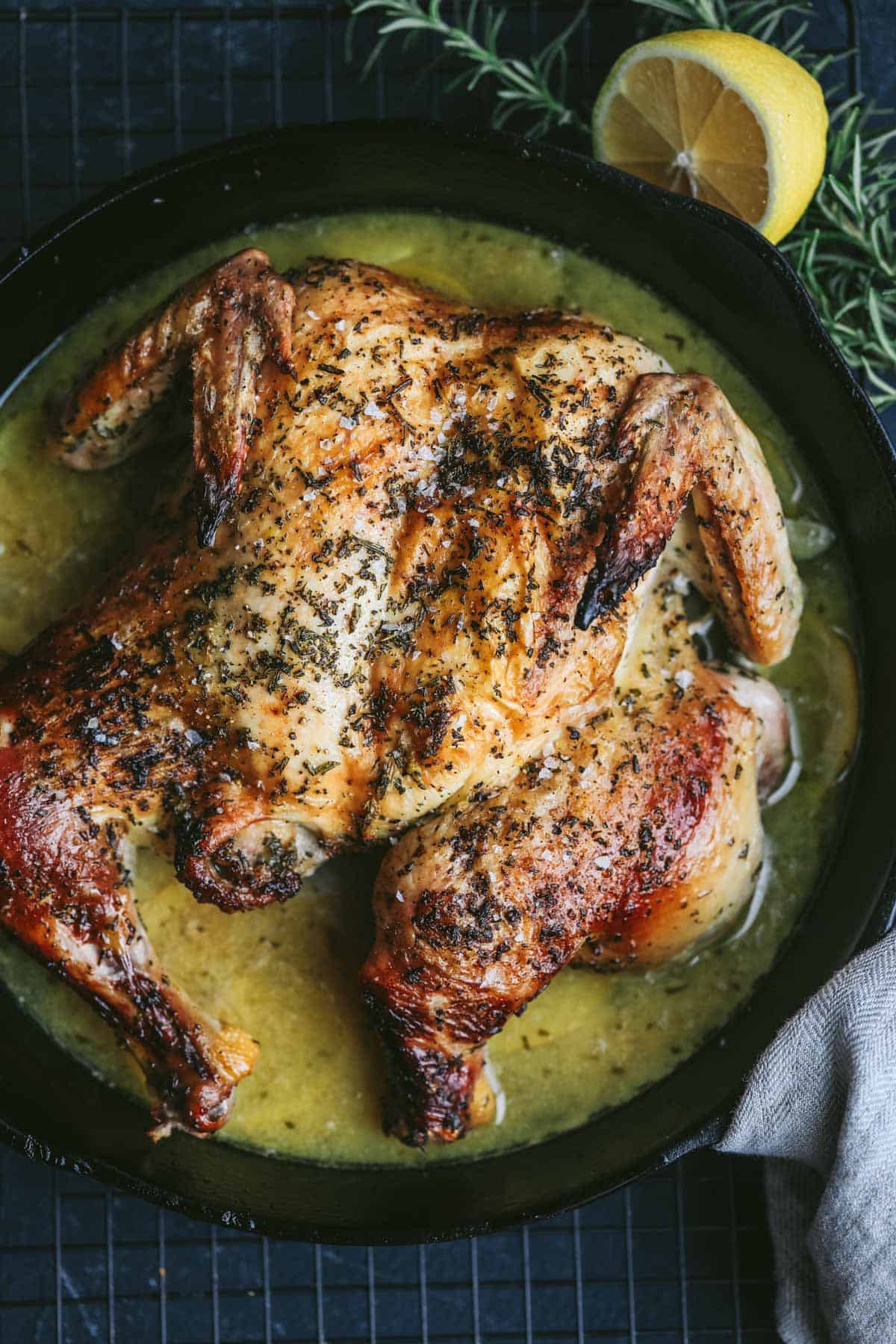 Serve the whole roasted chicken and Enjoy
Pour the fresh lemon juice over the whole roasted chicken and let it rest for 10-15 minutes before serving.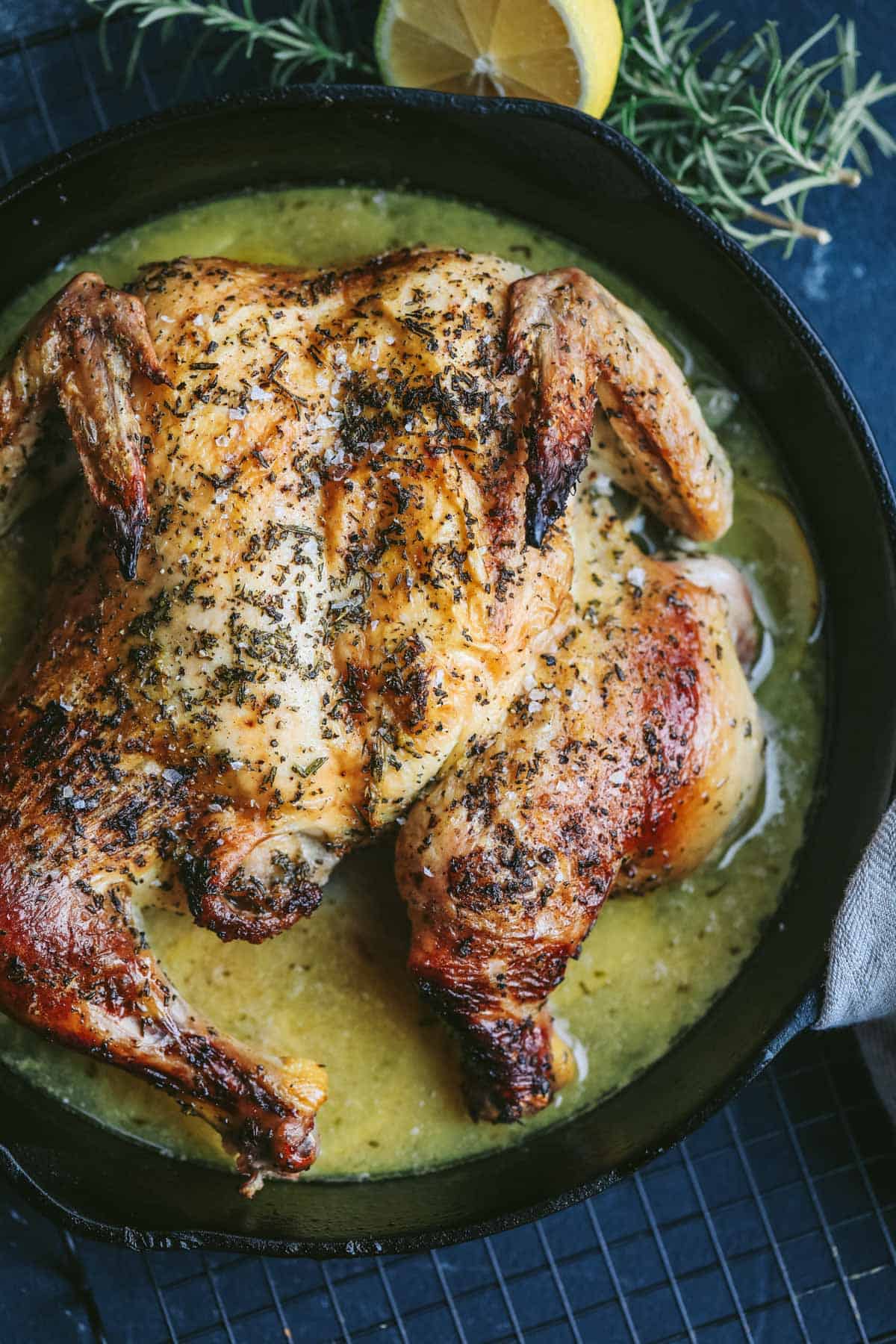 Best Roasted Chicken with Lemon and Rosemary is a fantastic recipe that the whole family will love. With just a few simple steps, you can serve up a flavorful and nutritious meal that is easy to make and full of flavor.
This recipe will surely beat the simple roast chicken recipe you've tried before. Try this recipe today and enjoy the keto-friendly flavors of a roast chicken.
Make tonight a delicious and healthy night with a beautiful Roast Chicken with Lemon and Rosemary. Share your experience in the comments below and let us know how you and your family enjoyed this flavorful recipe.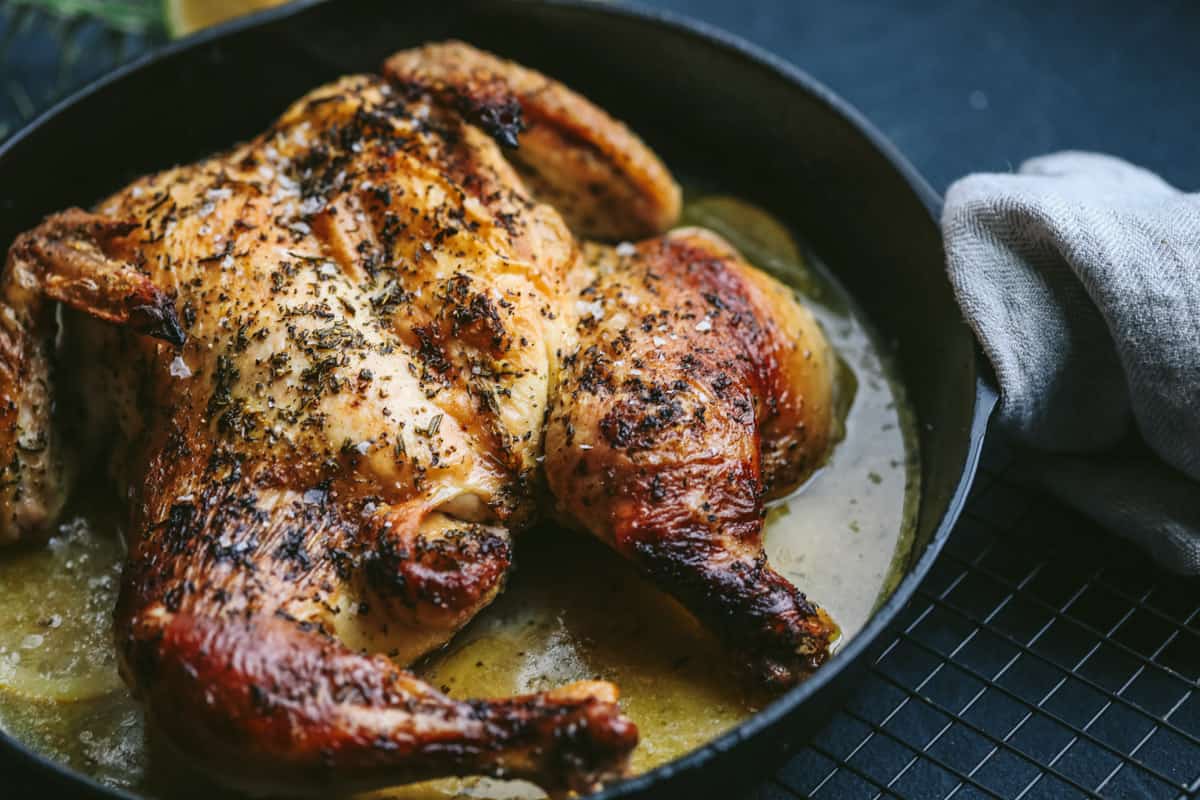 Want to take your chicken breasts to the next level? Try this Easy Keto Jalapeno Popper Chicken recipe.
Have you tried baked chicken wings? You'll love these Salt and Vinegar Chicken Wings.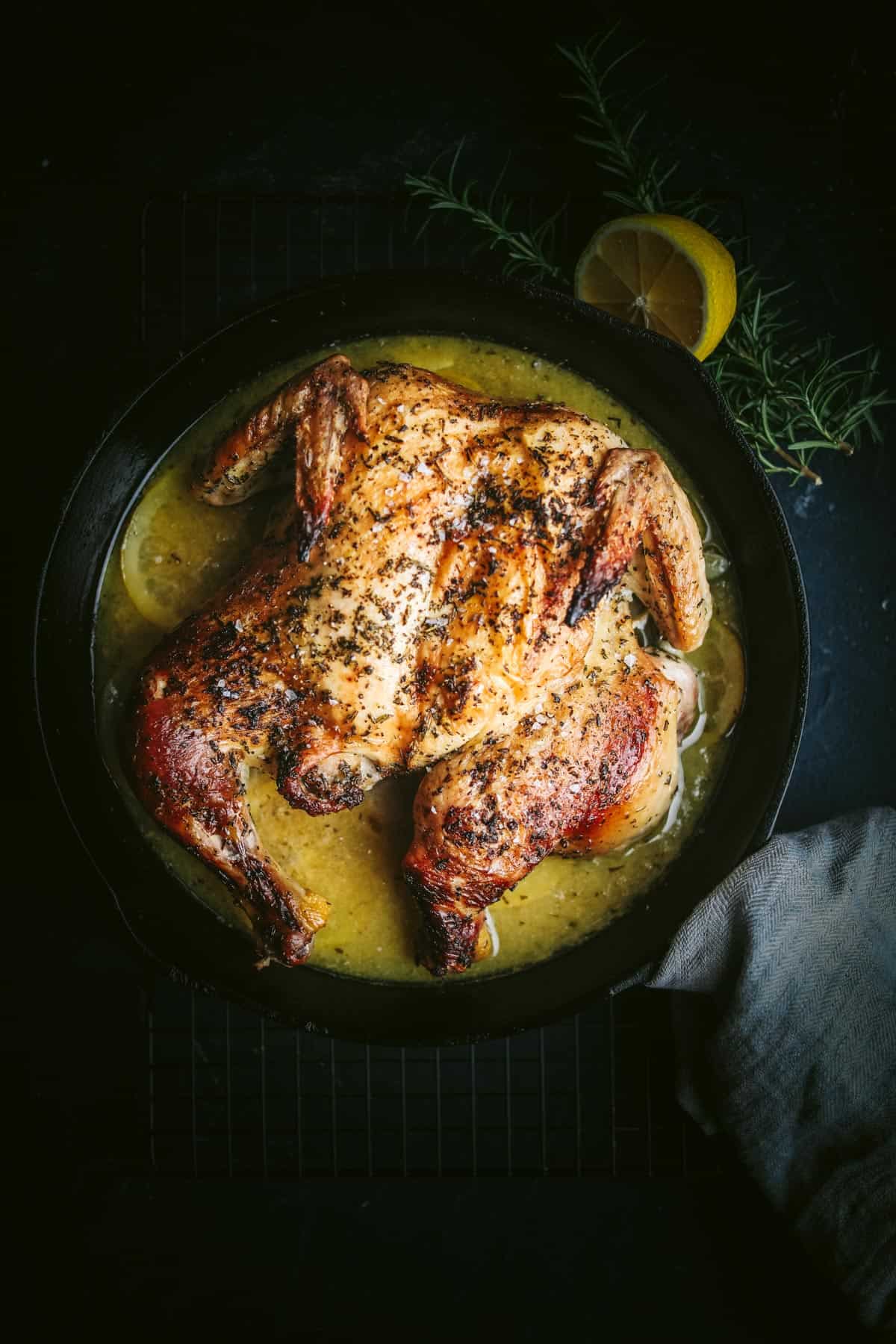 This post contains an affiliate link in which if a purchase is made I get a commission at no additional cost to you. Just some diaper money. Thank you for your support!