These keto soy sauce eggs are an umami flavor explosion.
Y'all, I love Asian food. The super salty and spicy, sweet and tangy, you name it, I'm in. Asian food is so flavorful and exploring different Asian flavors has become a culinary adventure for me. Like, for example, Keto Asian Butternut Squash, or Asian Chicken Wings and Egg Roll in a Bowl, just to name a few.
Like, for instance, Soy Sauce Eggs. I have heard of pickled eggs, in particular using beets which makes them pink. I remember the first time I saw pickled beet eggs I thought what the heck is wrong with these eggs? Why are they pink? Ha, I was so naive about all things food back then.
However, I have never heard of sauce eggs until I saw an article about them in Bon Appetit Magazine. If you follow me, you'll soon learn that I am obsessed with Bon Appetit and a lot of my inspiration for cooking comes from them.
I figured since I love boiled eggs and soy sauce, I would like these eggs. I'm telling you, if you want to take boiled eggs to the next level, you have to try this recipe. Especially with Easter right around the corner. Trust me, your family will be so impressed when you come in with a batch of these gourmet pickled eggs, and once they take a bite, they will think you are a culinary genius.
Soy Sauce Eggs are so easy to make, and the result is a salty, savory flavor bomb. When I made these, I couldn't stop eating them. I almost didn't have enough for the picture, oops!!
How to make Keto Soy Sauce Eggs
First, boil some eggs. I recommend you boil them for about 8 minutes and then transfer them to an ice bath, so they stop cooking. The eggs will be slightly undercooked in the middle. If you don't like your eggs undercooked then boil them for 10 minutes.
Secondly, use a medium saucepan and combine soy sauce (or Tamari sauce if you're keto) water, ginger, garlic, rice vinegar, and dried chilis. Boil the mixture and simmer it for about 5 minutes.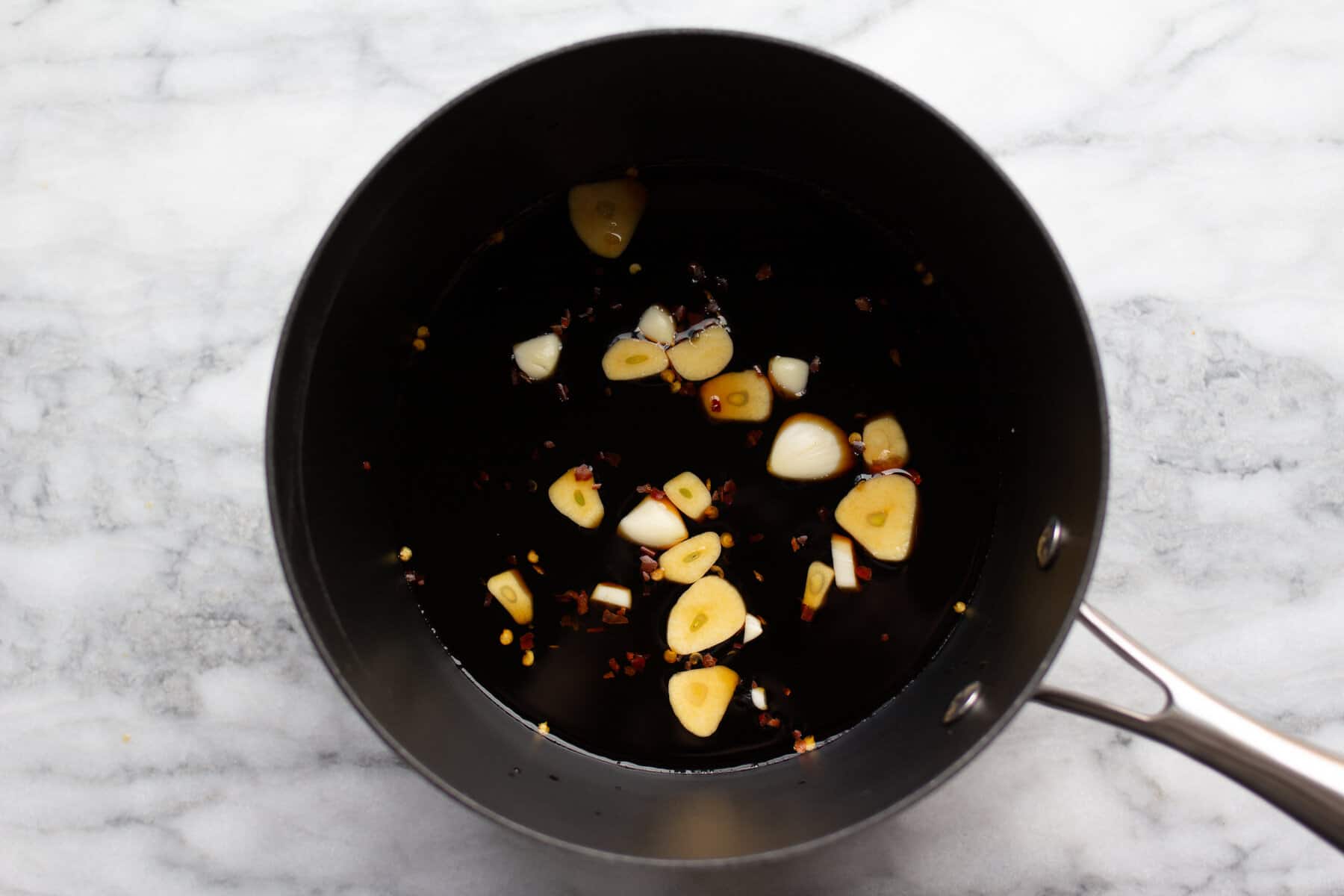 Thirdly, add the eggs to the liquid and let them marinate for at least one hour, I did two. The longer they sit in the marinade, the stronger in flavor they become.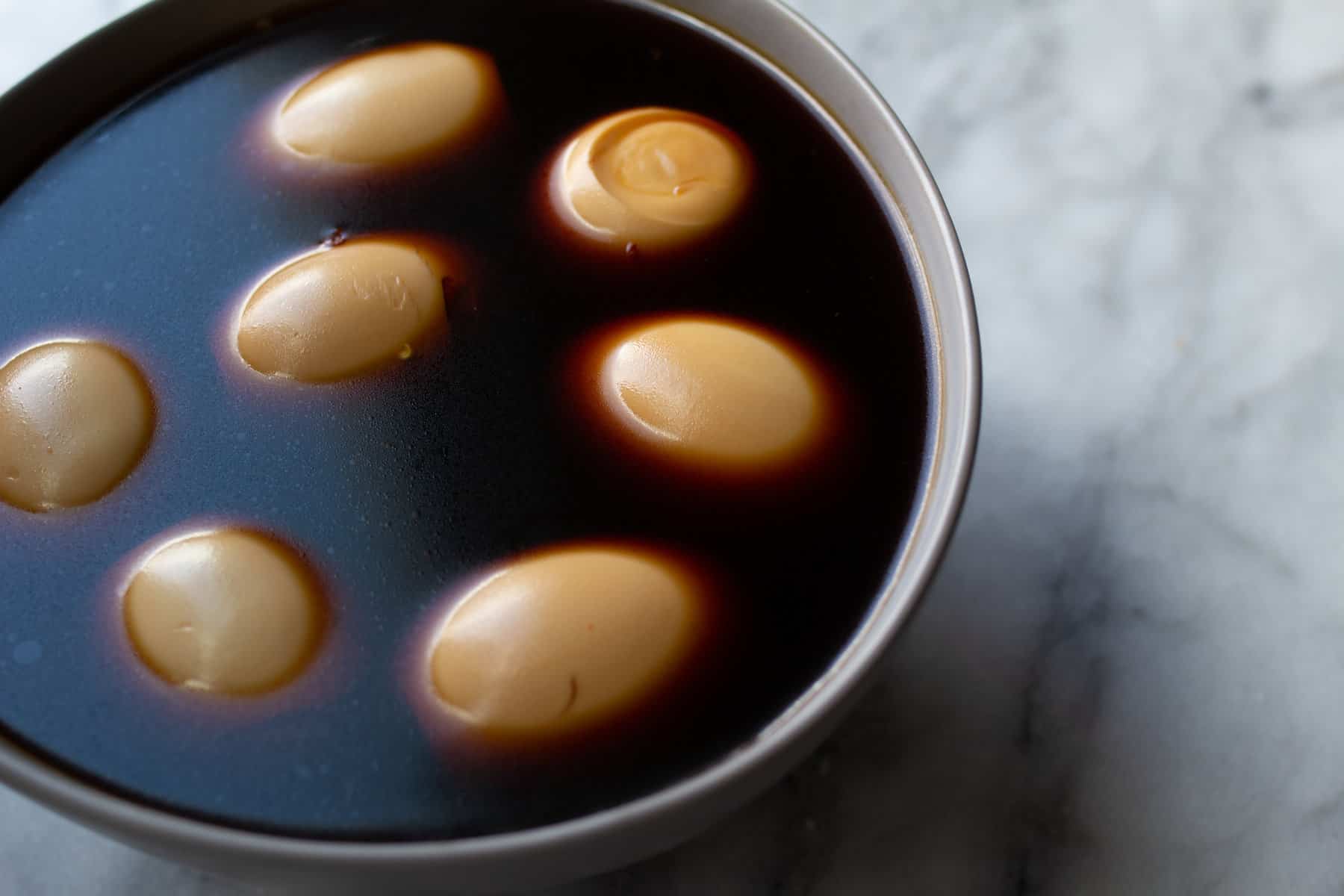 Lastly, drain the liquid, cut the eggs and sprinkle with sesame seeds. These are best when fresh. However, you can store them in an airtight refrigerator for up to 5 days.
The result is a tangy-salty egg that will hit all of your taste buds at once!!!
Pro tip shortcut: Buy eggs that are already pre-boiled to save time.
Love eggs? Check out my Spicy Deviled Eggs with Bacon!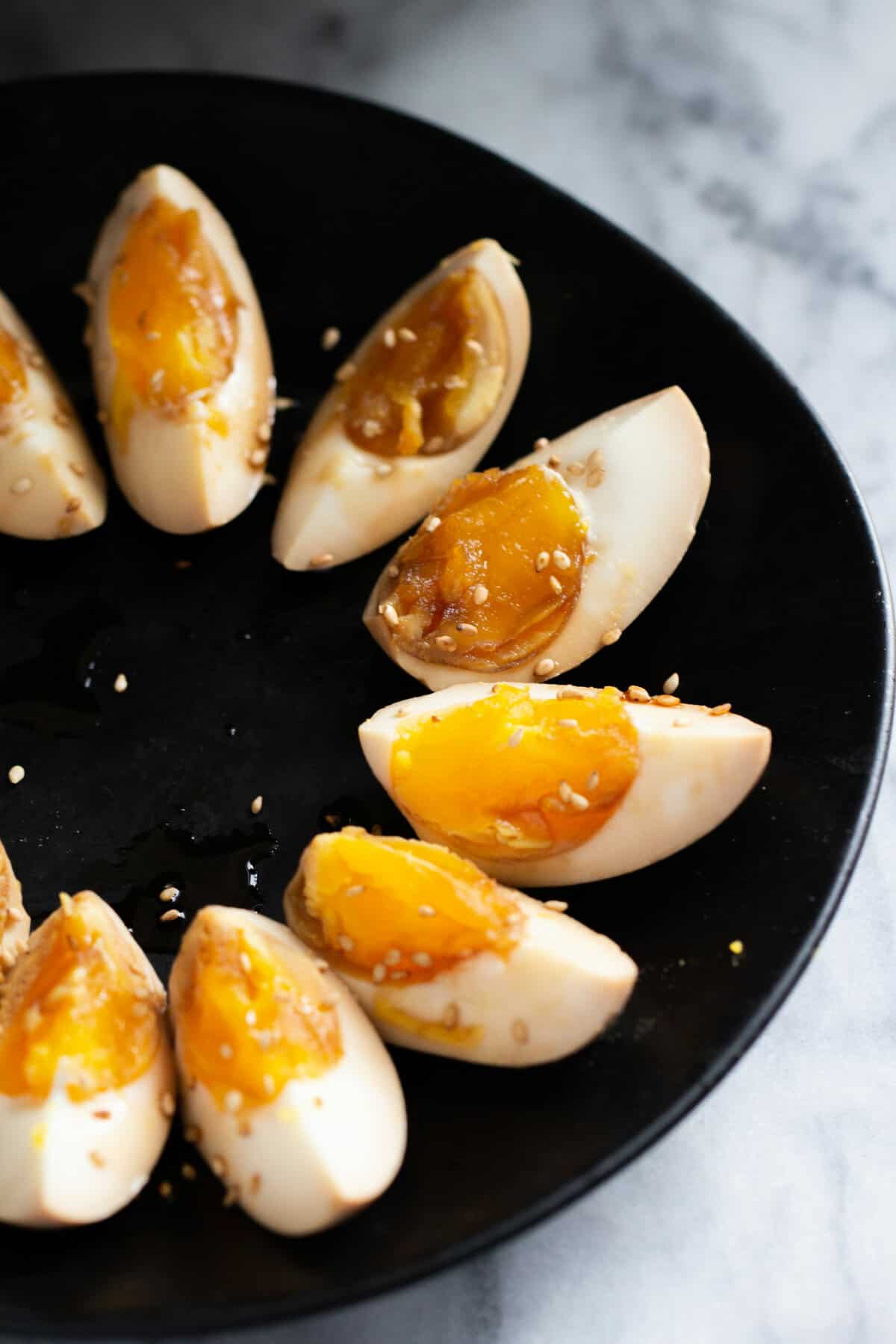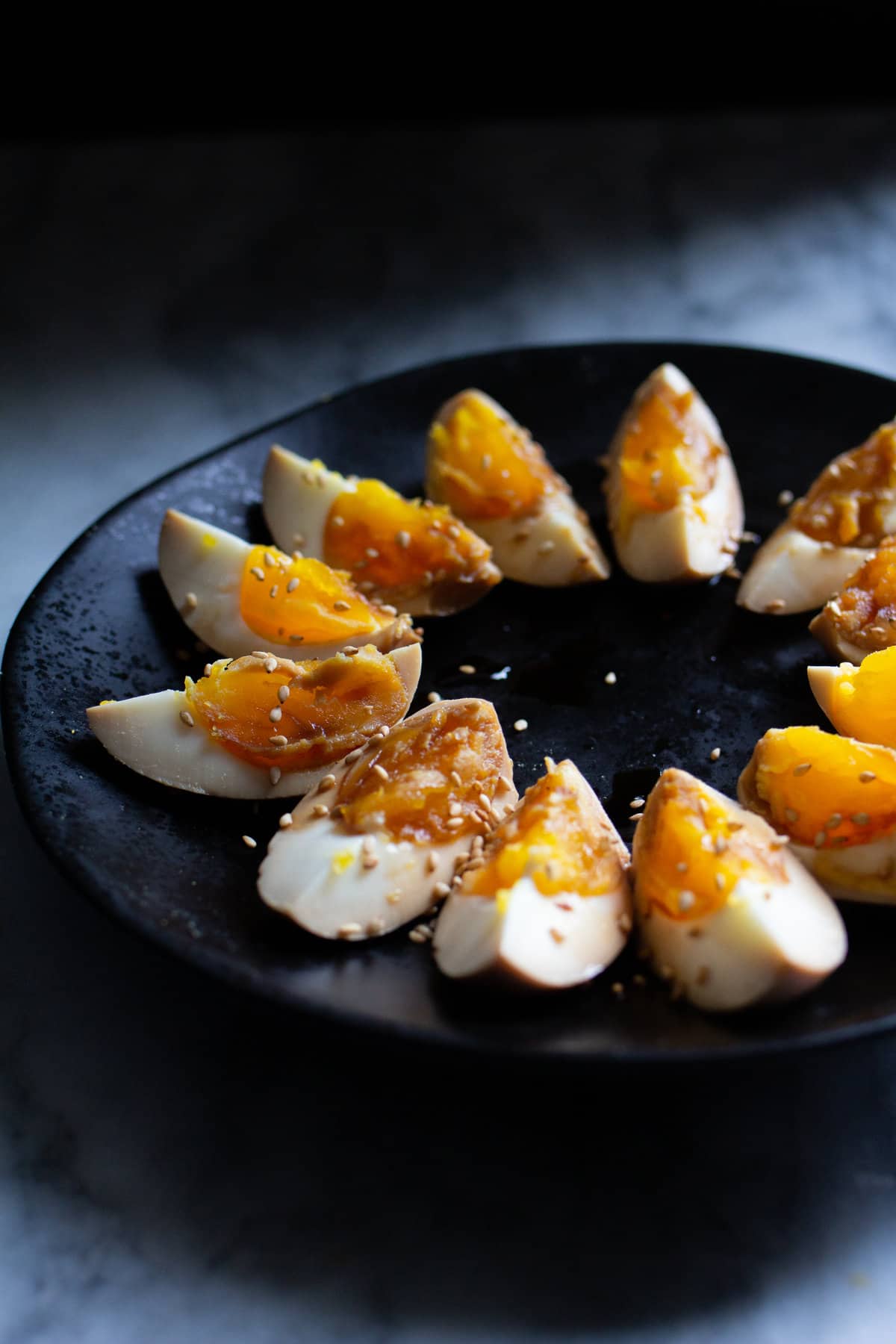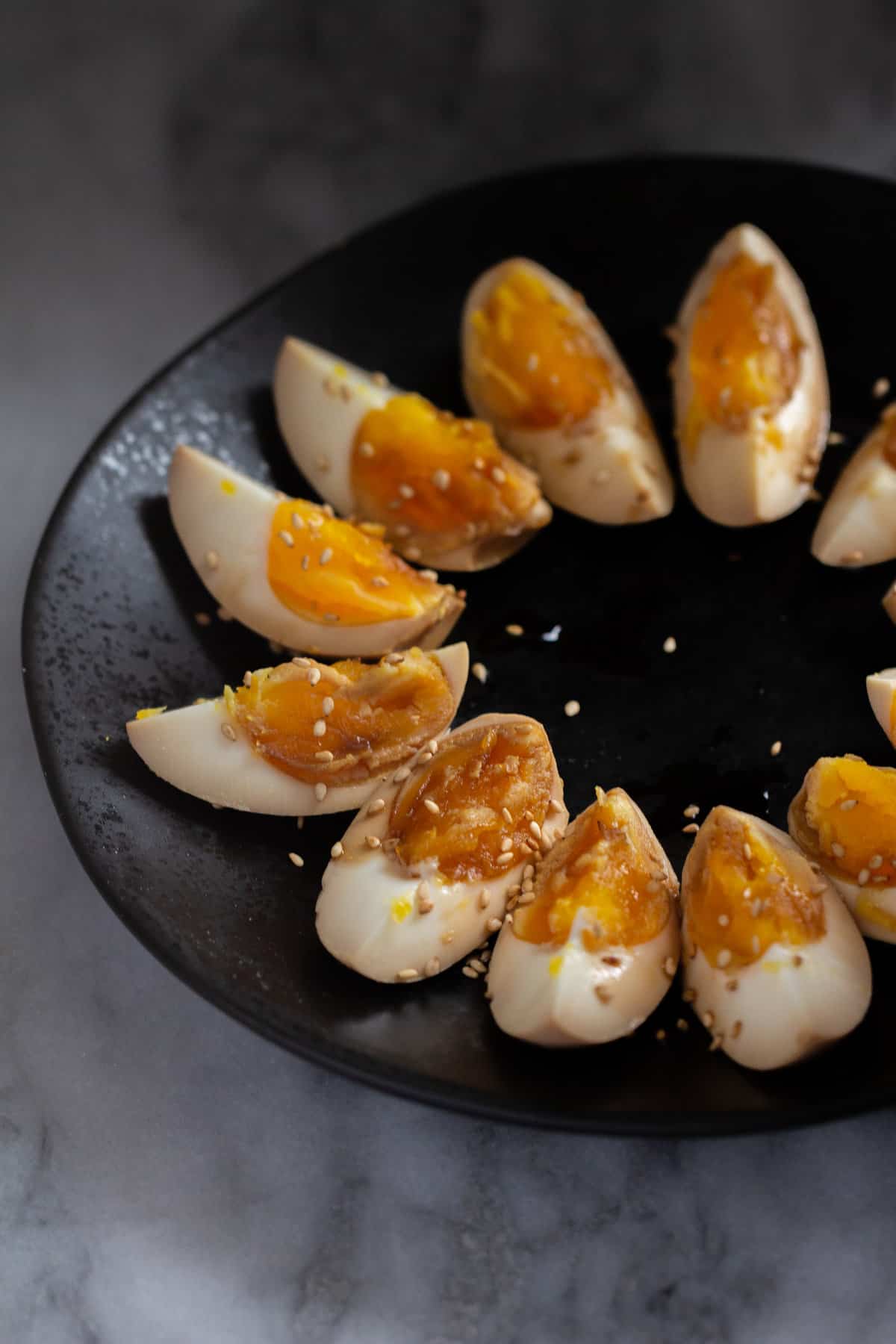 More Keto Recipes to try: