Clean Keto Butternut Squash Soup – in addition to Pumpkin – is a fall classic. You will love the flavors and simplicity of this soup. It's Clean Keto Approved which means it's dairy-free!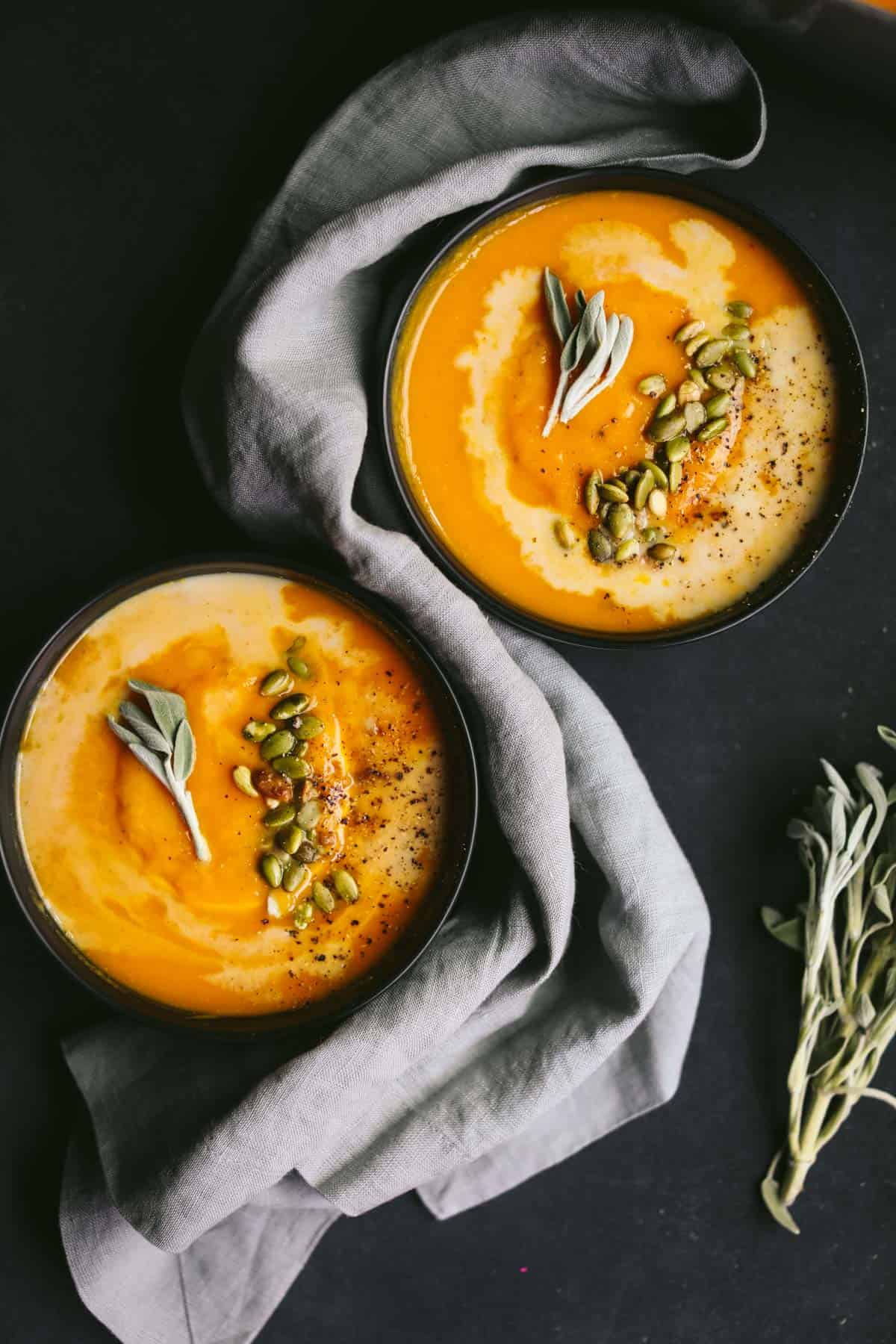 Butternut squash soup is a delicious and comforting dish that is perfect for the colder months.
But if you're following a ketogenic diet, you may be wondering if this classic dish is off-limits.
The good news is that with a few simple tweaks, you can enjoy a bowl of creamy, comforting butternut squash soup while still sticking to your low-carbohydrate goals.
To make keto butternut squash soup, start by roasting the squash until it is tender and caramelized.
This will not only enhance its flavor but also reduce the number of carbohydrates in each serving.
Next, you'll want to add in some healthy fats, such as coconut cream or coconut milk to give the soup a rich and creamy texture.
You can also add in some spices and seasonings, such as garlic, nutmeg, and thyme, to add depth of flavor.
When it comes to thickeners, traditional recipes often call for flour or cornstarch, but these are not keto-friendly.
Instead, this recipe uses coconut milk which is a great way to thicken it without adding non-keto ingredients that will sabotage your weight loss efforts.
If you are not following a Clean Keto Diet, you can absolutely use heavy cream or half and half in this recipe but since this recipe is titled Clean Keto Butternut Squash Soup, there is no dairy in it.
I also use olive oil to saute the onions and the garlic but you can use avocado oil or ghee. Again, if you aren't Clean Keto, feel free to use butter.
Even though butternut squash is a naturally starchy vegetable, you can still make it work while following a low-carb or keto diet. You just need to be mindful of what else you are eating that day or eat it on your training days.
I eat this soup on my Sprint 8 and weight lifting days and the carbs get burned up right away, so it's possible to eat starchier carbs on keto. I teach how to do this In my Carb Cycling program which you can learn about HERE.
But – it is possible to enjoy the fall flavors of butternut squash, depending on what other ingredients you are using in this recipe (as well as your personal daily carb limits).
For example, one way of making butternut soup is to roast the butternut, with a drizzle of oil and spices, and then blend it up. However – that means you're eating just butternut, and a small amount will quickly get you to your carb count for the day.
Is Butternut Squash Keto Friendly?
Is Butternut Squash Keto-Friendly?
The ketogenic diet is a popular eating plan that has gained a lot of attention in recent years, thanks to its potential for helping people lose weight, manage blood sugar levels, and improve overall health.
However, one of the biggest challenges of the ketogenic diet is figuring out which foods are considered keto-friendly and which are not.
This is where butternut squash comes in.
Butternut squash is a popular vegetable that is used in a wide range of dishes, from soups and stews to roasted sides and casseroles.
But with its starchy texture and slightly sweet flavor, it can be difficult to determine whether butternut squash is a suitable food for the ketogenic diet.
What is Butternut Squash?
Butternut squash is a type of winter squash that is widely available and typically used in cooking.
It has a smooth, creamy texture, and a slightly sweet and nutty flavor.
Butternut squash is often used as a substitute for potatoes, rice, or other starchy foods, making it a popular ingredient in a variety of dishes.
Butternut squash is a versatile vegetable that can be roasted, baked, pureed, or sautéed.
It is also a great addition to soups, stews, and curries, and can be used in sweet and savory recipes alike.
Butternut squash is widely available in most grocery stores and is usually sold pre-cut and peeled, making it quick and easy to add to your recipes.
What Are The Macros In Butternut Squash?
The nutritional profile of butternut squash varies depending on the size and type of squash you choose. However, on average, a 100g serving of butternut squash contains approximately:
43 calories
10g carbohydrates
1g fiber
2g protein
0.2g fat
0g saturated fat
It is also important to note that butternut squash is a good source of vitamins and minerals, including vitamins A, C, E, and K, as well as potassium, magnesium, and calcium.
Can You Eat Butternut Squash on Keto?
The ketogenic diet is a high-fat, low-carbohydrate diet that requires careful consideration of the types of food consumed.
The goal of the ketogenic diet is to put the body in a state of ketosis, where it burns fat for energy instead of carbohydrates.
To achieve this, it is recommended to limit daily carbohydrate intake to less than 50g, or 20-30g for some people, and to consume a high amount of healthy fats, such as avocado, olive oil, coconut oil, and grass-fed butter.
So, how does butternut squash fit into the ketogenic diet?
On its own, butternut squash is relatively high in carbohydrates, with a 100g serving containing approximately 10g of carbohydrates.
However, the good news is that you can have this butternut squash soup and still reach your weight loss goals on keto, as long as you are mindful about what other carbs you are having that day.
For example, if you want to have this soup for lunch, I would recommend having eggs and bacon for breakfast instead of a smoothie with berries.
Also, you'll want to avoid any higher-carb vegetables that day like brussels sprouts, onions, peppers, and green beans for dinner.
At the end of the day, it's important not to obsess about the carb content in real, whole foods and worry more about the keto junk foods and processed foods that are on the market these days.
No one ever got fat from eating too much butternut squash soup. Just saying.
Will squash take you out of ketosis?
Well, that depends. Butternut squash is higher in carb content so if you have 3 bowls in one sitting and you sit on your butt the whole day, then yes, you might get kicked out of ketosis.
It's important to remember that it's not healthy (especially for women) to be in ketosis 24/7.
Not to mention, some women have a higher carb tolerance than others depending on their age, metabolic health, and activity levels.
For instance, I've been doing keto since 2015 and I'm very active so having this soup will not kick me out of ketosis.
If you just started keto, are metabolically inflexible, and sit on your butt the whole day you probably will get kicked out.
However, food quality matters more than ketone numbers.
Stop chasing ketones if you want to be successful with this diet long term.
Instead, focus on eating whole, real foods and making them sustainable for you. You can't avoid all carbs forever, especially good quality carbs like butternut squash.
Just eat the soup. You'll survive. I promise.
A way to avoid carbs, but still get to enjoy the delicious flavors, is to add liquids to your soup. In this recipe, I have used vegetable broth and coconut milk. Coconut milk is a great substitute if you can't eat dairy.
This squash soup recipe is going to be thinner than you're used to, but still delicious.
If you'd like to thicken it up though, it is pretty easy to do. You can roast some cauliflower with the butternut and blend them together, or add some xanthan gum at the end of the cooking process.
I recommend pairing this soup with a protein – as the protein in the soup is quite low in relation to the carbs.
What Makes This Butternut Squash Soup Recipe Better?
I'm sure you've seen hundreds of recipes for butternut squash soup, even low-carb butternut squash soup. Why is this one better?
Yes, this soup is keto-friendly, easy to make and all of the ingredients are sugar-free, but there are other reasons it's the best butternut squash soup recipe on the internet.
First, I consider this one "Clean Keto" because instead of using heavy cream, I used coconut milk.
Coconut milk or coconut cream is a great replacement for heavy cream if you are doing Clean Keto for faster weight loss results, or if you can't tolerate dairy.
It's important that you use unsweetened coconut milk, otherwise, you'll be consuming sweeteners that are not helpful for the keto diet.
Using full-fat coconut milk is going to be your best bet. Otherwise, you're just paying for water, which is dumb, in my opinion.
Another reason this is the best butternut squash soup recipe is that I roasted the squash until it was golden brown. This adds more flavor and dimension to the soup, especially when paired with curry powder.
By the way, if you aren't a fan of curry powder (like my husband) then feel free to omit it.
Last but not least, this squash soup recipe is super creamy which makes it super satisfying compared to the more runny soup recipes I've tried.
Can You Freeze Keto Butternut Squash Soup?
Yes, you can freeze butternut squash soup! In fact, this is something I do often.
I make a big batch of roasted butternut squash soup, then once it's at room temperature I portion it out into freezer-safe containers and then freeze it.
When you're ready to eat it, I recommend taking it out of the freezer the night before so it can defrost in the fridge overnight. If you didn't get to defrost it first, place the frozen block of soup in a pot over low heat to defrost it and then warm it up.
How to Make Clean Keto Butternut Squash Soup Recipe
Step 1- Get all of your ingredients ready. Mince the garlic, chop the onions, and portion out the spices and seasonings so the cooking process will be faster.
I like to put all of my spices and seasonings in little glass ramekins so I'm not looking for things as I'm cooking.
Step 2- Half the squash, remove the seeds and place them on a sheet pan. Rub with olive oil and season with salt and pepper. Roast at 400 for 40 minutes.
I find it's much easier to use a small ice cream scoop to scoop out the seeds. It works really well and saves time and frustration from missing seeds or cutting into the flesh of the squash.
When roasting the squash, I like to line the baking sheet with parchment paper so the pan doesn't burn and so the squash doesn't get stuck to the pan. Even if you grease it, it might get stuck.
At about the 20-minute mark, flip the squash so it roasts evenly and you don't have one side that is more roasted than the other.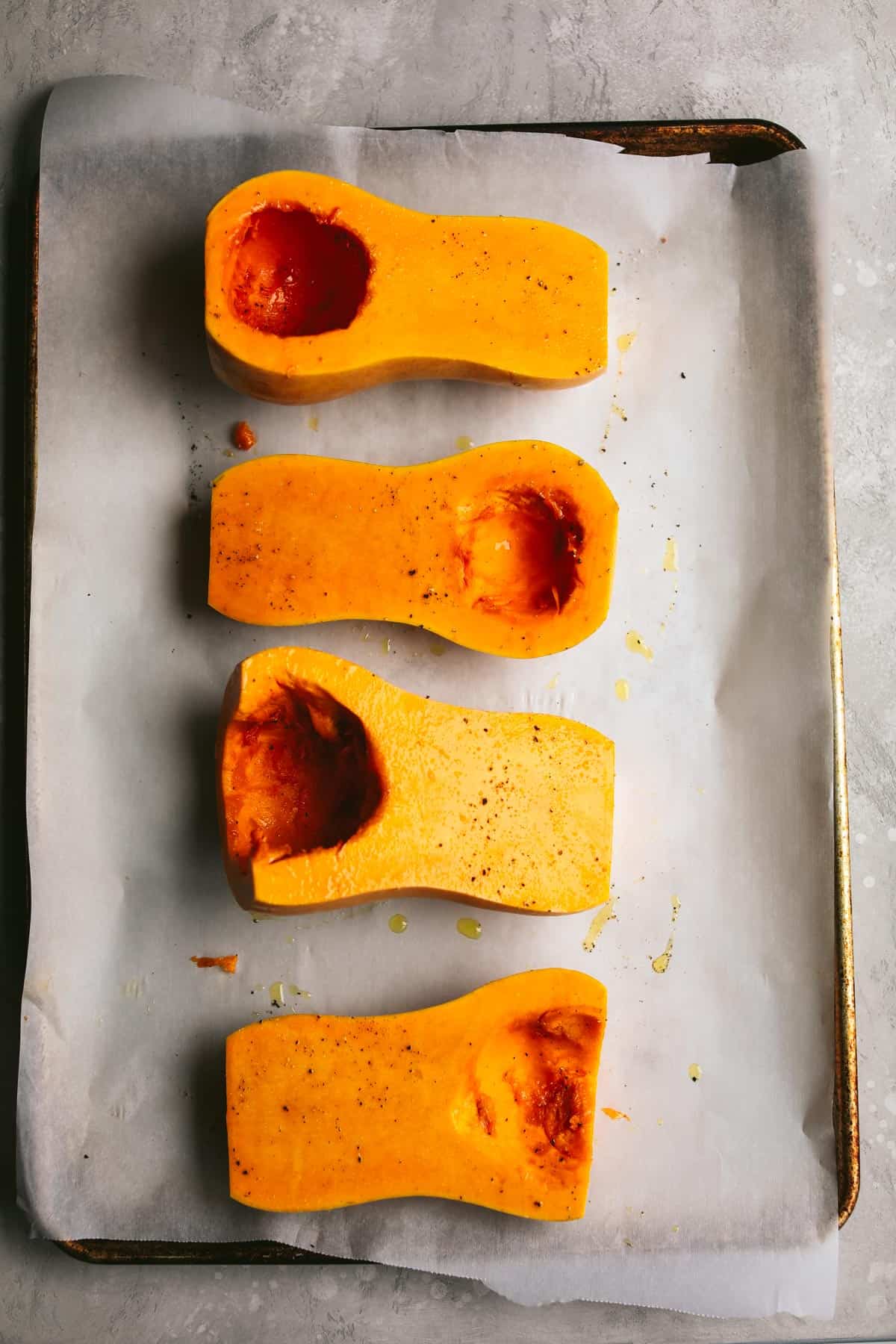 Step 3- Cook onions and garlic in a dutch oven and add to the blender. Scoop squash into the blender and add the herbs and some broth. Blend.
Step 4- Transfer to soup pot and add the rest of the broth and coconut milk. Season with salt and pepper.
If you want the soup to be thicker, I suggest using coconut cream instead of coconut milk, or you can do half and half.
Also, the thickness depends on how much of the soup you blend and how much you leave in the pot. Adjust according to your desired thickness.
Personally, I don't want to eat my soup through a straw so I like it on the thicker side.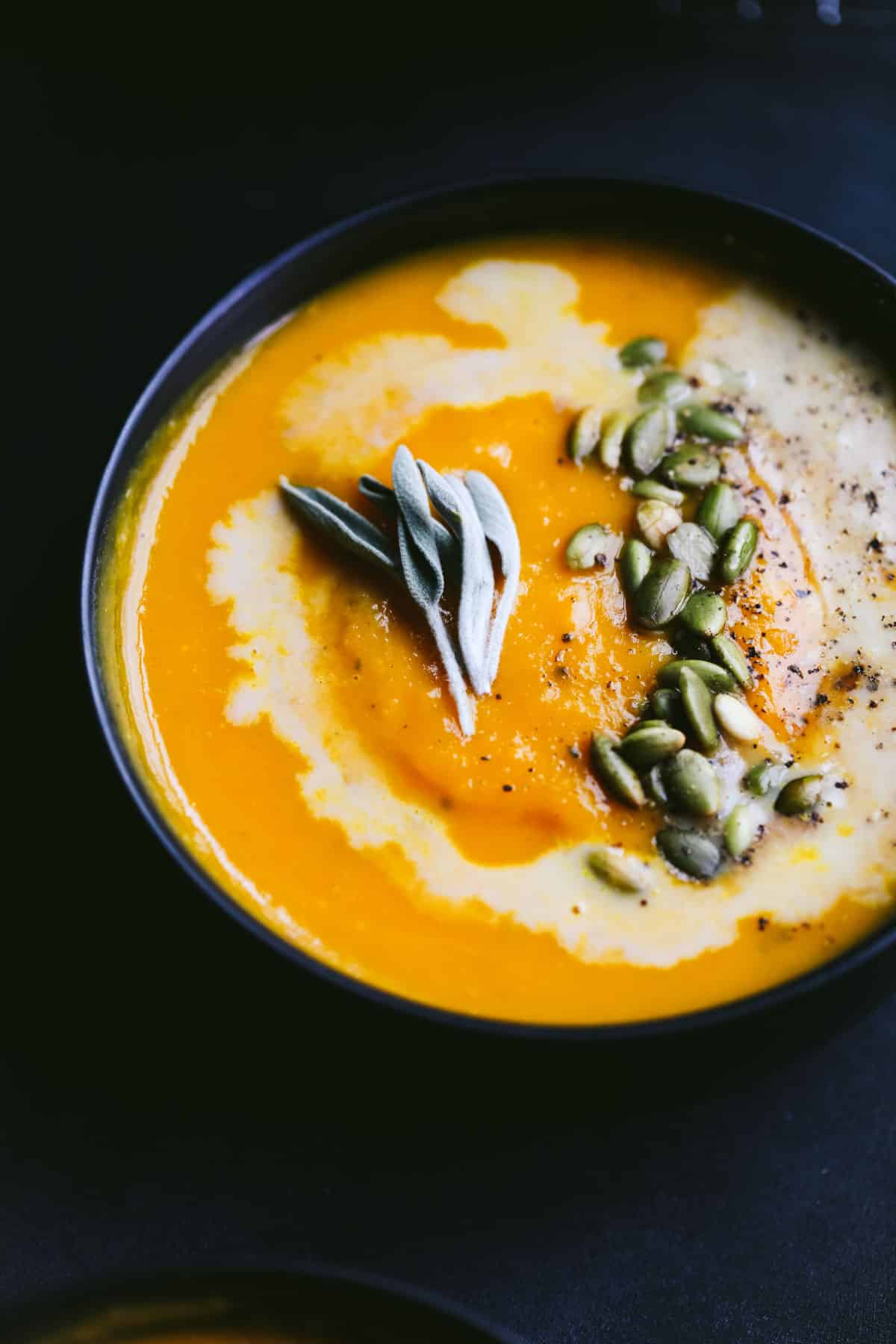 Can I Make Butternut Squash Soup In My Instant Pot?
Well of course you can darling.
To make this recipe in the Instant Pot, I would cube the squash first so it cooks faster.
I would recommend you first put the Saute function on and saute the onions and garlic.
Then just add all of the ingredients (aside from the garnish) into the Instant Pot.
Season it with salt and pepper and put the lid on (duh).
Set the Instant Pot to the sealing position and pressure cook until the squash is fork-tender.
Let the pressure manually release and allow it to cool.
Then add some to the blender and blend it until it reaches your desired thickness.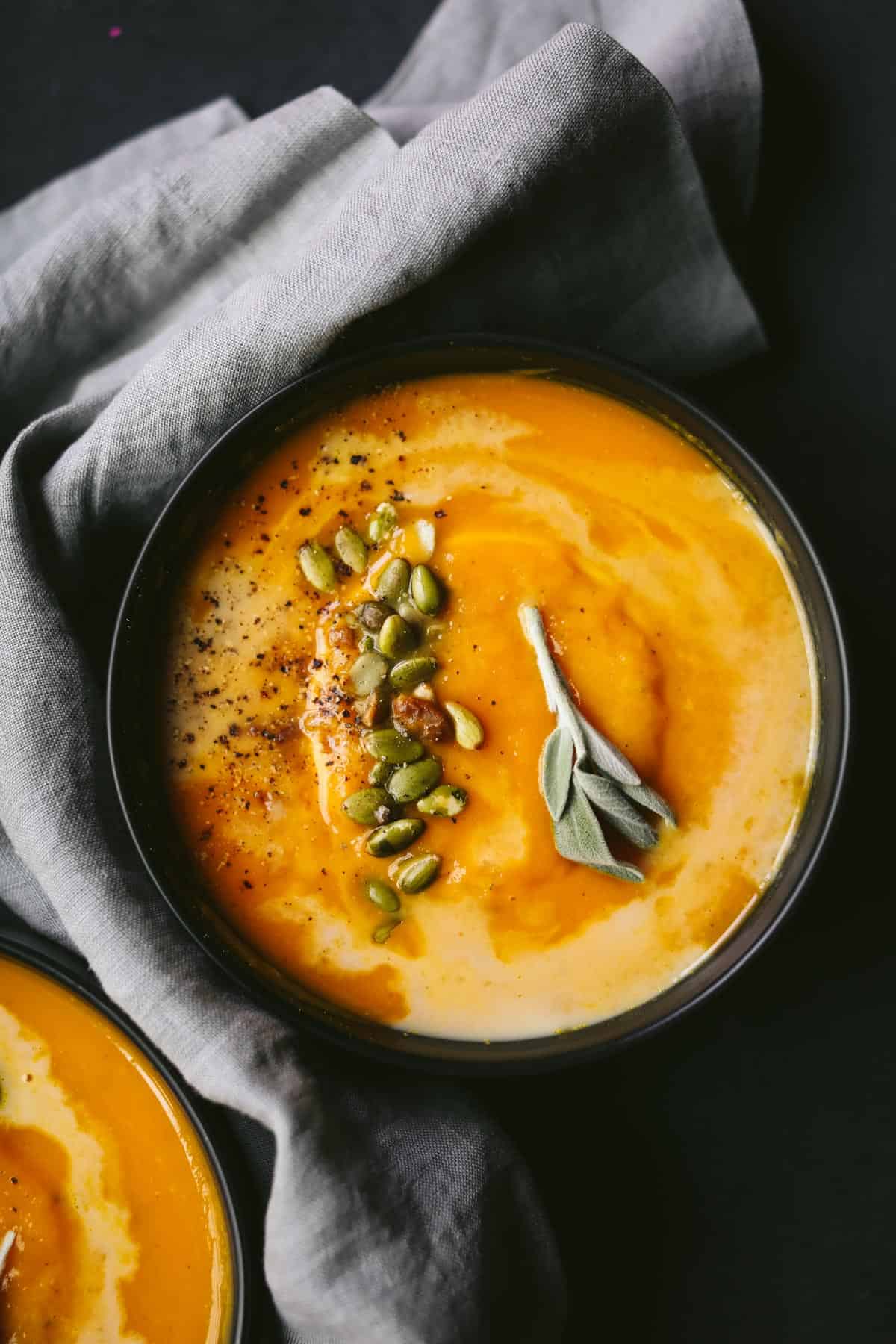 Did you make this butternut squash soup recipe? How did it go? I'd love to know in the comments.
Looking for more dairy-free soup recipes? Check out these 15 Keto Soup Recipes that you can make to keep you warm. You can also check out my Keto French Onion Soup recipe!
Planning for a Thanksgiving party this year? Check out these The Best Keto Thanksgiving Recipes and The Best Keto Thanksgiving Dessert Recipes that will wow your guests.
More Keto Recipes to try:
Are you curious about What is Clean Keto Carb Cycling? Check out my post and learn if this way of eating is right for you.