This dairy-free buffalo chicken dip is Clean Keto approved and the perfect appetizer for your Super Bowl Party or any party, really.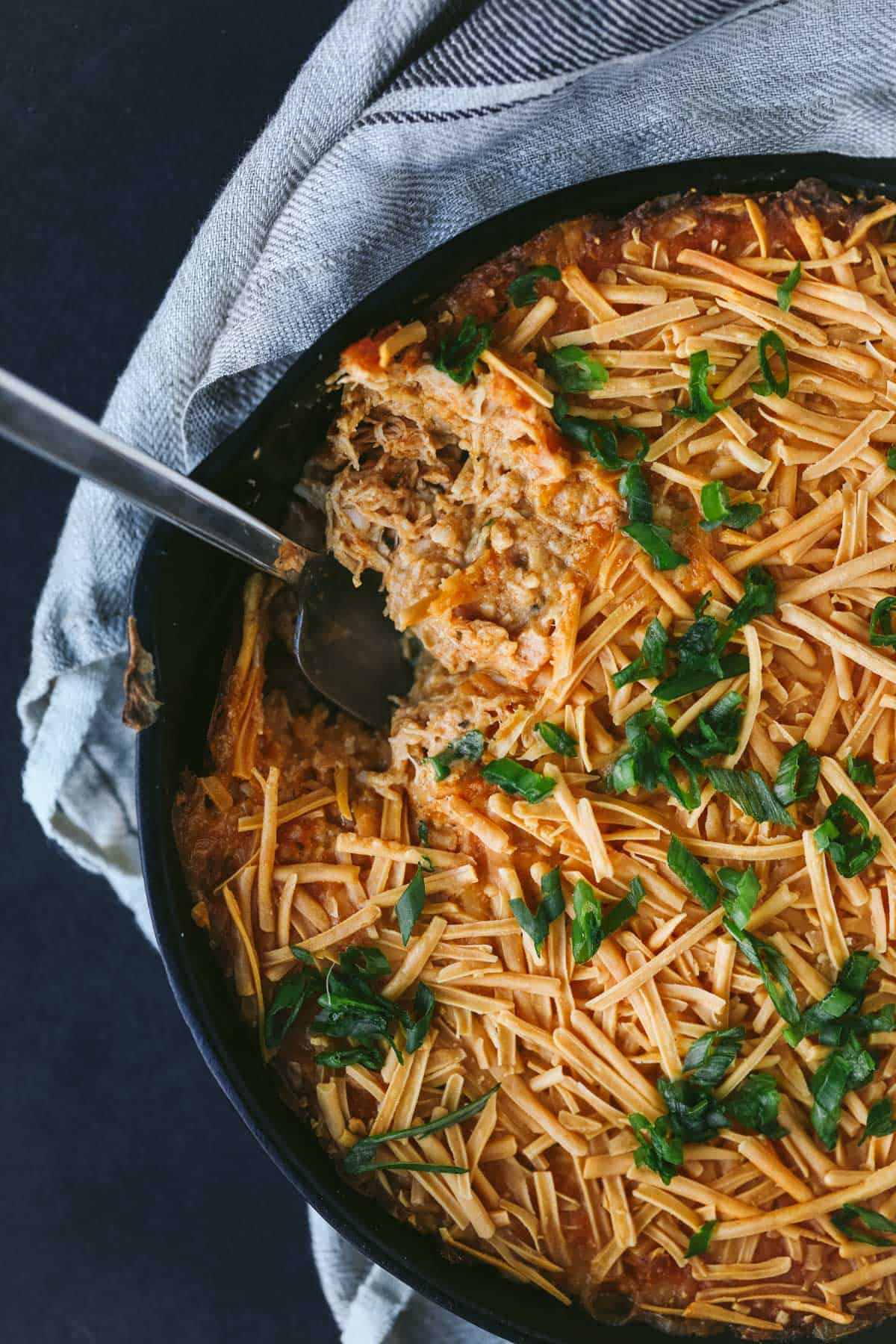 Is there a better dip than the classic Buffalo Chicken Dip? (I mean, there is guacamole, but I don't consider that a dip for some reason. It has its own category)
Thinking about it makes my mouth water. It's ooey and gooey and spicy at the same time. Also, it is one of the easiest recipes in the world.
My oldest sister would always make a healthy Buffalo Chicken Dip anytime we came over. She got the recipe from someone, and it was claimed to be one of the best Buffalo sauce Chicken Dip recipes. It was sooooo good.
It's like Lay's potato chips. You can't just have one (dip, in this case). Once she placed it in front of us with a back of Tortilla scoops, we were done. Case closed. Eat until you can't breathe type of situation.
15 minutes later, it would happen. The cement block would form in my stomach, filled with cheese and tortilla chips. Was it worth it? Yes. However, after some time, I had to say no to the addicting dip kindly.
Since then, I have found a few tweaks that allow me to enjoy Buffalo Chicken Dip without feeling like death.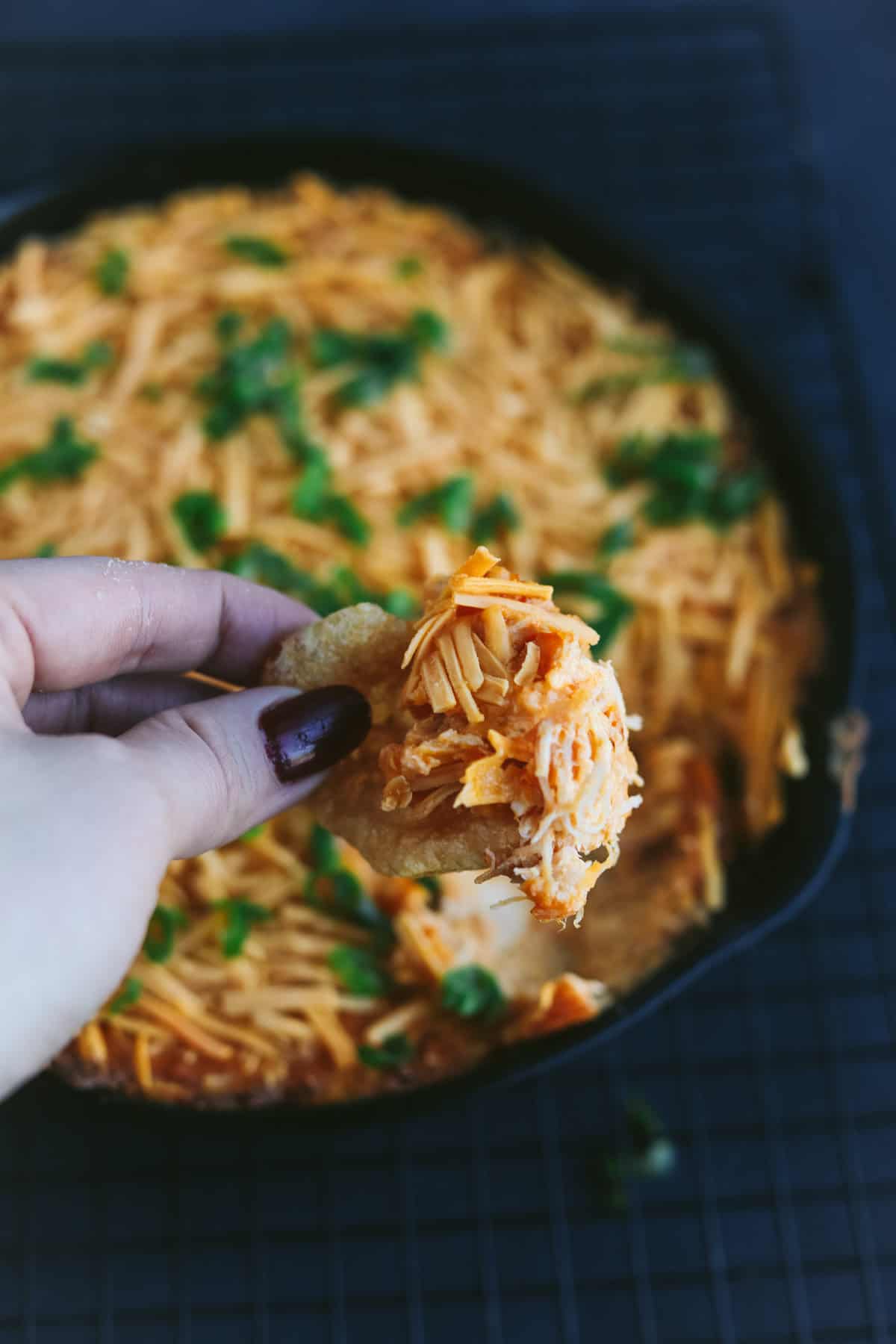 First, the quality of the ingredients matter. If you are using crappy ranch, processed cheese, and horrible canned chicken, how do you expect to feel?
Also, you don't NEED chips for this dip. Celery, pork rinds, or flackers are perfect for this dip. Plus, you won't feel so gross after and have a food baby (so many food babies from this dip in my past)
So, get some good ingredients. Use Primal Kitchen Foods ranch dressing. (Get 15% off with code KETOFITMOMLIFE with this link). Get some REAL cheese and shred it yourself! Buy a pre-cooked chicken and shred it yourself. Yes, it takes some extra time, but it will be worth it in the end.
Like always, I feel that the quality of food matters the most. Even though this is a dip that is usually viewed as "unhealthy," you can make it better for yourself by choosing the best possible ingredients.
As far as the hot sauce goes, I love using Frank's Red Hot Sauce because it has the least amount of ingredients and the best flavor for this dip. Use whatever hot sauce you love; no sugar added, though!
As mentioned above, you can use a lot of Keto-approved foods to eat this with. Here are some examples:
See, you don't need Tortilla chips!! Enjoy this crowd-pleasing buffalo chicken dip without any food babies!!!! 🙂
Pair this with my Salt and Vinegar Chicken Wings, and you'll have a party!
How to make Dairy-Free Buffalo Chicken Dip
1. Gather your ingredients
2. Combine the dairy-free cream cheese, dairy-free ranch, Franks red hot sauce, and half of the cheese in a medium bowl.
3. Add in the shredded chicken
4. Pour mixture into a 9 inch Cast Iron Skillet and top with remaining vegan cheese
5. Bake for 15-20 minutes
Note: Vegan cheese does not melt well, so you may have to mix it in towards the end to make it "melty"
More Keto Recipes to try: