Roasted Lemon Asparagus is an easy and delicious Keto and Low Carb friendly side dish that pairs well with any meal!
Spring is coming!! Well, sorta. I am looking outside the window of the Foyer (a café in Cleveland) and it's raining so it doesn't look or feel like Spring yet. However, it's almost April and it will be here soon which also means; Asparagus season!!
I don't know about you, but I love Asparagus. Minus the fact that it makes your pee smell bad. Speaking of which, do you know why that is? I have always wondered, so I looked it up. Here is what Dr. Google says:
Asparagus contains an acid called Asparagusic acid and when our bodies break it down it releases sulfur which leads to a strong smell. Ironically, not everyone has the gene that causes their urine to smell after eating Asparagus, which would explain some of the odd looks I've had in the past after I told people about my pee smelling bad.
Anyway, I don't care, I still love it. I especially love it when it's roasted and topped with lemon, lots of salt, lemon zest, and pepper! Yum!
The best part is that this Keto Roasted Lemon Asparagus is one of the easiest asparagus recipes. All you need to do is toss the asparagus in olive oil, season it well, top it with lemon juice and zest, and roast it!
Simple and delicious! You can even add Parmesan cheese on top if you aren't dairy-free, that makes it even better!
Some of the meals that roasted lemon asparagus goes really well with are a nice grilled steak, Roasted Chicken, pulled pork, salmon, or any other protein really.
Roasted Lemon Asparagus is a staple in our house because it goes well with most proteins, is very easy to prepare, and complies with my Ketogenic lifestyle. Anytime I ask my husband to buy a vegetable, he buys asparagus, probably because there is not much prep work involved.
What are the benefits of Asparagus?
Lots of fiber (helps you poop)
Great source of folate
Contains vitamins A, C, E, and K
Great at regulating blood sugar (this is important if you are following a Keto or Low Carb lifestyle)
Do you have to wash Asparagus before cooking it?
Yes. Rinse it under cold water to remove any dirt or residue.
How do you prepare and store asparagus?
After you have washed the asparagus, dry it with a kitchen towel and cut off about an inch of the bottom which is known as the woody part. It's really tough and not easy to chew.
The best way to store asparagus to keep it fresh is to place it into a container of water and cover it loosely with plastic.
Can you eat Asparagus raw?
Technically, yes. However, I don't like the taste of it raw unless I'm using it in a salad with dressing. I would at least blanch it for a few minutes if I was making it for a cold salad.
Raw asparagus has a crispy texture and a slightly sweet flavor, making it a great addition to salads or as a crunchy snack.
If you're going to eat asparagus raw, it's important to choose fresh, crisp stalks that are firm to the touch. You may want to trim off the woody ends and slice the stalks thinly to make them easier to eat.
Additionally, you may want to consider marinating or lightly blanching the asparagus to soften it and enhance its flavor. Keep in mind that eating large amounts of raw asparagus may cause digestive issues, so it's best to enjoy it in moderation.
ingredients for the keto-roasted asparagus recipe
With just a few basic ingredients, you can transform fresh asparagus into a flavorful and nutritious side dish or light meal. Let's dive in and take a closer look at each of the ingredients needed for this keto-roasted asparagus recipe!
Asparagus: Asparagus is the star of the dish and is a great vegetable for a keto diet as it's low in carbs and high in fiber. Choose fresh, tender asparagus stalks that are firm to the touch.

Olive Oil: Olive oil is used to coat the asparagus before roasting, adding healthy fats to the dish. It's also a great source of antioxidants.

Fresh Lemon Juice: Fresh lemon juice adds a tangy and bright flavor to the asparagus, balancing out the earthy flavor of the vegetable. It's also rich in vitamin C, which is essential for a strong immune system.

Lemon Zest: It adds an extra layer of citrus flavor to the dish and pairs well with olive oil and lemon juice. It's also a good source of vitamin C and antioxidants.
Optional ingredients:
Nutritional Yeast: Nutritional yeast is a great vegan source of protein and adds a nutty, cheesy flavor to the asparagus. It's also a good source of vitamins and minerals.

Parmesan Cheese: Parmesan cheese is a classic pairing with asparagus and adds a salty, nutty flavor to the dish. While it's not vegan, it's a good source of protein and calcium.
Together, these ingredients create a delicious and keto-friendly dish that's easy to make and perfect as a side dish or light meal. You can choose to add nutritional yeast or Parmesan cheese to add extra flavor and nutrition to the dish or keep it simple with just the basic ingredients.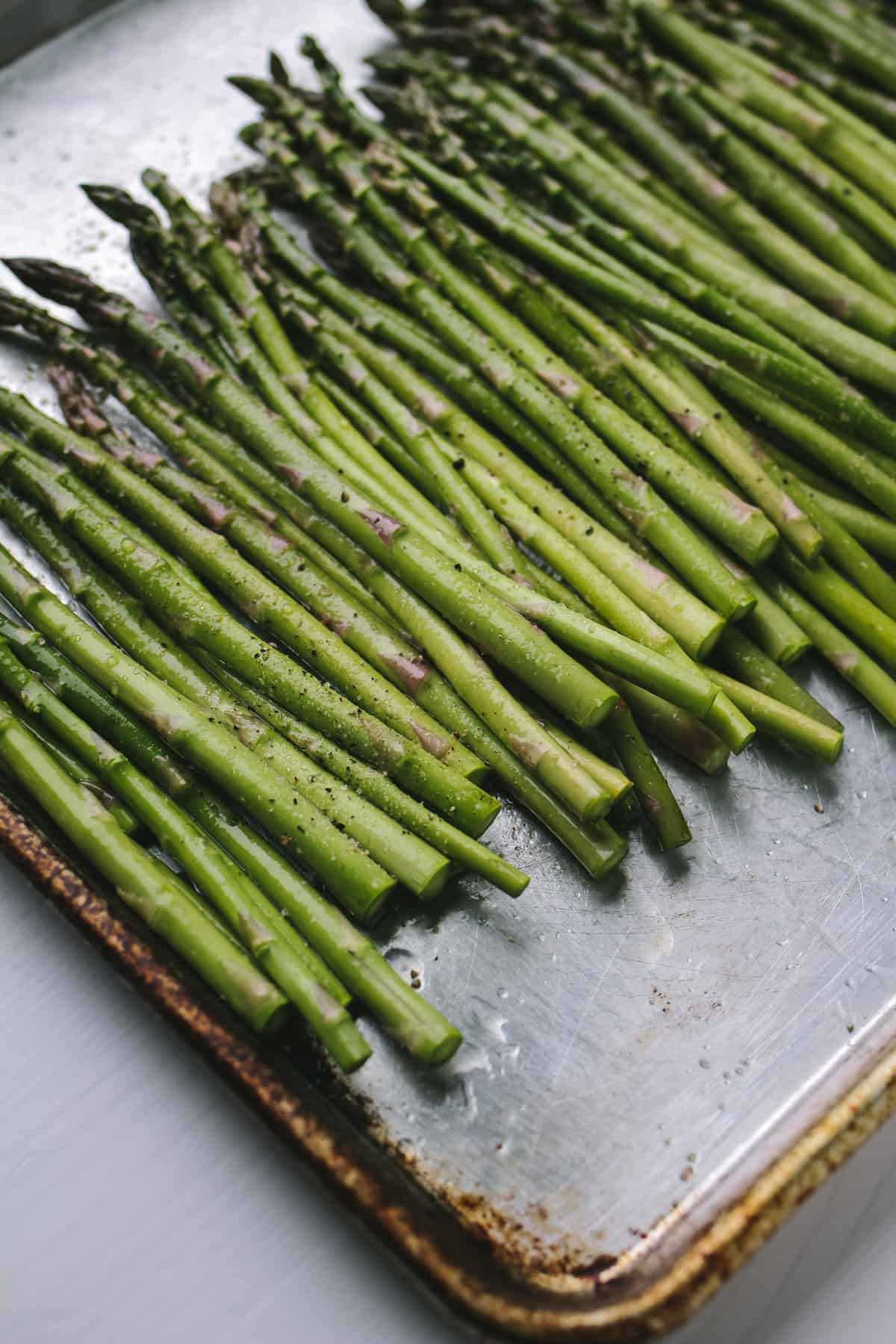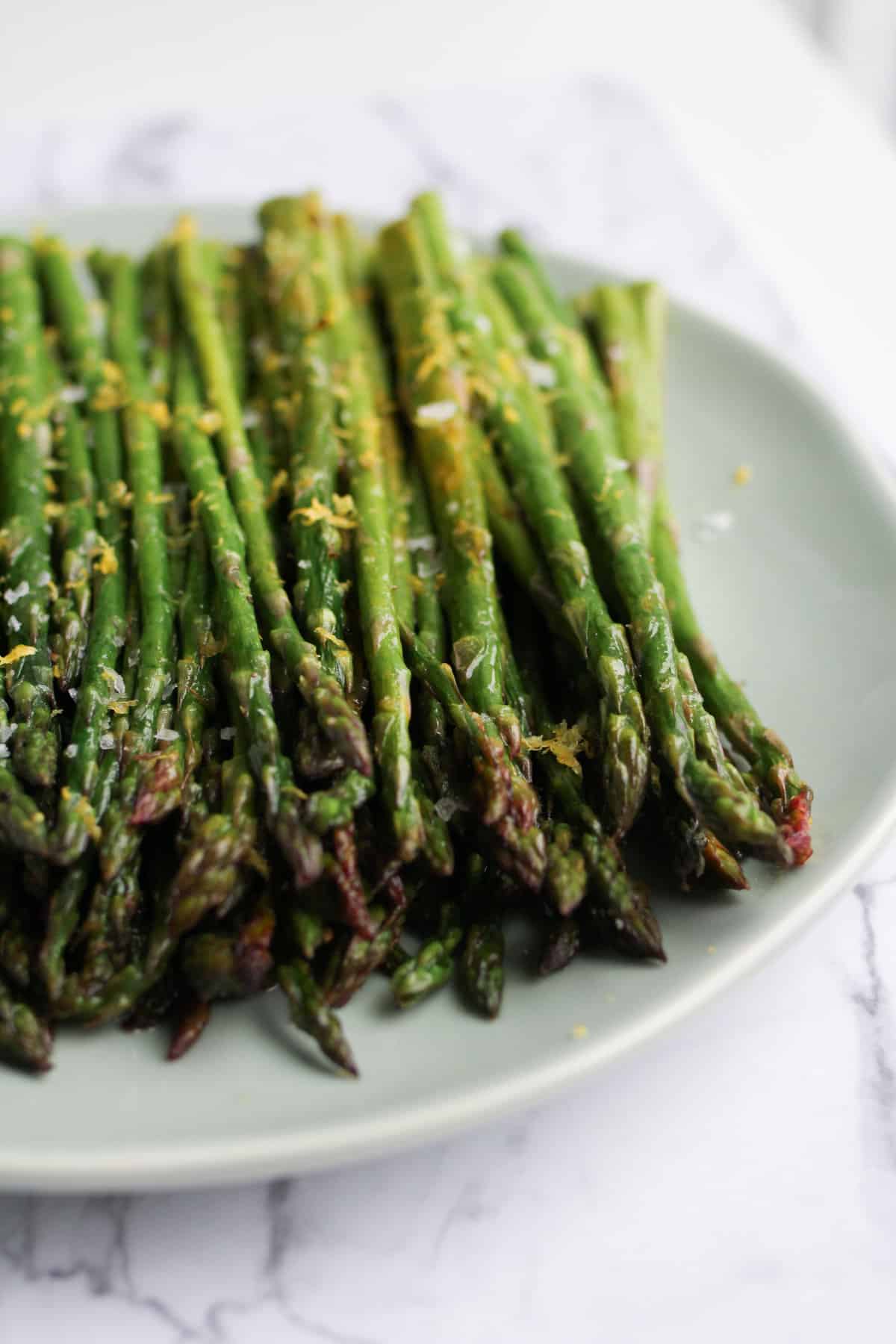 What is your favorite way to eat asparagus? Comment below!
More Keto Recipes to try: