This Red Wine Braised Brisket recipe is special because it's our family's Christmas Eve Tradition and we look forward to it every year!
While most of the recipes I make tend to be quick and simple, so I can fit them in around a busy, every so often I'll bring out one that requires a little more effort. Most often on a Sunday afternoon when I have a little more time to prepare the meal.
This Red Wine Braised Brisket is one of those meals. The actual prep time only takes 25 minutes, but the recipe requires you to check on the dish every 30 minutes in the oven, to pour the juices over the meat.
This is the kind of recipe when you hope for leftovers the next day!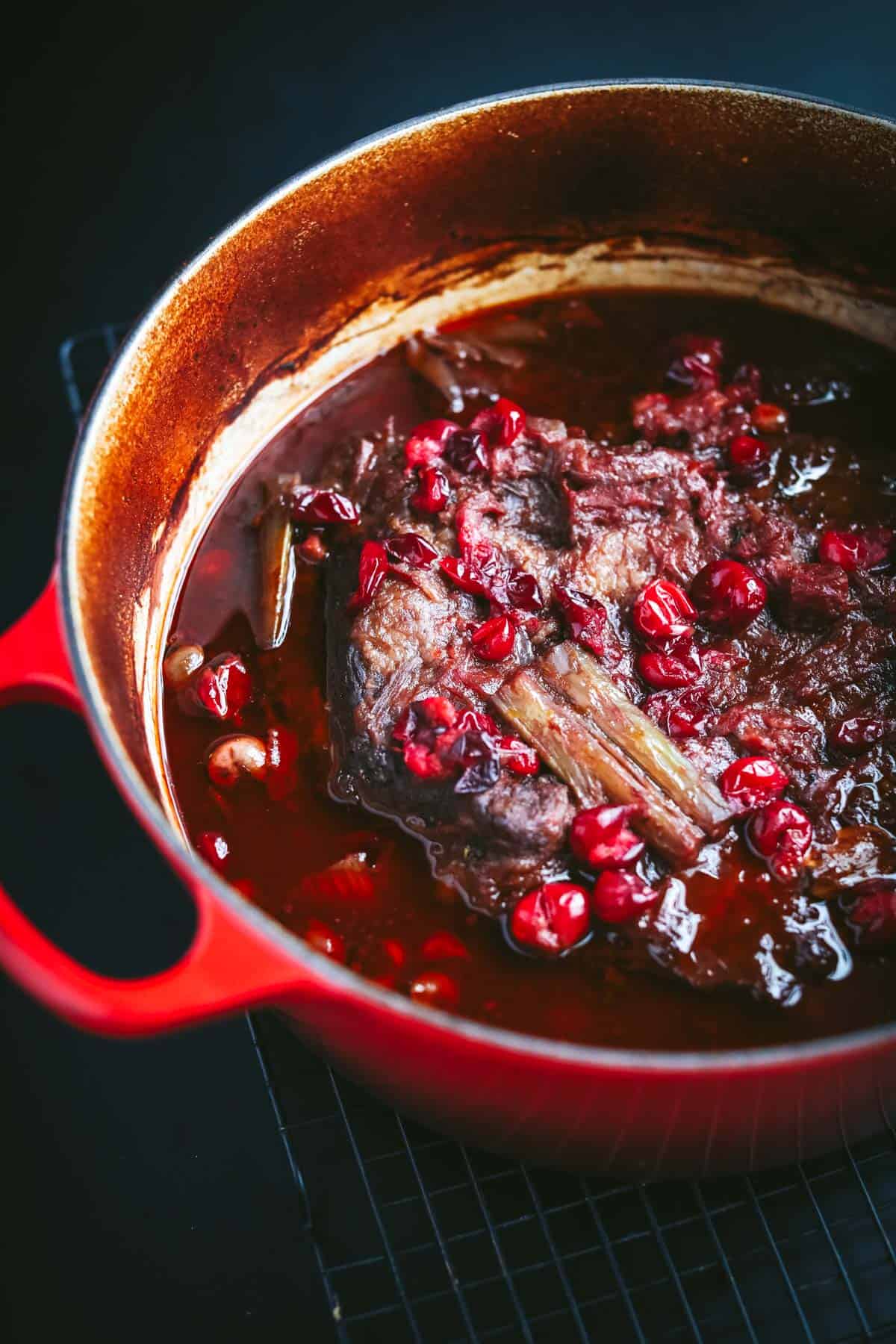 What Does It Mean To Braise Meat In The Oven?
If you're feeling at all intimidated by the term and technique 'braising' – there is no need to be!
Braising is a cooking technique that involves browning your meat in oil, placing it in a tightly covered dish or pan with a small amount of liquid, then cooking in the stovetop or oven.
The meat is cooked slowly, which not only helps develop flavor but turns tougher cuts of meat tender.
How to Make Red Wine Braised Brisket
Step 1- Salt brisket liberally on both sides
Step 2- Brown on both sides
Step 3- Add all veggies, and herbs
Step 4- Pour in wine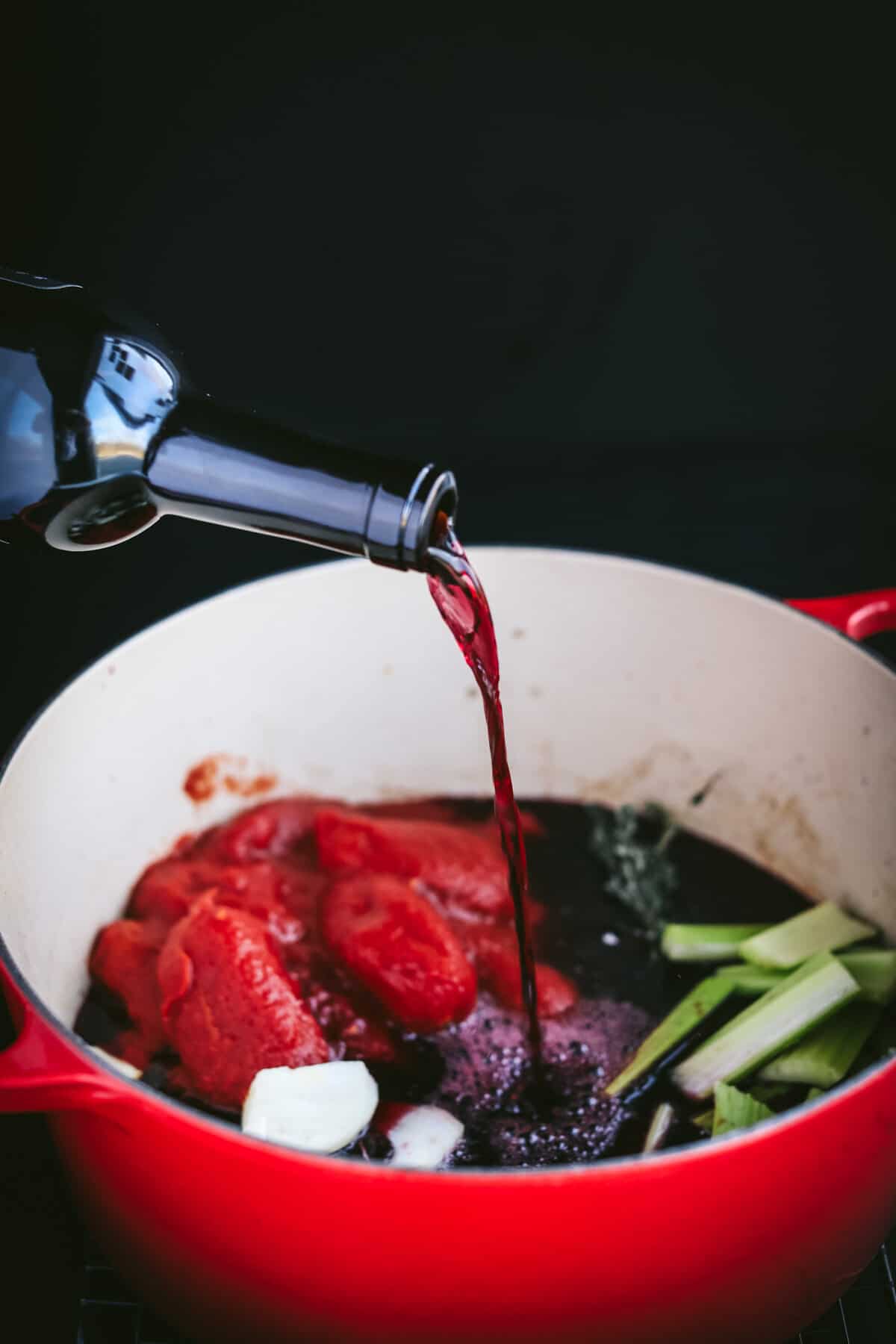 Step 5- Place brisket on top of veggies and wine and braise
Step 6- Add cranberries during the last 30 minutes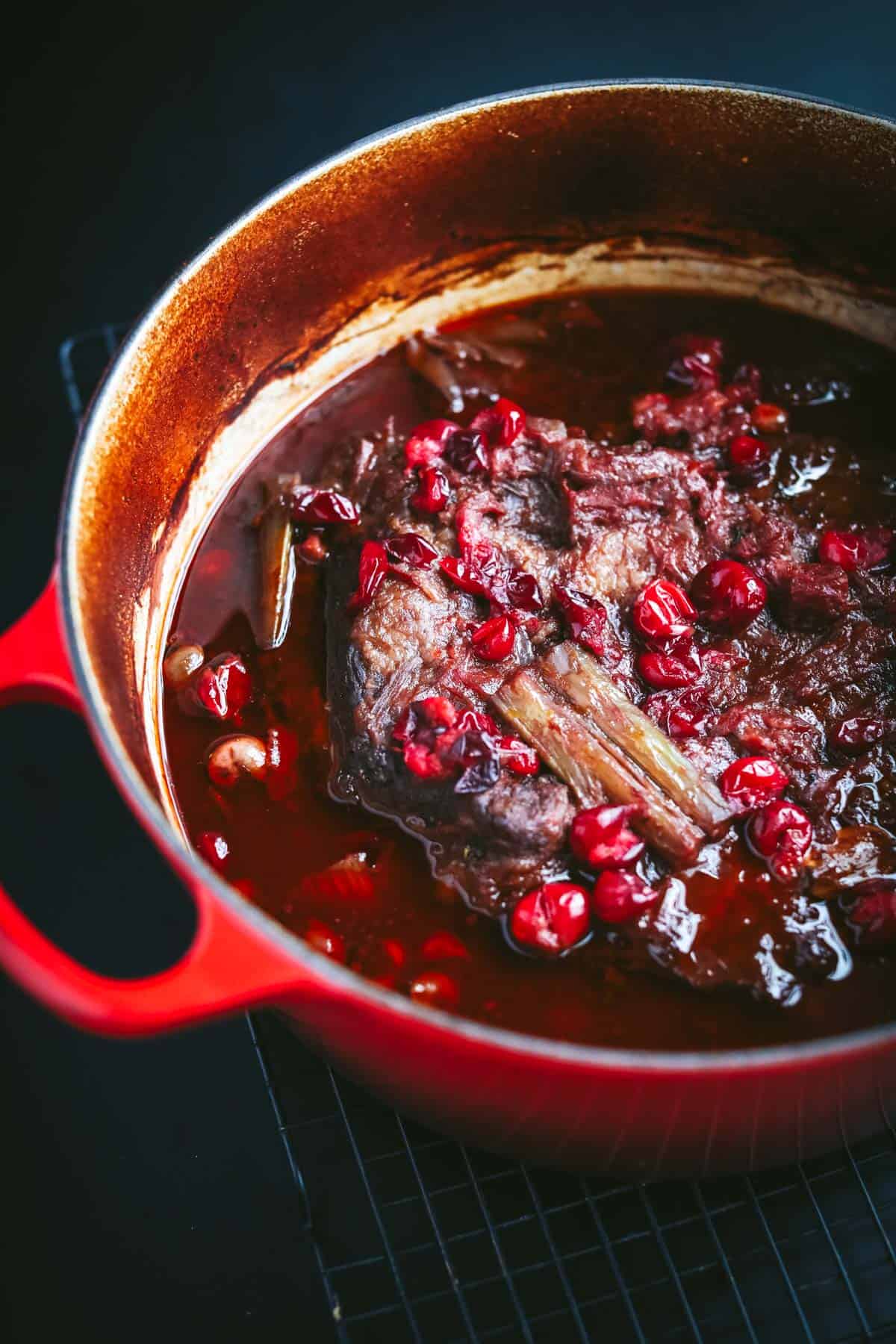 What Wine Goes With Brisket?
In the recipe, I have just listed the wine as a 'full-bodied red wine' and really – any full-bodied red will do. It doesn't even have to be an expensive one, because you will be cooking with it.
If you will also be serving wine with the meal, then you may want to consider keeping them the same. The Bordeaux varietals pair best with brisket – think merlot or cabernet sauvignon.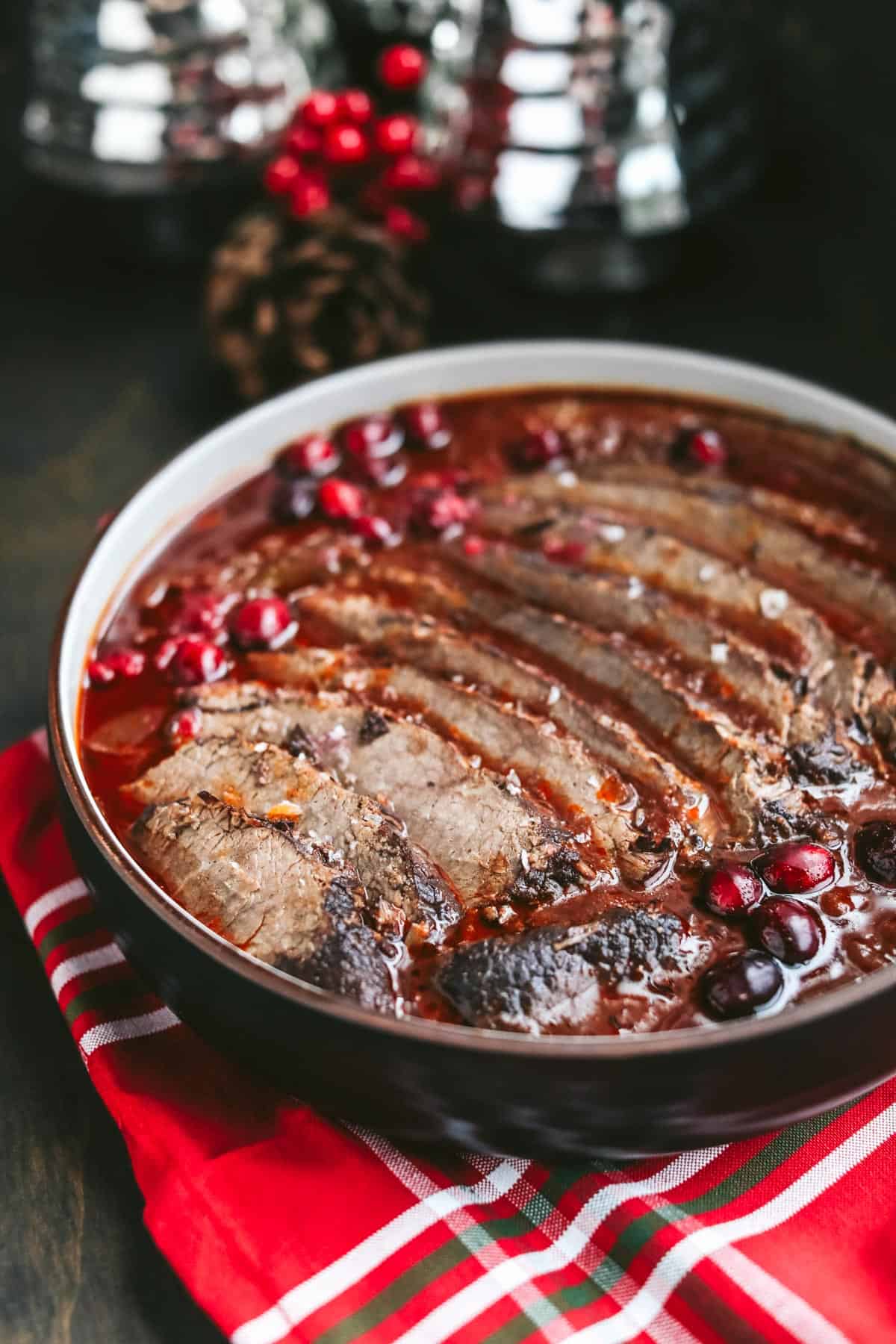 What To Serve With Red Wine Braised Brisket
You'll often find potato-based side dishes served with brisket. But there are also plenty of low-carb sides that are delicious when served with a red wine braised brisket.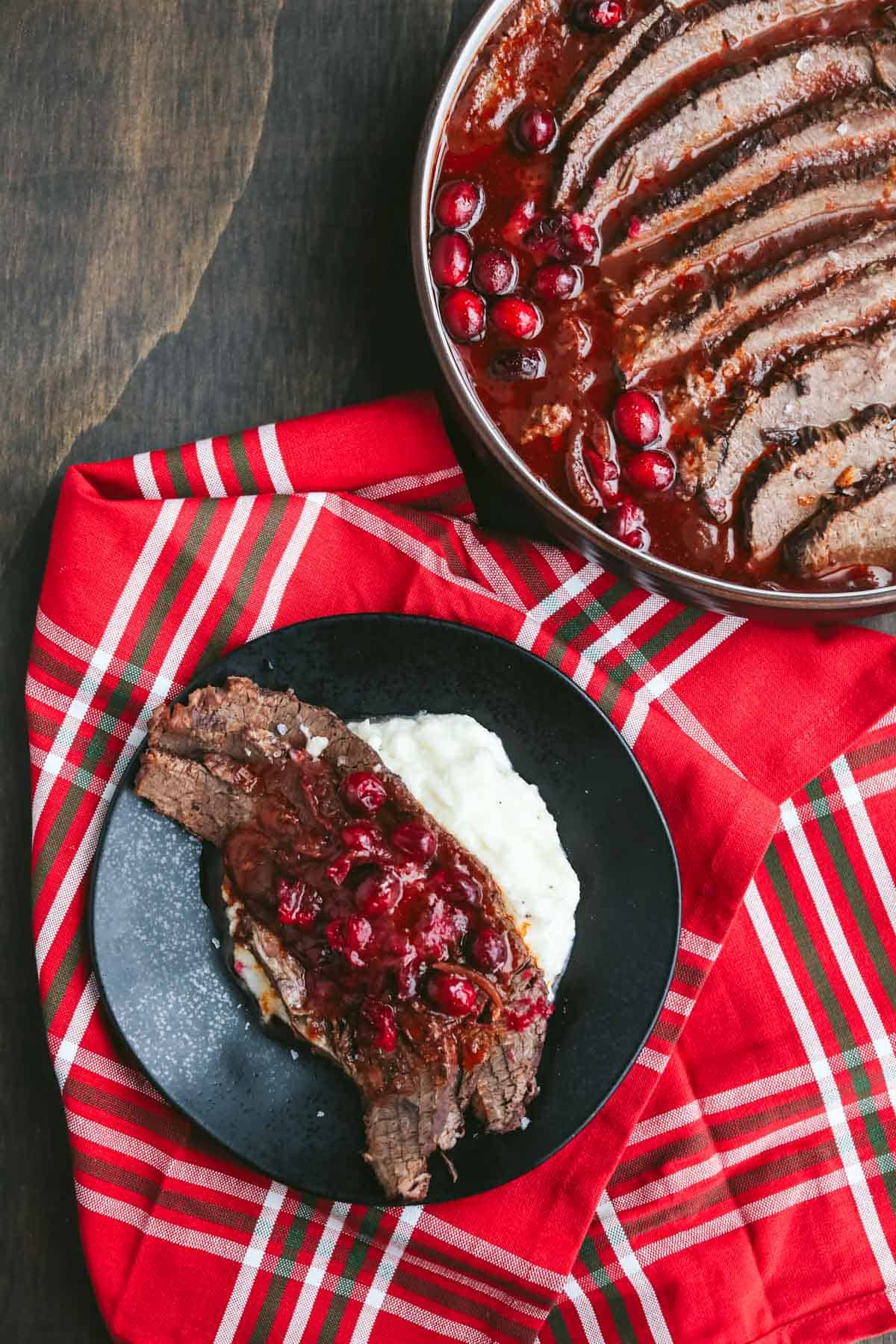 More Clean Keto recipes to try: