This roasted keto butternut squash dish combines bold flavors of fresh herbs and garlic along with goat cheese to finish off this easy and delicious side dish!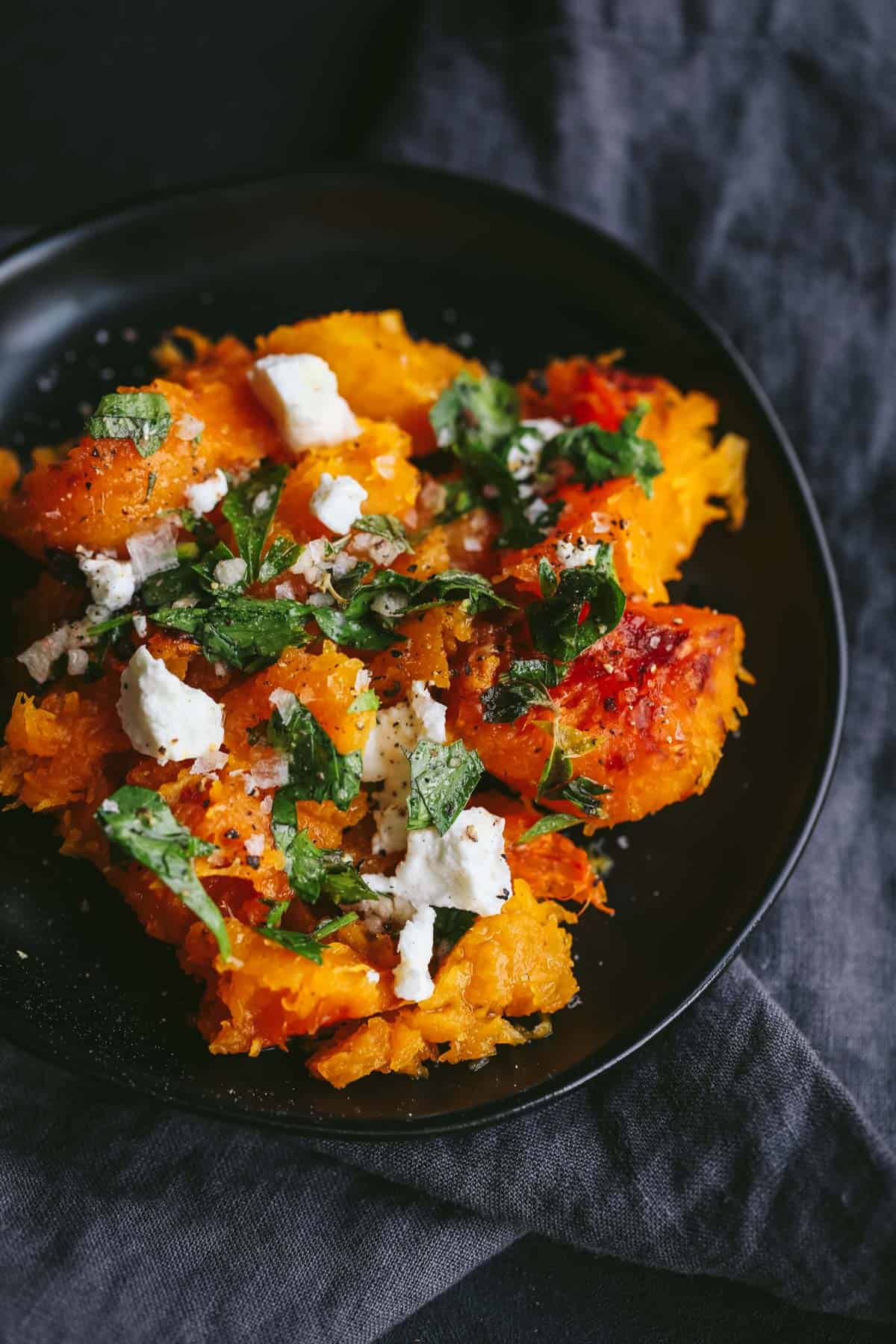 Are you looking for a healthy and delicious side dish for your keto diet? Look no further than this roasted butternut squash recipe with herbs and goat cheese. This dish is low in carbs, high in flavor, and easy to make. With just a few simple ingredients, you can have a flavorful and satisfying side dish that is perfect for any meal.
Ingredients:
1 large butternut squash or other large winter squash (about 4 pounds), scrubbed
1 garlic clove, finely grated
¼ cup olive oil
¼ cup finely chopped parsley
1 tablespoon finely chopped marjoram or oregano
1½ teaspoons red wine vinegar, divided
3 ounces fresh goat cheese
At this point, I would be sick of the popular winter squash if I wasn't making recipes that were completely different from each other. When most people think of butternut squash they think of either soup or roasted with brown sugar.
Well, I am not like most people. I search far and wide (or just go on bonappetit.com) for outside-the-box butternut squash recipes. For example, this Roasted Butternut Squash with Herb Oil and Goat Cheese.
The recipe looked simple and I had most of the ingredients already. All I needed to buy was fresh parsley, oregano, and goat cheese.
Is Butternut Squash Keto-Friendly?
The keto diet is a low-carb, high-fat diet that aims to put the body in a state of ketosis, where it burns fat for fuel instead of carbohydrates.
Therefore, it's essential to choose foods that are low in carbohydrates and high in healthy fats when following a keto diet.
Butternut squash is a type of winter squash that is naturally sweet and nutty in flavor. It is also low in calories and high in nutrients such as fiber, vitamin A, and potassium.
However, it is also relatively high in carbohydrates, with one cup of cooked butternut squash containing approximately 22 grams of carbohydrates, including 3 grams of fiber.
While butternut squash is not considered a keto-friendly food in large quantities, it can still be incorporated into a keto diet in moderation.
One serving of roasted butternut squash with herbs and goat cheese contains only a few grams of net carbs, making it a keto-friendly side dish option.
To stay within your daily carb limit while enjoying butternut squash on a keto diet, it's important to keep track of your portions and balance your macros accordingly.
You can also consider pairing the butternut squash with other keto-friendly ingredients such as high-fat meats, leafy greens, or healthy fats like olive oil or avocado.
what are the macros in this recipe?
Macros, short for macronutrients, refer to the three main components of our diet: carbohydrates, fats, and protein.
On a keto diet, it's crucial to keep track of your macros to ensure that you are staying within your daily carb limit and consuming enough healthy fats.
One serving of this Keto Butternut Squash with Herbs and Goat Cheese contains approximately:
250 calories
7g protein
22g carbohydrates (including 4g fiber)
16g fat
While this recipe is not low in carbs, the majority of the carbohydrates come from fiber, which is not fully digested by the body and therefore does not significantly impact blood sugar levels.
The high fiber content also helps to promote satiety and keep you feeling full for longer.
The recipe also contains healthy fats from olive oil and goat cheese, which are essential for providing energy and supporting brain and heart health.
Additionally, the herbs used in this recipe provide not only flavor but also antioxidants and other beneficial nutrients.
When incorporating this recipe into your keto meal plan, it's important to keep track of your daily carb limit and adjust your portions accordingly.
By balancing your macros and choosing high-quality, nutrient-dense ingredients, you can enjoy delicious and satisfying meals while staying on track with your keto goals.
I love goat cheese. My husband hates it. I don't buy it often because I can't seem to eat it all by myself before it goes bad, but if I see a recipe with goat cheese and I know I will be serving other people besides my husband and me, I am on it like white on rice.
The best part about this dish is that it's so easy to make and the flavors are on point. You roast the butternut squash, mix the herb oil and crumble the goat cheese. A 5-year-old could do it. (just don't let them do the cutting or put the butternut squash in the oven)
I will say though, that the recipe called for 1 clove of garlic, which I used but it was a very big clove, and it overpowered the rest of the flavors. I love garlic, and I have a bad habit of overdoing it so when I make it for the dinner party I will make sure I use a smaller clove.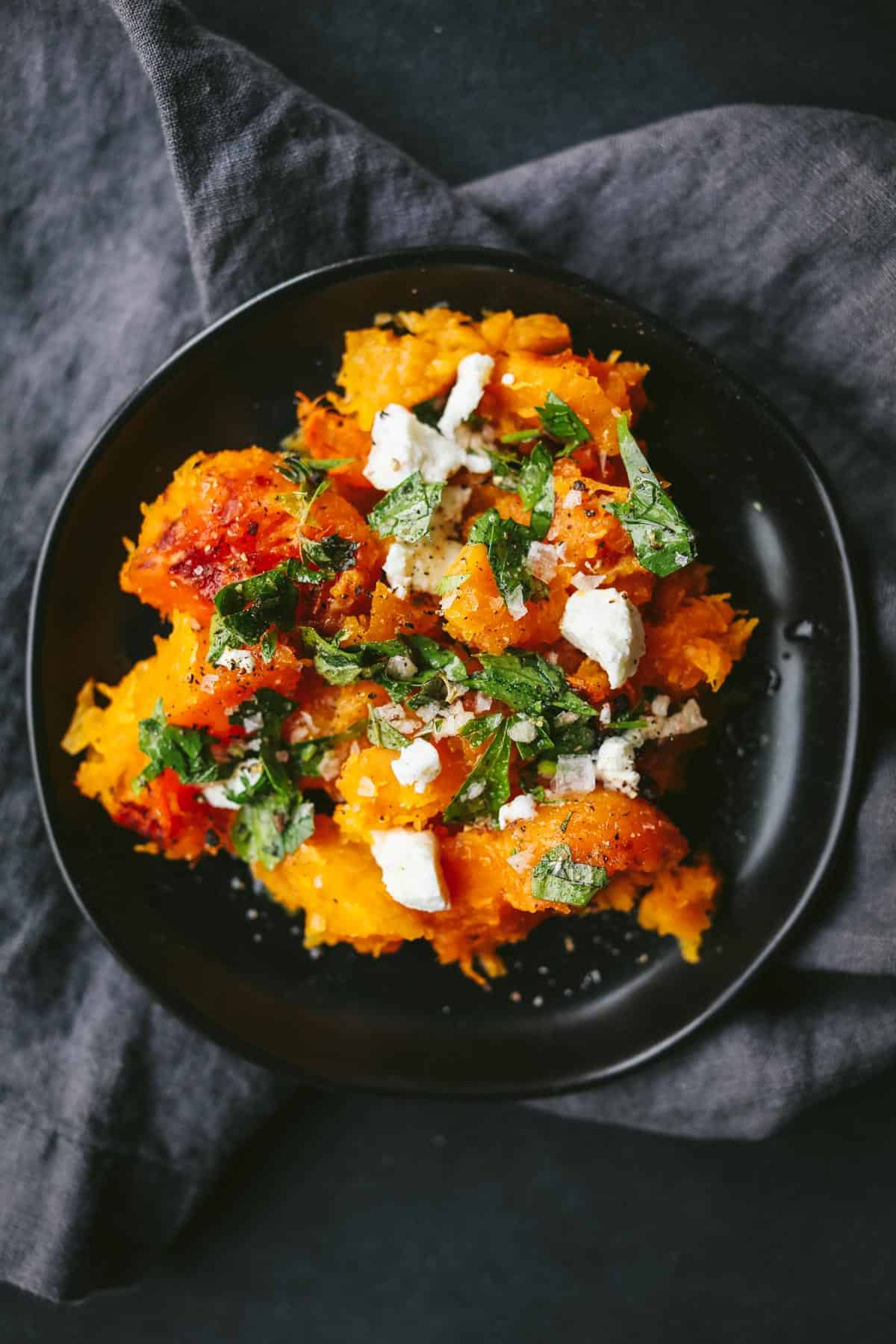 Frequently Asked Questions:
Q: How do I choose a good butternut squash?
A: Look for a squash that is heavy for its size, with firm, smooth skin free of soft spots or blemishes. The stem should be dry and firm, and the squash should have a slightly sweet fragrance. Also, try to choose a squash with a long neck, as it will have fewer seeds and be easier to peel and cut.
Q: How do I cut and peel a butternut squash?
A: Cutting and peeling a butternut squash can be a bit challenging, but with a few tips, it can be a breeze. First, make sure to use a sharp knife to avoid any accidents.
To cut butternut squash, use a sharp chef's knife to slice off the top and bottom. Stand the squash up on its end and use a vegetable peeler to remove the skin.
Cut the squash in half lengthwise, then use a spoon to scoop out the seeds and stringy pulp. From there, cut the squash into cubes or slices as desired.
Q: Can I make this recipe ahead of time?
A: Yes! You can prepare the butternut squash and herb mixture in advance and store it in an airtight container in the refrigerator for up to 24 hours.
When you're ready to cook, simply spread the squash out on a baking sheet and roast it as directed in the recipe. Keep in mind that the goat cheese may not hold up as well if prepared in advance, so it may be best to add it just before serving.
Q: What other herbs can I use in this recipe?
A: This recipe works well with a variety of herbs, including thyme, sage, and rosemary. Experiment with different combinations to find your favorite flavor profile. You can also add a pinch of cayenne pepper or smoked paprika for an extra kick.
Q: Can I use a different type of cheese?
A: Yes! This recipe is delicious with crumbled feta cheese or grated Parmesan cheese instead of goat cheese. You can also try other soft cheeses like brie or blue cheese for a different flavor profile.
Besides that, I think it was absolutely delicious, minus the garlic breath.
As usual, I thought it could use more salt, which I recommend you add to the taste.
The recipe also says to roast the whole butternut squash but I found it best to cut it in half and roast it that way. First off, it roasts quicker and secondly, it slightly caramelizes the butternut squash, which I love.
If you are as weird as my husband is and don't favor goat cheese, feel free to replace it with any other cheese you love. Please, use real cheese and not shredded, packaged crap.
Tips and Tricks:
To make peeling and cutting the butternut squash easier, you can poke a few holes in it with a fork and microwave it for 2-3 minutes before cutting.
Make sure to cut the squash into even-sized pieces so that they cook evenly.
If you don't have fresh herbs, you can use dried herbs instead. Just use about 1/3 of the amount called for in the recipe.
For a crispier crust on the squash, you can place it under the broiler for a minute or two at the end of the cooking time.
If you're not a fan of goat cheese, you can leave it out or substitute it with a different type of cheese.
Storing, freezing, and reheating Keto Butternut Squash
Storing
If you have any leftovers, store them in an airtight container in the refrigerator for up to 3-4 days. To prevent the cheese from drying out, you can cover the container with a layer of plastic wrap or aluminum foil.
Freezing
While this recipe can be frozen, the texture of the squash may change slightly. To freeze, let the roasted squash cool completely and transfer it to a freezer-safe container or resealable plastic bag. Squeeze out any excess air and freeze for up to 3 months.
Reheating
To reheat the frozen squash, let it thaw in the refrigerator overnight. Then, preheat your oven to 375°F (190°C) and transfer the squash to a baking dish. Cover with foil and bake for 10-15 minutes or until heated through.
Alternatively, you can reheat the squash in the microwave on medium power, stirring every 30 seconds until heated through.
If you have any leftover goat cheese, it can be stored in an airtight container in the refrigerator for up to a week.
To prevent it from drying out, you can cover it with a thin layer of olive oil. It is not recommended to freeze goat cheese as it may become crumbly and lose its texture.
More Keto Recipes to try: