This roasted keto butternut squash dish combines bold flavors of fresh herbs and garlic along with goat cheese to finish off this easy and delicious side dish!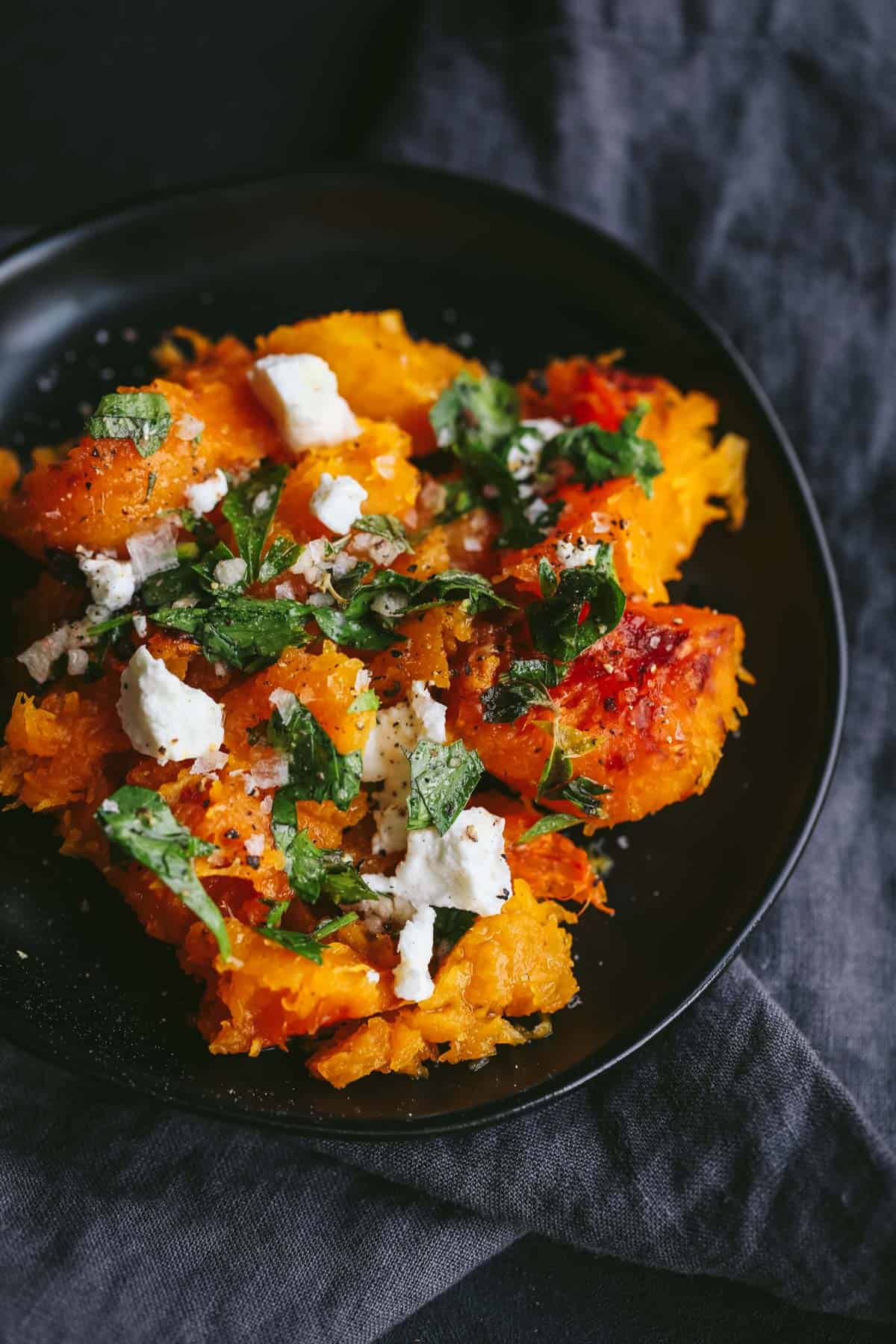 It's a gloomy Friday and I am making my 3rd trial recipe for our 4th annual Christmas party. My husband walks into the kitchen and sees the roasted butternut squash on the stovetop. "Aren't you sick of butternut squash yet?" "Uh, yeah I kinda am, but the 20 lbs of a butternut squash my mom gave us isn't going to cook itself."
I had made 3 butternut squash recipes in the last two weeks, this one was my 4rth, and I still had at least 10 lbs of squash left.
At this point, I would be sick of the popular winter squash if I wasn't making recipes that were completely different from each other. When most people think of butternut squash they think of either soup or roasted with brown sugar.
Well, I am not like most people. I search far and wide (or just go on bonappetit.com) for outside-the-box butternut squash recipes. For example, this Roasted Butternut Squash with Herb Oil and Goat Cheese.
The recipe looked simple and I had most of the ingredients already. All I needed to buy was fresh parsley, oregano, and goat cheese.
I love goat cheese. My husband hates it. I don't buy it often because I can't seem to eat it all by myself before it goes bad, but if I see a recipe with goat cheese and I know I will be serving other people besides my husband and me, I am on it like white on rice.
The best part about this dish is that it's so easy to make and the flavors are on point. You roast the squash, mix the herb oil and crumble the goat cheese. A 5-year-old could do it. (just don't let them do the cutting or put the squash in the oven)
I will say though, that the recipe called for 1 clove of garlic, which I used but it was a very big clove, and it overpowered the rest of the flavors. I love garlic, and I have a bad habit of overdoing it so when I make it for the dinner party I will make sure I use a smaller clove.
Besides that, I think it was absolutely delicious, minus the garlic breath.
As usual, I thought it could use more salt, which I recommend you add to the taste.
The recipe also says to roast the whole squash but I found it best to cut it in half and roast it that way. First off, it roasts quicker and secondly, it slightly caramelizes the squash, which I love.
If you are as weird as my husband is and don't favor goat cheese, feel free to replace it with any other cheese you love. Please, use real cheese and not shredded, packaged crap.
Happy Garlic Breath, friend!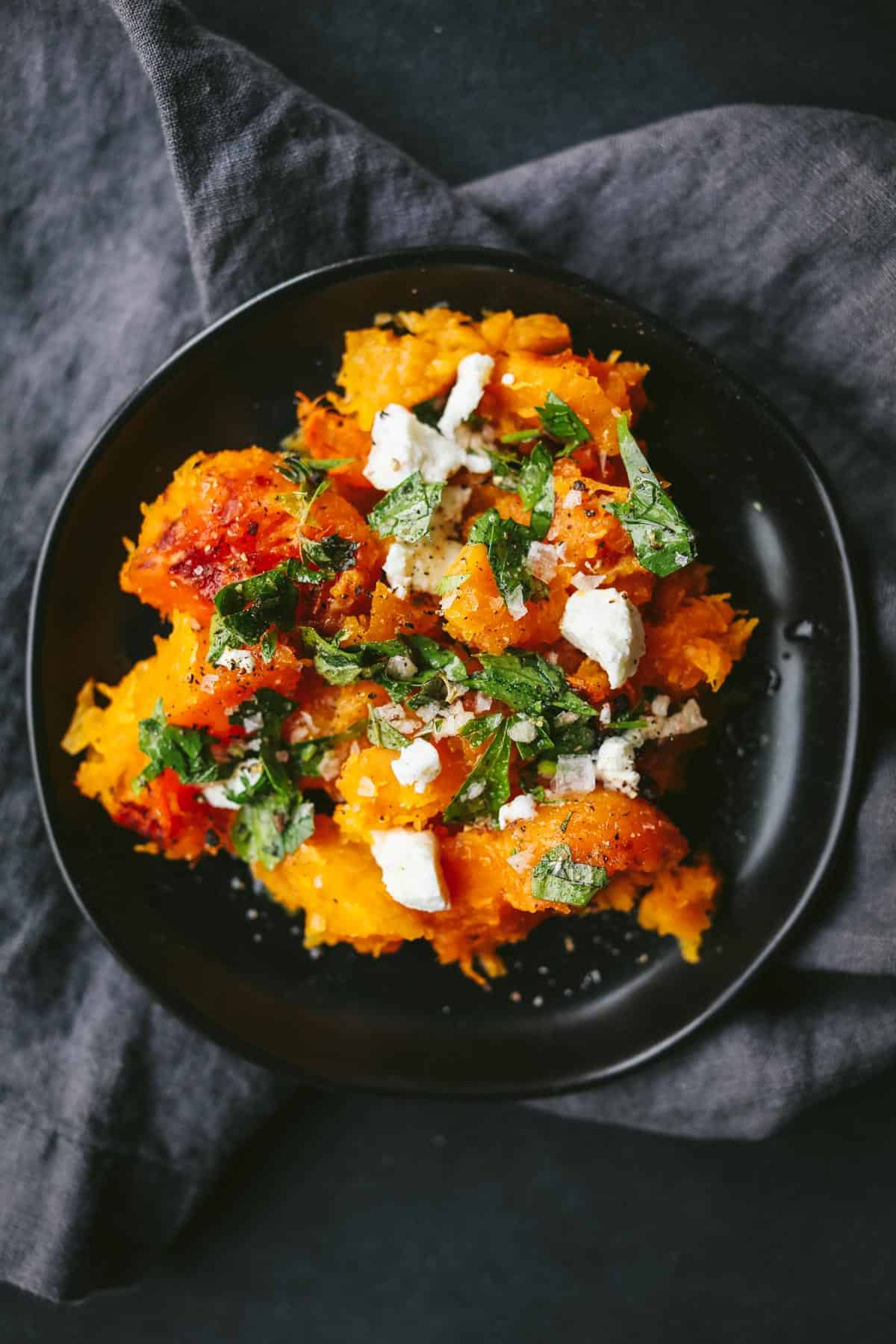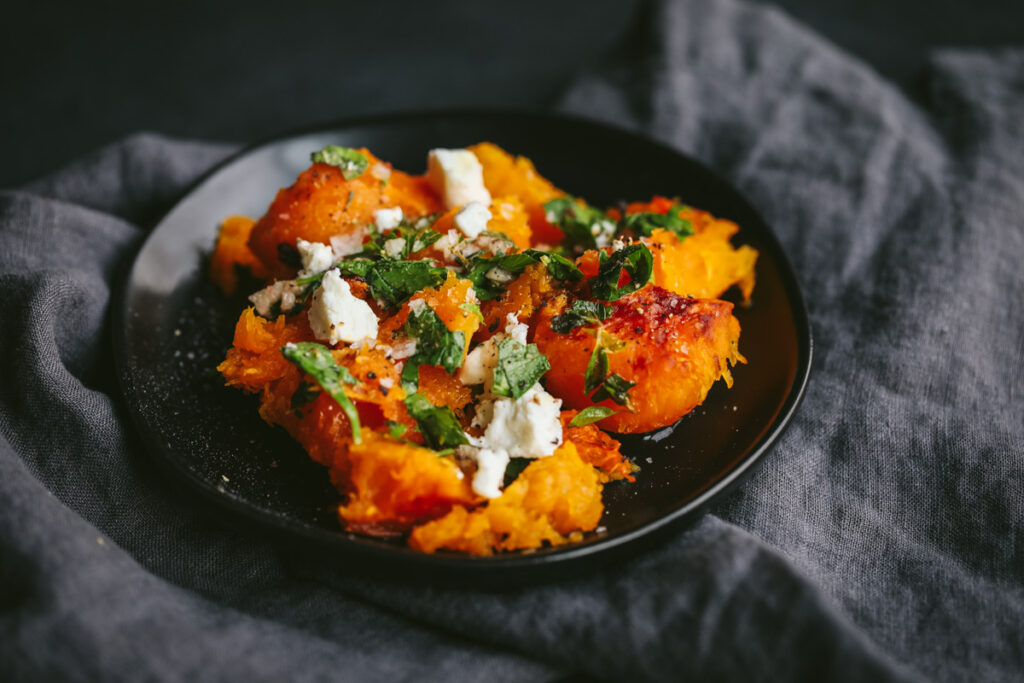 Looking for more butternut squash recipes? Check out my Clean Keto Butternut Squash Soup. It's so simple but flavorful!
Want to see the rest of my Keto Christmas Recipes? You can find them HERE.
More Keto Recipes to try:
This post contains an affiliate link in which I receive a commission at no additional cost to you if a purchase is made. Thank you for your support!