Craving a keto-friendly adventure? Discover the Best Keto Camping Recipes for a delicious and healthy outdoor journey.
Camping isn't just a pastime; it's an escape from the everyday hustle and bustle. It offers a chance to unwind, unplug, and experience a simpler way of living.
The embrace of natural beauty, the serenity of waking up to birdsong, and the joy of sharing stories by the campfire create a unique sense of camaraderie among campers. Whether it's pitching tents, hiking through trails, or simply stargazing, camping offers a break from the routine and an opportunity to recharge both physically and mentally.
However, while the allure of camping is undeniable, there's a universal challenge that campers often face: how to bring along delicious and satisfying foods that align with their outdoor adventure, especially for those following special diets like keto.
In this blog, I will give you 20 best keto camping recipes that promise to fuel your outdoor journey with boundless energy and pure satisfaction.
Keto Breakfast Camping Recipes
Embrace the sunrise with a keto twist!
Here are the best Keto Breakfast Camping Recipes that will not only satisfy your taste buds but also keep you in ketosis while you bask in the beauty of the great outdoors.
These breakfast camping recipes are your ticket to a deliciously energized morning under the open skies.
1. Keto Blueberry Muffins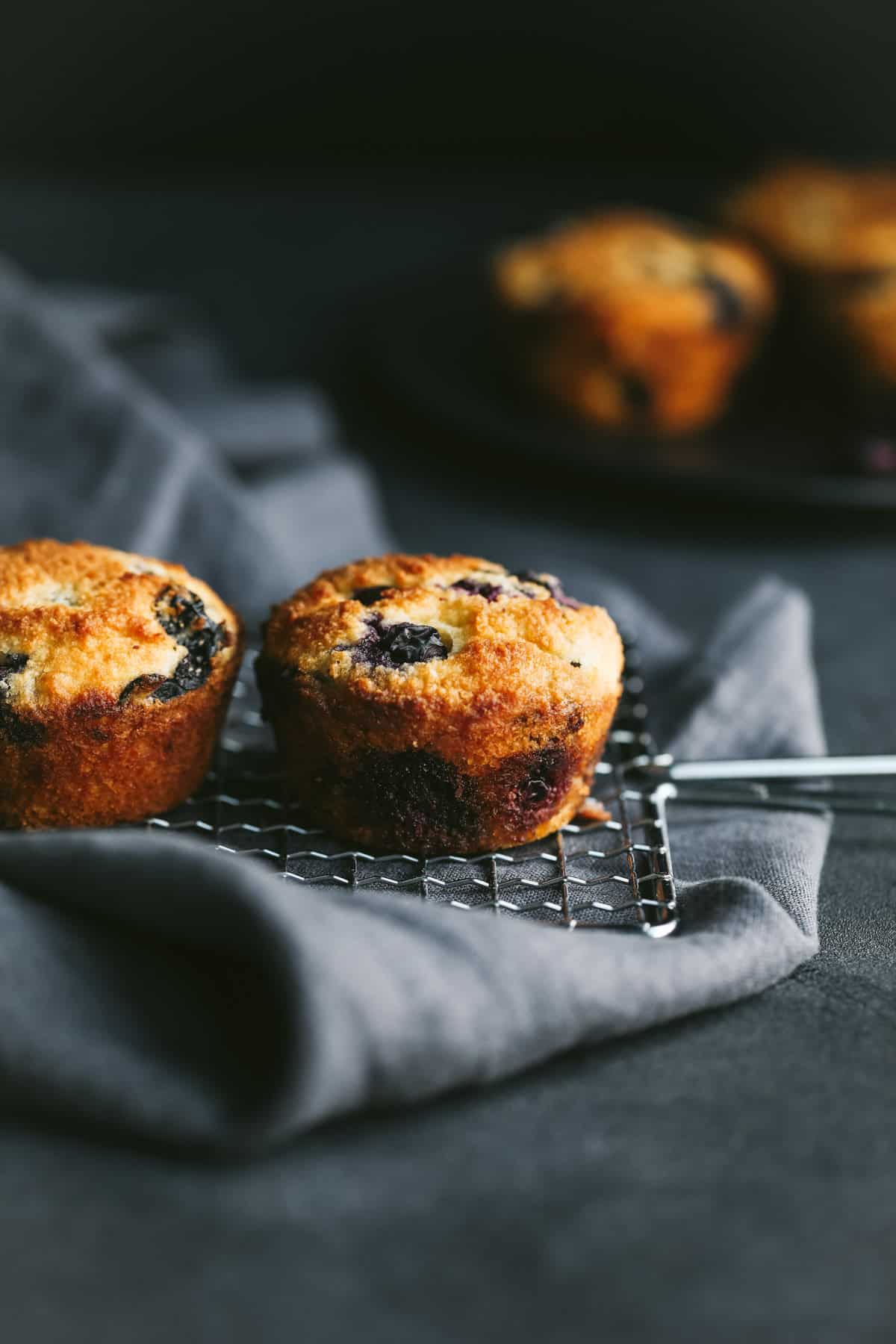 Start your camping mornings on a delicious note with Keto Blueberry Muffins—an irresistible breakfast treat that combines taste and nutrition in the great outdoors.
These muffins are a delightful blend of convenience and flavor, making them the ultimate choice to fuel your adventures amidst nature's beauty.
Imagine biting into a fluffy muffin infused with plump blueberries—a burst of sweet juiciness that pairs perfectly with the tender crumb.
Keto Blueberry Muffins are the perfect camping breakfast because they are so easy to prepare and easy to transport. Bake them in advance, and enjoy a baked morning treat that energizes your exploration without any fuss.
Get the full recipe on my blog.
2. Smoked Salmon Breakfast Burrito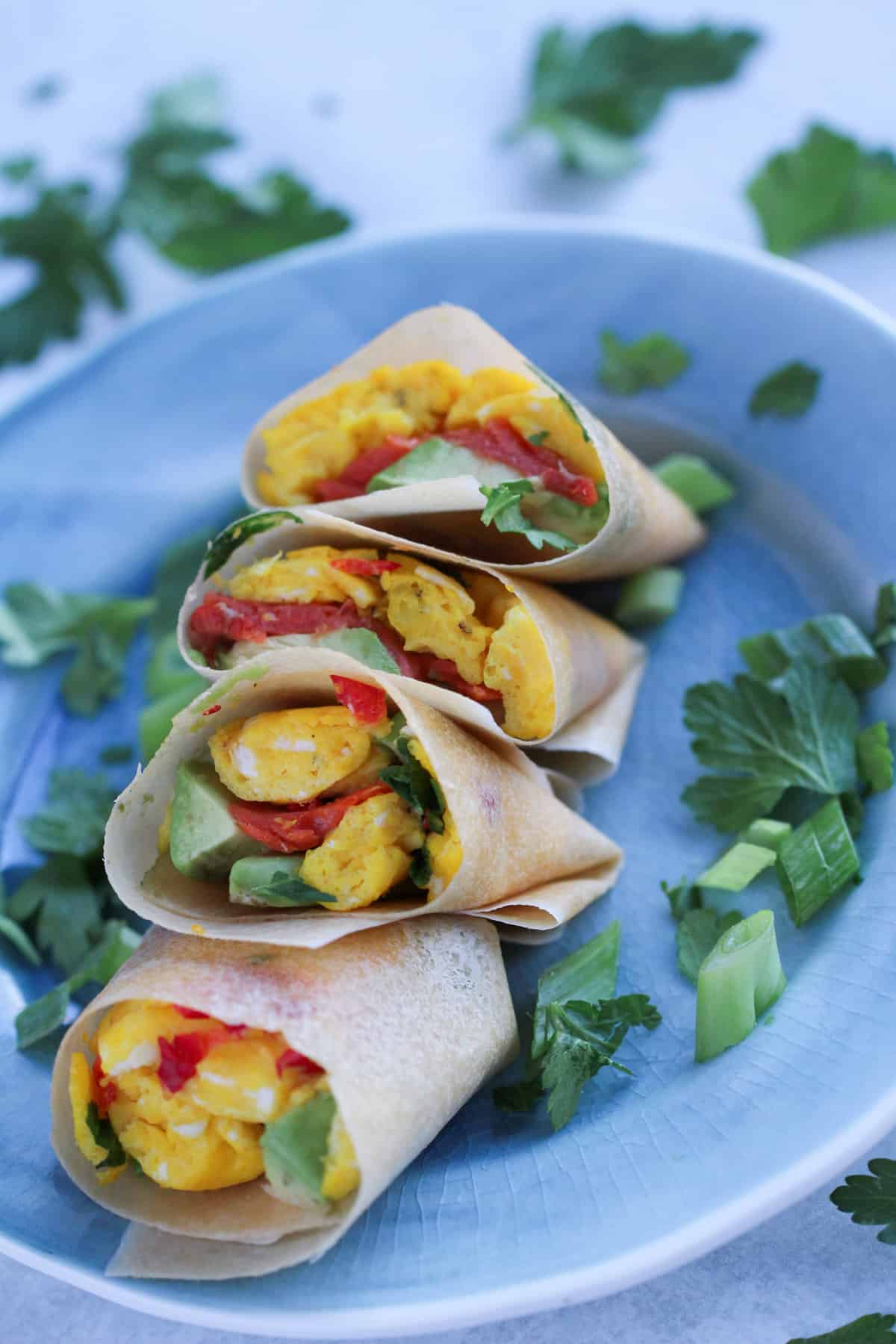 Elevate your camping mornings with the tantalizing flavors of the Smoked Salmon Breakfast Burrito.
Wrapped in the embrace of coconut wraps, this burrito is a fusion of convenience and delectable taste, making it the ultimate choice for a nourishing and flavorful start to your day in the wild.
Imagine sinking your teeth into a warm tortilla enfolding layers of smoked salmon, scrambled eggs, and a medley of fresh veggies embraced by the sweetness of coconut wraps.
Each bite is a delightful balance of textures and flavors, where the smoky richness of the salmon harmonizes with the creamy eggs and the crisp vegetables. Its preparation is a breeze, and its portability makes it a perfect camping companion.
Roll it up the night before, and come morning, enjoy a gourmet breakfast that's as satisfying as it is easy to enjoy amidst your outdoor surroundings.
Get the full recipe on my blog.
3. CHILLI SPAM & EGGS
Enhance your camping mornings with the heartwarming delight of Chilli Spam & Eggs—a breakfast that seamlessly combines convenience and flavor.
This recipe celebrates the essence of hassle-free outdoor dining, utilizing ingredients easily stored in your food box, including the new easy-open tub—a backpack-friendly innovation.
And here's the best part: even if you find yourself missing a spice or two, there's no need to worry! This dish shines brilliantly on its own.
Get the full recipe from Fab Food 4 All.
4. Tomato & Avocado Dutch Oven Frittata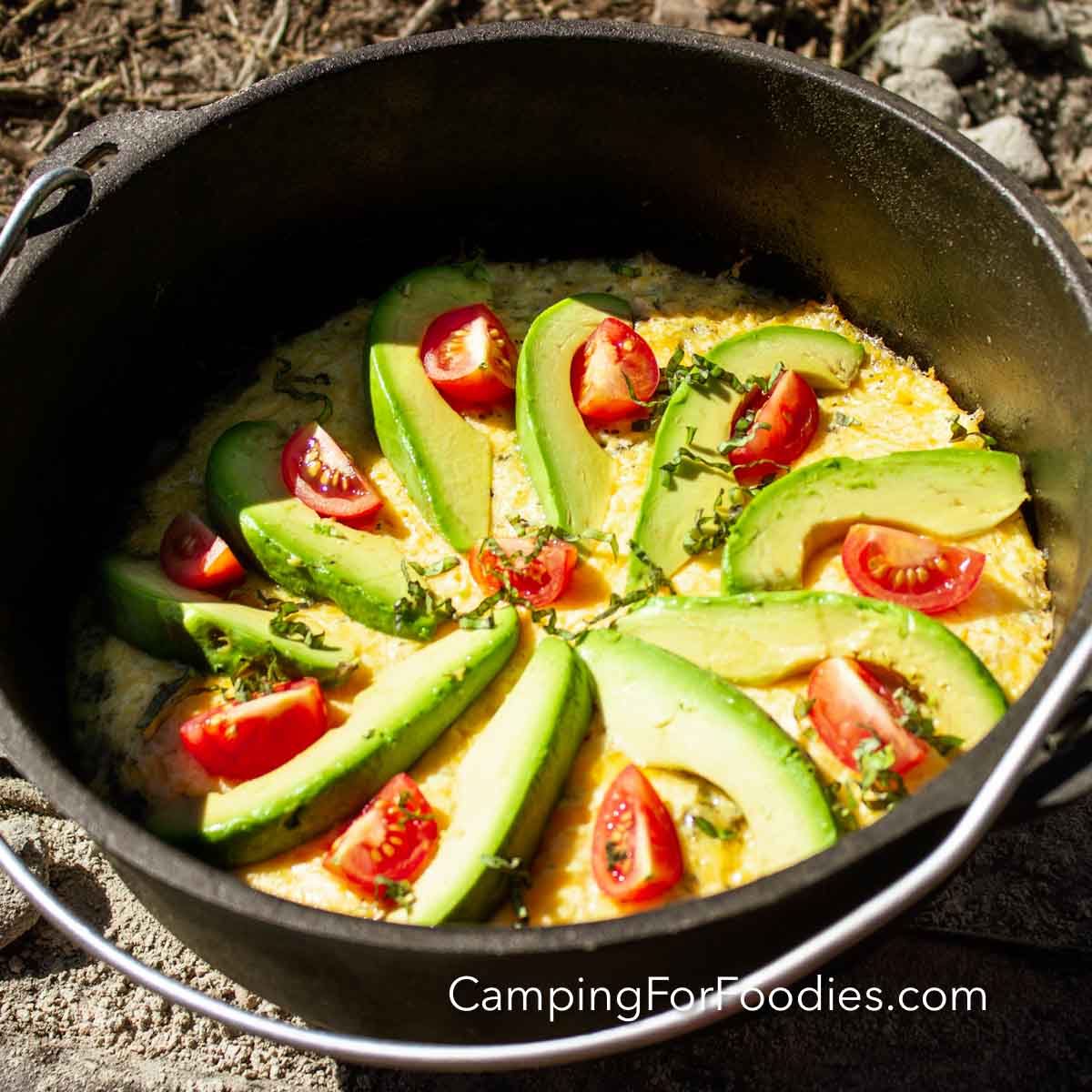 Introducing a camping breakfast favorite: the Tomato & Avocado Dutch Oven Frittata.
Frittatas shines as one of the best camping breakfast ideas, and this flavorful rendition showcases the ease and joy of communal dining.
Imagine a Dutch oven brimming with a golden, fluffy frittata adorned with succulent tomatoes and creamy avocado slices. Buttery avocado, juicy tomatoes, and the rich texture of a perfectly cooked frittata create a symphony that tantalizes your taste buds.
Instead of juggling individual egg orders, this frittata brings everyone to the same table, sharing in the joy of a delicious breakfast.
Get the full recipe from Camping For Foodies.
5. CAMPFIRE KETO COCONUT CHAI
Celebrate the great outdoors with the refreshing Keto Coconut Chai—a drink tailored for your outdoor adventures.
This easy camping recipe offers a burst of flavor that perfectly complements your journey. It's also a clever way to bring along a boost of energizing MCT oil as you explore.
Picture yourself sipping a warm blend of aromatic chai spices and creamy coconut goodness. With every sip, you embark on a taste journey where vibrant spices and smooth coconut flavors unite, awakening your senses.
Get the full recipe from Bulletproof.
lunch and dinner keto camping recipes
As the sun moves across the sky or sets in a blaze of color, it's time to gather around for a delicious keto meal during your camping adventure.
Here are the best Keto Camping Recipes for Lunch or Dinner. These recipes are designed to make your outdoor dining experience both satisfying and in line with your low-carb goals.
These easy camping recipes turn every camping meal into a delightful celebration of flavors and nature.
6. Spicy Smoked Wings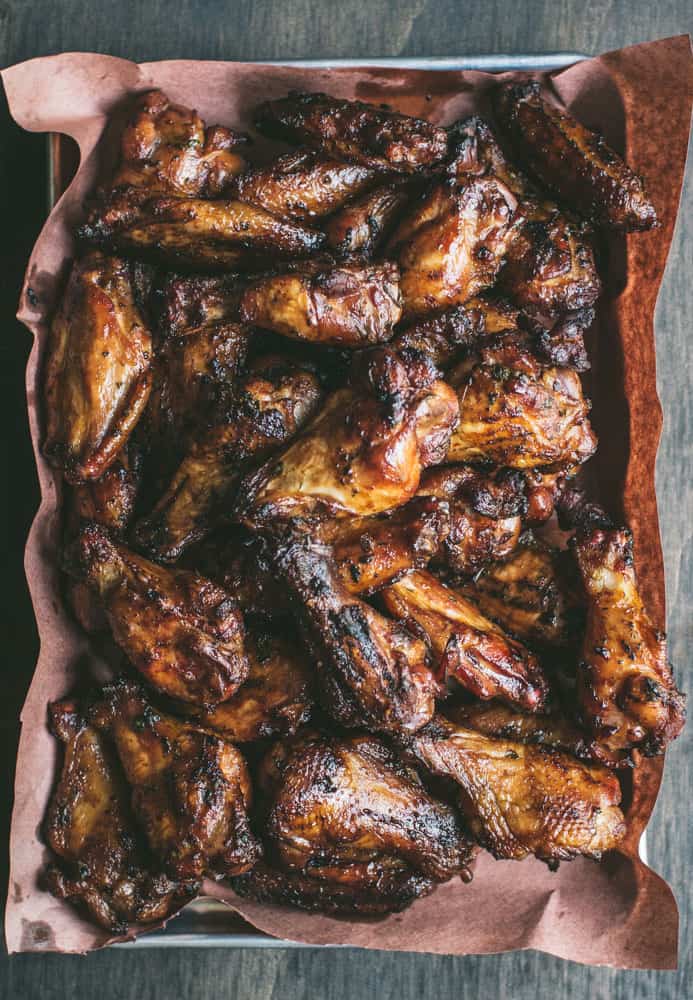 Add a spark of excitement to your camping menu with these Spicy Smoked Wings! It's a mouthwatering treat that brings both smokiness and heat to your outdoor feast!
These wings are a flavorful blend of boldness, making them an ideal companion for your camping adventures.
Picture sinking your teeth into juicy chicken wings, infused with a smoky essence and a fiery spice blend. With each bite, the smoky aroma meets the zing of spices, creating a flavor symphony that awakens your taste buds.
Why are these wings perfect for camping? They're easy to prep and their smoky-spicy allure adds an element of thrill to your outdoor dining. Marinate the wings beforehand, let them smoke over the campfire, and experience the aroma of anticipation filling the air.
Get the full recipe on my blog.
7. Honey Dijon Chicken Foil Packets
These Honey Dijon Chicken Foil Packets are a swift and effortless 30-minute meal that brings together a vibrant array of seasonal vegetables, succulent chicken breasts, and a delectable sweet and tangy honey Dijon sauce.
Whether cooked in the oven or on the grill, these foil packets promise a symphony of flavors that will tantalize your taste buds and leave you craving for more.
Get the full recipe from The Forked Spoon.
8. EASY KETO TANDOORI CHICKEN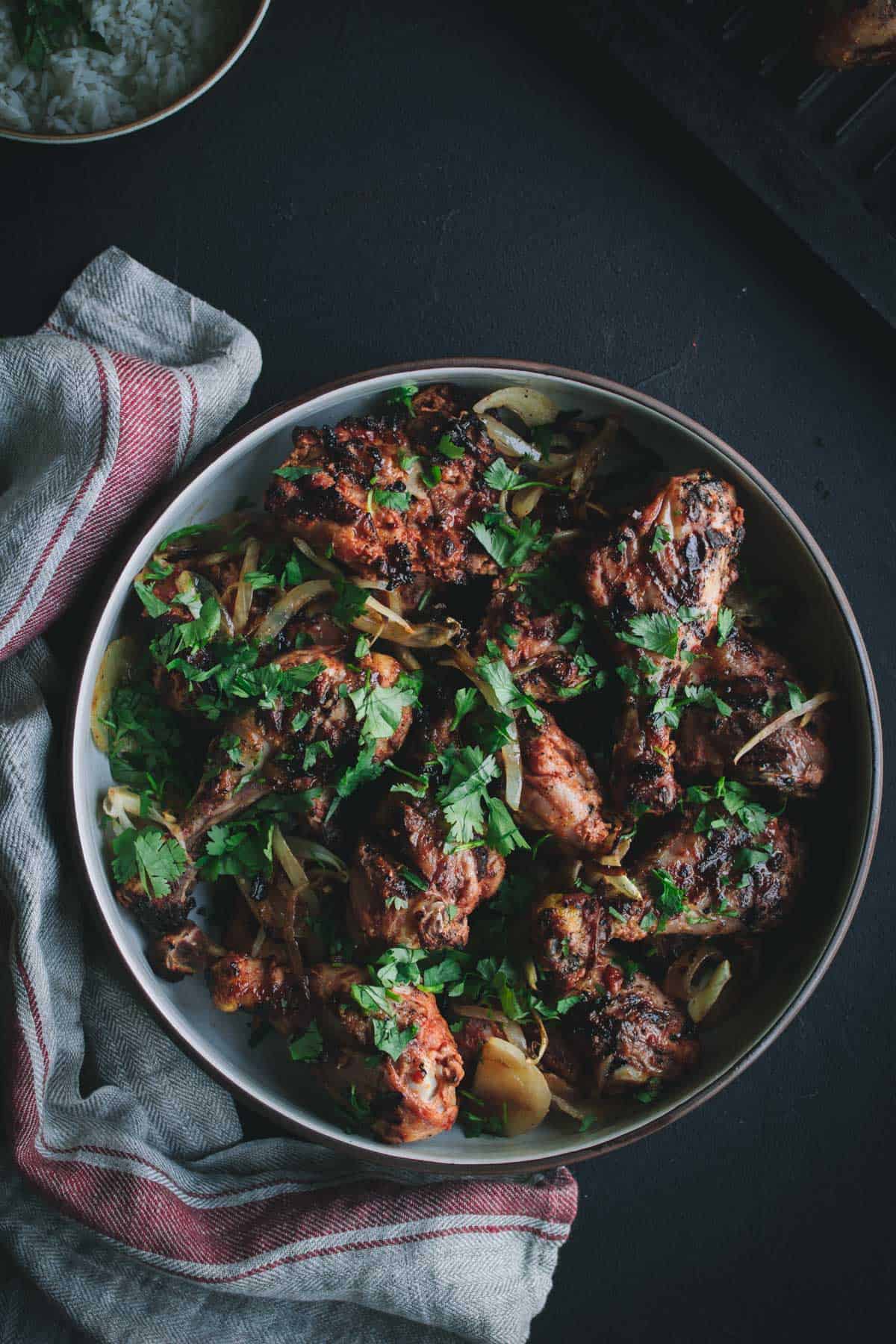 Experience the allure of the outdoors with the Easy Keto Tandoori Chicken—a mouthwatering treat that adds a dash of exotic flavor to your camping escapades.
Imagine sinking your teeth into succulent chicken, marinated in a fragrant mix of spices and yogurt. The grill's warmth embraces the chicken, creating a tantalizing char that seals in its juiciness, delivering a taste that captures the essence of nature itself.
Why is this dish your camping companion of choice? The answer lies in its simplicity.
Prepare the marinade in advance, and when mealtime arrives, let the grill work its magic. With minimal effort, you'll be treated to a keto-friendly culinary masterpiece that satisfies your cravings while embracing your outdoor spirit.
Get the full recipe on my blog.
9. Taco Salad with Cilantro Lime Sauce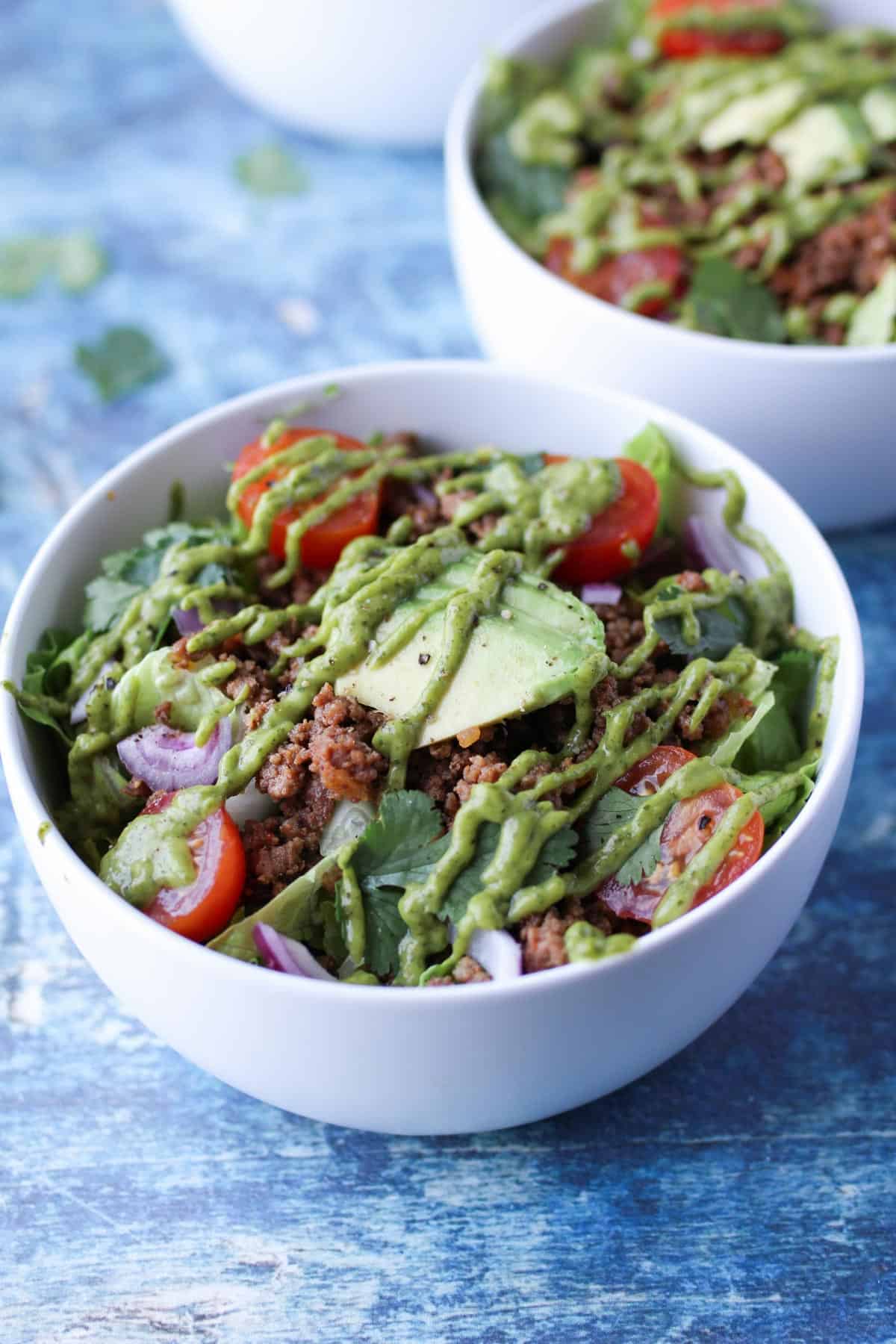 This is your ultimate camping companion – Taco Salad with Cilantro Lime Sauce. This flavor-packed delight is tailor-made for your outdoor escapades, offering a burst of taste and convenience that's simply irresistible.
Imagine a medley of crisp lettuce, seasoned meat, tomatoes, and creamy avocado—all waiting to be mixed into a symphony of flavors. The real magic? The zesty Cilantro Lime Sauce, adds a refreshing kick that takes each bite to the next level.
The best part? You can do the prep work in advance, cooking the ingredients and keeping them ready for your camping adventure. When it's time to dine, simply mix everything together for a wholesome and satisfying meal that fuels your exploration.
Easy to assemble, and delightful to savor— this Taco Salad with Cilantro Lime Sauce is a must-have for any camper looking to elevate their outdoor dining experience.
Gear up, mix it up, and let the camping fiesta begin! Get the full recipe on my blog.
10. EASY CHILI LIME STEAK FAJITAS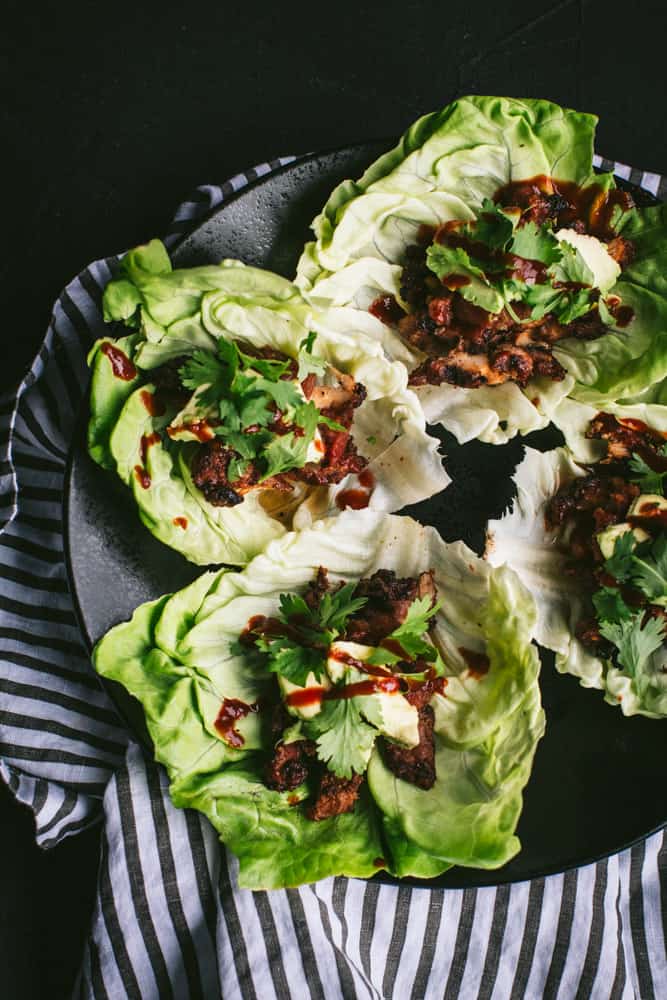 Indulge in the perfect camping feast with these Easy Chili Lime Steak Fajitas, a sizzling creation that combines bold flavors and campfire simplicity. These fajitas served on crisp lettuce leaves, redefine outdoor dining while keeping your low-carb aspirations in focus.
Imagine tender strips of marinated steak, kissed by the smoky aroma of the grill and infused with the zing of chili and lime. Each fajita assembled on a refreshing bed of lettuce is an explosion of flavors—savory, tangy, and satisfying!
What makes these fajitas a camping dream is their ease of preparation and portability.
You can marinate the steak in advance and, when it's time to dine, quickly grill it to perfection. Then, lay out your lettuce leaves, and voilà—a wholesome, delicious meal is ready to be savored amidst nature's beauty.
Get the full recipe on my blog.
11. SHRIMP FOIL PACKETS WITH ZUCCHINI
Shrimp Foil Packets with Zucchini is an exquisite dish that harmoniously combines succulent shrimp, quick-cook veggies, and a blend of everyday spices.
These make-ahead foil packs offer not only a tantalizing medley of flavors but also the convenience of minimal prep and a mess-free experience.
Crafted with simplicity in mind, these Shrimp Foil Packets with Zucchini allow you to prepare ahead of time, ensuring a stress-free dining experience during your outdoor adventures.
The ease of assembly and the absence of cleanup fuss make these foil packets an ideal choice for those who value both flavor and convenience.
These foil packets cater to a range of dietary preferences, including Gluten-Free, Keto, Paleo, and Low Carb diets.
Get the full recipe from Recipes From a Pantry.
12. Tequila Lime Chicken Thighs
Embark on a culinary journey around the campfire with this sensational Tequila Lime Chicken Thighs recipe! Savor the outdoors like never before as the tantalizing aroma of grilled chicken mingles with zesty lime and the subtle kick of tequila.
One of the highlights of this recipe is its make-ahead convenience. Imagine arriving at your campsite with marinated chicken, ready to grill at a moment's notice.
By marinating the chicken in advance, you not only infuse it with incredible flavors but also ensure that your camping meal prep is a breeze. Let the flavors meld while you set up your camp, and when it's time to eat, you'll have a mouthwatering dish that's unrivaled in taste and simplicity.
Get the full recipe on my blog.
13. GRILLED LAMB KABOBS
Indulge in the sensational flavors of the Grilled Lamb Kabobs—a culinary delight that takes your taste buds on a Mediterranean journey.
These kabobs are lovingly marinated in a fragrant Mediterranean blend, then expertly grilled, barbequed, or cooked over a campfire, resulting in a delectable dish that pairs perfectly with fresh-cut vegetables for a light and healthful feast.
Immerse yourself in a symphony of tastes as you savor tender pieces of lamb, infused with the rich aroma of the Mediterranean marinade.
Get the full recipe from Recipes From a Pantry.
14. Foil Packet Pesto Pork Chops with Summer Vegetables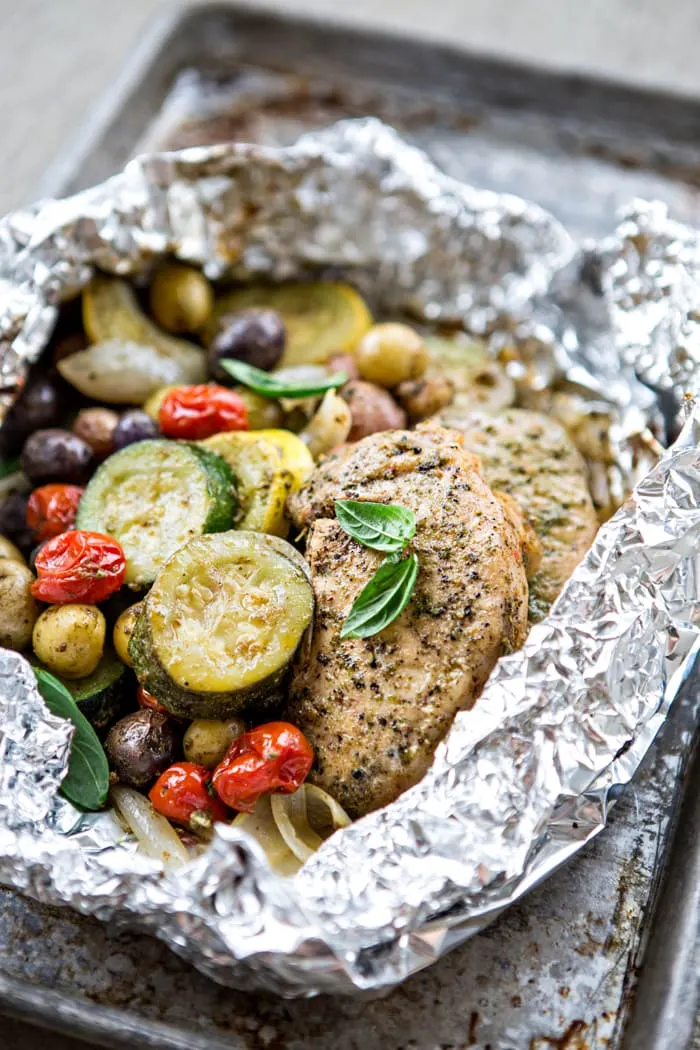 Experience the delectable fusion of flavors in this Foil Packet Pesto Pork Chops with Summer Vegetables.
It's a culinary masterpiece where vibrant summer vegetables are delicately coated with pesto and balsamic, then harmoniously cooked alongside tender boneless pork chops.
Picture a symphony of colors and tastes as fresh summer vegetables dance in harmony with the rich notes of pesto and balsamic. The result is a delightful medley of textures and flavors.
The succulent pork chops complement the garden-fresh vegetables, creating a culinary canvas that's as visually appealing as it is satisfying to the palate.
Get the full recipe from Good Life Eats.
15. SALMON FOIL PACKETS WITH VEGETABLES
Experience a culinary masterpiece with these Salmon Foil Packets with Vegetables. It's a symphony of flavors where succulent salmon and vibrant vegetables come together in perfect harmony.
This dish, originally baked to perfection, now offers you the flexibility to enjoy its exquisite taste whether you're cooking it over a crackling campfire or in the comfort of your kitchen.
The freshness of the salmon is enhanced by the medley of vegetables, creating a dish that's as visually appealing as it is satisfying to the palate.
While the original recipe shines in the oven's gentle embrace, the allure of the campfire beckons you to embark on a different culinary adventure.
Whether you choose the oven's reliability or the fire's rustic charm, these Salmon Foil Packets with Vegetables promise a memorable dining experience that encapsulates the essence of the outdoors.
Get the full recipe from Wholesome Yum.
Snack and Sides keto camping recipes
Nourishing bites and flavorful companions await!
Here are the best Snack and Sides Keto Camping Recipes that bring a burst of taste and energy to your outdoor moments. These easy camping recipes are your partners in keeping those cravings at bay while staying true to your low-carb journey.
Whether you're looking for a quick pick-me-up on the trail or a delightful accompaniment by the campfire, these snack and sides ideas are here to make your camping experience both satisfying and keto-friendly.
16. CLEAN KETO CAULIFLOWER "POTATO" SALAD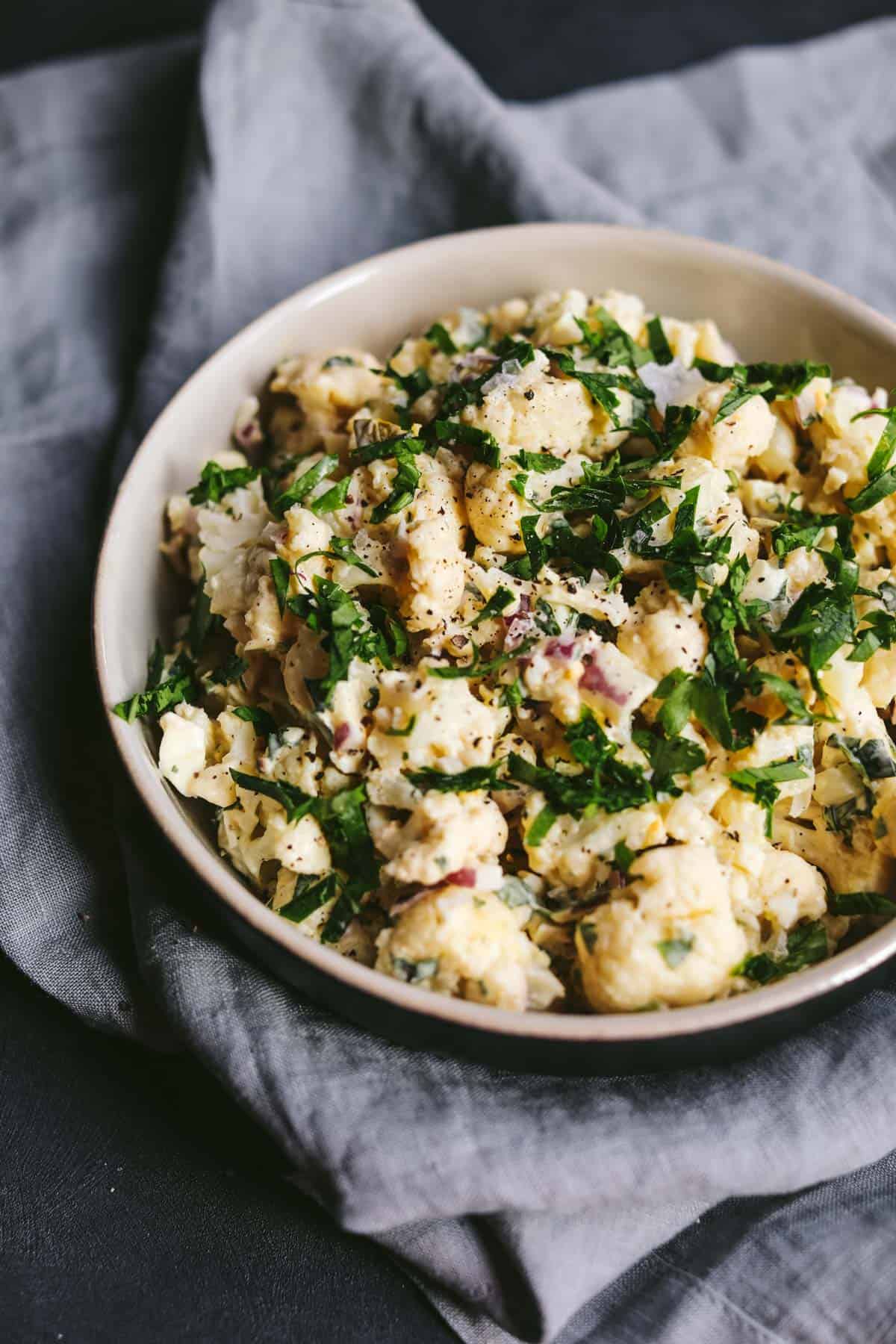 Introducing my Clean Keto Cauliflower "Potato" Salad! It's a camping culinary triumph that brings the classic comfort of potato salad to your outdoor adventures while keeping your low-carb goals intact.
Imagine tender cauliflower florets, meticulously seasoned and cooked to create a strikingly similar texture to potatoes. As you take a bite, the creamy blend of mayo, mustard, and aromatic spices envelops each morsel, infusing it with a burst of delightful flavors.
What sets this dish apart, especially for camping, is its versatility and ease. Prepared ahead of time, this "potato" salad can be packed into a container, ready to be enjoyed on the go.
It's a refreshing and filling option that fits perfectly into your outdoor escapades, offering a taste of home comfort amidst the wilderness.
Get the full recipe on my blog.
17. Grilled Keto Veggie Skewers
Elevate your camping cuisine with a burst of color and flavor through these Grilled Keto Veggie Skewers—a true delight for every outdoor enthusiast. These skewers are a masterpiece of simplicity and taste, offering fresh, low-carb vegetables that dance enticingly on the grill.
Imagine the sizzle of zucchini, onion, and bell peppers as they char to perfection, releasing their natural sweetness and earthy essence. Each tender bite is a journey through a garden of textures.
Perfect for camping, these Grilled Keto Veggie Skewers can be prepared in advance, their vibrant hues and inviting aroma adding a touch of gourmet to your outdoor feast.
Ignite your grill, thread those veggies, and let the aroma of grilled goodness infuse your camping experience with a touch of culinary excellence.
Get the full recipe on my blog.
18. Dairy-Free Buffalo Chicken Dip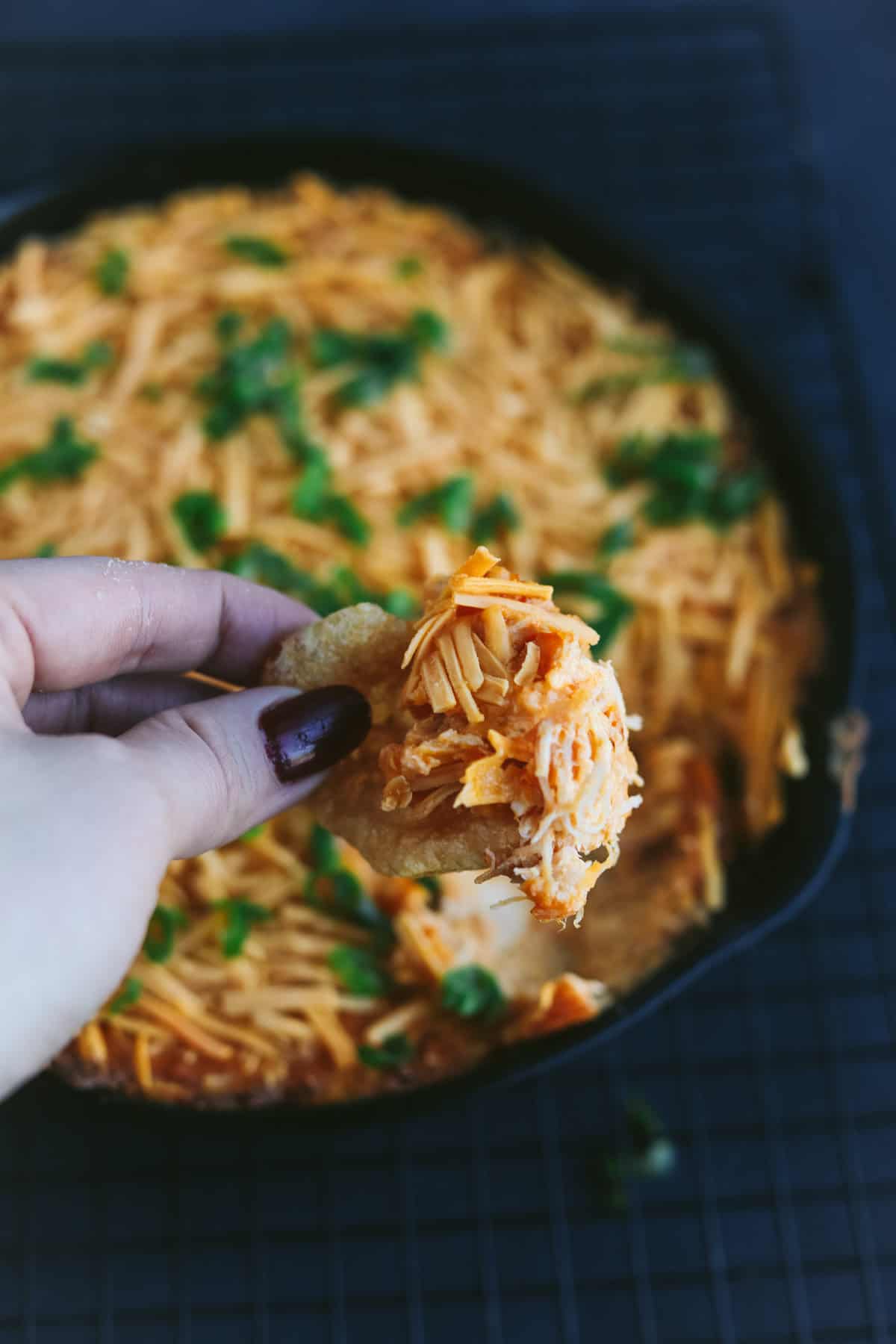 Elevate your camping snacking with Dairy-Free Buffalo Chicken Dip—a flavor-packed delight that's kind to dairy preferences. This dip combines zesty buffalo sauce with tender chicken, offering a satisfying treat for your outdoor moments.
Imagine dipping crispy veggies or low-carb crackers into a velvety mixture that's both cheesy and dairy-free. Each bite harmoniously blends tangy buffalo sauce and savory chicken, creating a taste symphony that lingers.
Why is this dip camping essential? It's easy to prepare and carry. Make it ahead, pack it securely, and enjoy effortless snacking by the campfire.
It's a delicious, cheesy yet dairy-free way to enhance your outdoor experience.
Get the full recipe on my blog.
19. Keto Bacon Wrapped Asparagus Bundles with Maple Glaze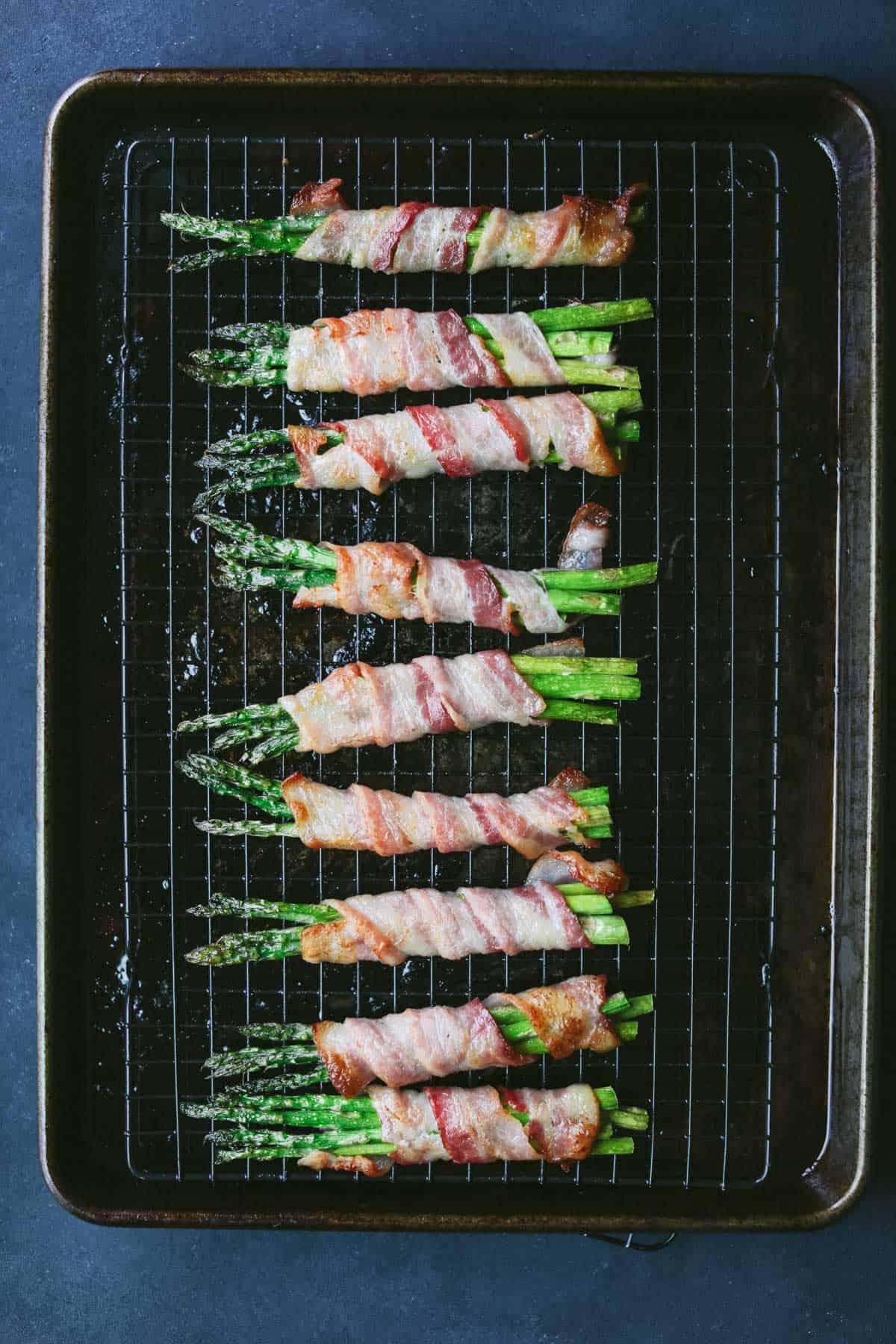 Delight in the perfect blend of savory and sweet with the Keto Bacon Wrapped Asparagus Bundles with Maple Glaze. It's a culinary masterpiece that elevates your camping cuisine.
It has satisfying flavors of tender asparagus embraced by crisp bacon, all drizzled with a tantalizing maple glaze. The aroma of sizzling bacon mingles with the earthy freshness of asparagus, creating a symphony of tastes that dance on your taste buds.
With easy assembly and a touch of maple magic, this dish becomes a flavorful highlight of your outdoor feasting.
Get the full recipe on my blog.
20. Keto Peanut Butter Cookies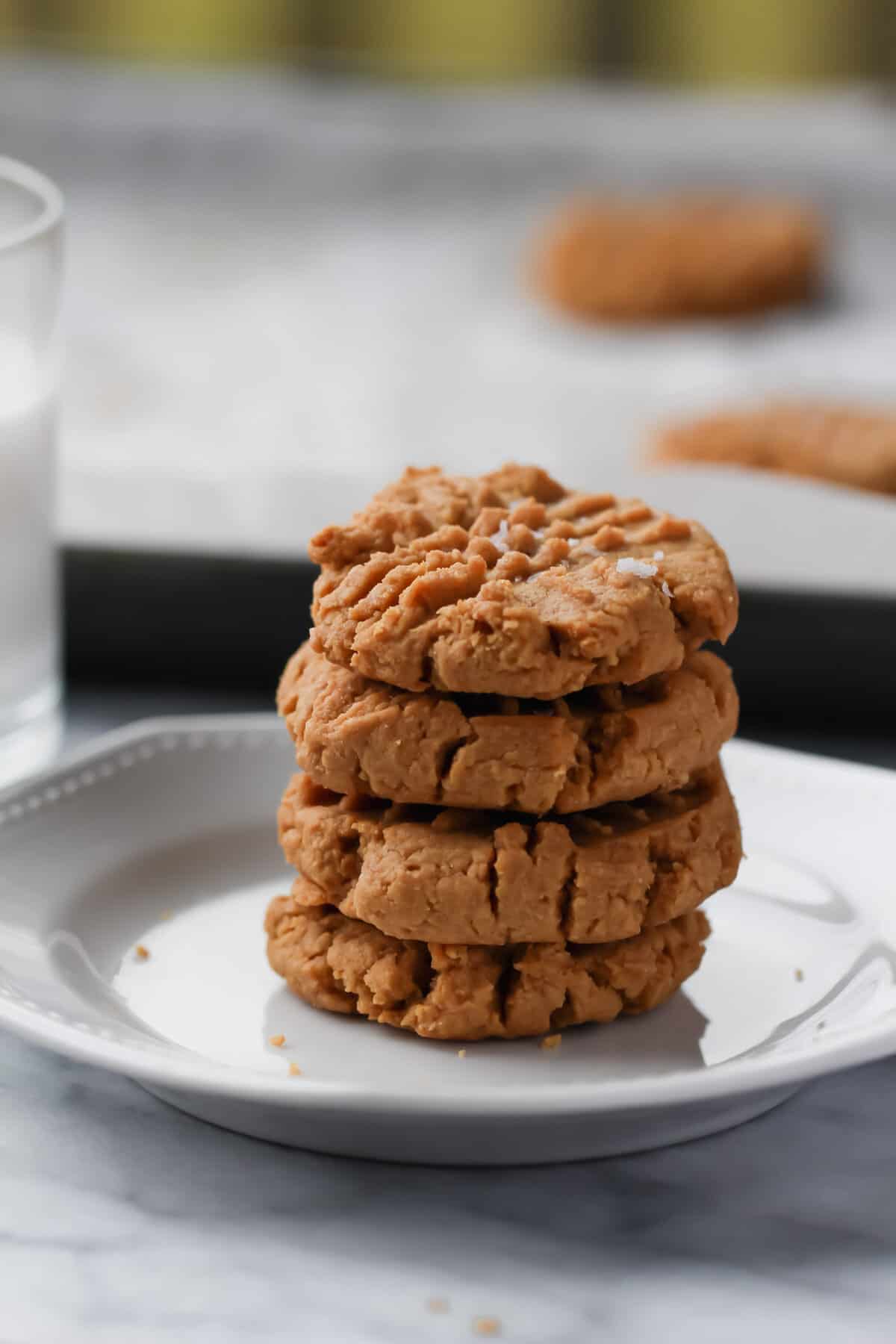 Enhance your camping snacking experience with the irresistible appeal of Keto Peanut Butter Cookies. These cookies embody simplicity and satisfaction, making them an ideal snack for your outdoor escapades.
These cookies are sturdy enough to withstand the rigors of camping, offering a durable and flavorful companion to your journey.
Plus, their make-ahead nature adds a layer of convenience to your camping preparations.
Get the full recipe on my blog.
Are you ready for your healthy outdoor adventure?
Camping, with its scenic landscapes and serene nights, has always beckoned us to simplify and savor life's simple pleasures.
Equipped with these keto-friendly culinary masterpieces, you can embrace the wilderness and foster a newfound appreciation for the splendor of nature while indulging in exquisite flavors.
As you venture forth, remember that the magic of camping isn't solely in the breathtaking sights or peaceful sounds—it's in the delightful meals that accompany your every outdoor excursion.
For both seasoned campers seeking fresh outdoor dining and newcomers blending camping with keto living, I hope these recipes have sparked a culinary fire within you.
As you embark on your next camping journey, may your experiences be enriched with the perfect blend of nature's wonder and the joy of indulgent yet mindful eating.
Happy camping, and may your trails be paved with both taste and adventure!