Forget the potato salad, for your next party, make this Clean Keto Cauliflower "Potato" Salad instead!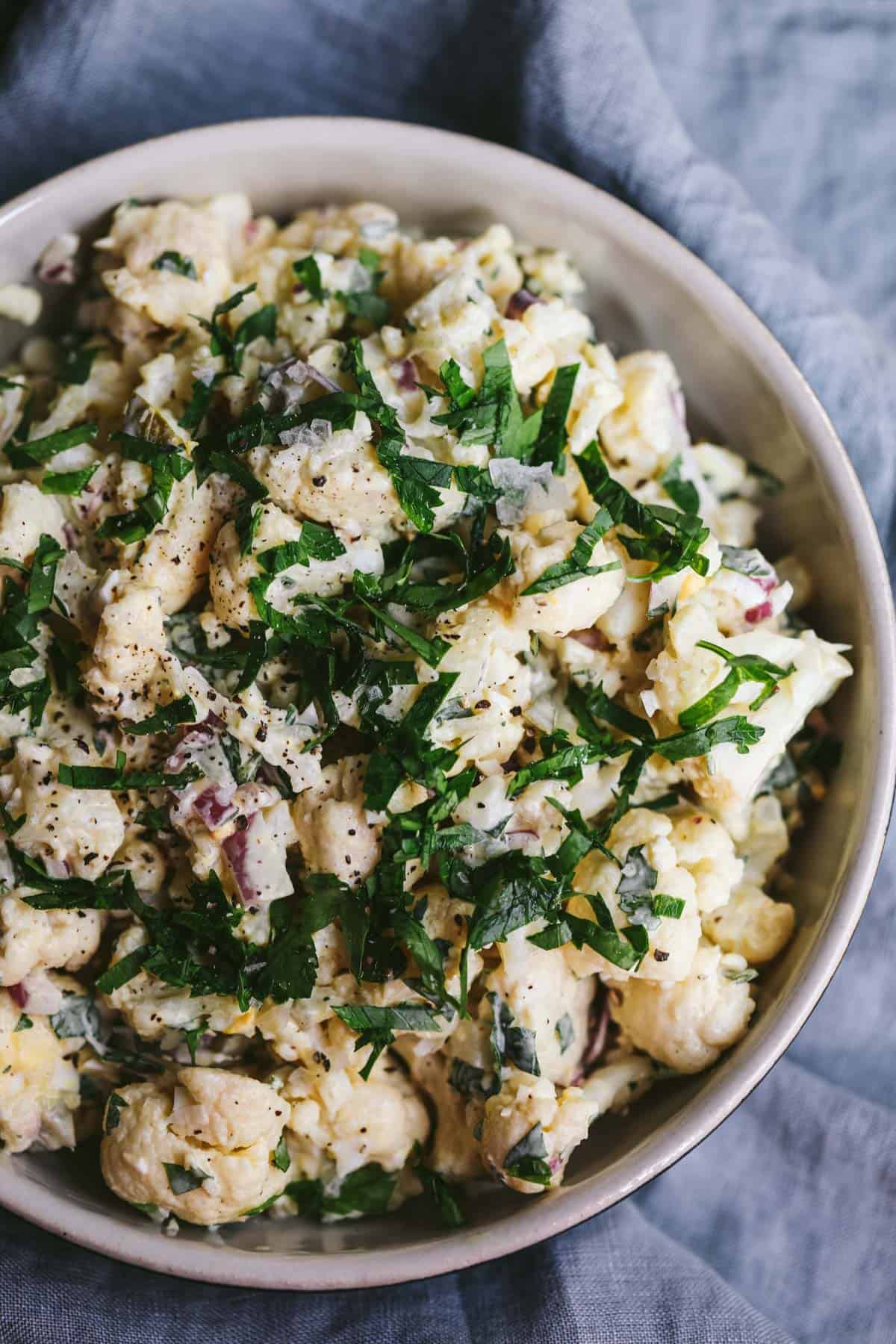 We all know how valuable vegetables are for your health. However, sometimes they can be a little bland.
For instance, take Cauliflower. It contains almost every vitamin and mineral that you need. Also, it is high in fiber, is a great antioxidant and boosts your brain and heart health. Notwithstanding, no one wants to sit down and eat a bowl of cauliflower.
Growing up, the only time I would ever see cauliflower was in those giant veggie trays with the ranch in the middle. Remember those? That sad white and tasteless cauliflower couldn't stand a chance against the vibrant green broccoli or the bright orange carrots.
Well friends, let me tell you, Cauliflower has made a comeback.
Have you seen that meme yet, "If cauliflower can somehow become pizza, you too can do anything?" Funny, but so true.
In fact, cauliflower has become a substitute for a lot of carbs over the last few years. With only 5g of total carbs in a cup, it is an excellent replacement for potatoes in this salad.
Cauliflower is the star of the show in this recipe. This clean keto salad is so flavorful and light that you won't even miss the starchy potato salad at your aunt's backyard BBQ( and let's face it, she probably didn't have time to make it from scratch and had your uncle pick some up from a grocery store.)
Feel free to substitute anything to your liking. Not a fan of eggs, remove them! Like more crunch and want to add celery, go for it. Customize anything to your liking; this is your food!
Keep in mind that steaming the cauliflower for 5 minutes allows it to soften, so it has a potato-like texture. Just don't overdo it or it will get mushy.
The kind of mayo you use is crucial to the taste of this full-flavored cauliflower salad and how it makes you feel. I only use Avocado Mayo from Primal Kitchen Foods. This mayo does not have any soybean oil in it.
In the past when I made salads using regular store-bought mayo, I would get bloated. Ingredients matter. Primal Kitchen foods (use code KETOFITMOMLIFE for 10% off) make some of the best-tasting mayo. I stock up on these, so I have them on hand when I need to make salads such as these.
This salad is great to take to a party or just as a cold side dish or a light lunch when you don't feel like cooking much. I hope you enjoy it as much as I do!!
How To Make the Clean Keto Cauliflower "Potato" Salad
1. Cut the cauliflower head into florets
2. Steam for 10 minutes or until fork tender
3. Make the dressing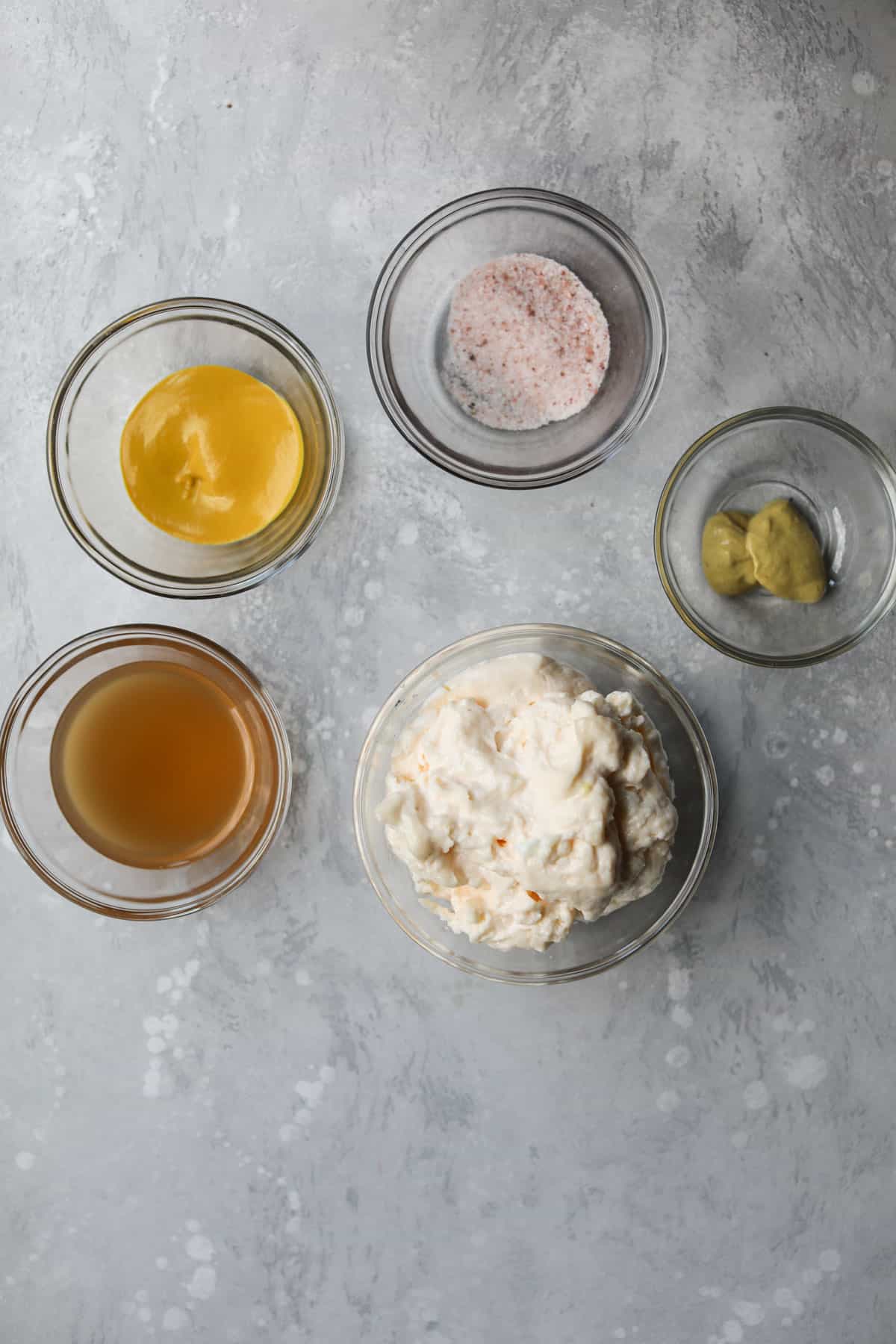 4. Chop up pickles, onion, boiled egg and parsley
5. Place all salad ingredients into a large bowl
6. Pour dressing on top
Serve with fresh parsley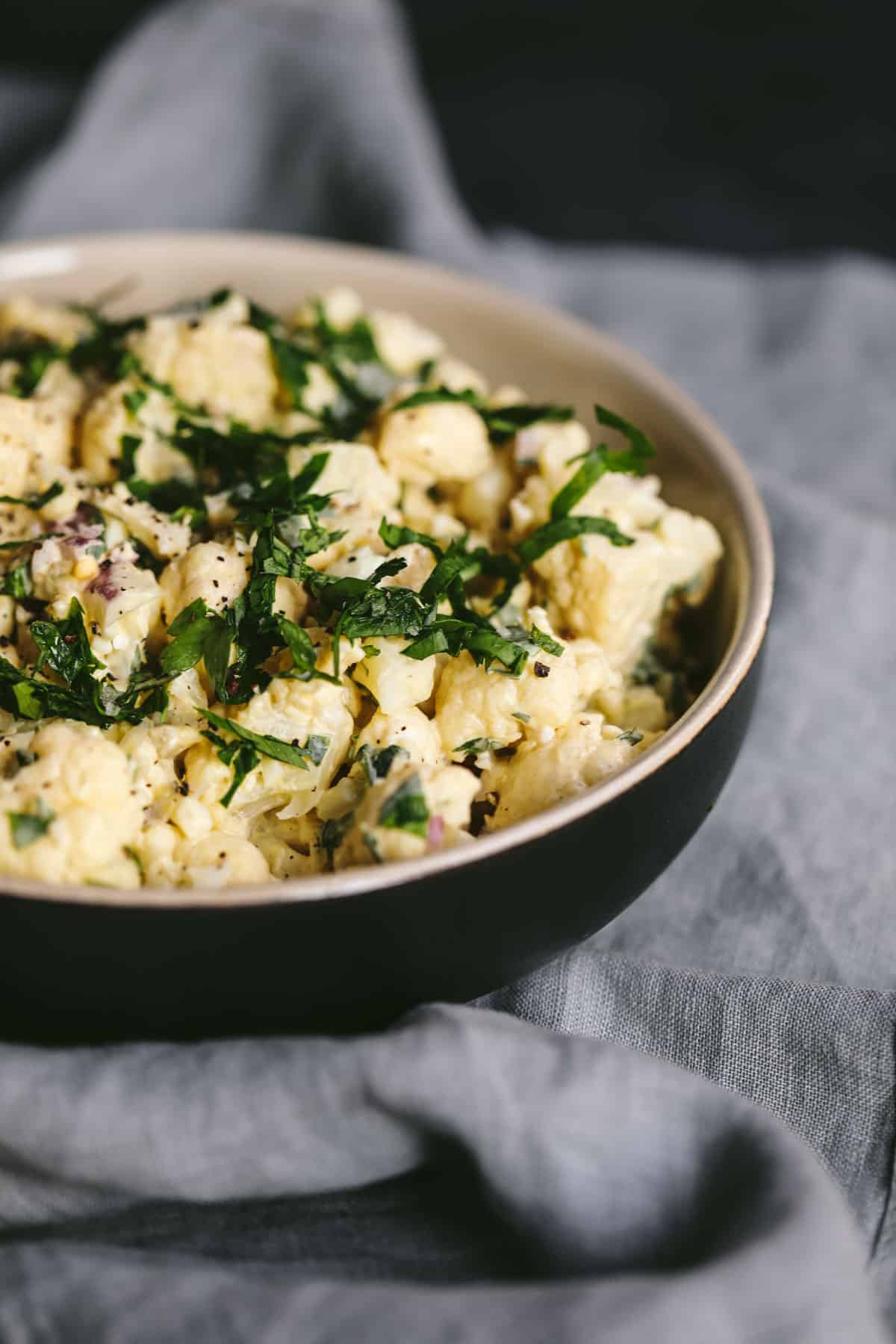 Check this link for more salad recipes.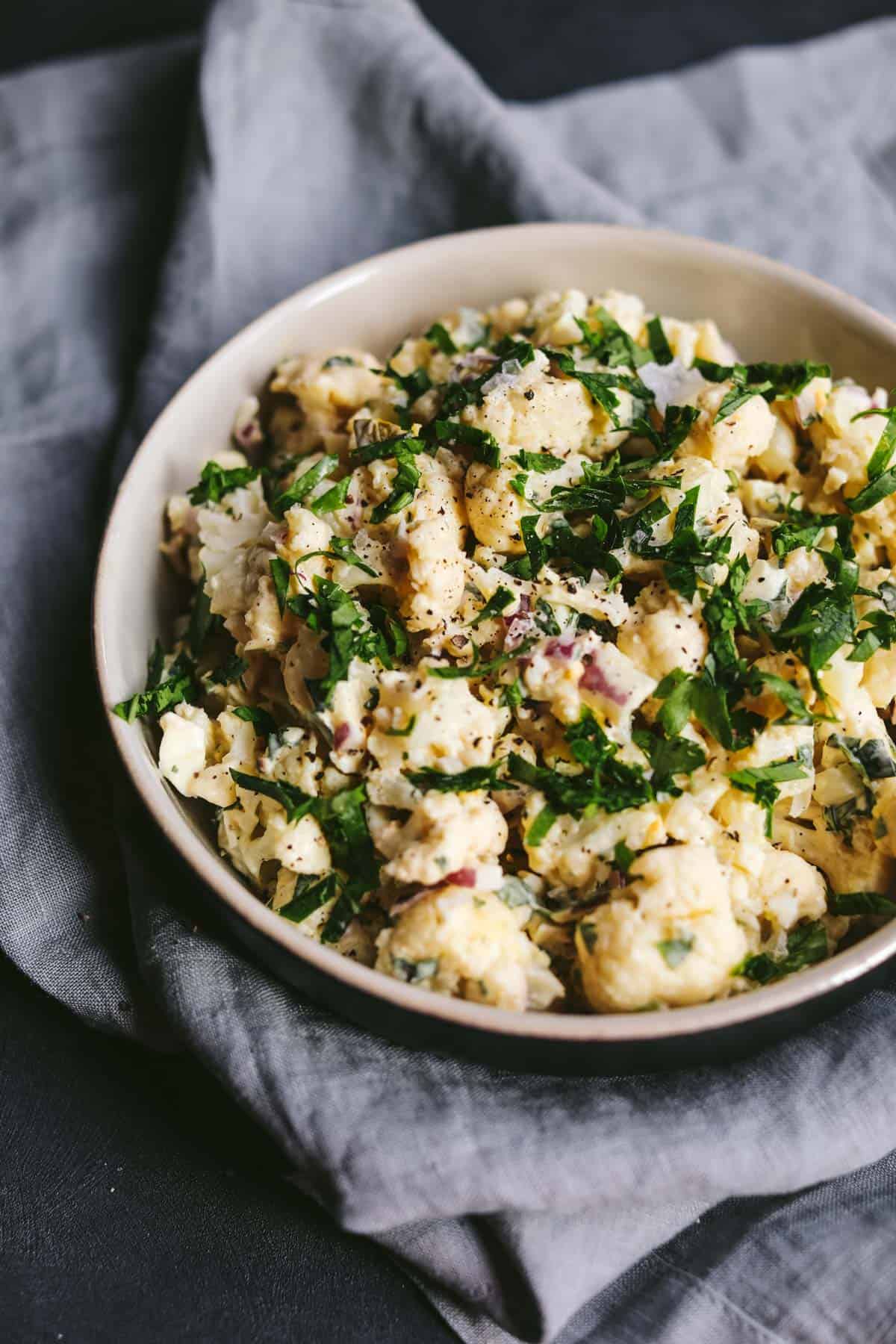 Looking for more cauliflower recipes? Try my Cauliflower Mash recipe. It's a keto-friendly substitute for mashed potato.
This post contains an affiliate link in which if a purchase is made I receive a commission at no additional cost to you. Just some diaper money. Thank you for your support!
More articles about Keto Diet: