Easy and delicious salmon breakfast burrito to spice things up!
I recently ordered a bunch of stuff from Thrive Market which included Coconut Wraps. For those of you who aren't familiar with Thrive Market, it is an online membership Health Store, essentially.
They have a lot of stuff that is Keto friendly, along with all kinds of other products for the body and home. The prices are pretty amazing actually.
Usually, I buy Psyllium Husk fiber from them in bulk because they have the best price for it I have seen anywhere and my husband uses it everyday.
Also, they have their own brand of Shirataki noodles which are way cheaper than the name brand one that is in Whole Foods. I buy different kinds from spaghetti to fettuccine for when I want a "pasta" dish.
I've been eyeing the coconut wraps for awhile now because they were under the Keto section and the ingredients and macros are pretty great. I finally decided to buy some and give them a try.
As you may already know, I love all things Coconut, so I was excited to see what these would taste like. I was eager to use them, it was breakfast, I was hungry so I opened the fridge and started pulling things out.
Breakfast burrito came to mind and I had eggs, smoked salmon, Fresno peppers, avocado, and goat cheese. I just told you the entire recipe. I'm usually eating eggs and bacon most mornings so this was a nice change.
You might be wondering what the wraps actually taste like. Coconut. Yes, can you believe it? Something named coconut wraps actually tastes like coconut! However, they have a mild coconut taste, and they are very thin. The texture is not like a tortilla, more like a crepe is how I would describe it.
To me, they taste delicious and I can't wait to play around with the different things I can make with them.
One of the hardest parts about the Ketogenic diet for me is that sometimes I want a sandwich or wrap of some sort, and usually making a loaf of bread or wrap replacement takes time and it doesn't always turn out tasting that great. That is why I love these wraps, not only do they taste great, but I don't have to make them!
You can use THIS link to sign up for Thrive Market and get $25 off your first order so you can stock up on these wraps.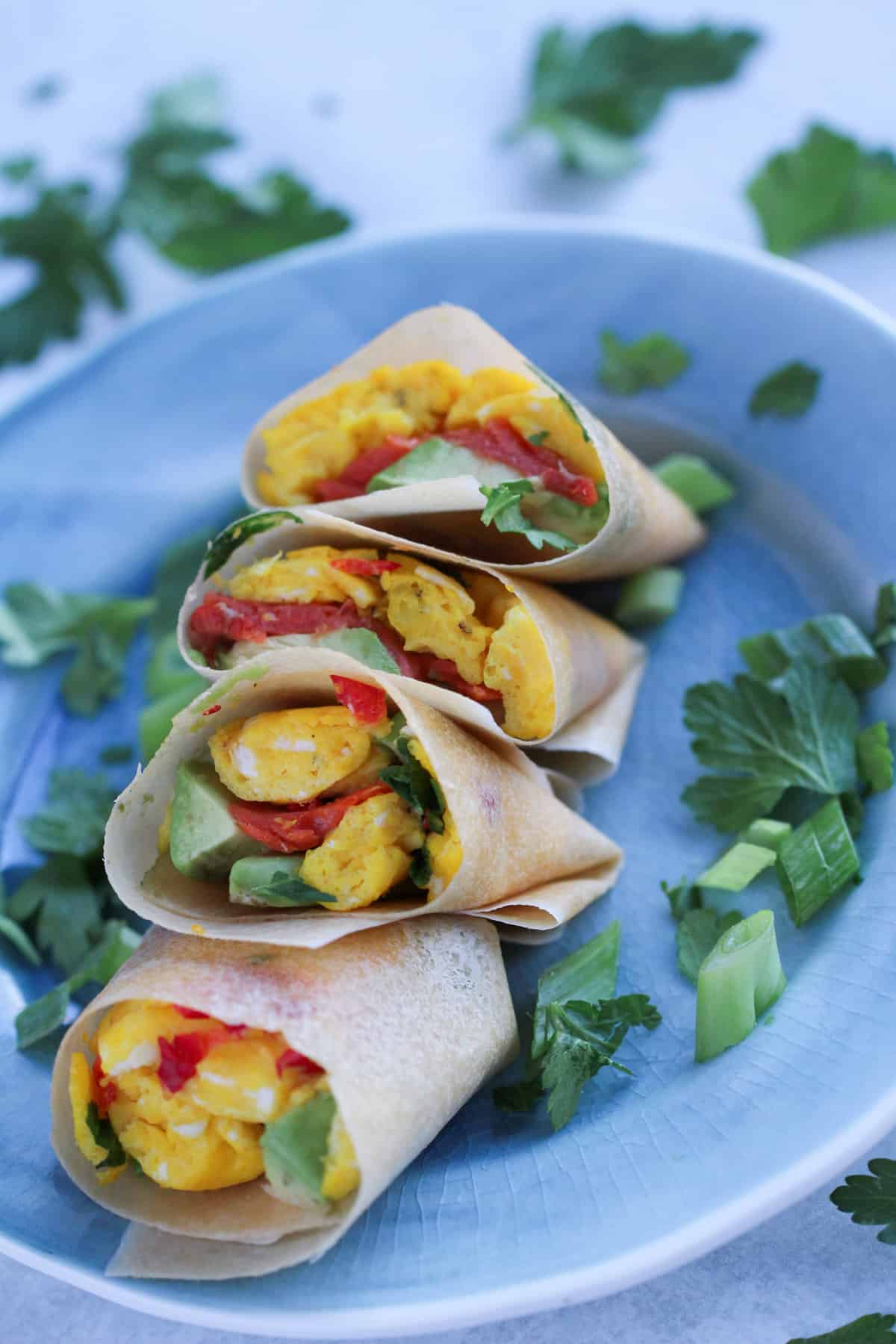 You can use them to make breakfast burritos like this recipe, fill them with your favorite meat and cheeses for lunch and I've even experimented with them and made a chocolate peanut butter dessert wrap! Yum! Now I want to go make one again.
Also, this recipe is Clean Keto approved, so if you are doing the 30-day challenge with me, these are great options for some variety in your meals.
So, let's get to the official recipe, shall we?
If you are looking for some other great breakfast ideas, try these Clean Keto Blueberry Pancakes. They are light and fluffy and the best low-carb pancake recipe I had ever tried.
Also, my keto breakfast muffins are great, especially for a quick grab-and-go breakfast. You can make them in batches and have them ready to go for the entire week!
This post contains an affiliate link in which if a purchase is made, I receive a commission at no additional cost to you. Thank you for your support!
More Keto Recipes to try: