Remember those yummy Corn Dogs at the Fair? Well, these Keto Corn Dogs are even better!
It's the third week of January and I am already thinking of Summer.
Also, the Super Bowl is in a few weeks and I am putting together my favorite Keto Super Bowl recipes, these Keto Corn Dogs included.
I've been pretty health-conscious for most of my life but I will say that one of my weaknesses is Corn Dogs.
If I am ever at a fair or see a corn dog stand, I can't help myself. Yes, I know, they are fried in terrible oil and filled with crap ingredients, but they are so good nevertheless.
I've been really missing corn dogs lately and when I thought of what I could use to replace the "batter", Fathead dough came to mind.
What is fathead dough you ask? If you follow a Keto diet you have probably seen it because it's used for everything! It's pretty much cheese, cream cheese, eggs, and almond flour.
My recipe for Keto Pizza and Keto Bagel and Lox uses fathead dough. It's really easy to make and you can pretty much use it for everything.
So, I figured, why not wrap hot dogs in fathead dough and bake them? Well, it's easier said than done. There are a few things you should keep in mind when making this recipe.
Make sure you use part-skim mozzarella cheese. If you use whole milk mozzarella the dough will be runny and it won't stick to the hot dogs.
Add more almond flour to the dough if you need to so you can spread it out thinner and cut strips off and wrap the hot dogs that way.
Be patient. It takes some time to evenly distribute the dough on the hot dogs and to make it, even so, you don't have uneven parts.
Place the hot dogs on a stick before you put the dough on the dogs.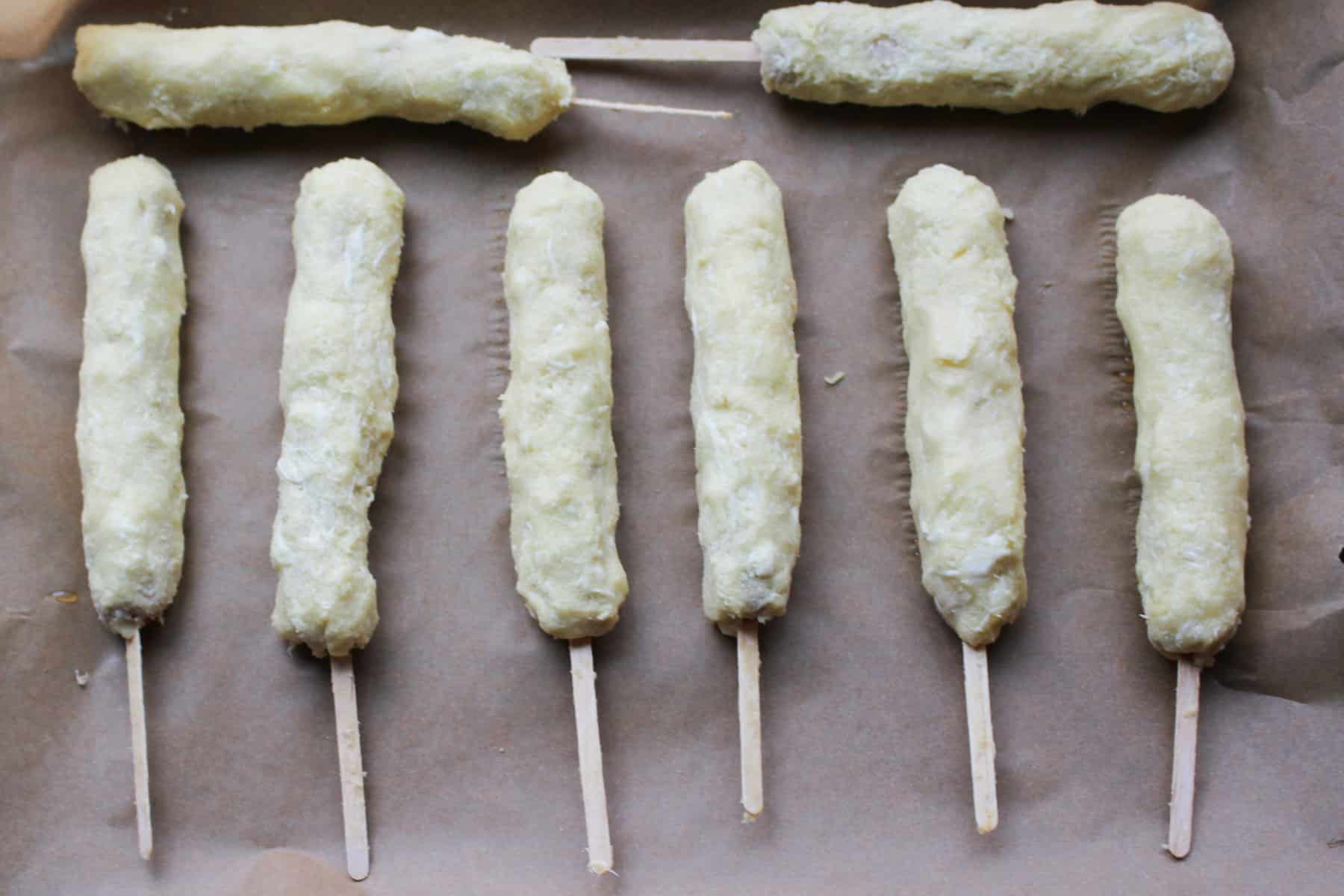 More Keto Recipes to try:
This post may contain affiliate links in which if a purchase is made I receive a commission at no additional cost to you. Thank you for your support!