These Keto Blueberry Muffins are so moist and soft you won't believe they are low-carb!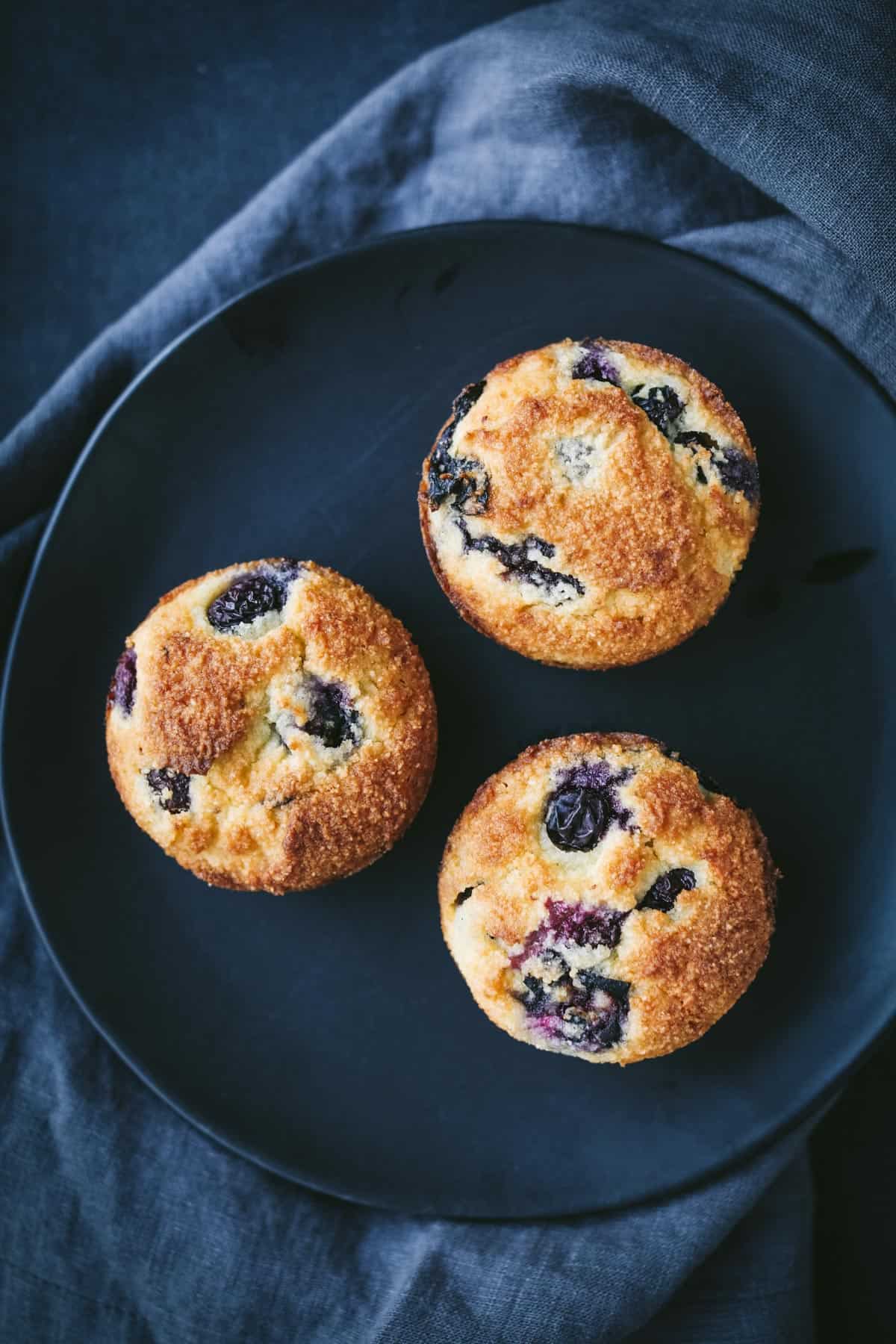 There is nothing more comforting to me than warm keto blueberry muffins.
Especially when Fall weather hits and the chill of the season makes you want to snuggle up and eat something comforting.
Well, look no further because these To Good to be Healthy Keto Blueberry Muffins will hit the spot. These muffins are so moist and tender; you won't believe they are healthy.
These muffins are easy to make: mix the dry and wet ingredients separately, then combine them.
By replacing flour with almond flour and sweetener instead of sugar, you don't have to feel bad about having one…or three. Not to mention how delightful your house will smell while these are baking. It was hard to wait until they fully cooled.
This recipe is not just keto-friendly; it's also incredibly delicious. The ingredients list may be simple, but the result is anything but – tender, moist muffins packed full of juicy blueberries. Here's the lineup:
Ingredients:
Now, let's dive into the nitty-gritty of these magical muffins.
Breaking Down the Macros: Nutritional Content of Keto Blueberry Muffins
When you're following a keto diet, understanding the nutritional content of your food, particularly the macronutrients (or "macros"), is essential. These include fats, proteins, and carbohydrates – the three main sources of energy for your body.
Let's take a closer look at the macros for these keto blueberry muffin recipe:
Fat
The keto diet is a high-fat diet, and these muffins definitely fit the bill. The primary source of fat in this recipe is unsalted butter, which adds a delicious richness to the muffins. The almond flour and eggs also contribute to the fat content. Each muffin contains approximately 14 grams of fat, depending on the exact measurements of your ingredients.
Protein
Protein is essential for maintaining and building muscle mass. The eggs and almond flour in these muffins provide a good amount of protein, with each muffin packing about 6 grams of protein.
Carbohydrates
Carbohydrates are where the keto diet differs significantly from many other diets. The goal is to limit carb intake, pushing the body into a state of ketosis where it burns fat for fuel instead of carbohydrates. These muffins are very low in carbs, thanks to the use of almond and coconut flours and Lakanto Sweetener. Each muffin contains roughly 5 grams of net carbs (total carbohydrates minus fiber).
Fiber
Fiber is a type of carbohydrate that your body can't digest, and it doesn't impact your blood sugar levels, so it's not counted in net carbs. The almond and coconut flours are high in fiber, and the blueberries also contribute a small amount. Each muffin has around 3 grams of fiber.
These values are approximate and can vary based on the specific brands of ingredients you use. For the most accurate macros, consider calculating the values with your specific ingredients.
Remember, a balanced diet is essential for overall health. This keto blueberry muffin recipe, with its optimal blend of macros, makes an excellent choice for a snack or breakfast on the go. Enjoy these delicious muffins while staying right on track with your keto lifestyle!
The Power of Keto Ingredients
These muffins rely on a blend of keto-friendly ingredients to create a low-carb, high-fat treat that's perfectly in line with your dietary needs.
The almond flour and coconut flour are gluten-free, providing a fantastic texture while keeping the carb count low.
The Lakanto Sweetener, a zero-calorie, zero-glycemic sweetener, provides the perfect sweetness without adding any sugar to the mix.
Baking Tips & Tricks
When baking these muffins, there are a few tips and tricks to ensure you get the perfect result every time.
Room Temperature Ingredients: Ensure your eggs and butter are at room temperature before you start. This helps them combine more smoothly and evenly, resulting in a better texture in your final muffins.
Don't Overmix: Overmixing can lead to tough, dense muffins. Mix just until the ingredients are combined for the best, fluffiest texture.
Fresh vs. Frozen Blueberries: You can use either fresh or frozen blueberries in this recipe. If using frozen, don't thaw them before adding them to the batter. This will prevent your muffins from turning a funny color.
Recipe Swaps
Depending on your dietary needs or personal preferences, you may need to make a few swaps in this recipe. Here are some options:
Butter: If you're dairy-free, you can substitute coconut oil in place of butter.
Eggs: For an egg-free version, try using a flax or chia "egg".
Sweetener: If you don't have Lakanto Sweetener, you can use another keto-friendly sweetener like erythritol or stevia.
Blueberries: If you're not a fan of blueberries, you can easily substitute them with raspberries, blackberries, or even sugar-free chocolate chips.
Remember, making swaps may slightly alter the taste and texture of your muffins. Don't be afraid to experiment to find your favorite combination!
How to make the best keto blueberry muffins
Step 1- cream the butter and the sweetener together. Make sure that the butter is fully softened before doing this, or else it will be hard for the ingredients to combine well.
Step 2- Add the eggs, one at a time, then the vanilla. It's also important to use eggs that are at room temperature. Otherwise, the mixture will be chunky.
Step 3- In a separate bowl, combine the dry ingredients
Step 4- Add the wet ingredients to the dry ingredients and mix well
Step 5-Add in most of the fresh blueberries (see recipe card)
If you prefer your muffins crispy on the edges, grease the muffin tin instead of adding liners. Liners will make the muffins softer. I like mine more crispy.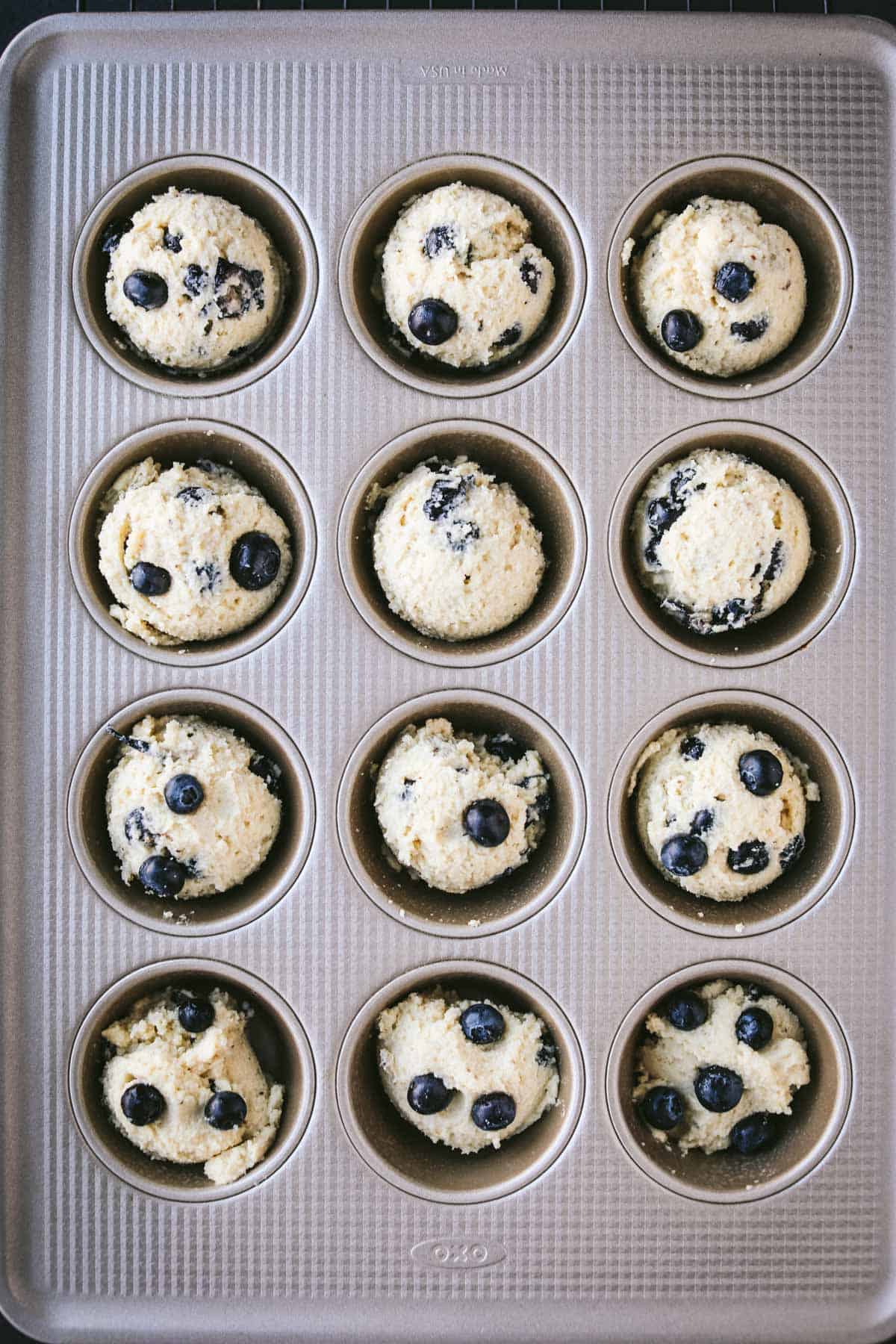 Scoop into muffin tin and top with extra blueberries if you want. Make sure not to overbake these. Watch the oven, and as soon as the top becomes golden brown, remove them.
Make sure to let them cool completely before removing them from the tin. Otherwise, they will break apart. Patience, my friend!
If you love muffins, make sure to check out my Keto Pumpkin Muffins for another great muffin recipe!
How to Store and Freeze Keto Blueberry Muffins
Homemade keto blueberry muffins are an absolute treat, providing a healthy, tasty snack that can be enjoyed at any time of the day.
But what happens if you've made a batch too big to consume in one go? Luckily, these delicious low-carb muffins store and freeze beautifully, allowing you to enjoy them at your leisure.
Here's how to store and freeze your keto blueberry muffins properly to maintain their taste and freshness.
Storing Your Keto Blueberry Muffins
Once you've baked and allowed your muffins to cool completely, storing them properly is crucial to keeping them fresh.
The best method is to place them in an airtight container. If you need to stack them, use a sheet of parchment paper between the layers to prevent sticking.
Keep the container at room temperature. Properly stored, your keto blueberry muffins should stay fresh for up to four days. Storing them in the fridge is not recommended as this can make them dry out faster.
Freezing Your Keto Blueberry Muffins
If you have a large batch or want to make your muffins last even longer, freezing is an excellent option. Here's how to do it:
Cool Completely: Before freezing, make sure your muffins have cooled completely. Freezing them while they're still warm can lead to condensation and ice formation, which can negatively affect their texture and flavor.
Individually Wrap: To preserve their quality, wrap each muffin individually. You can use plastic wrap, aluminum foil, or freezer paper for this. Wrapping individually prevents freezer burn and allows you to thaw only what you need.
Use a Freezer Bag: Place your individually wrapped muffins in a large freezer bag. Press out as much air as possible before sealing. This provides an extra layer of protection and helps save freezer space.
Label and Freeze: Don't forget to label your bag with the date. This way, you'll know when you froze them, and you can make sure to use them while they're still at their best. Properly stored, your frozen muffins should maintain their quality for up to three months.
Thawing and Reheating Your Muffins
When you're ready to enjoy a muffin, remove it from the freezer. You can let it thaw at room temperature for a few hours, or, if you're in a hurry, you can use your microwave's defrost setting. Be sure to remove any plastic wrap before microwaving!
If you prefer a warm muffin, you can heat it in the oven at 350°F for about 10 minutes, or give it a quick 20-second zap in the microwave. Remember, heating times will vary depending on your appliance, so adjust as needed.
Storing and freezing your keto blueberry muffins properly means you can always have a tasty, keto-friendly treat on hand, ready to curb those cravings whenever they hit. Enjoy!
This post contains an affiliate link in which, if a purchase is made, I receive a commission at no additional cost to you. Just some diaper money. Thank you for your support!
More Keto Muffin Recipes to try: