These Grilled Keto Veggie Skewers pair well with any protein and make for the perfect side dish!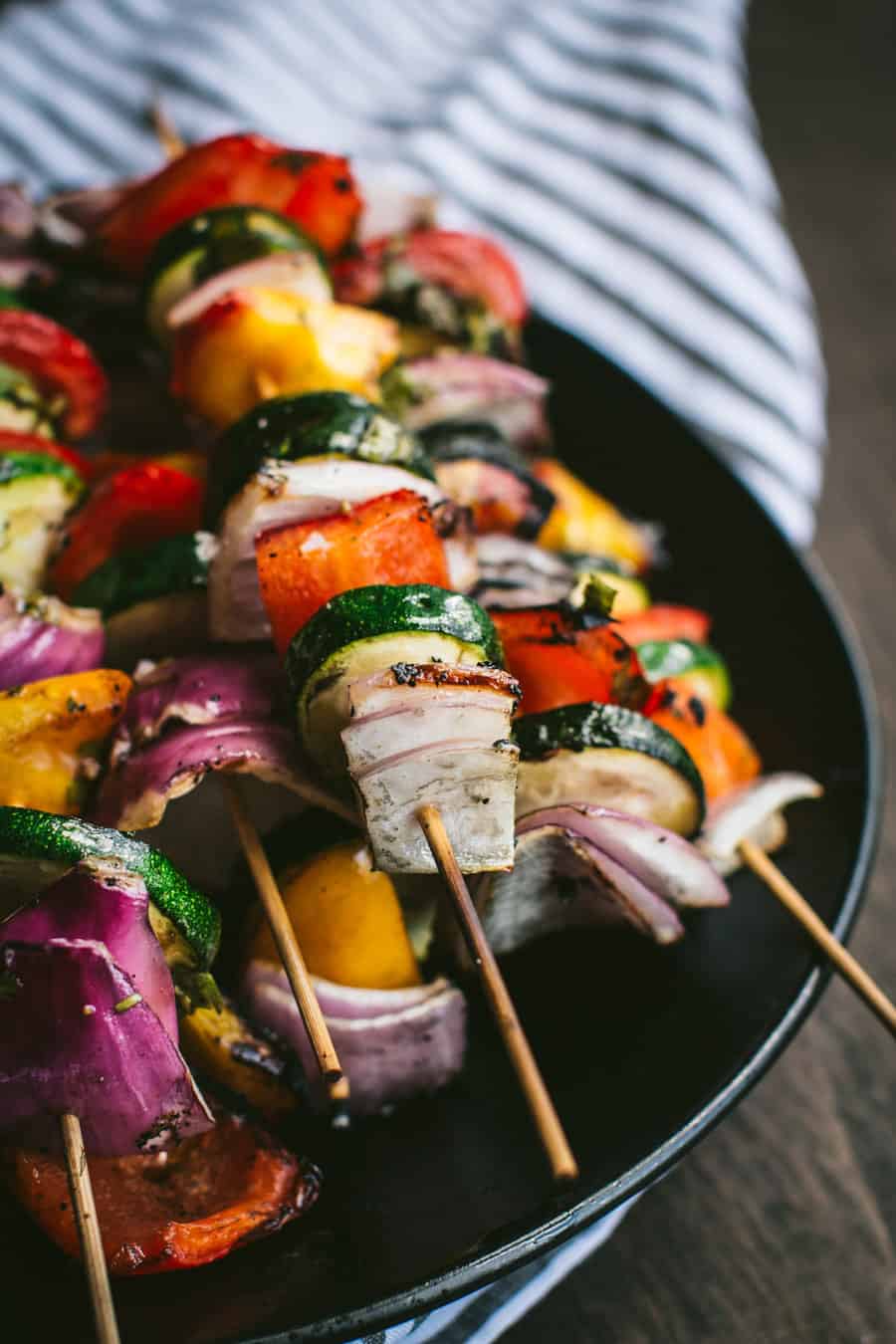 Grilling season is upon us, and there's nothing better than firing up the outdoor grill and enjoying some delicious and healthy food in the sunshine. These Grilled Keto Veggie Skewers are the perfect addition to your summer menu and for your low-carb diet.
Grilled or roasted, veggie skewers are an easy summertime favorite that works well for a quick weeknight meal or a Sunday family get-together. Made with a colorful mix of veggies, skewers are easy to make and perfect for meal prep or as a side dish for your next BBQ.
With just a few simple ingredients and a little bit of grill time, you can enjoy low-carb tasty skewers all summer long. Let me show you how you can make keto-friendly veggie skewers.
What is a Veggie Skewer?
Kabobs, shish kabobs, kebab, satay, shaokao, kushiyaki, skewers – there are many different names for what is, essentially, food on a stick.
Technically – a skewer is an actual stick (metal or wood), but a skewer is also commonly used to refer to the whole food item of meat and or veggies on a stick.
Veggie skewers, also known as vegetable skewers, veggie kabobs, or kebabs, are a type of dish typically made by threading vegetables onto skewers and grilling or roasting them. The vegetables used in veggie skewers can vary, but common choices include bell peppers, zucchini, onions, mushrooms, cherry tomatoes, and eggplant.
Vegetable skewers can be seasoned with herbs, spices, or marinades to add extra flavor, and can be served as a main dish, a side dish, or an appetizer. They are a popular choice for vegetarians, vegans, and those looking for a healthy and delicious way to enjoy their veggies.
What Veggies Can You Use for your Veggie Skewers?
For this low-carb and keto recipe, I've chosen red onion, red pepper, and zucchini.
Red onion: Red onions are a type of onion with deep purple-red skin and a white interior. They have a slightly milder and sweeter flavor than yellow onions and are often used raw in salads, salsas, and sandwiches, or cooked in stir-fries, soups, and stews.
Peppers: Peppers come in a variety of colors, including green, red, yellow, and orange, and can range in spiciness from mild to hot. They have a crisp texture and a sweet or slightly spicy flavor and are commonly used in salads, stir-fries, fajitas, and stuffed pepper dishes.
Zucchini: Zucchini is a type of summer squash that has a thin, dark green skin and a creamy white interior. It has a mild, slightly sweet flavor and a tender texture, and can be eaten raw in salads, grilled or roasted as a side dish, or used in soups, stews, and pasta dishes. Zucchini is also a popular ingredient in baked goods, such as zucchini bread and muffins.
But you also use mushrooms, tomatoes, and pattypan squash for variety while still keeping it low-carb and keto-friendly.
How to prepare your Grilled Keto Veggie Skewers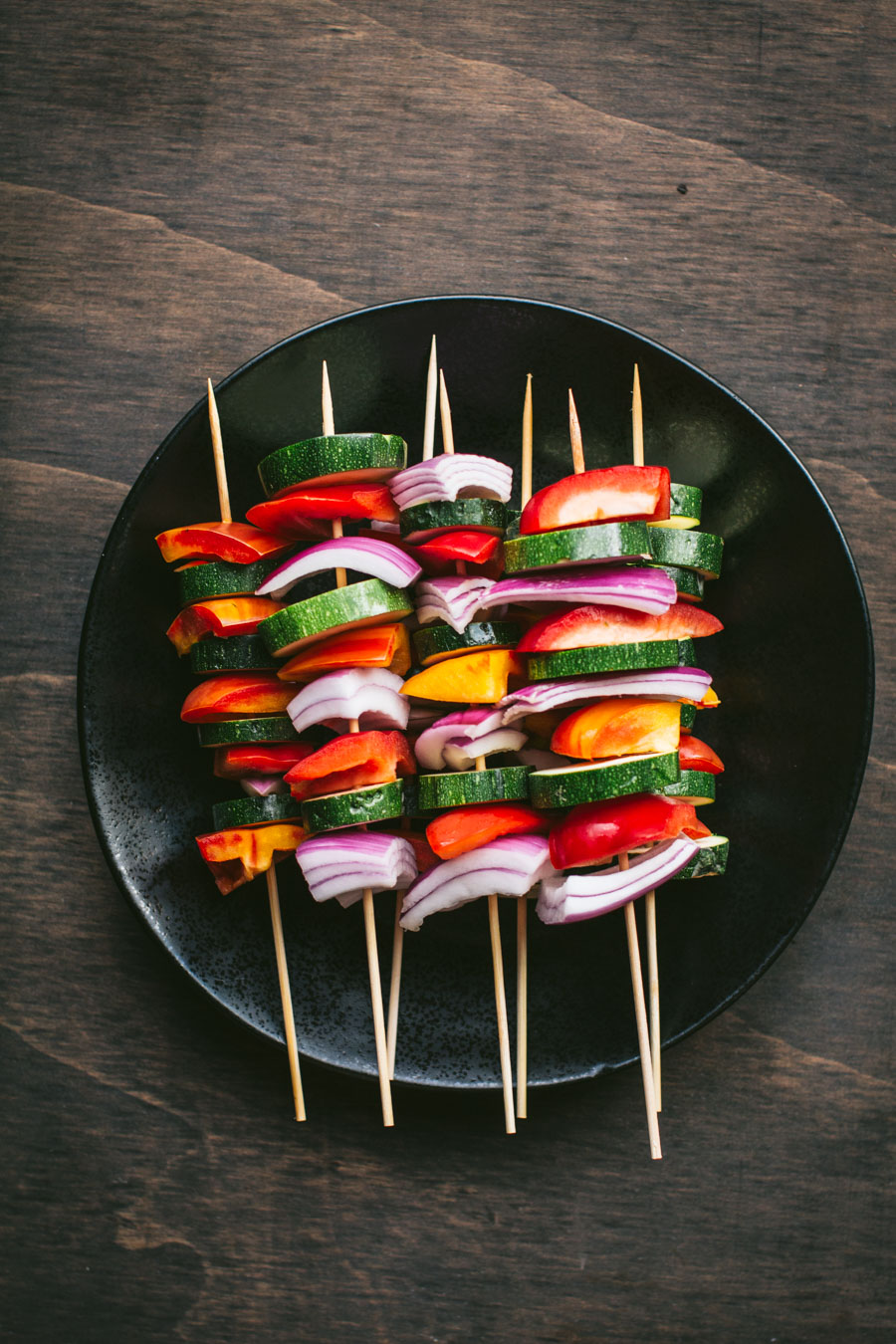 You can use metal or wooden/bamboo skewers. If you're using wood or bamboo skewers, you will want to soak them in water for at least 30 minutes.
Soaking your skewers will help prevent them from catching on fire (which will lead to your veggies falling to the bottom of the grill), but it also helps them to not splinter while cooking. The ends of the skewers will still become charred, but they won't burn.
Cut up the prepared vegetables into bite-size pieces, trying to get the pieces more or less the same size (so they cook evenly).
The marinade is a simple combination of olive oil, garlic, herbs, and salt and pepper. But while it may be simple – it is packed with flavor.
I love grilling my veggies skewers, but if you don't have a grill you can also use the oven or stove.
What to serve with Grilled Vegetable Skewers?
These low-carb Grilled Vegetable Kebabs are the perfect side dish as they pair well with any protein.
Serve with Asian chicken wings, and coconut milk roasted short ribs, or take your pick from my best Keto summer BBQ and grill recipes.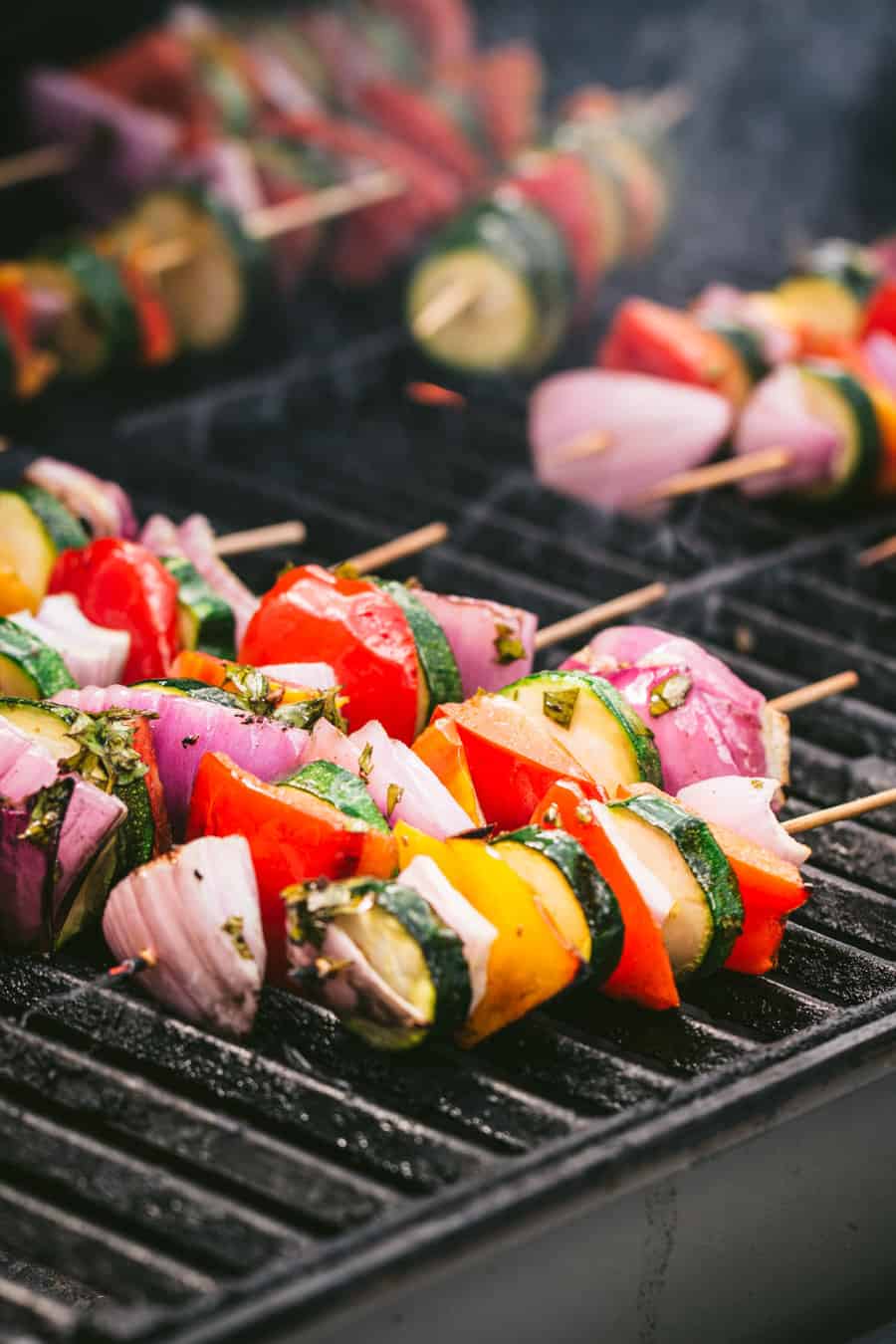 These Grilled Keto Vegetable Skewers are a delicious and nutritious way to enjoy low-carb vegetables during the grilling season. Packed with flavor and easy to make, they make a great addition to any summer menu, whether you're hosting a BBQ or just looking for a healthy low-carb side dish.
By choosing low-carb veggies like zucchini, peppers, onions, and cherry tomatoes, you can enjoy a filling and satisfying meal without the guilt. So fire up the grill and try these tasty vegetable kebabs for yourself – you won't be disappointed!
What are you waiting for? Grab your skewers and get ready to enjoy some delicious and nutritious low-carb and keto veggies!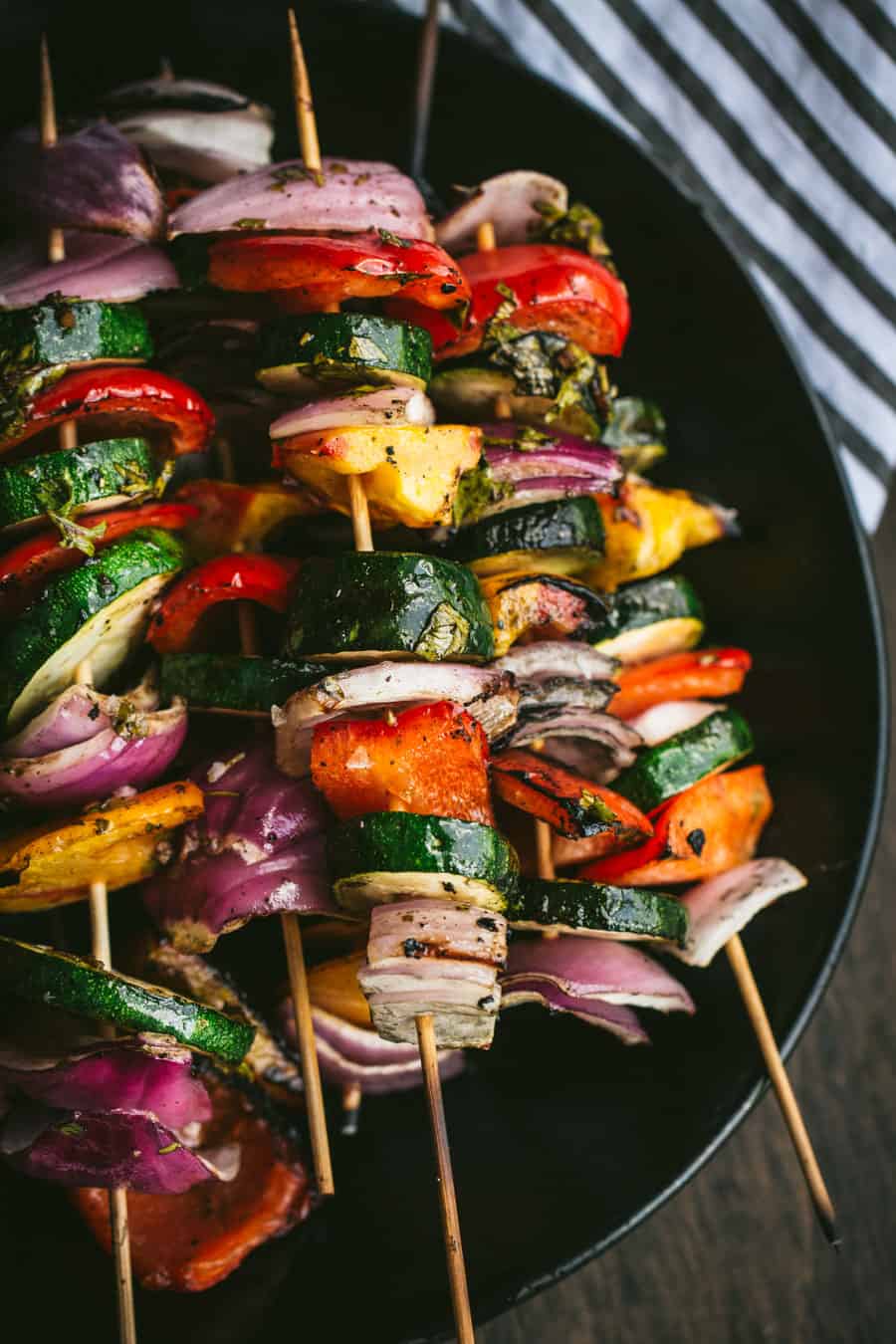 More Keto Recipes to try: