If you love Indian food, you will love this Easy Keto Chicken Tandoori. It's full of flavor, really easy to make and is great for weekend grilling and meal prepping!
Grill season is in full effect and I'm finding new ways to make my favorite foods Keto friendly, like this Easy Keto Tandoori Chicken.
It's no joke that I LOVE Indian. All of the spices and flavors of Indian food make my taste buds come alive. (also, spicy food burns more fat, fun fact)
We used to live near a really great Indian restaurant where we would order Chicken Saag, Butter Chicken and Tandoori Chicken all the time but now, the closest Indian place is like 20 minutes away. Not to mention, it's hard to know exactly what ingredients are being used in the recipes.
I imagine a lot of the cooks don't even follow a recipe, they just use a little bit of this and a little bit of that and bam! An explosion of flavor. At least, that's how I envision it. There is something to be said about off-the-cuff cooking.
The point being, I'm recreating these recipes to fit my low-carb, Ketogenic diet and to provide tasty alternatives for you so you aren't eating plain ole "grilled chicken" every week.
Tandoori Chicken is normally cooked in a Tandoori oven, which I don't own (yet) and I'm guessing you don't either. So, instead, I made this recipe as a grilled chicken recipe. Alternatively, you can bake this easy keto Tandoori Chicken in the oven but you won't get the beautiful grill marks.
I was debating whether or not to make this recipe Dairy-Free because I am a big advocate of Clean Keto Eating, (why I created a Clean Keto Meal Plan), however, I didn't want to mess with the original components of the traditional Tandoori Chicken until I tried it the authentic way first.
Traditional Tandoori Chicken is made by marinading the chicken in lots of Indian spices and yogurt (or curd, as they call it). Normally, Indian families make their own curd (yogurt) which is unprocessed and chock full of probiotics but I didn't have time for that so I used Organic, Full-fat Greek Yogurt instead.
Perhaps, next time I will try it with Coconut Cream instead and see how it works out.
What makes Tandoori Chicken Red?
You will find, with my recipe, your Chicken is not going to be Red. Why? Because, sadly, what makes most Tandoori Chicken recipes red is food dyes.
Why though? I just don't get it. Why would you add food dye to chicken to make it look "red"? It's chicken for God's sake. I'm not about to start my rant here but I will say this if you want your chicken to look "red", add more chili powder or paprika.
Paprika is not listen in the ingredients but it will make the chicken more red without making it spicier if you can't handle the spice.
Speaking of spice, this recipe is about a 4-5 on a spice level so if that is too much for you, decrease the chili powder of the first marinade to 1 tsp.
What can you eat Tandoori Chicken with?
Traditionally, Tandoori chicken is eaten with rice and Naan. You can make my 15- minute Cauliflower Rice and pair it with that. I don't have a Keto Naan recipe (yet) but I am sure you can find one on Pinterest. Otherwise, your favorite Keto veggies would go perfectly with this Tandoori Chicken!
How to make Tandoori Chicken
There are two simple marinades for this chicken. One is a bunch of spices and lemon juice and the second is the yogurt marinade.
Just like with any other marinade, the longer you let it sit, the more flavorful it will be but you can get away with 15 minutes for the first one and let the second one sit until you get the grill ready or the oven heated.
Most of the spices and seasonings can be found in any grocery store. If you have a Indian market or an Ethnic Market near you it would be worth to go and pick up authentic Indian spices. This Easy Keto Tandoori Chicken is so good, you'll want to make it more than once!
Once you marinade it, grill it evenly until the chicken reaches an internal temperature of 165°. The only way to do that is to use a food thermometer. Also, same goes for the oven.
If you don't have a grill and are using the oven, the temperature should be at 375°. It will take 30 minutes or so depending on how big your thighs are. (mine are big, by the way ????). Turn on the boil for the last 3 minutes for a nice char on the top.
Well, that's all! So easy!! Each serving is 2g of NET Carbs due to the yogurt and other spices. Easy Keto Tandoori Chicken is also great for meal prep!!
Store it in the fridge for up to a week!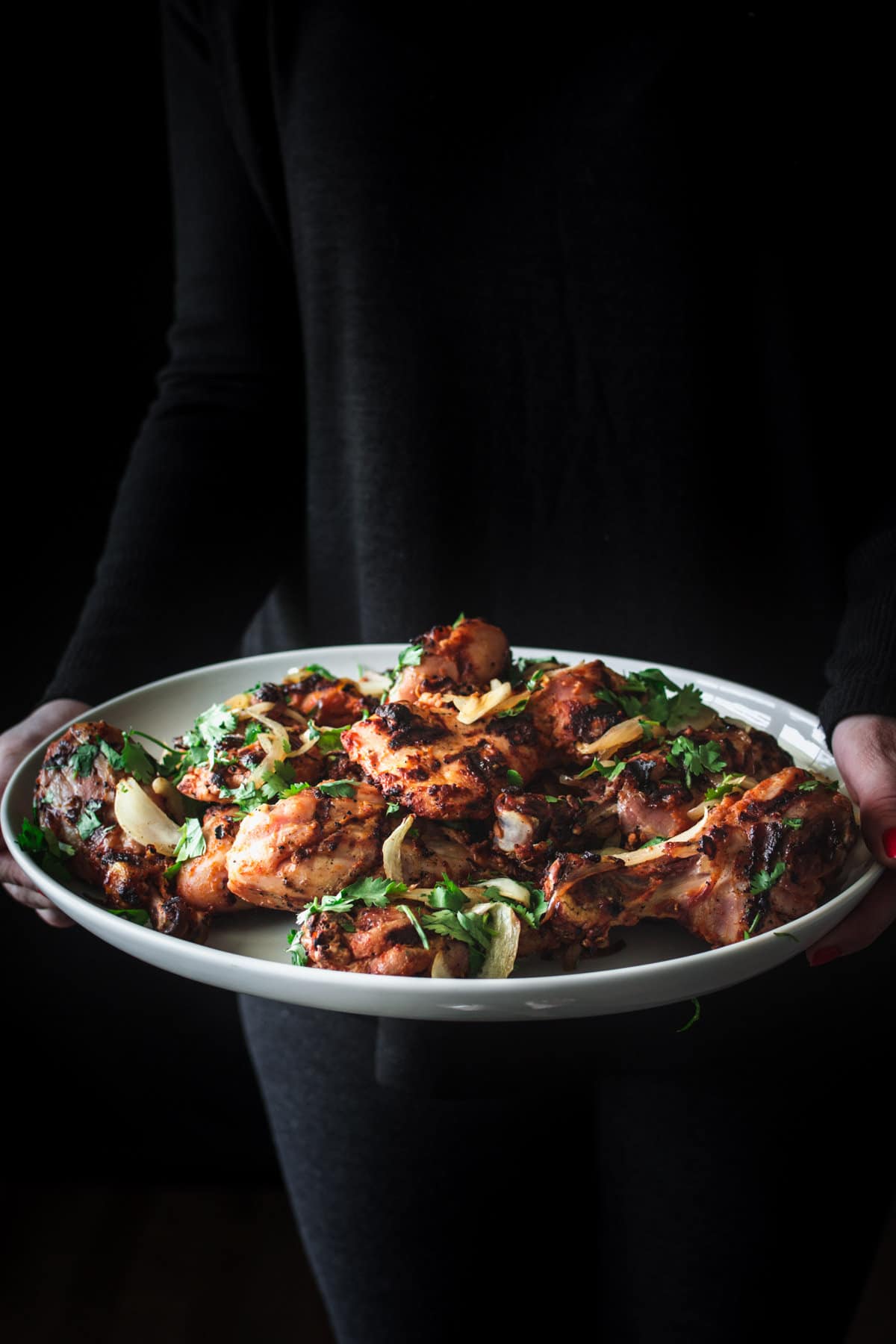 Print
Easy Keto Tandoori Chicken
Author:

Prep Time:

15

Cook Time:

15

Total Time:

30 minutes

Yield:

8

1

x

Category:

Main Dish

Method:

Grilling

Cuisine:

Indain
---
Scale
Ingredients
First Marinade:
4 lbs Chicken Thighs 
Second Marinade:
---
Instructions
In a large bowl, combine all of the ingredients for the first marinade. 
Add in the chicken thighs and mix until evenly seasoned. Place in fridge for at least 15 minutes until you prep the second marinade.
In a medium bowl, combine all of the ingredients for the second marinade and whisk. If you want the chicken to look redder and to be spicier, add more chili powder. 
Take the chicken out of the fridge and pour the second marinade on it, mix well.
Let sit while you start the grill.
Grill chicken evenly on both sides at 375° until chicken reaches 165°F. 15-25 min depending on thick the thighs are (thick thighs save lives ????)
Garnish with fresh cilantro and scallions. 
---
Notes
Store in the fridge for up to a week. 
---
Nutrition
Serving Size:

1

Calories:

392

Fat:

30g

Carbohydrates:

3g

Fiber:

1g

Protein:

30g
Keywords: keto tandoori chicken, keto indian food, easy keto recipes