These Keto Peanut Butter Cups remind me of Reese's, my all-time favorite candy bar!
Love is in the air!! Ok, maybe not quite yet.
My current situation is watching my 3- yr old jump on the couch and my 1-yr old mess with the T.V remote. Masha has been playing on repeat, but now we have switched to "Barbie, Life in the Dreamhouse."
Ironically, I am sorta jealous of Barbie. She is always dressed to the nines, her house is always clean, and she has everything she could ever want. On the other hand, I am dressed in sweaty workout clothes, smelling like Butternut Squash Soup.
Although I know Barbie is not real, it's nice to envision what it would be like to have her life. She can probably eat anything she wants and still look like well, Barbie! LOL
Why am I talking about Barbie??
I have realized that most of you don't read these recipe posts from top to bottom. I don't blame you, I don't either when I am looking for recipes.
So, instead of trying to find 300 words to say about Keto Peanut Butter Cups to make Google happy, I am going to start sharing snippets of my life and try to fit them into my recipe posts.
We will see how it goes. You may love it, or it may annoy you. Feel free to comment and let me know.
Anyways, Valentine's Day is coming up and I foolishly agreed to be in a Keto Valentines Group on Instagram where we post Keto versions of Valentines Day recipes starting this week.
Why do I say foolishly?
Don't get me wrong; I love being in IG recipe groups. However, I have recently started working on a Clean Keto Reset Meal Plan, and I should be focusing on that. (If you are interested in that, make sure you subscribe to the newsletter, so you know when it's out.)
Instead, here I am, writing about heart-shaped Peanut Butter Cups.
How could I have said no though? It's my birthday! Of course, I want to create heart-shaped Peanut Butter Cups heart-shaped Pancakes, and heart-shaped anything you can think of. Right? Ok, maybe not so much
Still, these Keto Peanut Buttercups are way overdue. Reese's Peanut Butter Cups are my absolute favorite candy bar even though it's not technically a candy "bar".
Ever since I was young, I was Reese's fan. Reese's eggs for Easter (OMG), Reese's Mini's (aka eat the whole bag), Reese's bunny's (the big ones, you know?!) I was hooked.
Nowadays, Reese's are not on the menu anymore. I am pretty sure I ate enough of them during my last pregnancy with Zoë to last me a lifetime. I am not even joking about that.
So, with that being said, I went on a mission; To make Keto Peanut Butter Cups that taste like Reese's.
First off, let me tell you if anyone says that they have a recipe for sugar-free peanut butter cups that taste JUST like Reese's, they are lying. There is just no way to copy the taste EXACTLY because they put some magic CRAP in them that makes you want more.
However, these are as good as you are going to get if you are a fan of peanut butter cups.
After making this recipe 3 times to make changes, I think I got them good enough to fulfill my Reese's desire. (how many times can I say Reese's in this post?)
Let me start by saying, you can use regular fat bomb molds to make these. If you want to be all lovey-dovey, here is the heart-shaped mold I used.
Besides that, the process is pretty easy.
First, Melt the Baking Chips with the Coconut Oil
Fill the molds 1/3 way with the chocolate and freeze for 10-15 minutes
Lay the mold on a baking sheet so it doesn't move when you put it in the freezer and the chocolate freezes evenly
This part is tricky. It's ok if they aren't all even, try to fill it so that you have room for the peanut butter layer in the middle and the final chocolate layer on top.
If you love chocolate, then make your chocolate layer thicker. If you prefer more of the peanut butter layer than pour the chocolate lightly and save more room for the peanut butter.
While the first layer is setting, make the Peanut Butter layer
This is the important part. Do you want your peanut butter layer to be more liquid or more textured like an actual Peanut butter cup?
If you prefer the later, start with 2 tbsp of Coconut Flour and work your way up by 1 tsp until the consistency is what you want.
I used 2 tbsp for this recipe and I could have added more, it was not as thick as I wanted at the end.
Take the molds out of the freezer and top with Peanut Butter filling
How much you put in is entirely up to you. My recipe fills 24 molds but if you want to make less than you'll want to fill them up with more peanut butter.
Feel free to spread the peanut butter out through the mold or keep it in the middle. If you don't want the peanut butter showing, you'll have to keep it in the middle.
Return the molds back to the freezer for 10 minutes
This part is optional. You can pour the remaining chocolate over the Peanut butter layer and it may turn out fine or it may sink and melt together depending on how warm your peanut butter mixture or chocolate is.
I returned mine back to the freezer because I didn't want Peanut Butter Swirl cups.
That is it! Easy-peasy! Yum! Don't they look deliciously adorable?? I love these and I have to stop myself from eating them because they are SO good.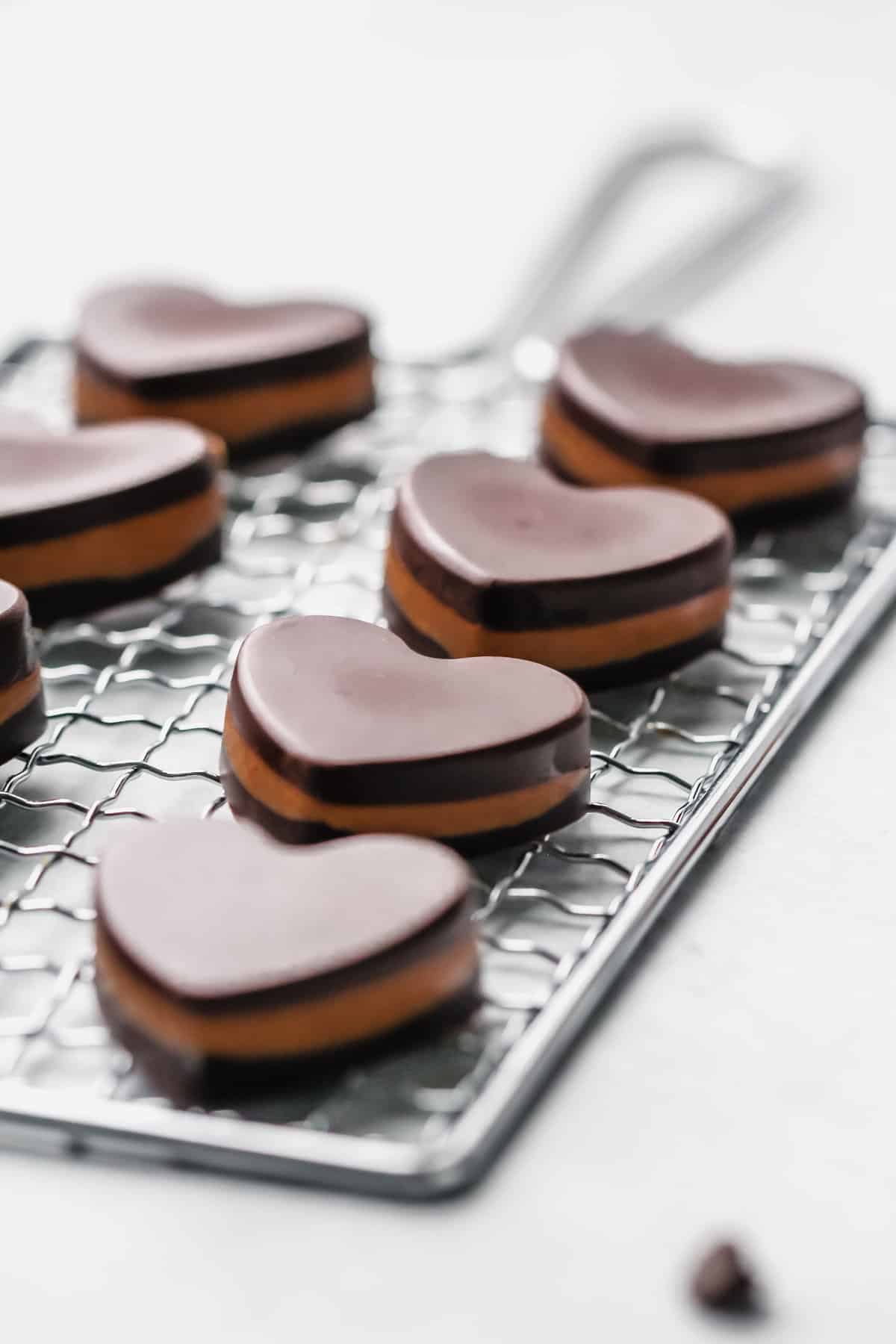 My kids love these too, which brings me to another tip: if you are going to give these to your kid, don't let them near your white kitchen cabinets.
These melt pretty fast so make sure you are supervising your young children while they are eating these. (Unless, you want your house to look like someone smeared poop, which you know is chocolate everywhere).
Happy Love Day!
Looking for a bread pudding recipe? Check out this Keto Bread Pudding. It's a comforting keto dessert that's so simple to make.
More Keto Recipes to try:
This post may contain affiliate links in which if a purchase is made I receive a commission at no additional cost to you. Thank you for your support!