These easy pancakes with peanut butter glaze will become a new breakfast favorite.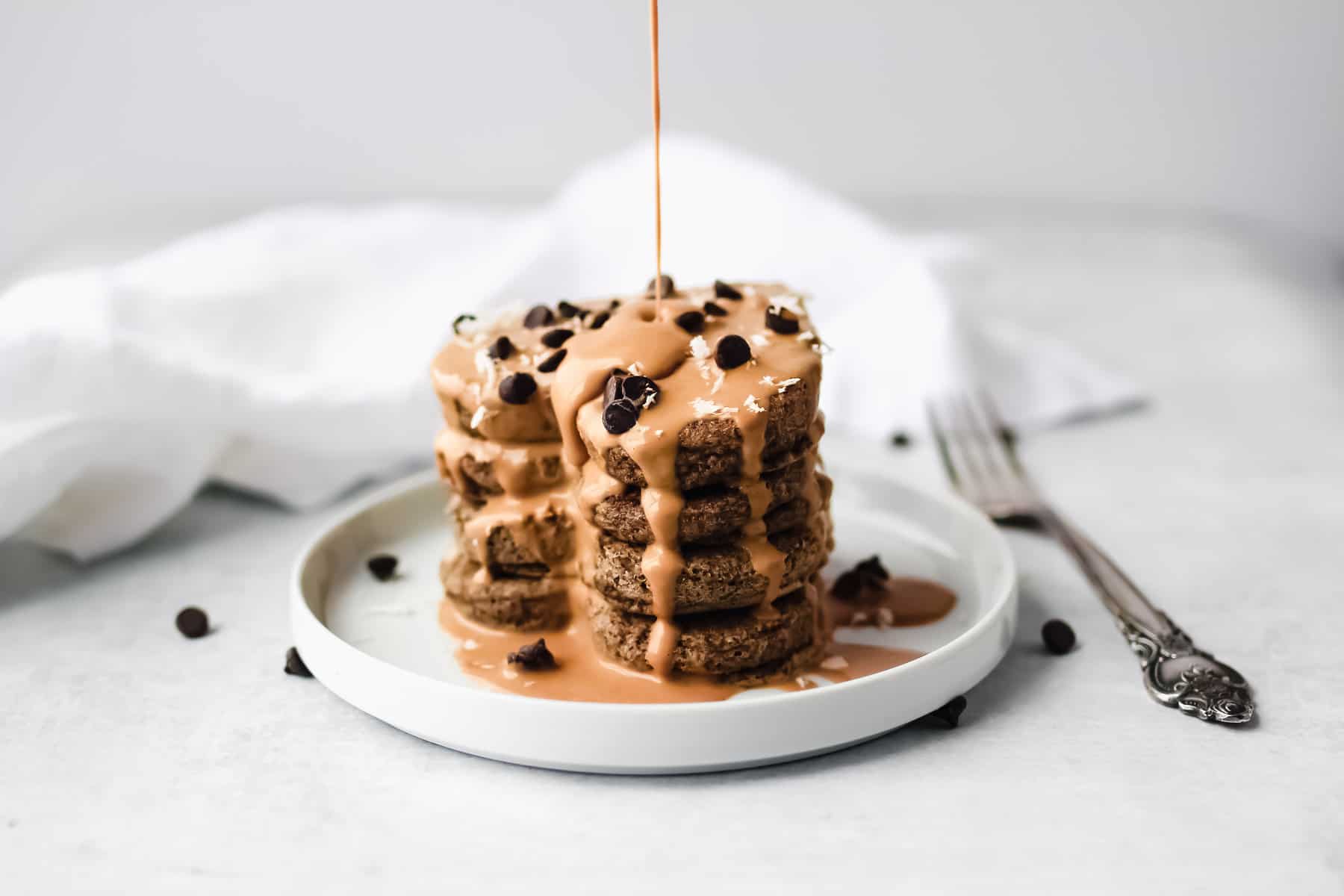 Soon it will be Valentine's day, and by soon I mean in less than a month. I will be honest, I don't really like Valentines Day. I feel like it's a hallmark holiday. However, I go out on Valentines Day every single year, because it's my birthday!!
I was born in Ukraine and there was no such thing as Valentines Day. It wasn't a big deal until I moved to the states. Anytime I would tell someone my birth date they would say "Aw, you are a Valentine's Baby". Uh, sure, yeah, thanks.
I am not into the whole, buy a dozen roses for $150 that will die in two days because I don't do well with plants. Chocolates are preferred, however, I have a problem eating them all within 5 minutes so that doesn't go so well either.
So, this year I am making myself and my hubby (spoiler alert) heart-shaped pancakes with peanut butter glaze. Why are these pancakes so much better than Roses and Chocolate you ask? Here are just a few:
They are in the shape of a heart-how cute is that?
Loaded with Flax Meal which means it will help you go number 2-who doesn't love that?
PEANUT BUTTER GLAZE- need I explain this one?
Keto, Low-Carb, Gluten-Free, Dairy-Free & Vegetarian
No sugar
Easy to make (for all the men who suck in the kitchen, hint hint)
So now that you know why these are so awesome, let me talk to you about the amazing ingredient in these, Flax Meal.
What is Flax Meal?
Flax Meal is basically ground-up Flax Seeds which are a great source of fiber. Fiber is a hot topic within the Ketogenic community because a lot of people have issues with regularity when switching over to a low-carb diet.
Although this is common and eventually your body adjusts and gets back to "normal", adding ingredients like Flax in your diet can help things go down smooth (if you know what I mean).
Ok, why am I talking about pooping in a pancake post? So off-topic, but yet it's not. Either way, I was expecting these to taste like crap due to the flax meal and lack of any sweetener in the batter, however, they are REALLY good.
Either my palette has changed since I started eating Clean Keto, or these are really yummy healthy pancakes.
I will say though, I think the glaze has something to do with it because my toddler devoured these, and she is not a fan of healthy food. It had to be the peanut butter glaze.
How to make Keto Peanut Butter Glaze
Let's talk about the peanut butter glaze for a minute. There are a few ways you can make it. If you want it to be thicker you can use peanut butter, add some water or almond milk and if you want it sweeter, add in your favorite sweetener.
Another way to do the glaze is to use peanut flour mix it with water and add in sweetener.
The third way, I made mine is to mix peanut butter powder with almond milk and add a few drops of liquid stevia. I made my glaze pretty thin because I wanted it to be easily pourable.
Again, it is a personal preference. Either way, it's delicious and you will love it!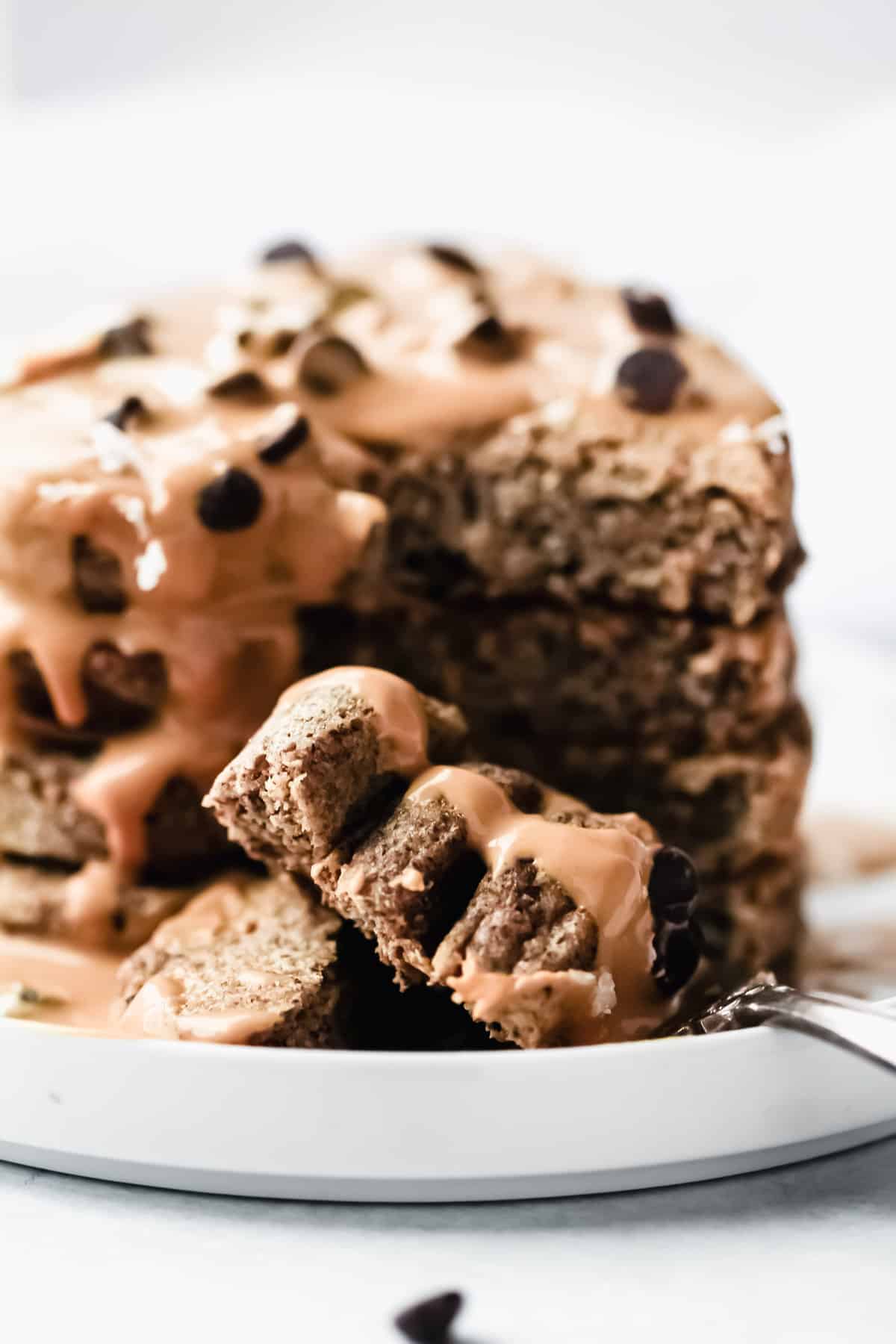 More Keto Recipes to try: