If you have any Cilantro Lime Cauliflower Rice left over, this Salmon Poke Bowl is your answer to using it up.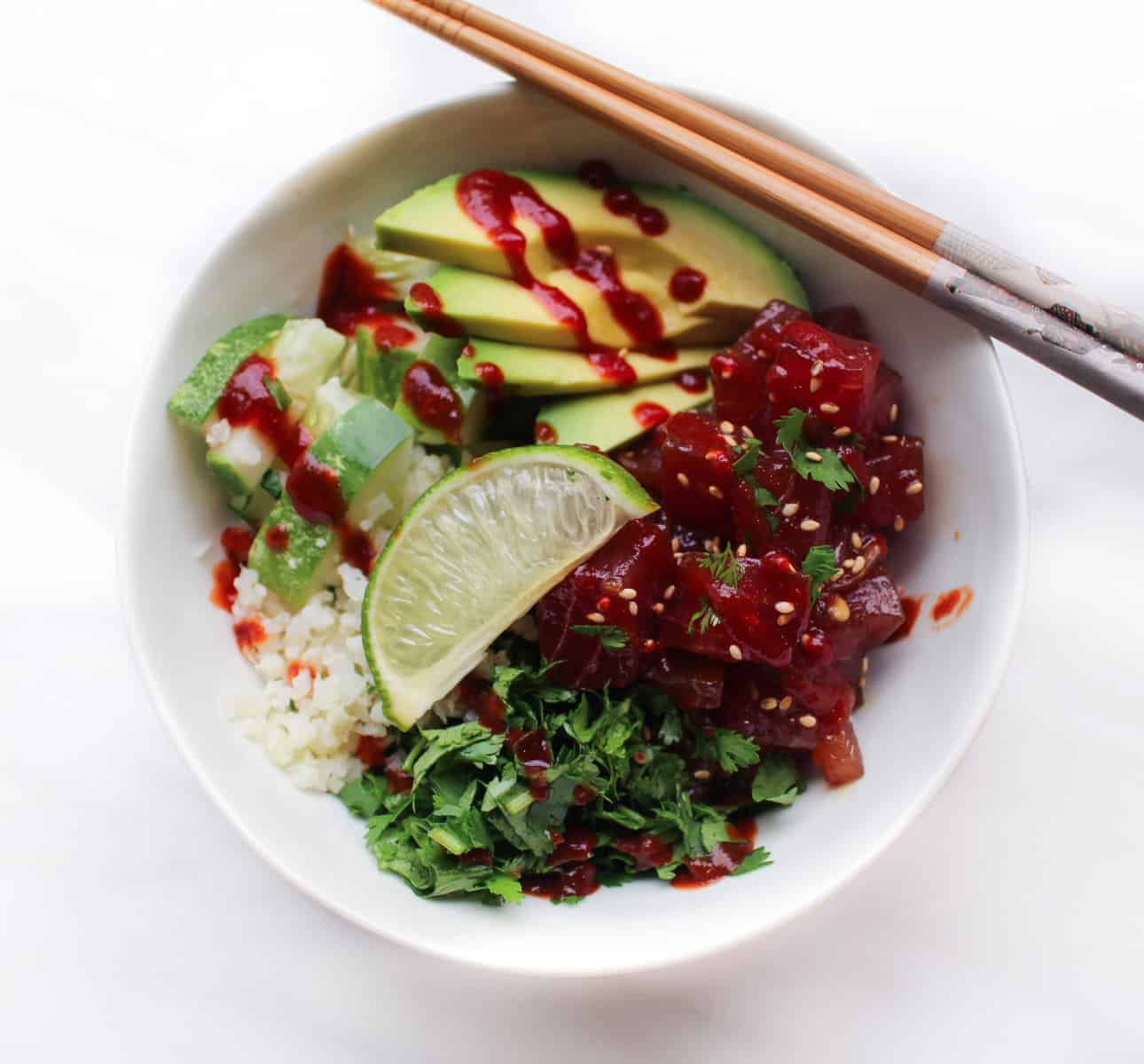 Hey there. Remember that Cilantro Lime Cauliflower Rice from last week?
Did you make it? Well, if you did, boy do I have a way you can repurpose the leftovers.
If you haven't made it, go make it.
Being a busy stay-at-home mom of 2 girls, currently 3 and 1, I am all about that re-purposing life.
Especially when it comes to food. I already spend most of my time in the kitchen, why would I want to spend more?
So, when I think of what I am going to make for the following week, I think about versitility.
What foods can I repurpose for other meals, without getting bored?
That's the story of this recipe. Originally I had the Cauliflower Rice made because we were making Keto Sushi. I made it, my husband rolled it, because I have the patience of a 6 m.o.
Eventually, he got tired of rolling too and we had a bunch of salmon left over, along with cauliflower rice and some other ingredients that would make for the perfect Poké Bowl.
If you aren't familiar with what a Poké Bowl is, think of Chipotle, hawaian style.
Poké means to cut or slice and a traditional Poké bowl is made with raw fish laid over a bed of rice, veggies and umami sauces.
While this dish has become very trendy, it doesn't comply well with my Ketogenic metabolic state, which is where cauliflower comes to the rescue, yet again.
Man, I love my Cauliflower. Please God, don't let there ever be a Cauliflower shortage.
Anyway, if you use the Caulirice instead of the rice, all the other ingredients are pretty much Keto approved.
I can eat this meal every single day and not get sick of it. My husbands wallet would get sick of it because good quality raw fish doesn't come cheap. That is the one down fall of Poké bowls.
Still, it's still so much more cheaper than going out and getting a Poké bowl. I think they are $8-10 per bowl and they give you like four little peices of fish. Such a rip off.
Atleast, when you make your own you can put that money towards getting good fish and then load it up because the rest of the ingredients are not that expensive.
So, where do you get raw fish for Poké? Please, for the love of God, don't buy it from a fish stand on the street corner. I beg you.
In all seriousness, the best place would be a large meat/seafood market that is relitevely sanitary, meaning it doesnt smell like old meat and fish when you walk in or a Sushi restaurant.
Since most Sushi restaurants are required by law to freeze their raw fish for a specific amount of time to eliminate harmful bacteria, you can rest assured that you won't spend 24 hours on the white throne peeing out of your butt.
How do I know this? I used to be a health inspector. I don't know how the laws are in different states but in Ohio and surrounding states where the sushi fish gets shipped in, this method is pretty standard.
Ok, so you got your cauliflower rice, you got your safe to eat raw Salmon, now what?
Oh, by the way if the thought of eating raw fish scares you to death or you are pregnant, feel free to use shrimp, or hey, even chicken.
It's your life, do what makes you happy. Ok, so now, what else do you need? How about some avocado, cucumber, fresh cilantro, lime, and your favorite hot sauce. That is it!
Now you can toss the salmon in some hot sauce and soy sauce if you want it to be spicy — That's what we did, and it tasted terrific!
Since you have all your ingredients set aside, you can get to the fun part; building the bowl! Start by layering the rice on the bottom, top with the salmon, cucumber, avocado, fresh cilantro, and lime! That is it!
Feel free to add more hot sauce on the top if you really want to light things up.
Enjoy!
More Keto and Low Carb Recipes to try:
This post may contain affiliate links in which if a purchase is made I receive a commission at no additional cost to you. Thank you for your support!