These are the best Clean Keto Pumpkin Muffins you'll ever make. They are moist and fluffy and OMG the chocolate chips ????.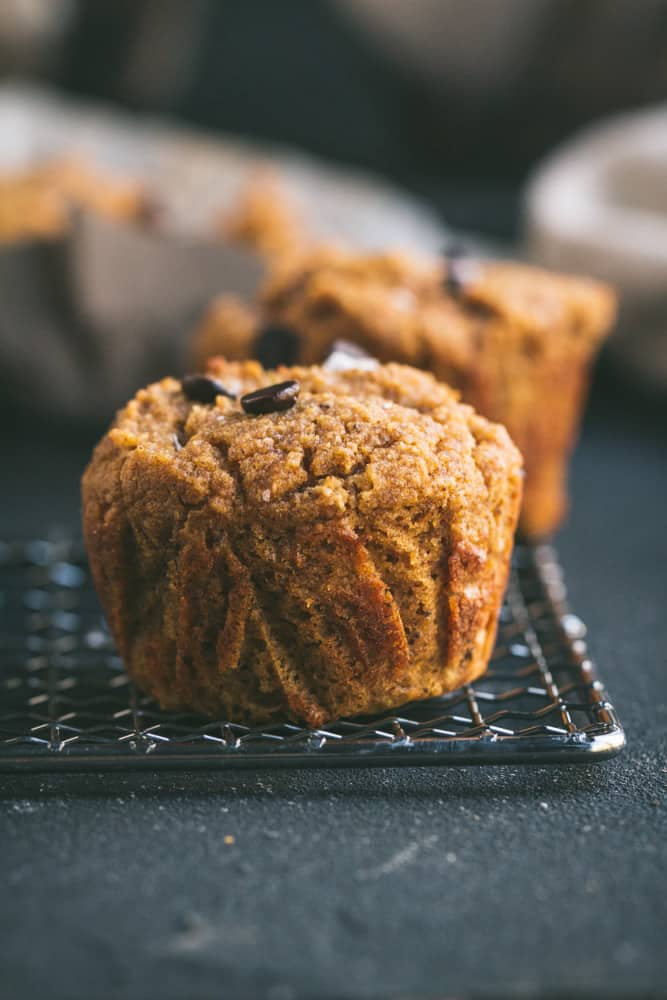 October is finally here which means all my favorite things! Sweater weather, trees changing colors, my anniversary, firstborn's birthday anddddd PUMPKIN!! For all you pumpkin lovers out there it's now ok to go crazy on all things pumpkin.
Even though I am not obsessed with it, Autumn is not complete without it! The smell of pumpkin brings me a sense of nostalgia to me. Just thinking about it makes me giddy.
To welcome Fall, I wanted to make a pumpkin dessert, pumpkin pie spice, and pumpkin muffins sounded good. I made a couple of batches of these keto muffins because I wasn't too crazy about how the first ones turned out. They were still delicious but, they were dark, almost burnt. I also didn't like how thick the batter was for the muffins.
I made a couple of tweaks and was pleased with the second batch. Hence the name, Make You Want to Kiss Someone Pumpkin Muffins because that is exactly what I wanted to do after I tried them.
A few things to note:
Switching from baking soda to baking powder made the muffins lighter and look more like pumpkin muffins.
If you want them to taste more cake-like add 3 tbsp of coconut flour instead of the 1 tbsp that is in the recipe.
These do not rise, that is just the nature of gluten-free baked goods. The keto pumpkin muffin recipe makes 12, so you can fill eight instead of larger keto muffins.
I added 1/4 cup of almond milk to make the batter moister.
You can use any sweetener you would like, I like using Lakanto Sweetener (use code eatbefitexplore for 20% off) because it tastes the best to me.
Adding chocolate chips or pepitas is your choice. Personally, any time I can get chocolate into anything, I do it! I used Lily's Baking Chips.
Watch the baking time the first time you are making these. Everyone's oven is different, and when I made these in my mom's oven in Cleveland, I almost burned them because her oven is stronger than mine. I would say that after 20 minutes of baking start stalking them. 20-25 minutes should be enough time.
Remember, they do not rise very much so don't keep them in the oven thinking that they will, or will burn.
Store these best pumpkin muffins in an airtight container in the refrigerator. I made the mistake of leaving them out, and they got moldy. Lesson learned.
Hope you enjoy these! Tag me in your posts!
Happy October Friends!
This post contains an affiliate link in which if a purchase is made I receive a commission at no additional cost to you. Just some diaper money. Thank you for your support!
More Keto Recipes to try: