Cilantro Lime Cauliflower Rice is a staple side dish in my Ketogenic meals because it is so flavorful and easy to make.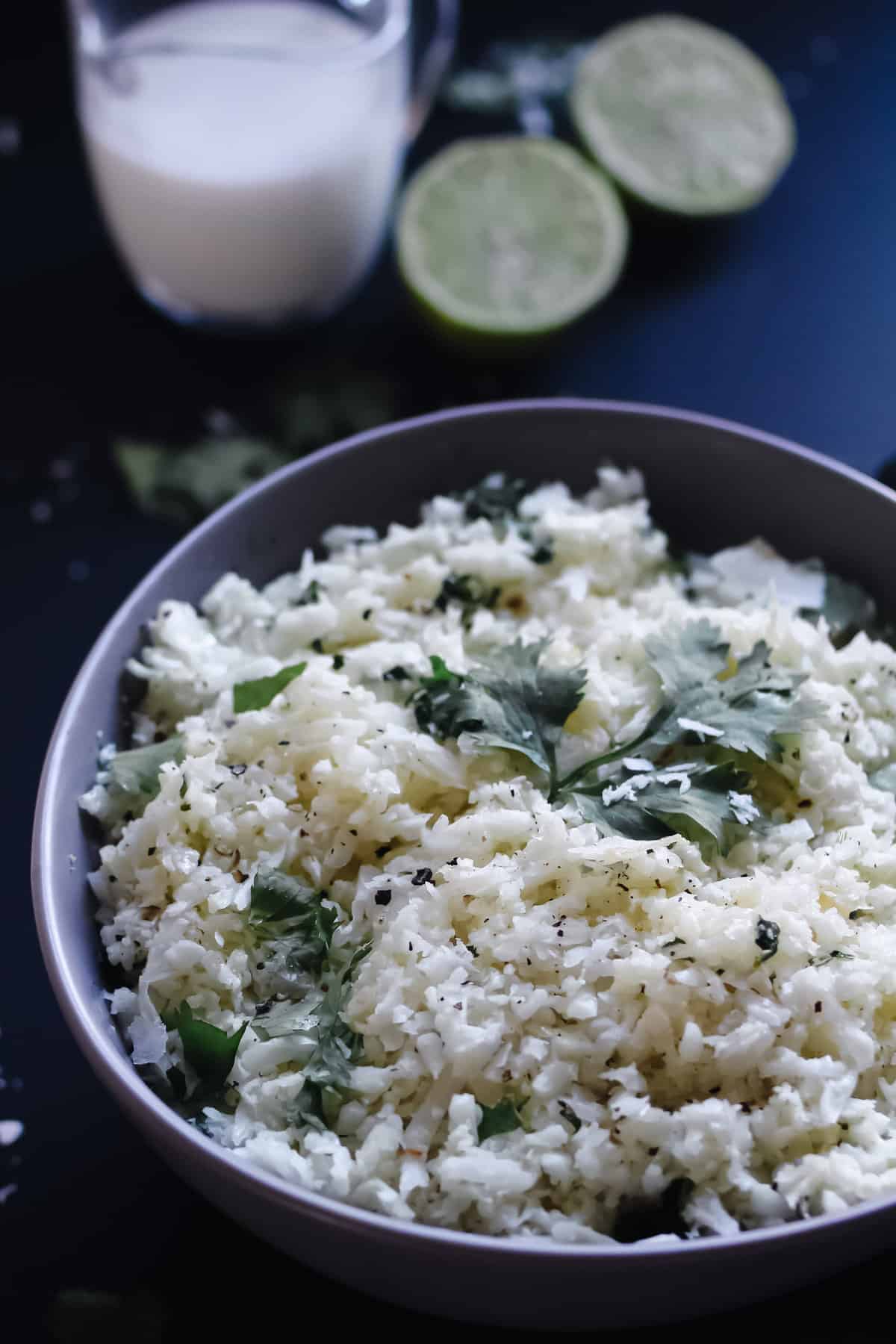 Do you have 15 minutes? If your answer is yes then you can make this delicious Cilantro Lime Cauliflower Rice because it's so quick to make.
I am all about quick and easy meals, like any other mom out there, or anyone really. What I don't like is sacrificing flavor and taste for the sake of saving some time. That is why I love this rice, you get the best of both worlds.
If you have been following me, you know how much I love Cauliflower and all the things you can make with it. There is Cauli-Mash, Keto Sushi, and Cauliflower Salad, just to name a few.
As I have mentioned before, Cauliflower is rich in potassium, vitamin C, vitamin K, thiamin, riboflavin, magnesium, fiber, vitamin B6, and folic acid just to name a few.
Cilantro, on the other hand, is my all-time favorite herb and contains antioxidants, vitamin K, folate, and potassium.
This rice is another staple in my Ketogenic Menu because I can use it for pretty much anything. Want to make a stir fry? How about a Poké bowl or Keto Sushi? Not to mention fried rice, even Mexican rice! The possibilities are endless.
I know when you hear "Cauliflower Rice" some of you may think of those bags of frozen "Cauliflower Rice" that you put in the microwave and it tastes like soggy socks.
This is not that kind of rice. All you need is a few ingredients and 15 minutes to make this flavorful rice that will make you actually love eating Cauliflower.
First, take out your food processor. Place the shredding blade on.
Then, working in batches shred the cauliflower. It will resemble rice.
Add the shredded cauliflower to a large skillet with butter, coconut oil, avocado oil or your fat of choice.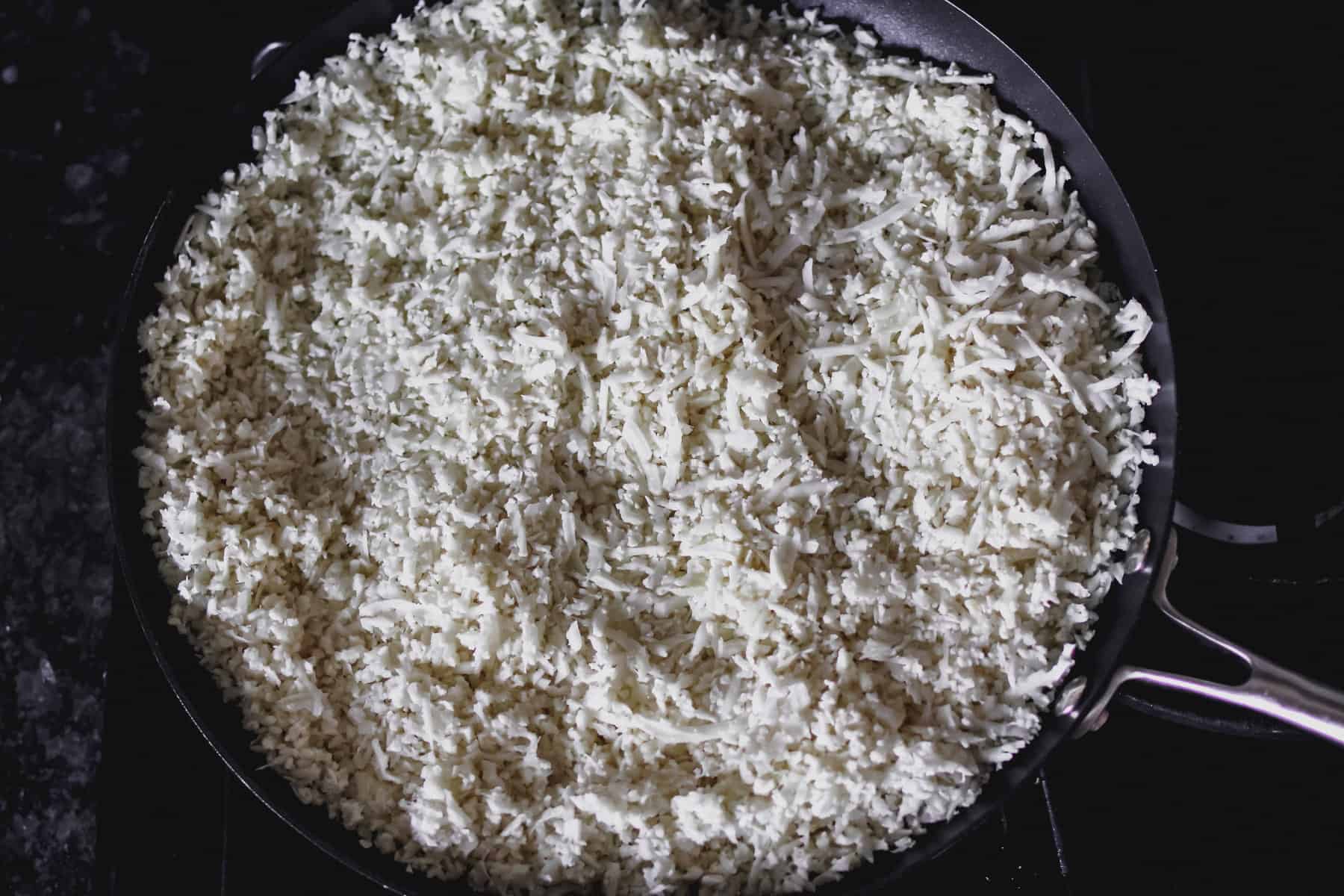 Cook it for 5 minutes or so, until the rice starts to get soft.
Add in the lime juice and coconut milk. Continue to cook for another 5 minutes. You can cook the rice longer if you want it to crisp up a bit.
Turn up the heat and let it sit for a few minutes, then flip it. Make sure you watch it so it doesn't burn.
The final step is to add fresh cilantro and season liberally with salt. Salt brings out the flavor of any food, and this rice is no exception.
Walla! You have a tropical flavor bomb rice dish that is ready for anything.
If you don't like coconut milk, you can omit it all together. I love the flavor of the coconut, lime and cilantro together. It's so citrusy and refreshing!
I even add coconut flakes at the end to really give it that Hawaiian feel. A girl can dream, right?
However you decide to make this rice, know that you will never look at Cauliflower rice the same again.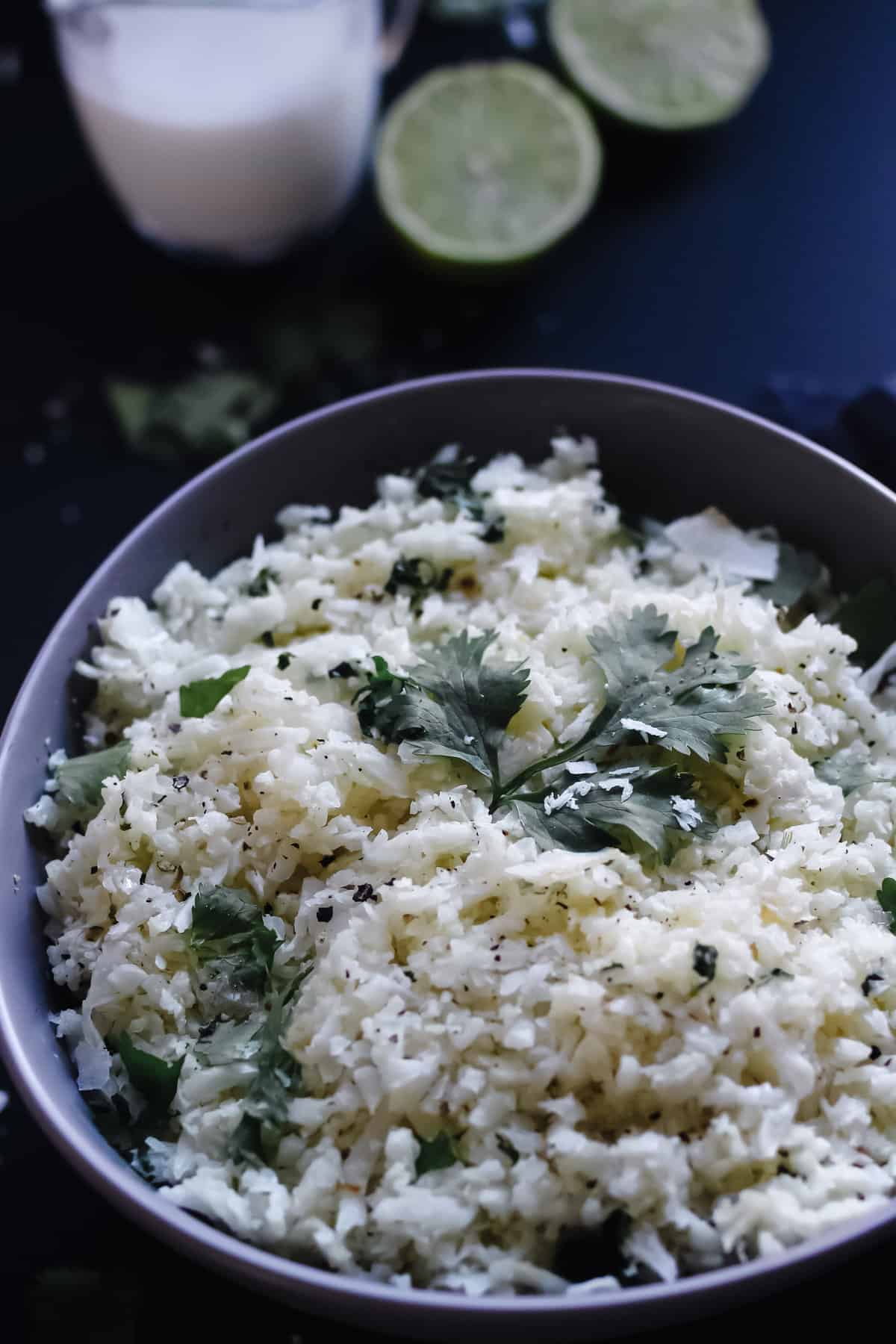 More Keto Recipes to try:
This post contains an affiliate link in which if a purchase is made I receive a commission at no additional cost to you. Thank you for your support!