A Tomahawk Steak is a gorgeous piece of meat, but it can be a little intimidating to cook. In this post, I will guide you on how to cook a perfect Tomahawk Steak.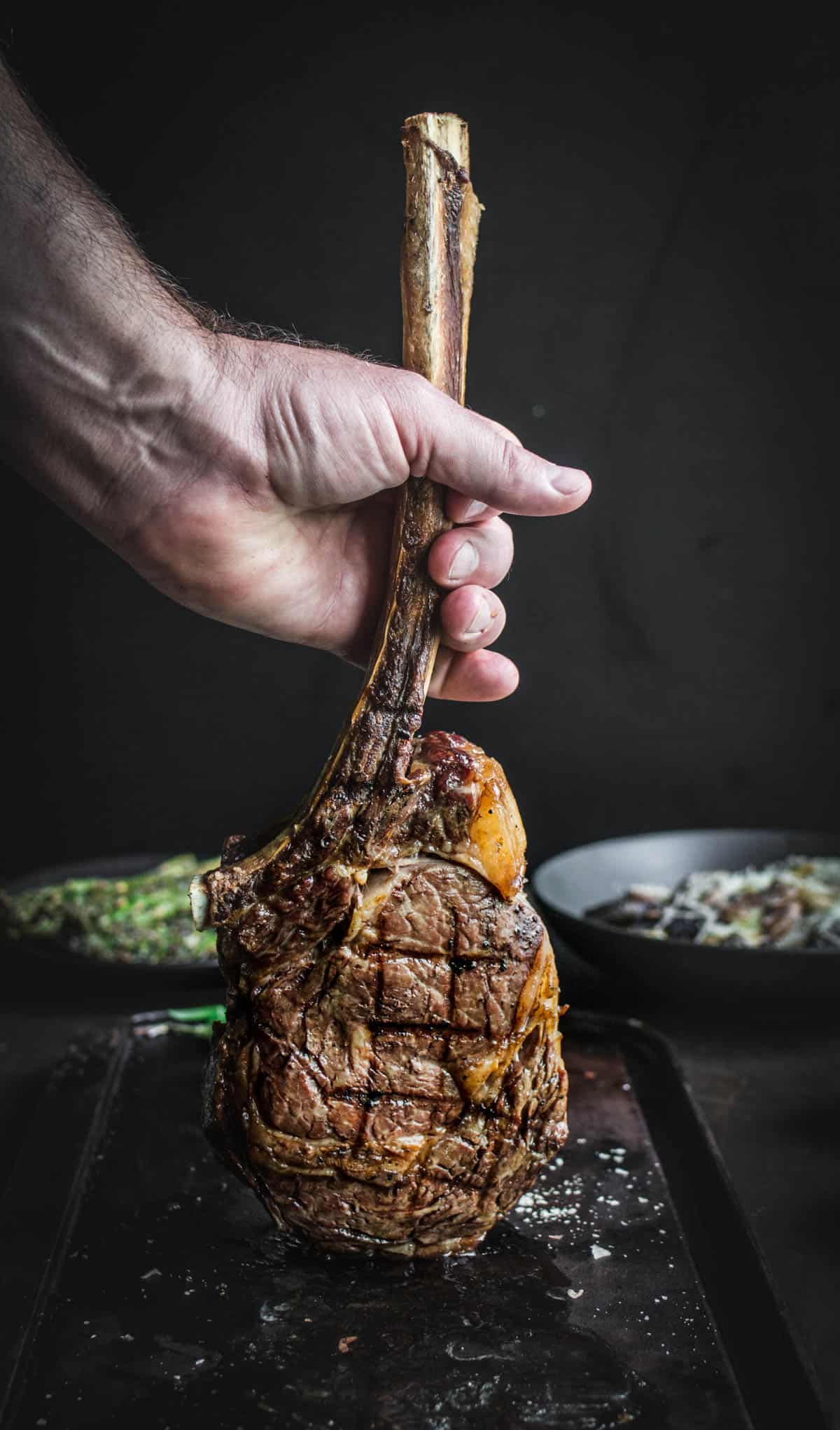 For this past Father's Day, I bought my husband a Tomahawk Steak. Well, that is not all I bought him. I also bought him a new iPad because our toddler shattered his old one in the midst of one of her temper tantrums. I know he wanted one but he would never say it or get one for himself. Men.
Besides the iPad, I wanted to make him his favorite meal which is some kind of steak, potatoes, and asparagus. To be honest, I have been wanting to get my hands on a Tomahawk steak for a while now but everywhere we looked, it was like $24 per pound. No way in hell.
Well, a few days before Father's Day I went to Lucky's Market in Columbus and walked past the meat case, just in case.
There she was, in all her glory, for $9.99 per pound!! I bought the biggest one they had. It was my lucky day.
Father's Day came and it was time to cook. I looked at it and realized there was no way we could cook it on the grill the whole time. Tomahawks are pretty thick and this one was about 3 inches thick.
I decided to reverse sear it which is cooking the inside first and then adding a nice sear at the end. It turned out amazing; one of the best steaks I've had in a long time.
In the next paragraphs, I will explain in detail exactly what I did to cook the perfect Tomahawk Steak. Pay attention, don't skip to the recipe because the recipe doesn't have as much detail in it!
Step 1-
Take the steak out of the refrigerator at least an hour before you plan on cooking it to let it come to room temperature. This results in even cooking.
Step 2-
Dry the steak off with a paper towel. Season it with good salt, liberally. If you want the steak to be extra amazing, season it with some smoked salt, it's the bomb.com. You don't need pepper; you don't need any steak rub, just salt.
If you are going to spend that amount of money for a Tomahawk steak, you want to taste the meat, not seasoning.
Step 3-
Let the steak sit and sweat for at least 20 min. Gently pat it dry again without rubbing off all of the salt.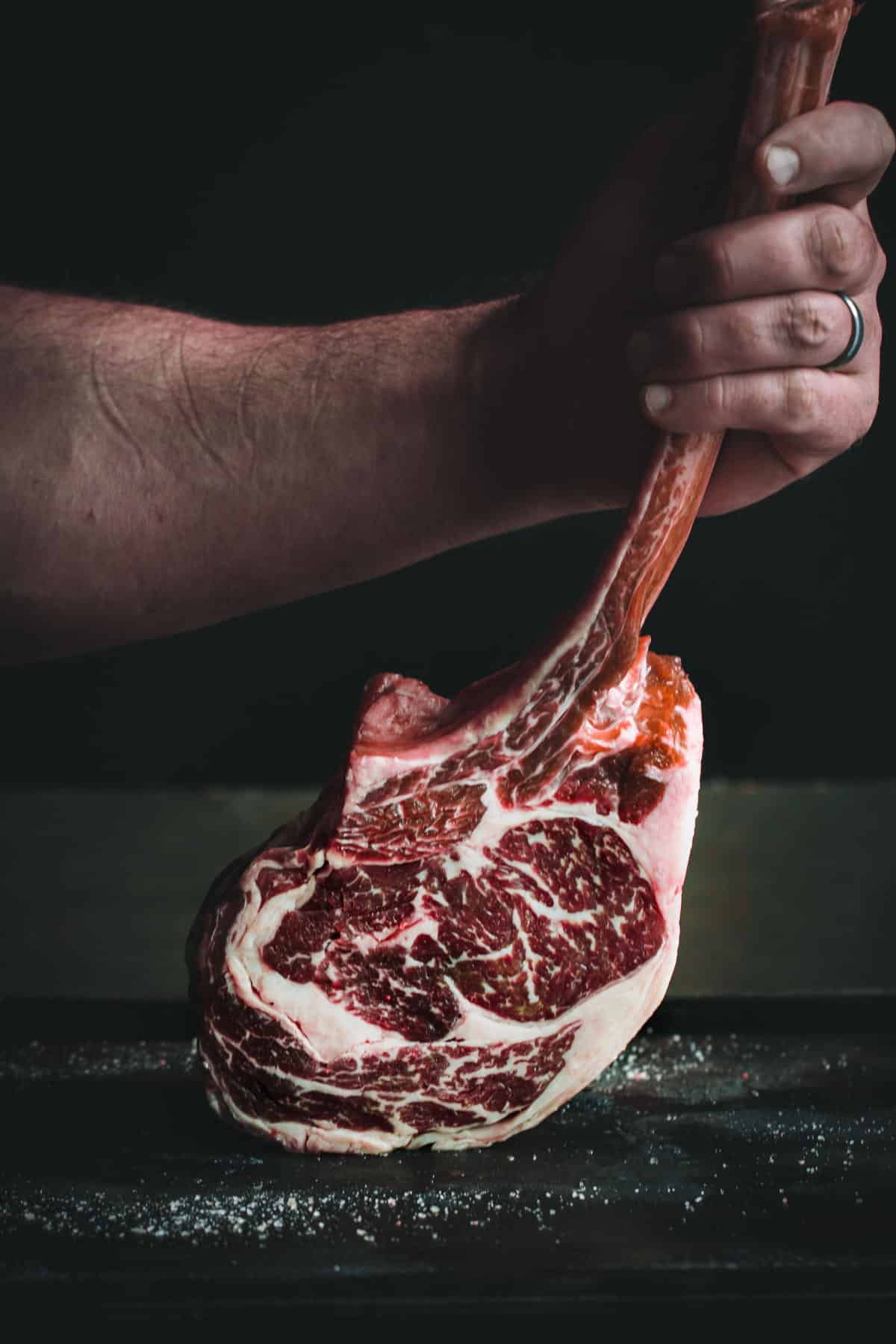 Step 4-
Preheat the oven to 350°. Line a baking sheet with foil. Place the steak on the baking sheet in the bottom 3rd of the oven.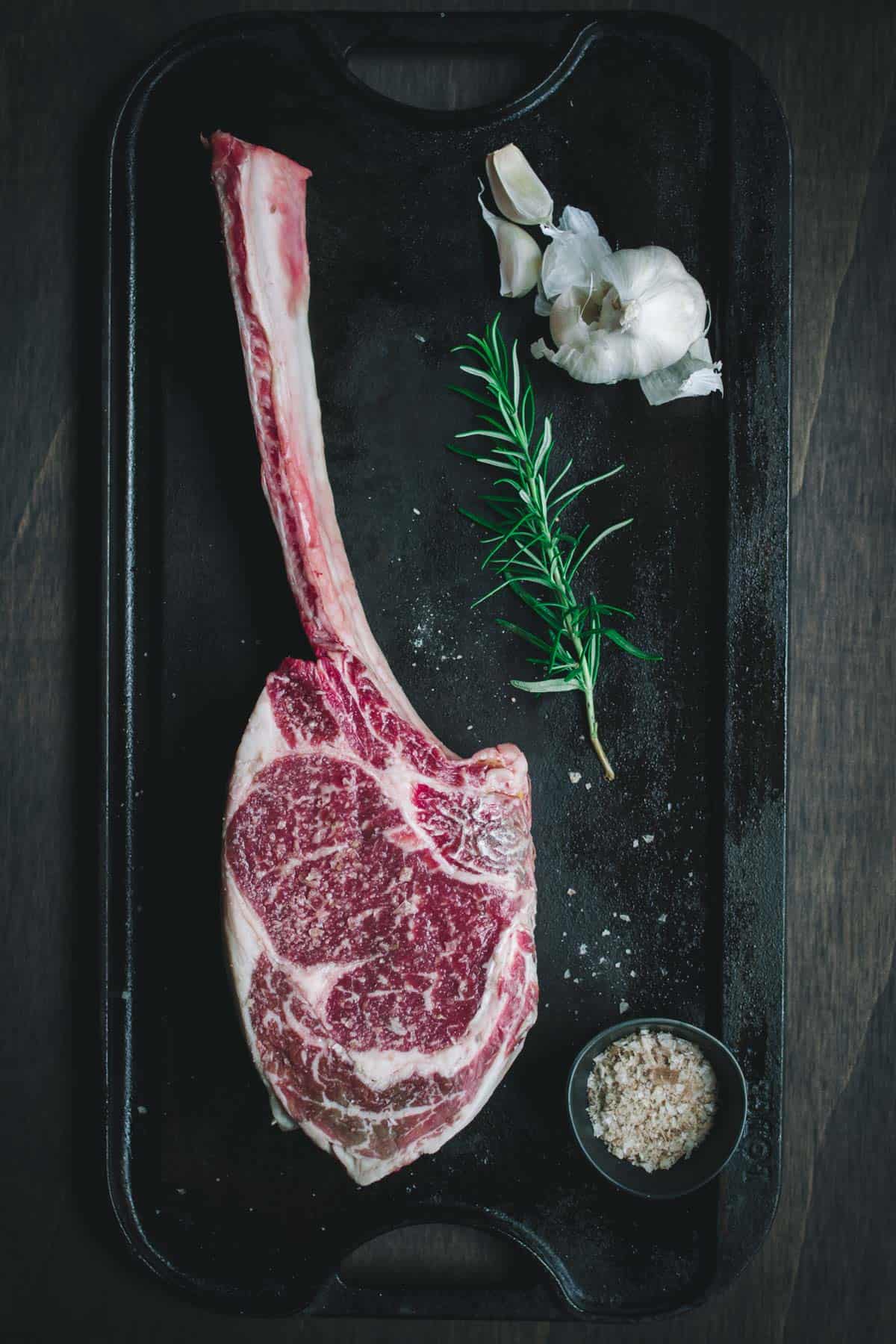 Step 5-
Bake the steak for 30 minutes, then check the internal temperature, if it's not 125° yet, cook it for another 10-15 min checking it every 5 minutes.
You want the steak to be 130-135° at the end and with the sear and rest time, and it can quickly go up 10°, so make sure you don't let it rise past 125° in the oven.
If you don't have a 3-inch steak, this will take less time for you, so consider that.
Step 6-
Preheat the grill to 400°. Using tongs, carefully transfer the steak to the grill and sear for 4 minutes; one minute per side. (the sides are thick so you'll want to sear them as well)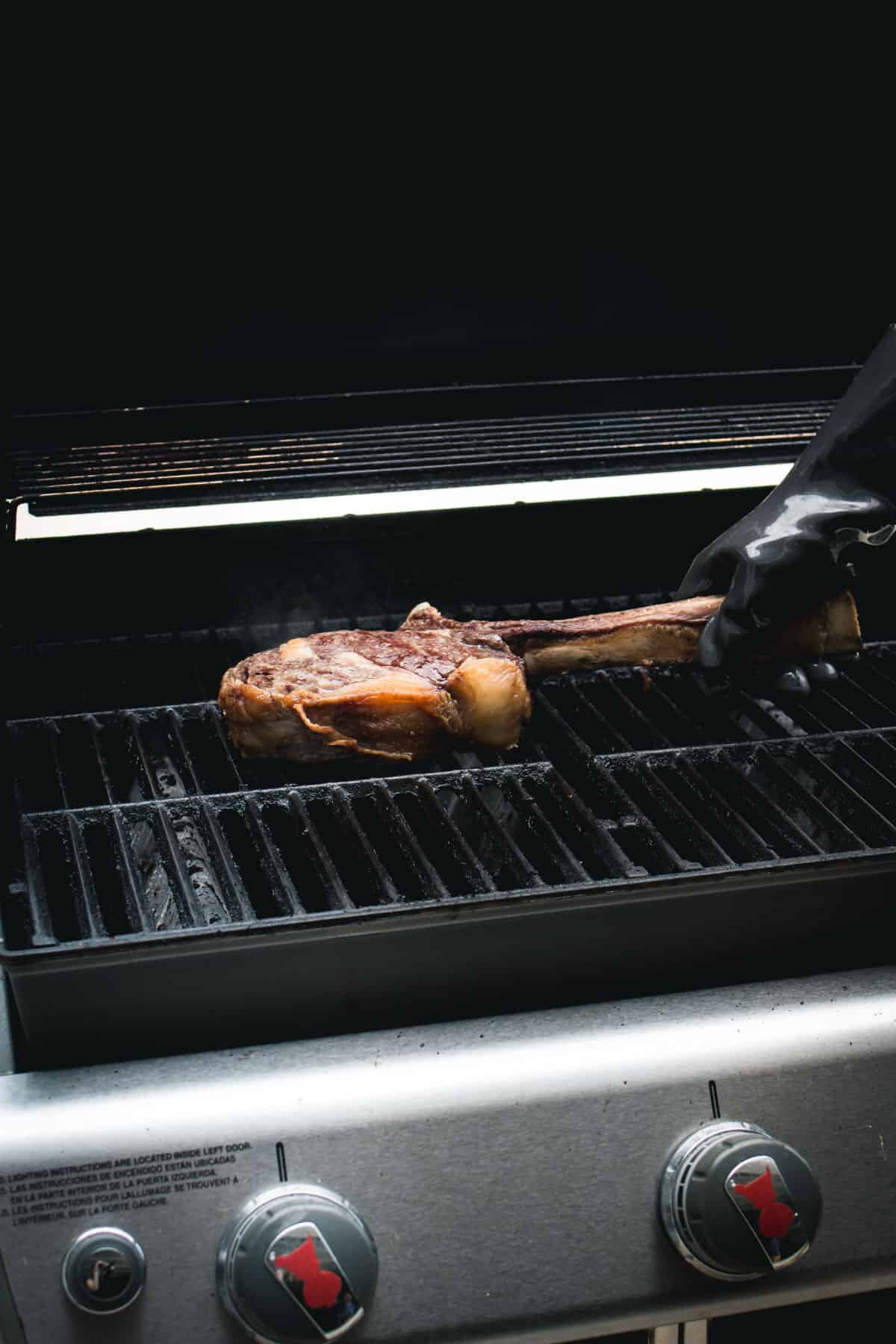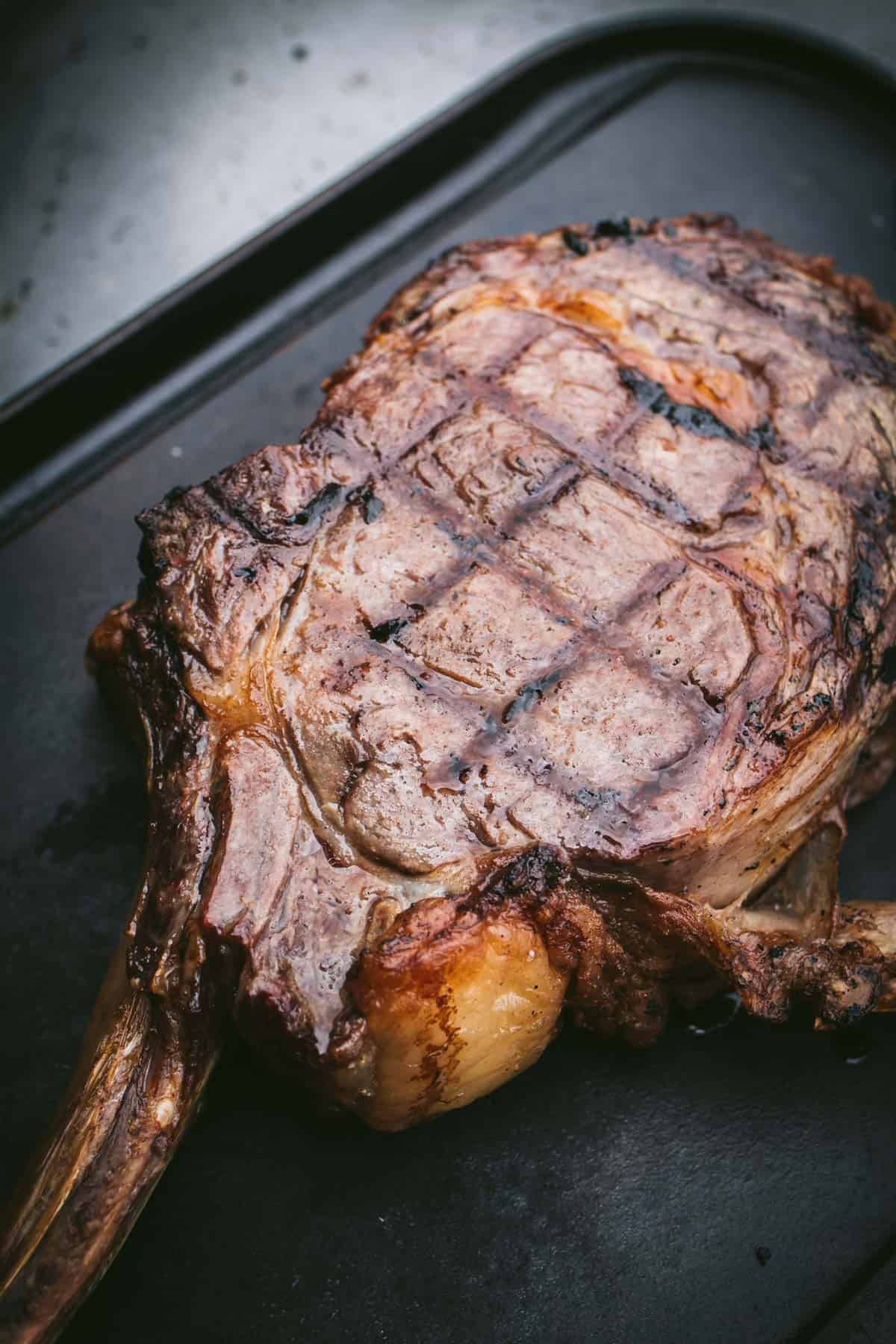 Step 7-
Remove the steak from the grill and let it sit for 10 minutes. Slice it carefully against the grain and top with more Smoked Sea Salt.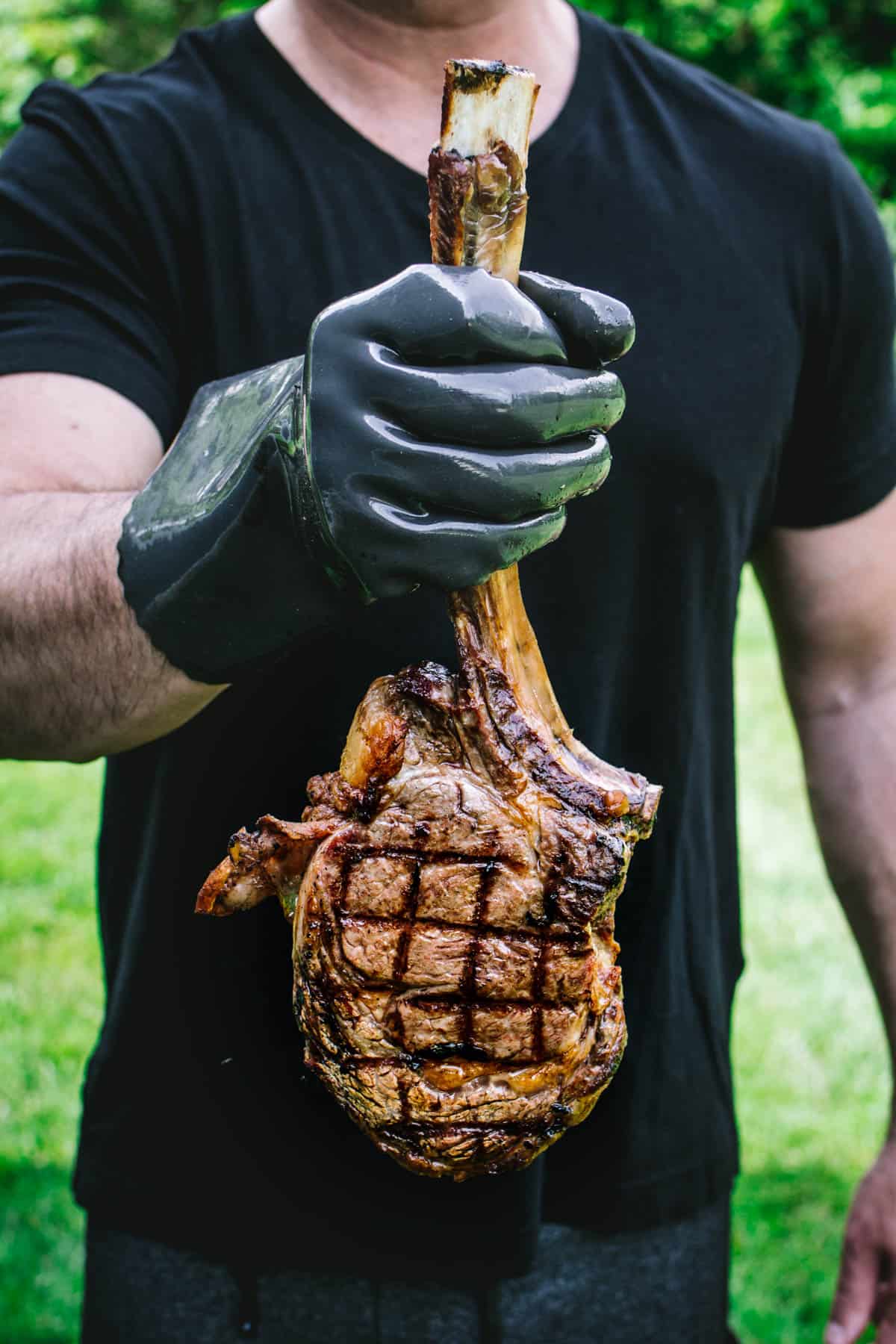 If you want, you can make an easy garlic rosemary butter to top the steak with. Soften butter to room temperature, add chopped fresh Rosemary, fresh garlic, salt, and pepper and mix thoroughly.
Then, spread the butter mixture on plastic wrap and form a log. Place it in the freezer for about 30 minutes. Don't forget about it!! That is what happened to me and that is why you don't see the butter in any of the pictures. I realized it after Zach already cut the steak. Boo!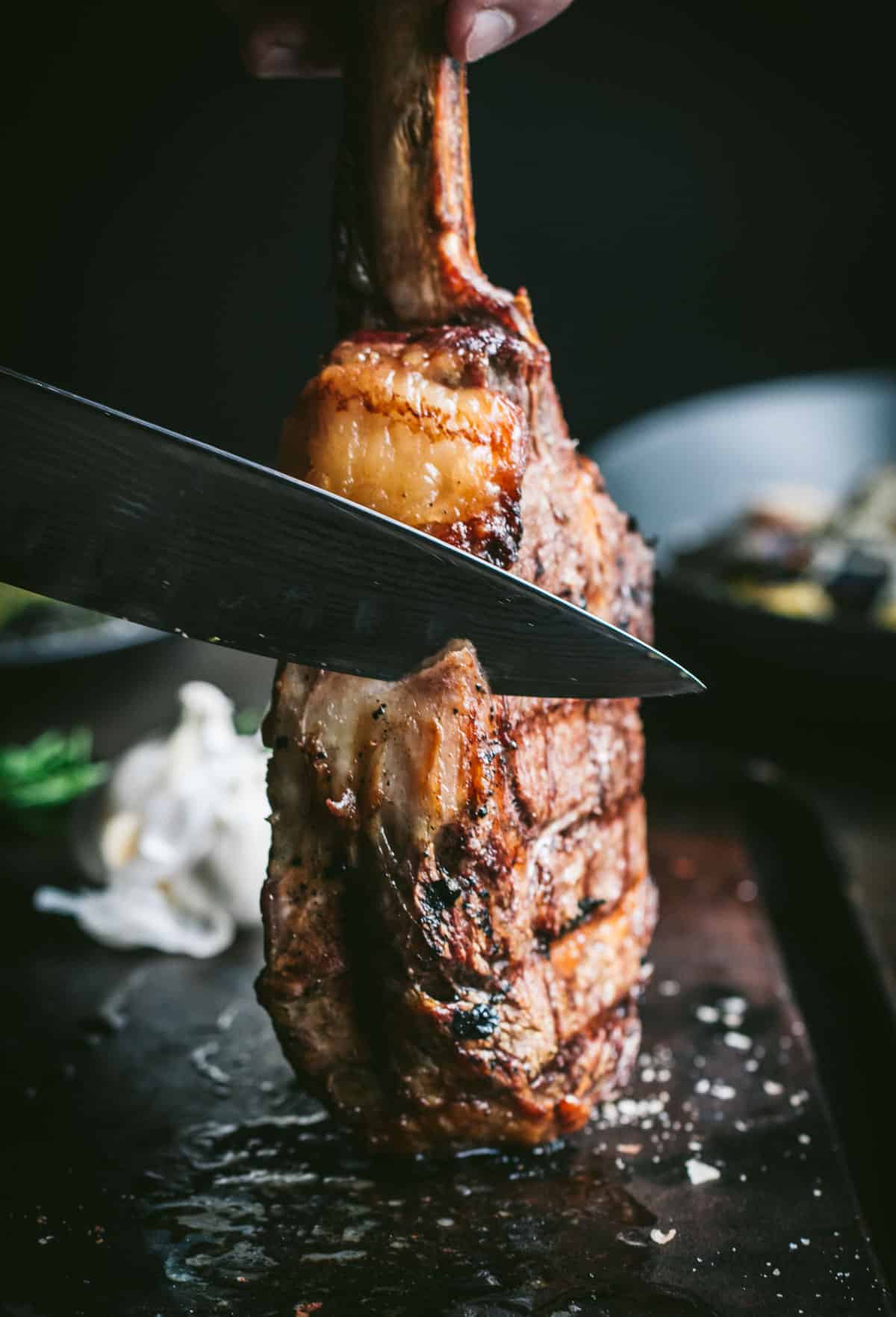 Enjoy!!!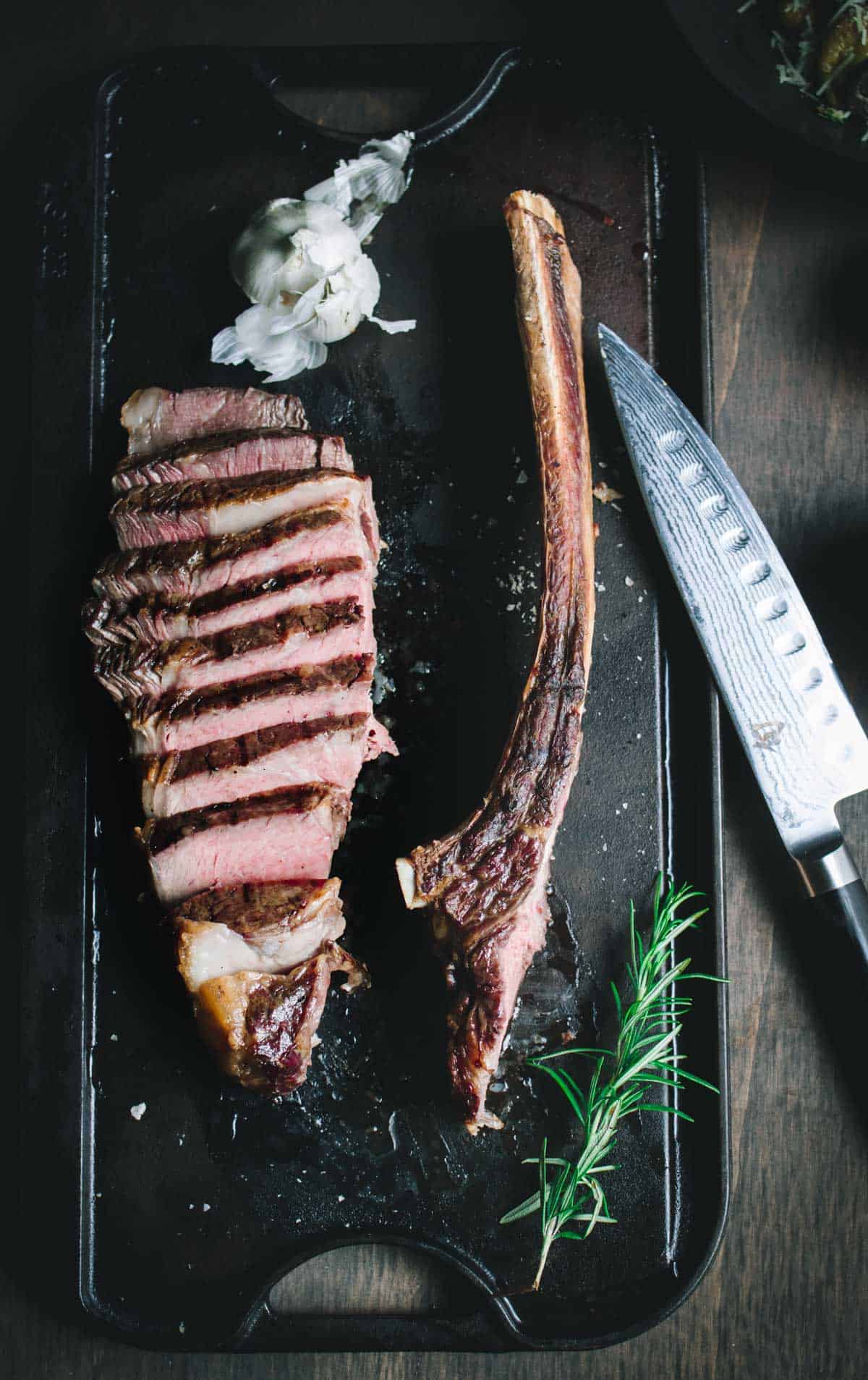 Check out more amazing Keto BBQ and Grill Recipes HERE.
More Keto recipes to try: