An excellent way to get in extra fiber is through Flaxseeds, and these Flaxmeal Pancakes with Strawberries and Cream is a delicious way to do just that. The best part, they are only 2g of net carbs per pancake!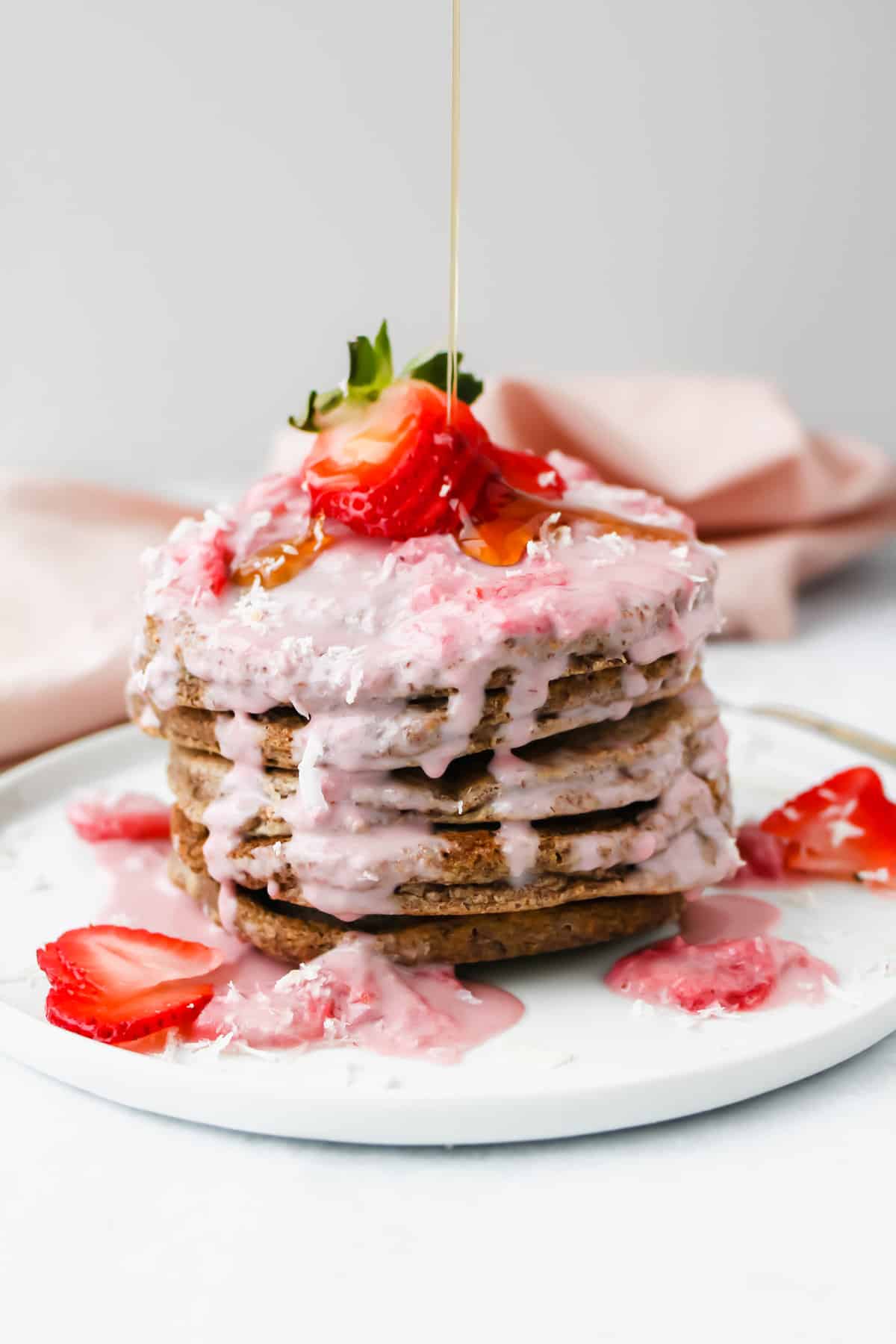 Everyone loves pancakes. My Keto Pancakes is one of my most popular posts on this blog and for a good reason; Pancakes are so comforting in a stack of fluffy pancakes with warm butter and syrup.
However, have you ever had Flaxseed Pancakes with Strawberries and Cream? OMG….yum. Not only are they super duper healthy, but they are also seriously delicious. Also, you can't go wrong with only 2g of Net carbs per serving!
At first, I was skeptical about making flaxseed pancakes, I mean, who would want to eat that? However, I was pleasantly surprised at how tasty they were. Flaxmeal comes from flaxseeds which are a great source of fiber.
So, let's talk about why I decided to use Flaxmeal in these as it relates to the Ketogenic Diet. It's very common to get constipated when first switching to the Ketogenic diet especially if you are eating a lot of cheese.
Why do you get constipated on Keto?
The main reason people get constipated on Keto is that their fiber intake decreases drastically. Think about the standard American diet and all the grains we eat. A lot of those grains are enriched with fiber, which helps us go #2. The downfall of eating those grains is that they spike our insulin and keep us in fat storage mode.
Also, many people forget to focus on plant-based foods when switching to Keto to replace the fiber that you are not getting a lot of anymore. So, let's say you used to always eat sandwiches, with "whole grain bread," whole wheat pasta, and brown rice, and you stop eating all of that and switch to bacon, cheese, and meat.
Of course you are going to get constipated. It's very important to get enough leafy greens when switching to the Ketogenic diet and to look for other Keto friendly fiber options, such as Flaxseeds which are in these Flaxmeal Pancakes.
Eventually, your body will get used to your new way of eating and things will get back to normal but until then, these pancakes can really help push things along. Also, if you eat too much cheese and other dairy products which is a common cause of constipation these flax meal pancakes can help you deal with that too.
How about the Strawberries and "cream"?
I place "cream" in quotes because it's not cream from dairy. It would be counterproductive to make pancakes to help you with your constipation problems and then pour a bunch of dairy on them to make you constipated again.
Coconut cream is the dairy-free replacement for heavy cream, and it is delicious. You can see how to make it HERE, and for this recipe, all you would add is the pureed strawberries to make your Strawberries and Cream. Strawberries are naturally sweet, so you don't even need to add any sweeteners.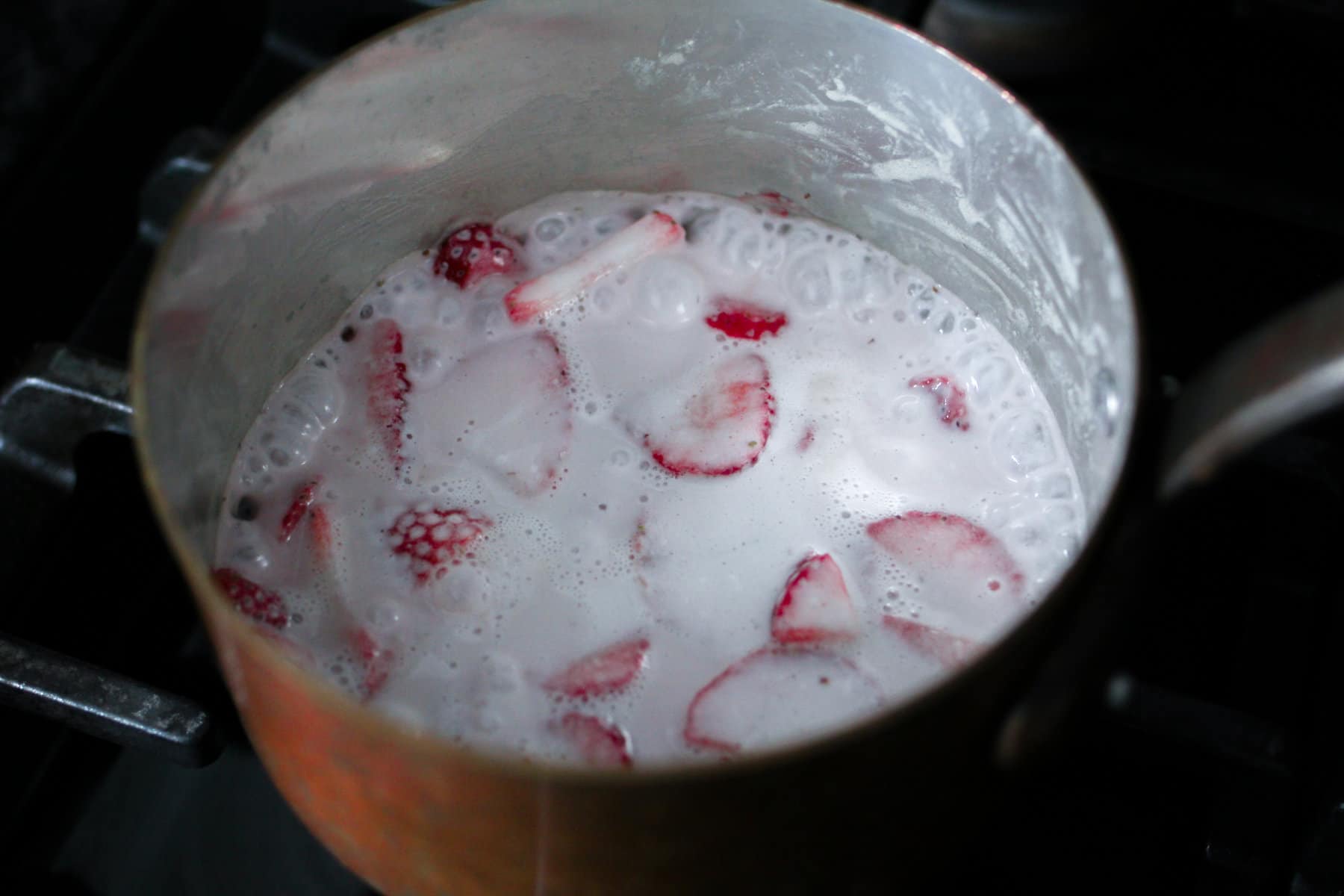 How to make Flaxseed Pancakes
Flaxseed pancakes are easy to make. You can use flaxseeds and grind them up yourself, or you can buy Flaxmeal already ground up. This recipe is a 50/50 ratio using flax meal and almond flour. If you want the pancakes to be more fluffy, add more almond flour. If your batter is too thick, add more coconut milk or almond milk.
You still need to be able to pour the batter into the skillet, and if it's too thick, the pancakes won't spread out into the pan. You don't want the mixture to be too watery though.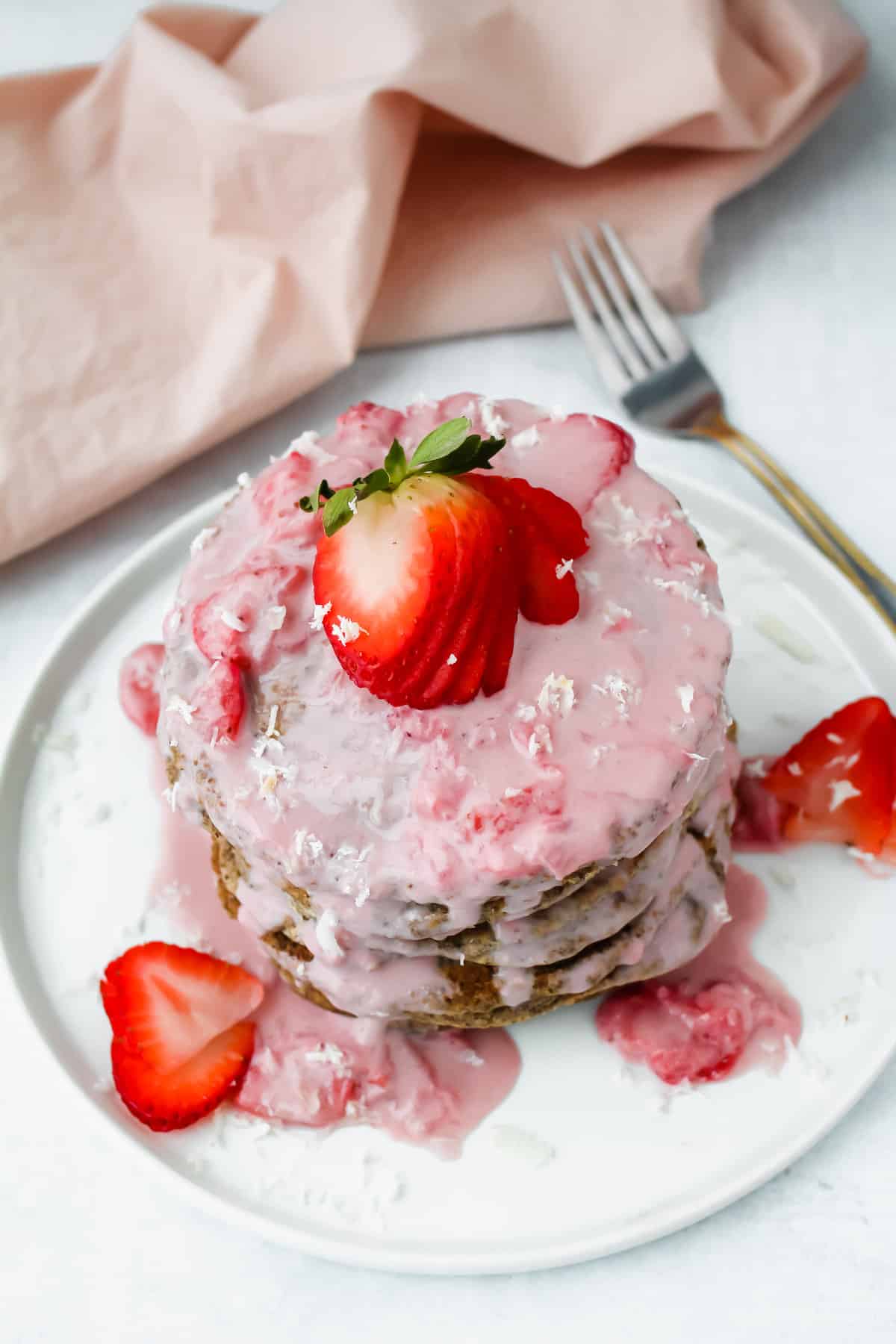 More Keto Recipes to try: