Dairy-Free Strawberry Mousse is light and fluffy and perfect for breakfast, snack or a guilt-free dessert!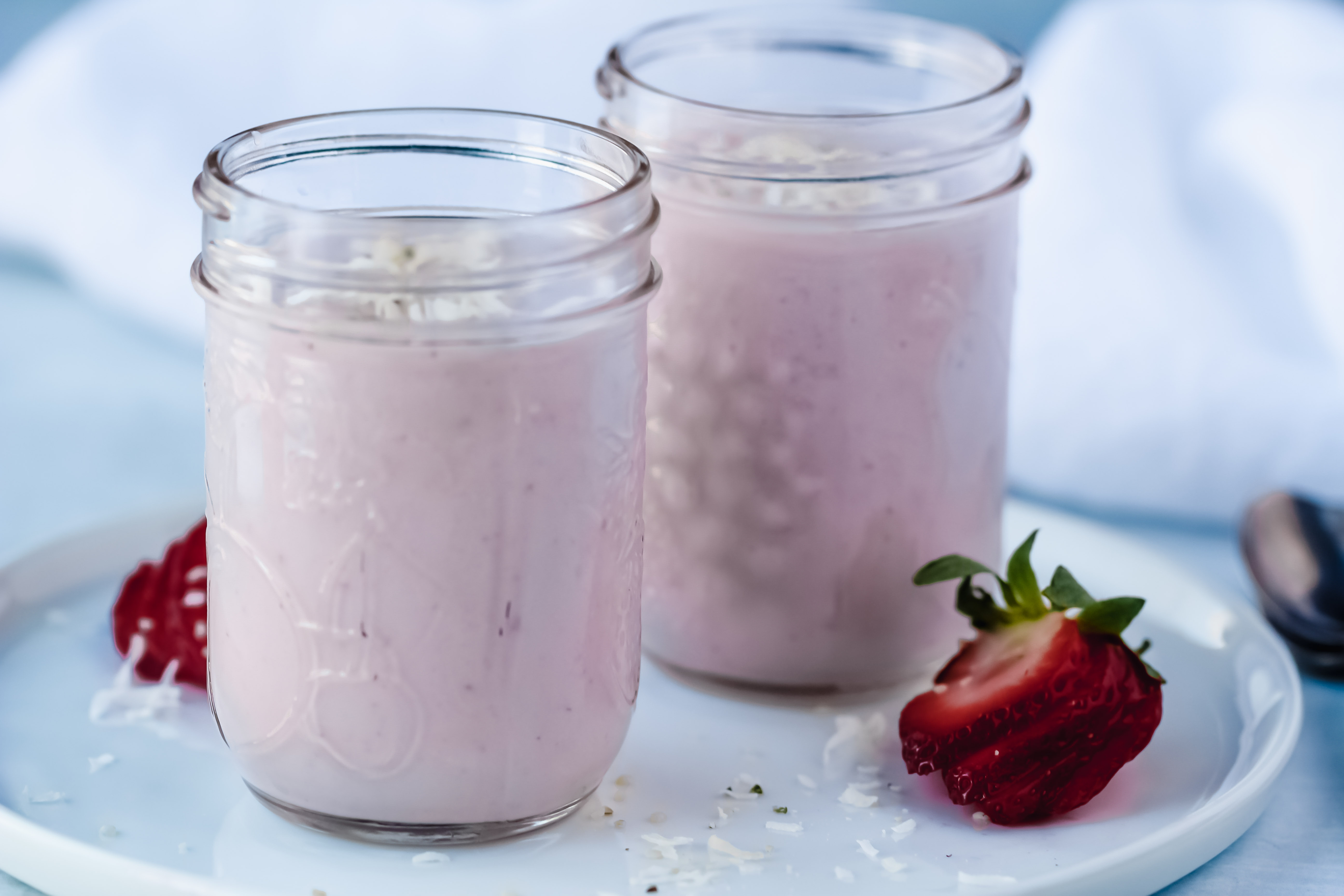 Do you have a hard time finding dairy-free desserts and snacks? I do. When I started my 30-day Clean Keto Challenge, I was pretty disappointed that all of the Keto snacks and sweets I was finding all had cheese, heavy cream or cream cheese in them. Like what the heck.
I, like many people, am sensitive to dairy. I don't think I am lactose intolerant per se, I get bloated when I eat too many dairy products. After realizing that cheese and heavy cream were stalling my weight loss, I eliminated them from my diet and lost 15lbs in one month by eating Clean Keto. It was awesome. However, I did on occasion want a dessert or snack.
This led me to explore certain non-dairy ingredients, including coconut cream to develop recipes that are dairy-free but still delicious and satisfy my enormous sweet tooth, like this Dairy-Free Strawberry Mousse.
Honestly, this Strawberry Mousse is a simple recipe. Also, it's three ingredients, I mean, it can't get any better than that.
Ways you can use Dairy-Free Strawberry Mousse
Dairy-Free Strawberry Mousse is perfect for breakfast when you are sick of eating eggs and bacon all the time. To save time, make a large batch of it and divide it among small mason jars or to go containers. Place it in the fridge and grab-and-go!
Dairy-Free Strawberry Mousse can be used as a snack option as well. If you are still hungry after your meals or at the end of the day, this is a great way to get more fat into your diet and to satisfy your "sweet" craving.
Another way to use this is just as a dessert; sweet strawberries make this dairy-free strawberry mousse naturally sweet and will help curb that sweet tooth.
Lastly, you can use dairy-free strawberry mousse as icing or filling for a cake, fruit parfait, or dessert bars. Think of it as a whipped cream substitute with strawberries.
How to make dairy-free strawberry mousse
First, you will need to process the strawberries. You can do this by using a food processor or blender. I like to process them until they are smooth, but feel free to pulse your strawberries if you want more texture and strawberry bits in your mousse.
Secondly, you would make the Coconut Whipped Cream. I have a full step-by-step of how to make that in this post. All you need to do is chill a can of Coconut Cream and whip it using a whisk attachment on the stand mixer, a hand mixer or you can get a hand workout in by using a good old fashion whisk.
Lastly, you would gently fold in the strawberry puree into the whipped coconut cream and top it with slivered almonds or any other garnishes you would like. Some options are chia seeds, hemp hearts, coconut flakes, pecans, hazelnuts, even chocolate chips! YUM!!
Dairy-free strawberry mousse is super versatile and can become an easy breakfast replacement when you are on the go, or just craving something sweet and satisfying.
If you are looking for more easy and delicious Dairy-Free Keto snacks, download my Keto Snacks and Drinks Book! I include savory snacks, sweet snacks and drinks that are all Clean Keto!
This post may contain affiliate links in which if a purchase is made I receive a commission at no additional cost to you. Thank you for your support!
More Keto Recipes to try: