Who says you can't enjoy smoothie bowls when you are following a Low Carb/ Ketogenic Diet? This Very Berry Keto Smoothie bowl is a Keto complaint, so dig in!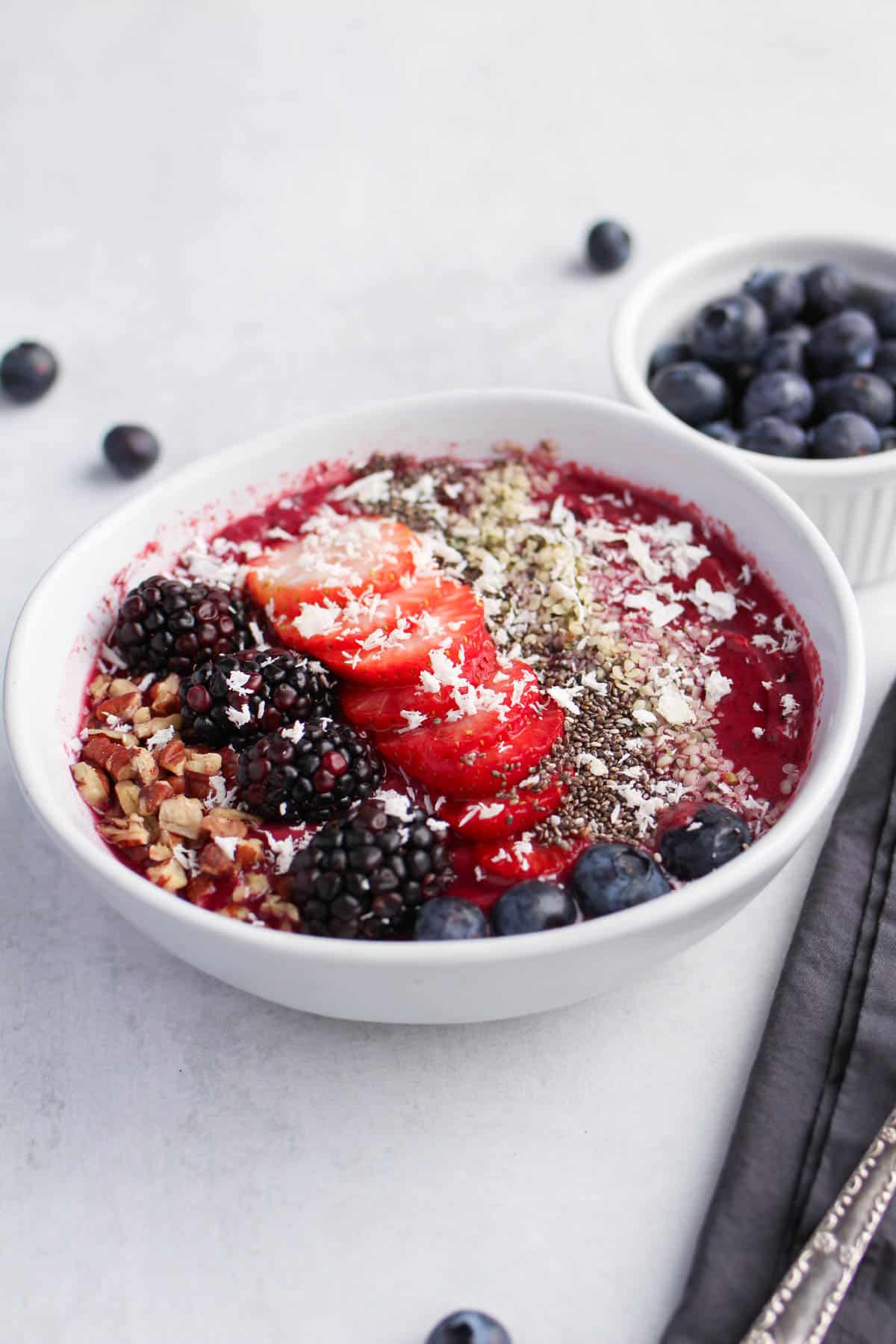 Summer is finally here!! Whoohooo!!! This means Smoothie Bowls! But wait, you're Keto!? You can't have smoothies on Keto, or can you??
Well, I am here to show you how you can have smoothies on a Keto diet. Now, there is a caveat.
There are certain fruits that are high in sugar such as bananas, pineapples, mangos, and apples that you will want to avoid when it comes to making low-carb smoothies, however, the low-sugar fruits, like berries can definitely be used to make keto smoothies.
I love this Berry Smoothie Bowl because, in the summer when it's super hot, the last thing I want to do is fry eggs and bacon for breakfast. It's so much easier to throw a few ingredients into the blender and get a delicious, refreshing healthy breakfast.
Also, this berry smoothie bowl can be made into a smoothie bowl like I did for this recipe and you can garnish it with all kinds of goodies. Or if you are on the go, pour it into your favorite to-go cup, grab a straw, and you're on your way! Instant dairy-free refreshing breakfast!
When it comes to making this smoothie bowl recipe, the easiest thing to do is buy some frozen organic berry mix. You can definitely use fresh fruit, however, you will have to use ice instead. I usually buy frozen berry blend at Costco and since it's frozen, I don't need to add any ice to it.
What liquid should you use to make a Keto Smoothie?
When it comes to making a low-carb smoothie bowl, you have some options when it comes to what liquid you use:
For this recipe, I used Almond milk and the macros are based on using almond milk so adjust accordingly if you are using different liquids.
This smoothie bowl recipe is dairy-free!
What toppings can you add to Keto Smoothies?
When it comes to making Keto Smoothies, the topping options are endless. Here are the ones that I used in this Very Berry Keto Smoothie Bowl:
You can use whatever Keto-friendly nuts or fruits that you want to top this Berry Smoothie Bowl. The macros do not include any toppings because everyone has their personal preference so adjust accordingly!
I love to top my low-carb smoothie bowls with fresh berries.
How many carbs are in this Very Berry Keto Smoothie Bowl?
Since this is a smoothie bowl that contains fruit, the carb content is 7g of NET carbs, but it's totally something you can fit into your macros. It's so easy to make and the healthy ingredients are easy to find.
Plus, this Keto smoothie is so filling, it will keep you satisfied for a long time.
Want more easy Keto Smoothie Recipes? Check out my Keto Green Smoothie Recipe!
More Keto and Low Carb Recipes to try:
This post may contain affiliate links in which if a purchase is made I receive a commission at no additional cost to you. Thank you for your support!
Summary
Recipe Name
Very Berry Keto Smoothie Bowl
Author Name
Preparation Time