Are you curious about Clean Keto but have no clue what you would even eat? This post gives you a Complete Clean Keto Food List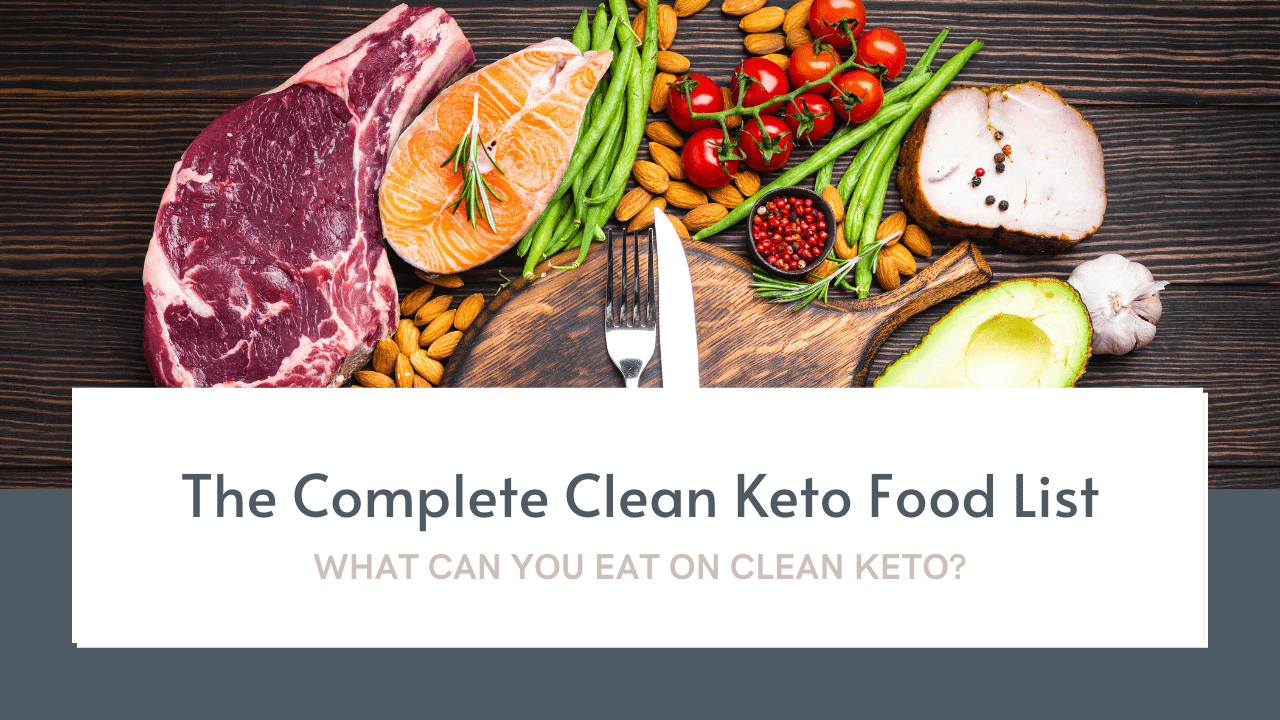 The Clean Keto way of eating has been all the rage lately because Keto dieters are realizing the long-term negative effects of eating "dirty Keto".
What is Clean Keto anyway?
Here is what eating "Clean Keto is:
Eating whole, real foods
Choosing organic, grass-fed, free-range, non-GMO foods
Avoiding Dairy,
Eliminating sweeteners,
No Processed foods,
No artificial ingredients,
Avoiding nuts or eating them in very small amounts
Avoiding alcohol
Essentially, the point of Clean Keto is to eat real food, and quite frankly, this is the original way of eating Keto.
This is a very powerful, therapeutic way of eating especially for those who have severe insulin resistance, diabetes, PCOS, or epilepsy just to name a few.
As far as tracking goes, it's really up to you if you want to track macros, but to be honest with you if you are eating all the foods you should, you won't really need to worry about tracking.
Try and keep your carb intake to 20-30 grams of total carbs per day, because that is how the best results are achieved.
What can you eat on Clean Keto?
Here is the complete Clean Keto Food List:
P.S. Instead of trying to copy and paste this list, I created a handy-dandy printable PDF Clean Keto Food List Guide for you! You can download it HERE.
Produce-
Arugula
Artichoke
Asparagus
Bok Choy
All Lettuce
Broccoli
Brussels Sprouts
Bell Peppers
Cauliflower
Cabbage
Celery
Collards
Chard
Cucumbers
Endive
Fennel
Garlic
Green Beans
All Squash
Kale
Mustard Greens
Mushrooms
Onions
Radishes
Spinach
Romaine Lettuce
All Squash
Fruits-
Avocado
Blackberries
Blueberries
Coconuts
Lemons
Limes
Raspberries
Strawberries

Tomatoes
Protein-
All Steaks
Roasts
Brisket
Chicken Breast
Chicken Thighs
Chicken Wings
Ground Chicken
Sugar-Free Chicken Sausage
Pasture Raised Eggs
Catfish
Cod
Lobster
Mahi-Mahi
Shell Fish
Salmon
Scallops
Trout
Tuna
All Lamb
Pork Belly, Bacon
Ground Pork
Pork Roast
Pork Loin and Chop
All Turkey
Pork Roast
Pork Ribs
Fats-
Pantry Items:
Snacks:
Drinks:
Bonus: Tools
Ok, there you have it! All of the food and drinks you can consume on Clean Keto.
More articles about Clean Keto Diet:
Now what?
There are two options; you can go on your merry way and figure out how to combine those foods to make deliciously easy meals that will help you lose weight fast, eliminate bloat, get into Ketosis, and feel the best you have ever felt in your life (I am not exaggerating, after doing a Clean Keto Reset for a month, that is how I felt).
OR… you can let me help you, guide you, and give you everything you need to succeed with Clean Keto.
I spent months putting together Clean Keto Meal Plans with weekly menus, shopping lists, super delicious easy recipes, and calculating all of the macros for you. All you have to do is buy the ingredients and make the meals.
It's meal prep-based for busy women and anything can be substituted with any of the foods mentioned in this Clean Keto Food List.
Now is the best time to start this journey, don't put off your health any longer. Invest in yourself, commit to this and I promise, the results you get will blow you away.
Here are a few testimonials of people who completed the program.
"I am 36 years old and have been on a keto weight loss stall for over 30 days. I started the program on February 17th at 210.6 pounds and finished the program Sunday, March 17th at 200.6 pounds. I lost 10 pounds total. 3.5 inches off my waist, 3.8 inches from my hips, 2.9 inches from my chest and an inch off my thighs. All with just the eating plan. Next step, use the plan and add in run/walk intervals." –Sara
"I did the Clean Keto Reset and lost 18lbs in one month! I was shocked!! I realized dairy and sweeteners were holding me back! This meal plan is filled with delicious easy to make meals and Lesya makes it so easy to follow, she includes everything you need. It's simple to follow and so detailed. She is always so quick to respond and has helped me with my journey so much. "- Carrie
"I've been doing the Clean Keto Reset for 3 weeks now. I'm down 8lbs, 2 inches on the waist, 1 inch on my thighs. My energy level is through the roof, I'm not bloated anymore and my sugar cravings are gone. My husband has been following it too and he is down 11 lbs. This isn't a diet but a lifestyle change. Thank you."- Angela
Well, are you in? Click Here for more information.
Looking for keto recipes? Check out my Keto Roasted Chicken with Lemon and Rosemary, Keto Steak with Balsamic Mushrooms, The Best Easy Clean Keto Lunch Recipes, and The Best Keto Snack Recipes.