If you love casseroles, you will enjoy this dairy-free keto chicken and broccoli casserole.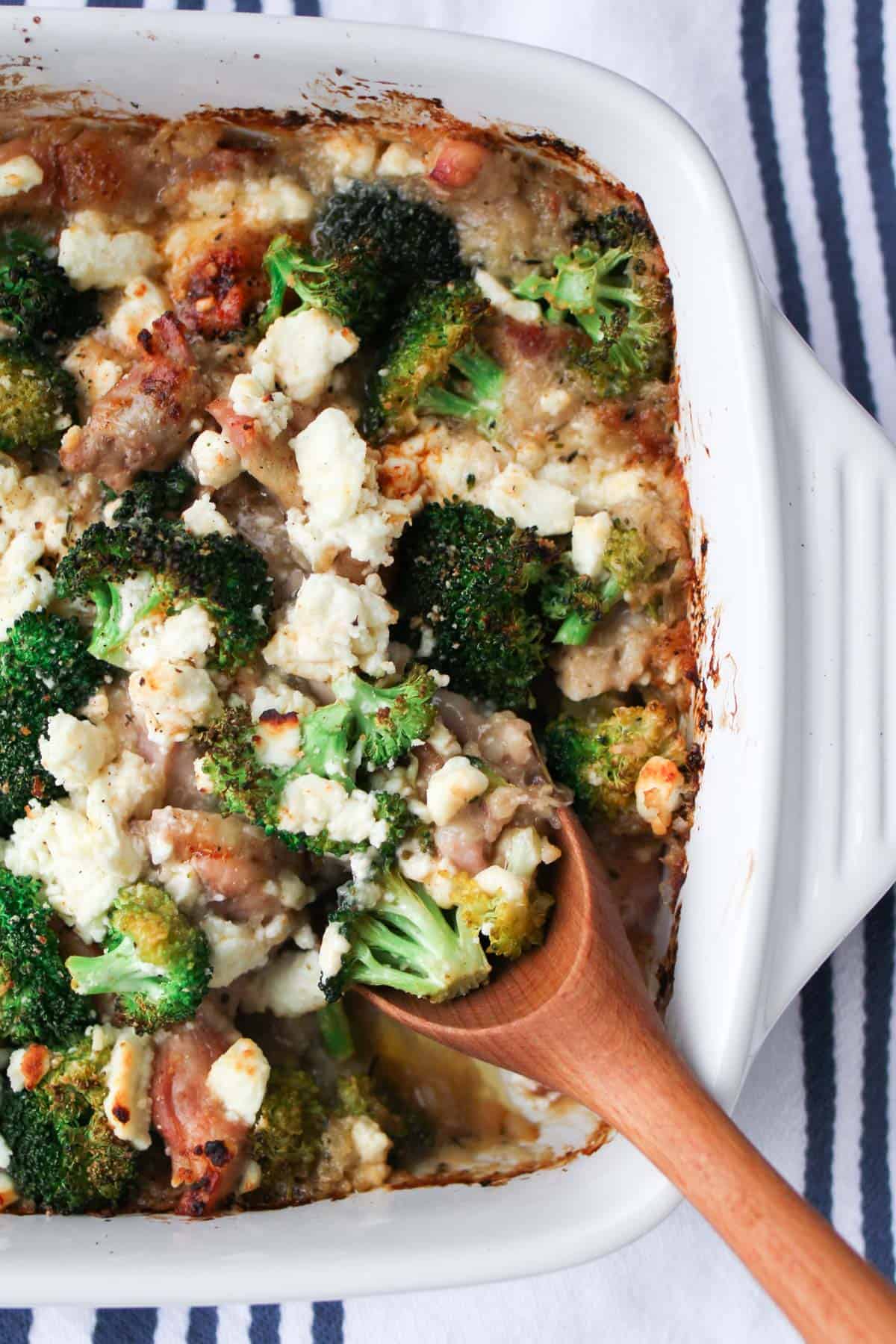 Are you searching for a mouthwatering, low-carb dish that is both satisfying and easy to prepare? Look no further!
This keto creamy chicken and broccoli casserole is the perfect comfort food to add to your weekly meal rotation.
Packed with succulent chicken, nutrient-rich vegetables, and a rich, velvety sauce, this dish is a surefire crowd-pleaser for anyone following a clean keto lifestyle.
How to make casseroles keto-friendly: tips for low-carb comfort food
Casseroles are often associated with comfort food, and just because you're following a keto diet doesn't mean you need to miss out on this classic meal option.
With a few smart ingredient swaps and modifications, you can create satisfying keto-friendly casseroles that cater to your low-carb lifestyle.
Here are some tips and tricks to help you transform traditional casseroles into keto-approved dishes:
Choose Low-Carb Ingredients
When creating a keto-friendly casserole, it's essential to select low-carb ingredients.
This includes using protein sources like chicken, beef, or fish, and incorporating low-carb vegetables such as fresh broccoli, cauliflower, spinach, and zucchini.
Stay away from starchy vegetables like potatoes, corn, and peas, which are high in carbs.
Replace High-Carb Bases
Traditional casseroles often use rice, pasta, or breadcrumbs as a base.
For a keto-friendly alternative, try using cauliflower rice, spiralized zucchini, or crushed pork rinds to maintain the casserole's structure without adding unnecessary carbs.
Opt for Low-Carb Thickeners
As discussed earlier in the post, use keto-friendly thickeners like xanthan gum, guar gum, or egg yolks to create rich, creamy sauces without relying on flour or cornstarch.
Embrace High-Fat Ingredients
A keto diet emphasizes healthy fats, so incorporate ingredients like heavy cream, coconut cream, full-fat cheese, and avocado oil to create creamy, delicious casseroles that align with your dietary goals.
Be Mindful of Sugars
Many casserole recipes call for sugar or sweet sauces like ketchup.
Replace these ingredients with keto-friendly sweeteners such as erythritol, stevia, or monk fruit, and opt for sugar-free condiments like tomato paste or unsweetened mustard.
Season Wisely
Flavorful herbs and spices can elevate your keto casserole without adding carbs.
Experiment with seasonings like paprika, rosemary, thyme, garlic powder, and chili powder to create bold, flavorful dishes.
Monitor Portion Sizes
Even when you're using keto-friendly ingredients, it's essential to control your portion sizes.
Eating excessive amounts of even low-carb foods can lead to weight gain or prevent you from reaching your ketosis goals.
What Ingredients Do I Need for this Casserole?
2 cups Chicken Broth
1 cup Coconut Cream
1 tsp Xanthan Gum
1 lb Boneless Chicken Thighs, sliced into pieces
1 cup Cauliflower, riced
5 slices of Bacon
1 tsp Paprika
1 tsp Thyme
1 tsp Rosemary
1 tsp Salt
1/2 tsp Chili Powder
1/2 cup crumbled Feta
2 cups fresh Broccoli Florets
Ingredient Replacement Options
Dairy-Free Alternatives:
If you prefer a dairy-free option, substitute the feta cheese with dairy-free cheese or nutritional yeast for a cheesy flavor.
Fresh Herbs:
For a more vibrant flavor, consider using fresh herbs like thyme and rosemary instead of dried ones.
Crispy Bacon:
To make your bacon extra crispy, cook it on a wire rack in the oven instead of a skillet. This allows the fat to drip away, creating an extra crunch.
Customized Heat:
Adjust the chili powder to your preference if you desire a milder or spicier casserole.
Why we love this keto creamy chicken casserole
For hearty, satiating, but easy-to-make comfort food, you can't go wrong with a simple casserole.
In winter, casseroles are my go-to meal during the week. They are just so simple and easy to prepare, then I can pop them in the oven and get on with some chores or help my kids with their homework. (And bonus – fewer dishes to clean afterward)
As a family, we've always eaten casseroles, so when we switched to eating low-carb, I knew I wanted to incorporate these satisfying, hearty dishes into our meal plans.
Low-Carb Casseroles
Many 'regular' casserole recipes will use canned soup and white rice or pasta. The sauces are often thickened with flour, and the casseroles are then often topped with breadcrumbs.
Rice, pasta, and breadcrumbs are an obvious 'no' when it comes to eating low-carb and keto, but what about canned soup?
Unfortunately, the canned soup will often contain starches that aren't appropriate for a keto or low-carb diet. Additionally, they will also often contain additives or other unnecessary ingredients.
If you have protein, vegetables, and a hearty sauce, then you'll find you don't actually need these extra starchy ingredients for a hearty, filling, and delicious casserole.
How To Make Creamy Keto Chicken Broccoli Casserole
The basic recipe for a Keto Chicken Broccoli Casserole is quite simple – you need chicken, fresh broccoli, and a creamy sauce that uses dairy (often thick cream of cream cheese) or coconut milk as a base.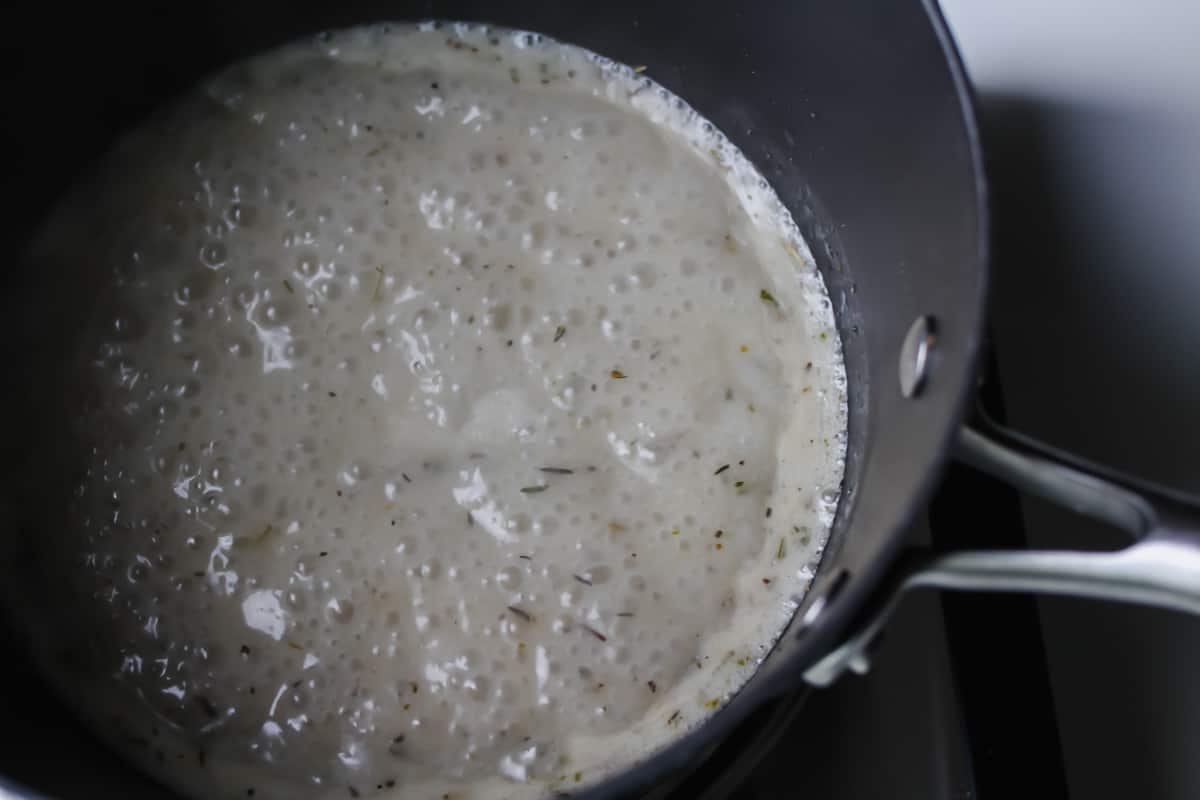 For my twist on this basic Keto Chicken Broccoli Casserole recipe, I added a couple of special ingredients: bacon and cauliflower rice. The bacon adds additional flavor, while the cauliflower rice works well as the rice substitute.
I've used raw chicken thighs for this casserole, but if you want to speed up the cooking time, you can use rotisserie chicken. And if you're in the mood for a crispy topping, grind up some pork rinds to sprinkle on top.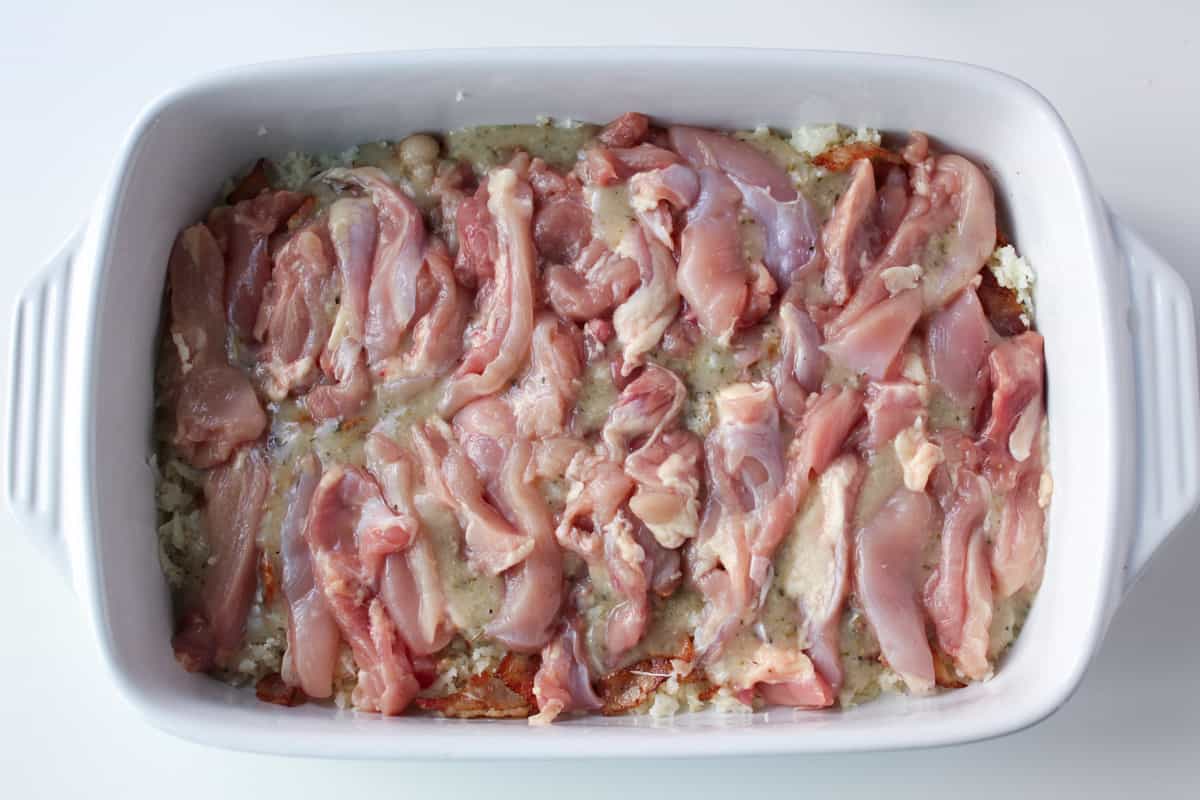 faqs
Can I use frozen broccoli florets instead of fresh ones?
Yes, you can use frozen broccoli florets. Just make sure to thaw and drain them before adding to the casserole to avoid excess moisture.
Is there a suitable alternative to xanthan gum?
You can substitute xanthan gum with guar gum or a mix of psyllium husk powder and unflavored gelatin at a 1:1 ratio.
Can I prepare this casserole ahead of time?
Absolutely! Assemble the casserole without the fresh broccoli and feta, cover tightly, and refrigerate for up to 24 hours. When ready to bake, add the broccoli and feta and follow the baking instructions.
Is this casserole gluten-free?
Yes, this keto creamy chicken and broccoli casserole is gluten-free, as it doesn't contain any wheat-based ingredients.
What are the macros for this casserole?
Please note that without exact measurements for each ingredient and serving size, the macro breakdown provided below is only an estimation.
For a more accurate breakdown, consider using an online nutrition calculator and input the specific ingredients and quantities you used.
Here's an estimated macro breakdown per serving for the Keto Creamy Chicken and Broccoli Casserole:
Calories: 450
Total Fat: 35g (Saturated Fat: 20g, Trans Fat: 0g)
Carbohydrates: 10g (Dietary Fiber: 3g, Sugars: 3g)
Protein: 28g
This casserole is high in healthy fats and protein, with moderate fiber and low net carbs (10g carbohydrates – 3g dietary fiber = 7g net carbs), making it an ideal option for those following a keto diet.
Keep in mind that these numbers are approximate, and the actual macros may vary depending on the specific ingredients and serving size used.
Thickening Casseroles for Keto Dieters: Tips and Techniques
When you're following a keto diet, it can be challenging to find ways to thicken sauces and casseroles without relying on traditional flour-based thickeners.
Fortunately, there are several keto-friendly alternatives that can help you achieve the desired consistency in your dishes without adding unnecessary carbs.
In this section, we'll explore various options for thickening your keto casseroles while keeping your carb intake in check.
Xanthan Gum
As used in our keto creamy chicken and broccoli casserole recipe, xanthan gum is a popular low-carb thickening agent.
Derived from fermented sugar, it has strong thickening properties, and only a small amount is needed to achieve the desired consistency.
To avoid lumps, be sure to whisk xanthan gum into your sauce gradually, allowing it to incorporate smoothly.
Guar Gum:
Another excellent low-carb thickening agent, guar gum is derived from the guar bean and works similarly to xanthan gum.
Use it sparingly and whisk it in gradually to avoid lumps.
Note that guar gum may create a slightly slimier texture than xanthan gum, so adjust the quantity accordingly.
Cream Cheese:
Although cream cheese is not considered clean keto-approved, you can still use it if you're not clean keto.
It will not only thicken the sauce but also impart a velvety texture and delicious flavor.
Be sure to use full-fat cream cheese to maintain ketosis.
Heavy Cream:
Adding heavy cream to your casserole can help thicken the sauce while providing a rich, creamy mouthfeel.
To avoid curdling, add the heavy cream towards the end of the cooking process and gently simmer it to reduce and thicken.
Egg Yolks:
Egg yolks can be used as a natural thickener in keto casseroles.
Whisk egg yolks with a small amount of hot liquid from the casserole to temper them, then gradually stir the mixture back into the casserole to avoid curdling.
Cook the casserole gently to thicken the sauce without overcooking the egg.
Coconut Flour:
Although coconut flour is higher in carbs than other keto-friendly thickeners, it can be used sparingly to thicken sauces and casseroles.
Be mindful of the amount you use and adjust other ingredients accordingly to maintain the desired carb count.
By experimenting with these keto-friendly thickeners, you can create rich and satisfying casseroles that align with your low-carb dietary preferences.
Each thickening agent has its unique properties and benefits, so don't be afraid to try different options to find the perfect consistency for your keto dishes.
Efficient Meal Prep for a Week of Keto Creamy Chicken and Broccoli Casserole
One of the secrets to sticking to a keto diet successfully is planning and meal prepping in advance.
When you have delicious, keto-friendly meals ready to go, you're more likely to stay on track with your low-carb lifestyle.
In this section, we'll discuss how to meal prep a week's worth of Keto Creamy Chicken and Broccoli Casserole, ensuring you have a nutritious and satisfying option available at all times.
Step 1: Plan Your Weekly Menu
Before diving into meal prep, take some time to plan your meals for the week. Determine how many servings of the casserole you'll need and whether you'll be eating it for lunch, dinner, or both. By planning ahead, you'll know exactly how much of each ingredient to purchase, which will save you time and reduce food waste.
Step 2: Shop for Ingredients
Once you have your weekly menu in place, create a detailed shopping list and purchase all the necessary ingredients.
Buying in bulk can save you time and money, so don't be afraid to stock up on essentials like chicken, broccoli, and coconut cream.
Step 3: Prepare the Ingredients
After gathering your ingredients, it's time to begin meal prep.
Start by slicing the chicken thighs into evenly-sized pieces, chopping the broccoli florets, and ricing the cauliflower.
You can also cook the bacon and crumble it, as well as measure out the spices and seasonings.
Storing these prepped ingredients in separate airtight containers in the refrigerator will make assembling the casserole a breeze.
Step 4: Assemble the Casserole
Now that your ingredients are prepped and ready, you can begin assembling the casserole. You have a couple of options for meal-prepping this dish for the week:
Option 1: Pre-assemble individual casseroles in smaller oven-safe containers or glass meal prep containers with lids.
Layer the cauliflower rice, bacon, sauce, and chicken in each container, then store them in the refrigerator.
When you're ready to bake, add the broccoli and feta, then follow the baking instructions. This option allows for easy portion control and grab-and-go convenience.
Option 2: Assemble the entire casserole in a large baking dish, following the recipe instructions up to the point of adding the broccoli and feta.
Cover the dish tightly with plastic wrap and store it in the refrigerator.
When you're ready to eat, add the broccoli and feta, then bake the casserole according to the recipe.
Once cooked, divide the casserole into individual portions and store them in airtight containers for later use.
Step 5: Store, Reheat, and Enjoy
Regardless of which meal prep option you choose, make sure to store the assembled casseroles or individual portions in the refrigerator.
To reheat the casserole, follow the reheating instructions provided earlier in the blog post.
Enjoy your prepped Keto Creamy Chicken and Broccoli Casserole throughout the week, knowing that you have a nutritious and delicious meal ready to go.
Meal prepping this Keto Creamy Chicken and Broccoli Casserole for the week is an efficient way to ensure you have a tasty and satisfying low-carb meal option at your fingertips.
By planning, shopping, and prepping in advance, you'll save time and energy in the kitchen and set yourself up for success on your keto journey.
Give this meal prep method a try and enjoy the convenience and deliciousness of having your keto casserole ready whenever you need it.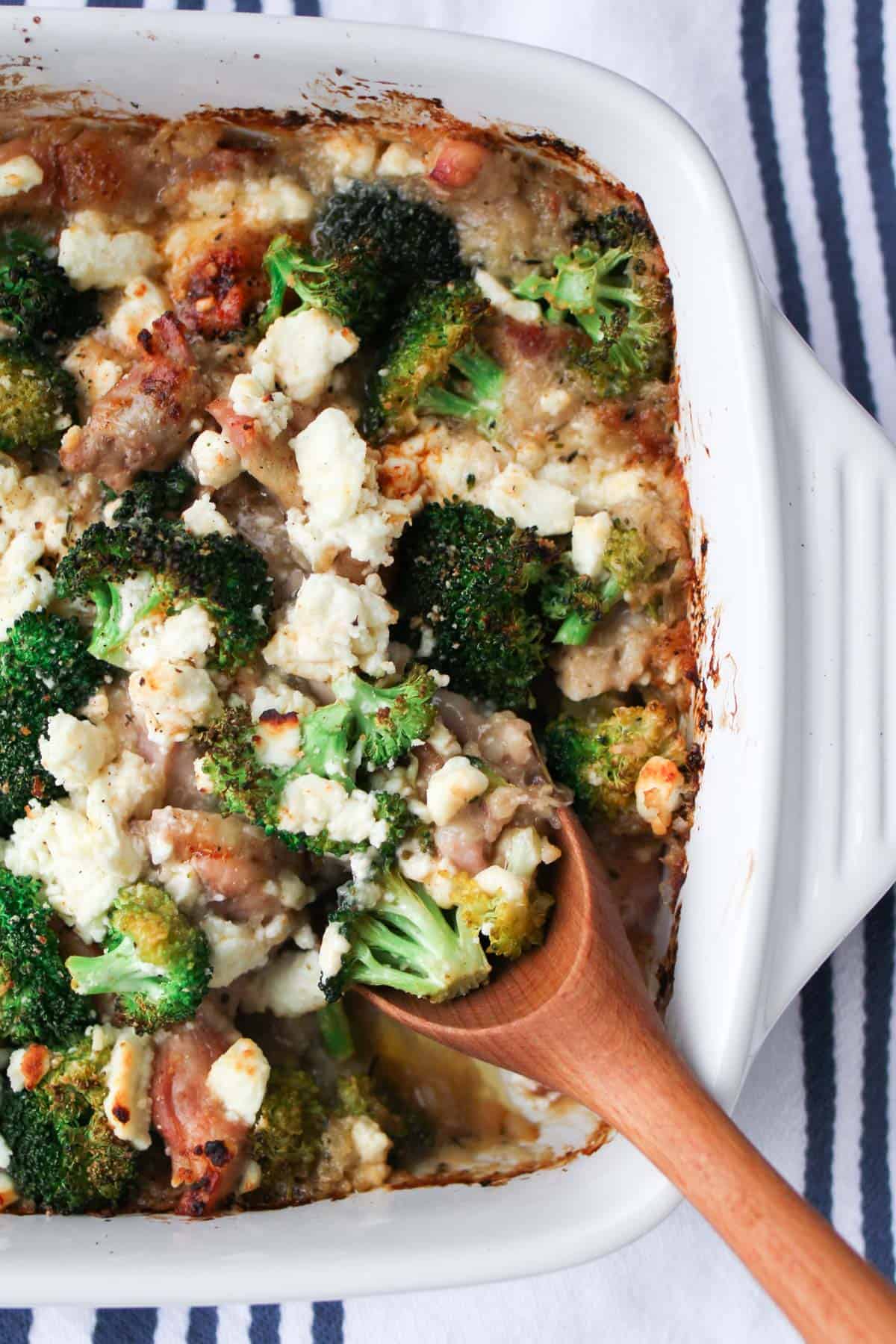 More Keto Recipes to try: