Steak Night has been upgraded with this Clean Keto Steak with Balsamic Mushrooms meal!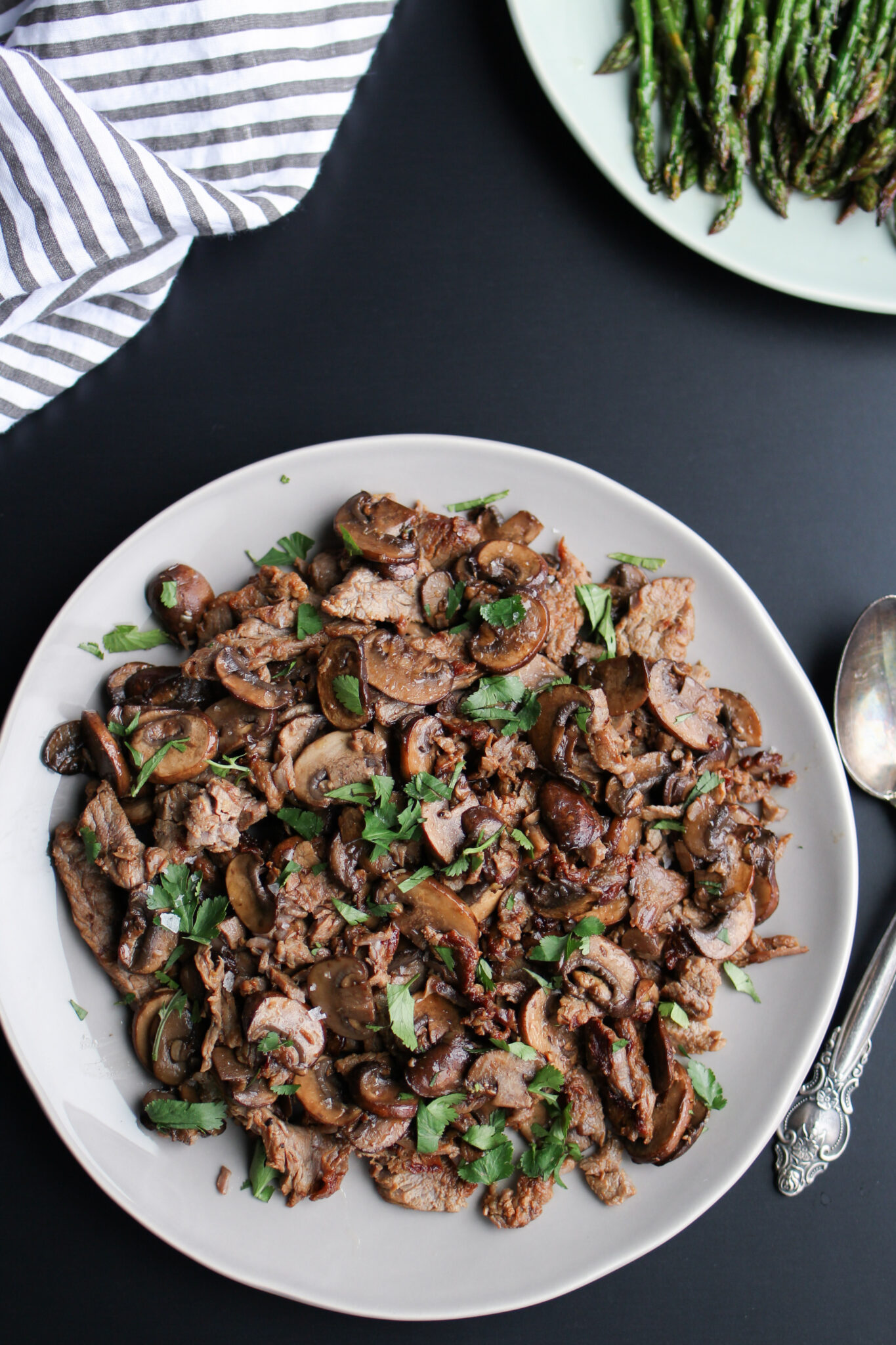 I haven't always been a fan of mushrooms until I discovered that it's all about how you cook them. I grew up knowing mushrooms as the small, rubbery side dish that came with cooked breakfasts.
Are Mushrooms Keto Friendly?
When adding mushrooms to a dish, you are not only getting the extra flavor that they provide but also the health benefits.
Mushrooms are a good source of Niacin, Selenium, antioxidants, dietary fiber, Potassium, Vitamin B1, Vitamin B2, and Vitamin D. They have also been shown to have anti-inflammatory properties.
How To Eat Mushrooms
They also happen to be very low in calories and carbohydrates (2.3g per cup), making them a great addition to low-carb and keto diets.
It was when I started eating low-carb that I started playing around with different ways to eat mushrooms.
I was surprised to learn that you can eat them raw! Simply slice them up and add them to a hearty green salad.
I also really enjoy eating them now on pizza – as long as they are sliced very thinly!
But one of my favorite ways to eat mushrooms now is to lightly saute them, using ghee instead of oil.
There are so many varieties of mushrooms available, but I tend to stick with Bella mushrooms.
Bella mushrooms are also known as cremini, mini Bella, baby portabella, porta bellini, or brown mushrooms. They are very affordable and easy to find in stores.
Bella mushrooms have an earthy, meaty flavor, which works well in meat dishes as a complement or in vegetarian dishes as a 'meat replacement'.
Is Balsamic Vinegar good for KEto Diet
Balsamic vinegar is a versatile and flavorful ingredient that can add depth and complexity to many keto-friendly dishes. Made from a reduction of cooked grapes, balsamic vinegar has a sweet and tangy taste that is distinctive and flavorful.
One of the main benefits of balsamic vinegar on a keto diet is that it is low in carbohydrates, making it an ideal ingredient to use in dressings, marinades, and sauces.
It can also be used as a flavoring agent in soups, stews, and other dishes, adding a rich and tangy taste without adding any extra carbs.
Balsamic vinegar is also rich in antioxidants, which can help protect the body against oxidative stress and inflammation.
It also contains acetic acid, which has been shown to help regulate blood sugar levels and improve insulin sensitivity, making it a great choice for people with type 2 diabetes or other metabolic disorders.
Whether you're using balsamic vinegar to marinate steak, dress a salad, or add a tangy touch to a vegetable dish, it is a versatile ingredient that can help make your keto meals even more enjoyable.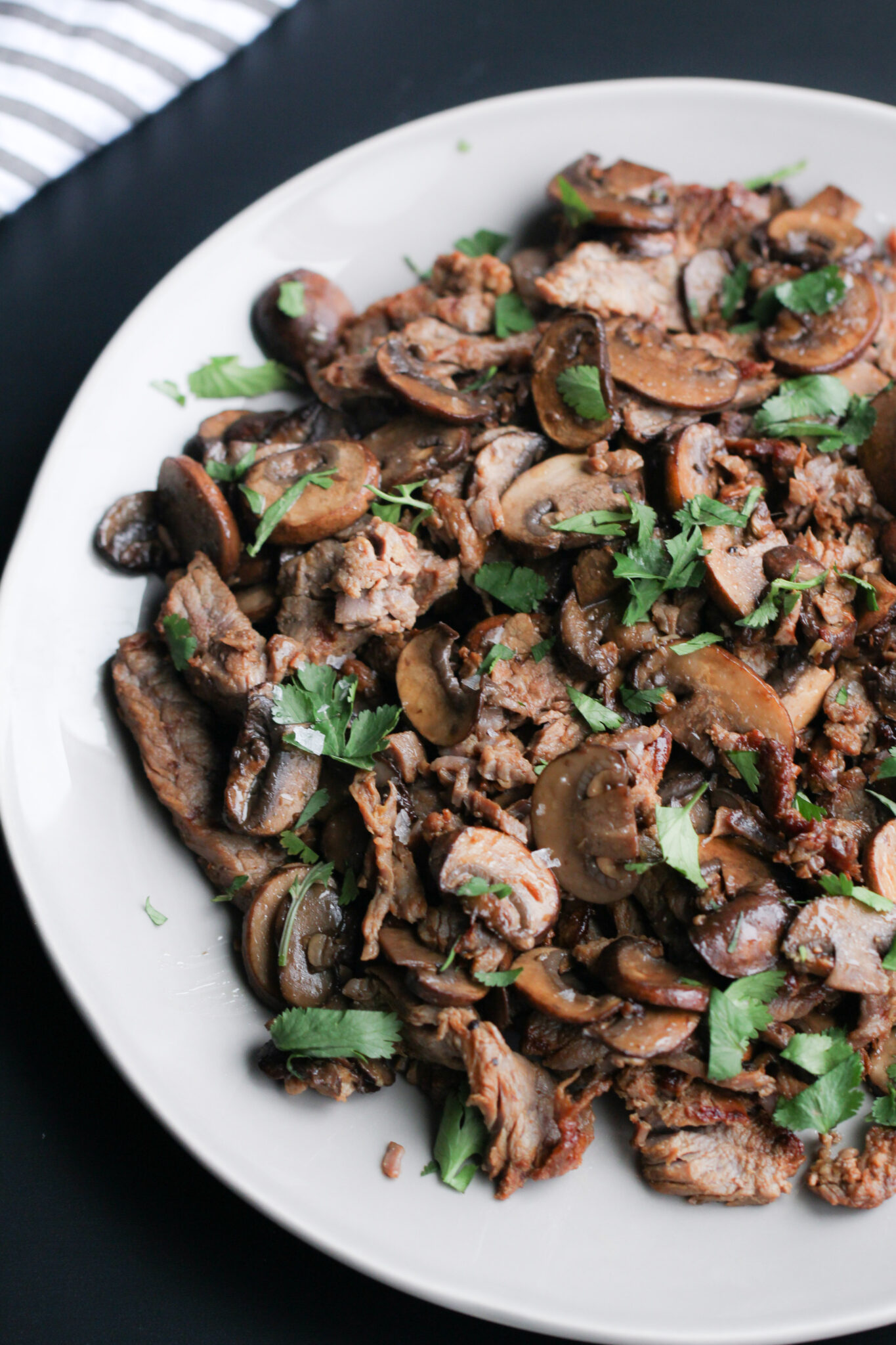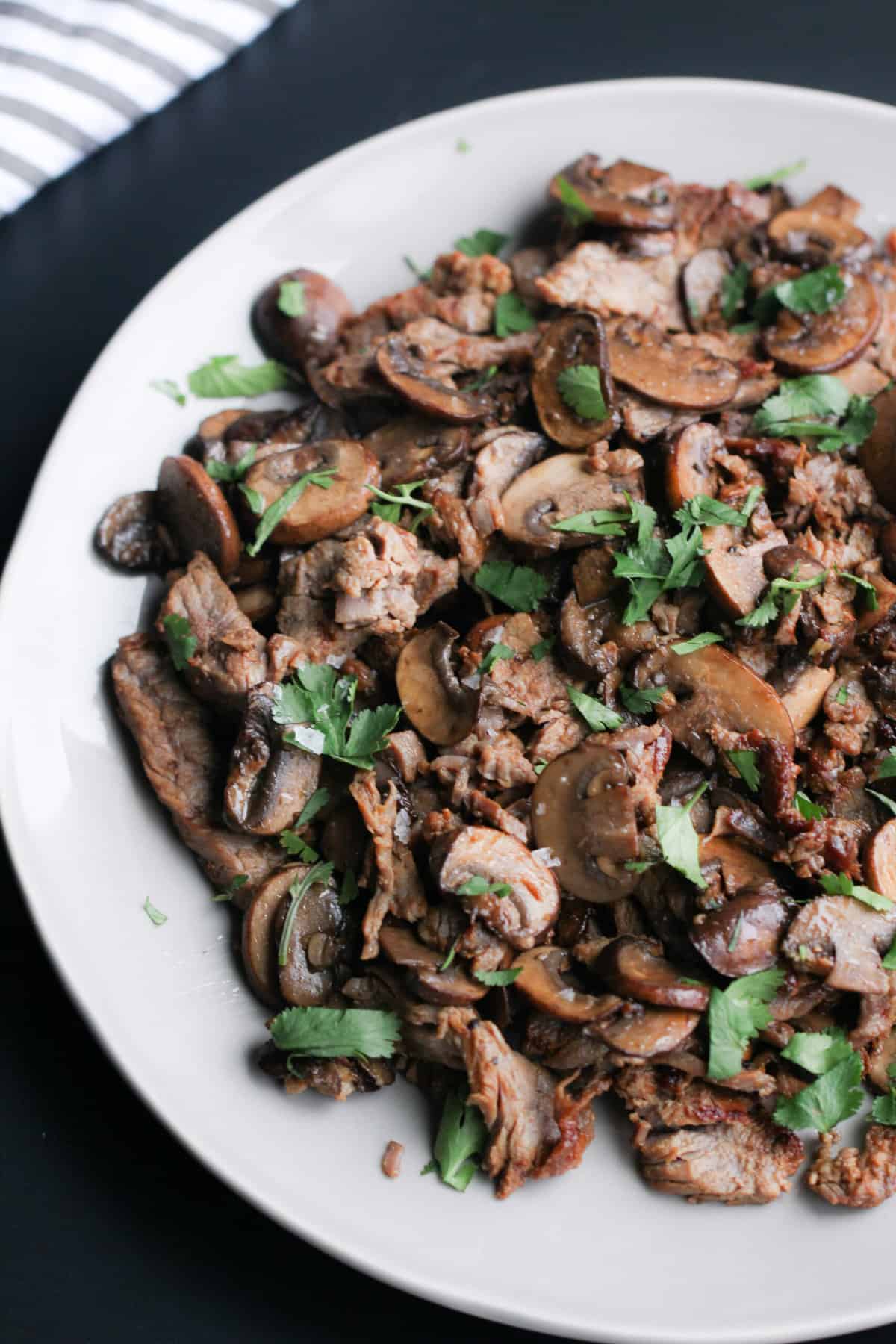 what are the ingredients you need FOR THE STEAK MARINADE
Making Steak with Balsamic Mushrooms is so easy and the ingredients are so simple. Here's what you need:
Tamari Sauce
Tamari sauce is a gluten-free soy sauce that is made from fermented soybeans. It has a rich and savory flavor that is often described as umami.
Tamari sauce is a great alternative to regular soy sauce for people who are sensitive to gluten or are following a gluten-free diet. It is also lower in sodium, making it a healthier choice.
Olive Oil
Olive oil is a healthy and delicious oil that is rich in monounsaturated fatty acids, antioxidants, and other beneficial compounds. It has a unique and fruity flavor that can enhance the taste of many different dishes, including salads, soups, and pasta dishes.
Olive oil is also a good source of vitamin E and other important nutrients, making it a great choice for a healthy diet.
Garlic Clove
Garlic is a flavorful and aromatic ingredient that is used in many different cuisines around the world. It has a pungent and slightly spicy taste that can add depth and complexity to any dish.
Garlic is also rich in antioxidants and other beneficial compounds that can help boost the immune system and lower the risk of chronic diseases.
Salt and Pepper
Salt and pepper are two basic seasonings that are used in almost every recipe. Salt adds flavor and enhances the taste of food, while pepper adds a spicy and slightly bitter taste that can bring out the other flavors in a dish.
When used in moderation, salt and pepper can help bring balance and depth to any recipe, making them essential ingredients in any kitchen.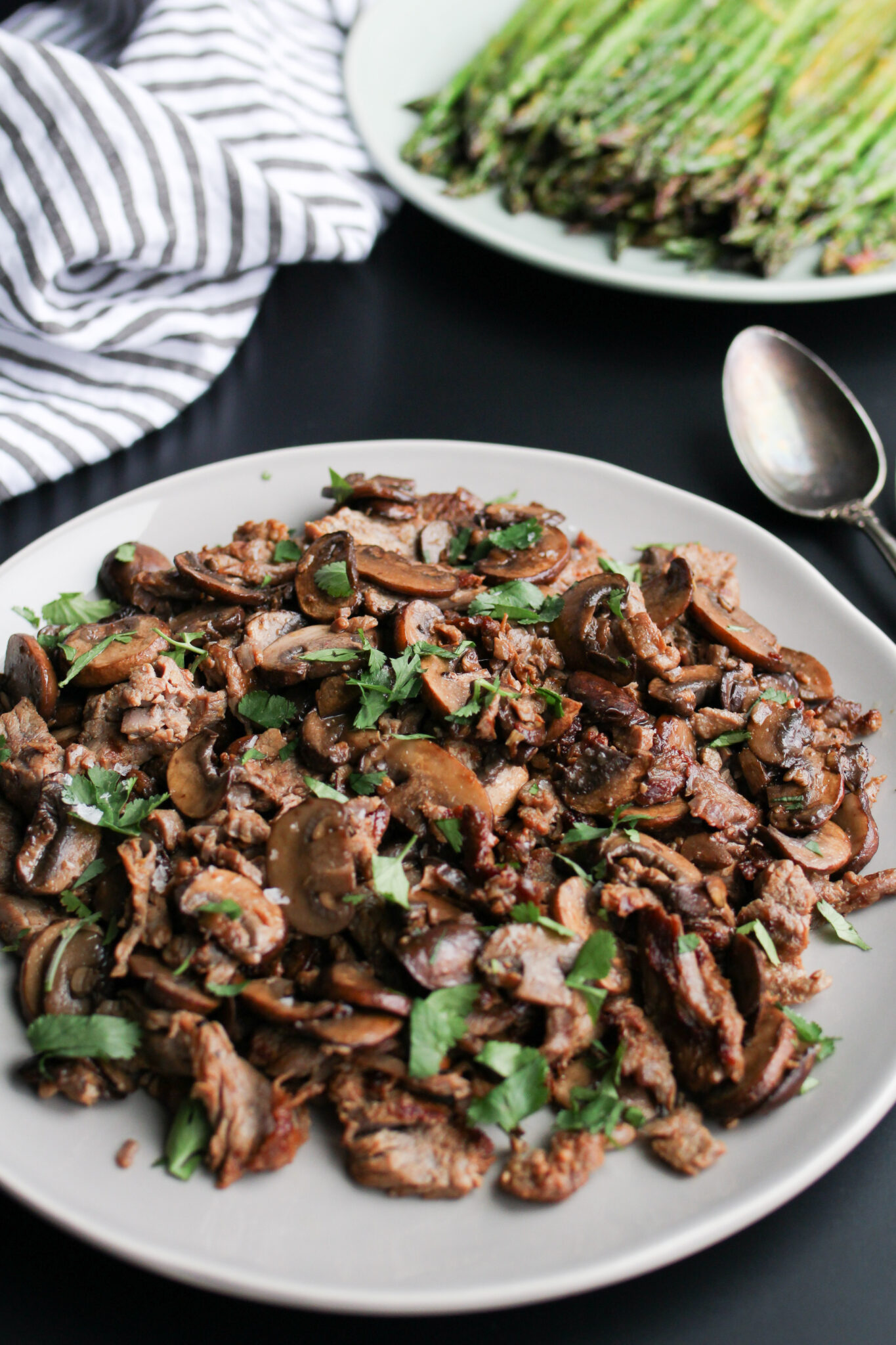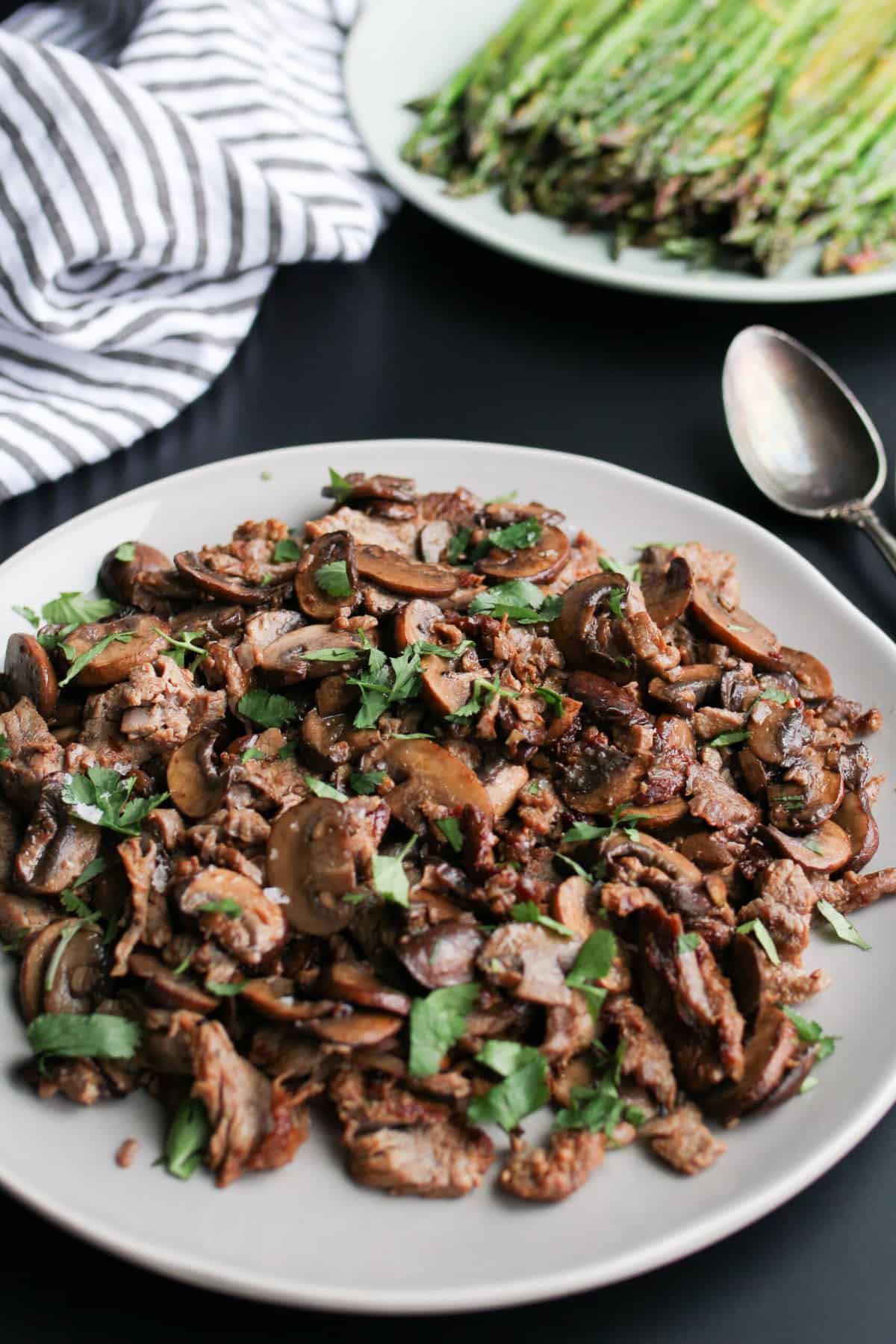 how to cook Steak with Balsamic Mushrooms
Here's a simple and the best way to cook this amazing dish:
1. Gather all the ingredients.
In a small bowl combine the olive oil, Tamari sauce, minced Garlic, and salt and pepper.
2. Prepare the flank steak.
Slice the steak against the grain.
4. marinate the steak.
Place the steak in the bowl and marinate for 30 min to an hour.
5. Cook the Steak.
After the steak is done marinating, heat the ghee in a medium saucepan. Cook steaks in the pan and cook on medium heat until done.
6. Add sliced button mushrooms to the same skillet, Add balsamic vinegar and Dijon mustard.
Season with salt and pepper. Cook until mushrooms start to brown for 5-10 minutes.
7. serve immediately
When To Serve Clean Keto Steak with Balsamic Mushrooms
I like to bring out this Steak with Balsamic Mushrooms recipe when we have guests over, and it never fails to impress! (Though I don't think I would manage to make this recipe for more than four people!)
It is simple enough to make so that you don't spend too much time away from your guests, but looks (and tastes) like an upscale restaurant meal.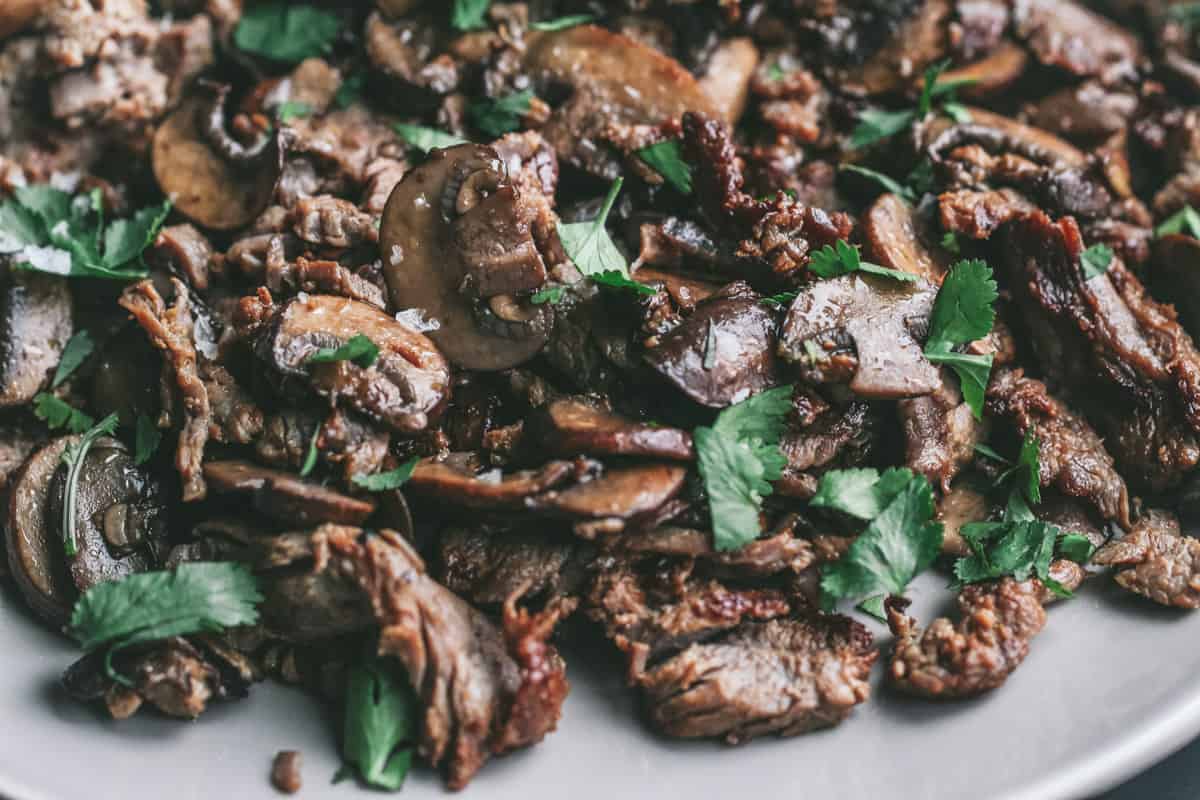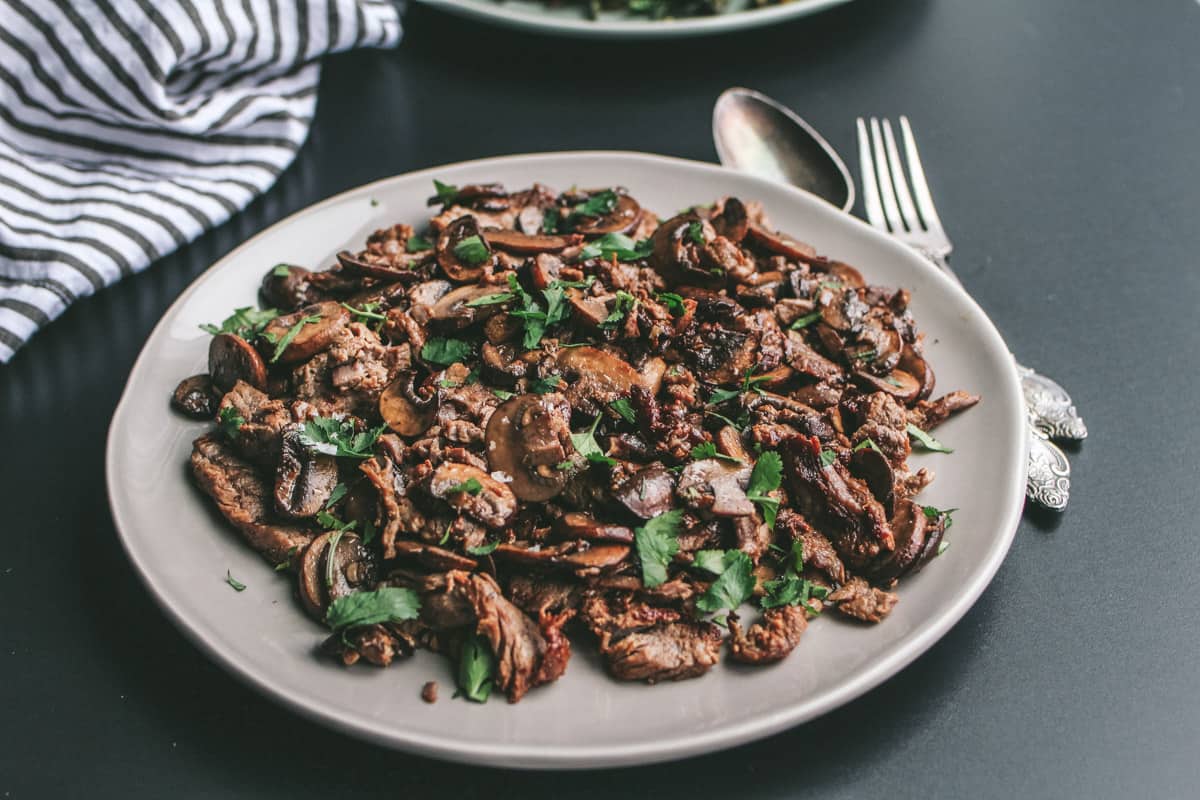 More Keto Recipes to try: