These Keto Brown Butter Chocolate Chip cookies are so soft and chewy, not to mention Keto and Low-Carb approved!
Here's another great recipe that you can try. It's sugar-free and guilt-free!
Do you ever have days where you don't feel like doing anything? Like, you look at all you have to do, and you don't know where to start, so you keep starting each thing but never really finish anything?
Well, that is me, today. My kids had their first day of daycare today (woohoo), and I was home by myself all day long. I haven't had this happen in years.
I started cooking because we have no food in the fridge, then I shot those recipes because I figured I could put them on the blog eventually, then I sat down to do computer work and could not figure out where to start.
Since starting this blog last October, I have been flying by the seat of my pants because I never had time to work. Now that the time has finally come, I am dumbfounded about what I should be doing.
There are so many things on my list, so I don't know where to start. This leads me to the conclusion that I need to start proactively planning and organizing my days
Take for example these Keto Chocolate Chip Cookies. I made them months ago, started this post last week, and am just now getting to writing the post about them.
I don't know what to say about them. They are the best Keto Chocolate Chip Cookies I have ever had. The end.
Unfortunately, that doesn't work for Google. Google wants at least 300 words, or it thinks your post is not good enough to be shown to people. That is why you always see so much writing on recipe blogs where all you care about is the recipe.
However, I have to make Google happy. So I will talk about these Keto Brown Butter Chocolate Chip Cookies a bit.
I made these because, like most people, I love Chocolate Chip Cookies. Although I have made lots of Keto chocolate chip cookies before, none of them were soft and chewy enough to my liking.
I've made some that didn't spread, others burned on the edges, and one batch straight up fell apart once I picked the cookie up. After some trial and error, I developed this Brown Butter Chocolate Chip cookie recipe which is both chewy and soft while still being keto and low-carb-friendly.
These keto chocolate chip cookies are perfect if you're following a low-carb or keto diet.
So, what are the secrets?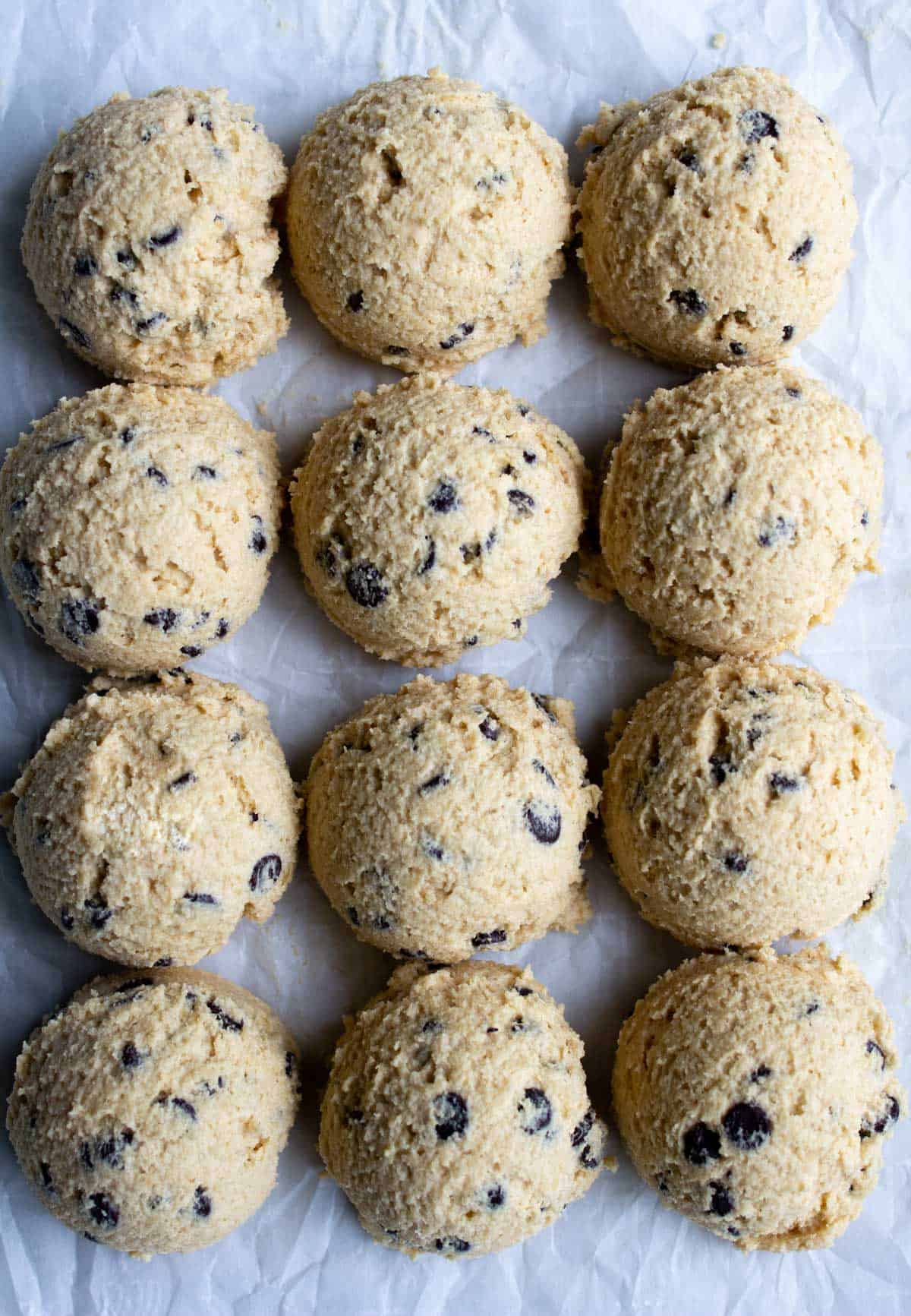 Brown Butter
What is brown butter? Liquid gold!!
Brown butter happens when you melt butter until it turns, well, brown!! There is no secret to this process. However, there is some technique that goes into it.
To make brown butter, melt the butter in a saucepan over medium heat and stir it often. It will take about 5 minutes for it to brown, and you want it to be golden- brown color but not too dark because then that means you have burned it.
Why brown butter? Brown butter results in a toffee, caramel flavor that makes these cookies to die for. Since you aren't using sugar and sweeteners usually have a weird aftertaste, using brown butter will help mask those flavors and add another dimension of nutty sweetness to the cookies.
Yes, it's an extra step, but it's worth it, trust me. You'll want the butter to cool slightly before mixing it with the other ingredients to make the batter.
Say what? Why would you put something that has beef in it in Keto Chocolate Chip Cookies? Well, the answer is, chewiness.
Beef Gelatin is what makes these cookies chewy. It's a natural thickener and stabilizer used in many Keto recipes.
Don't worry; they won't taste "beefy." You won't even know it's in there and it's not that much anyways. You can buy beef gelatin online on Amazon, or most health stores will carry it.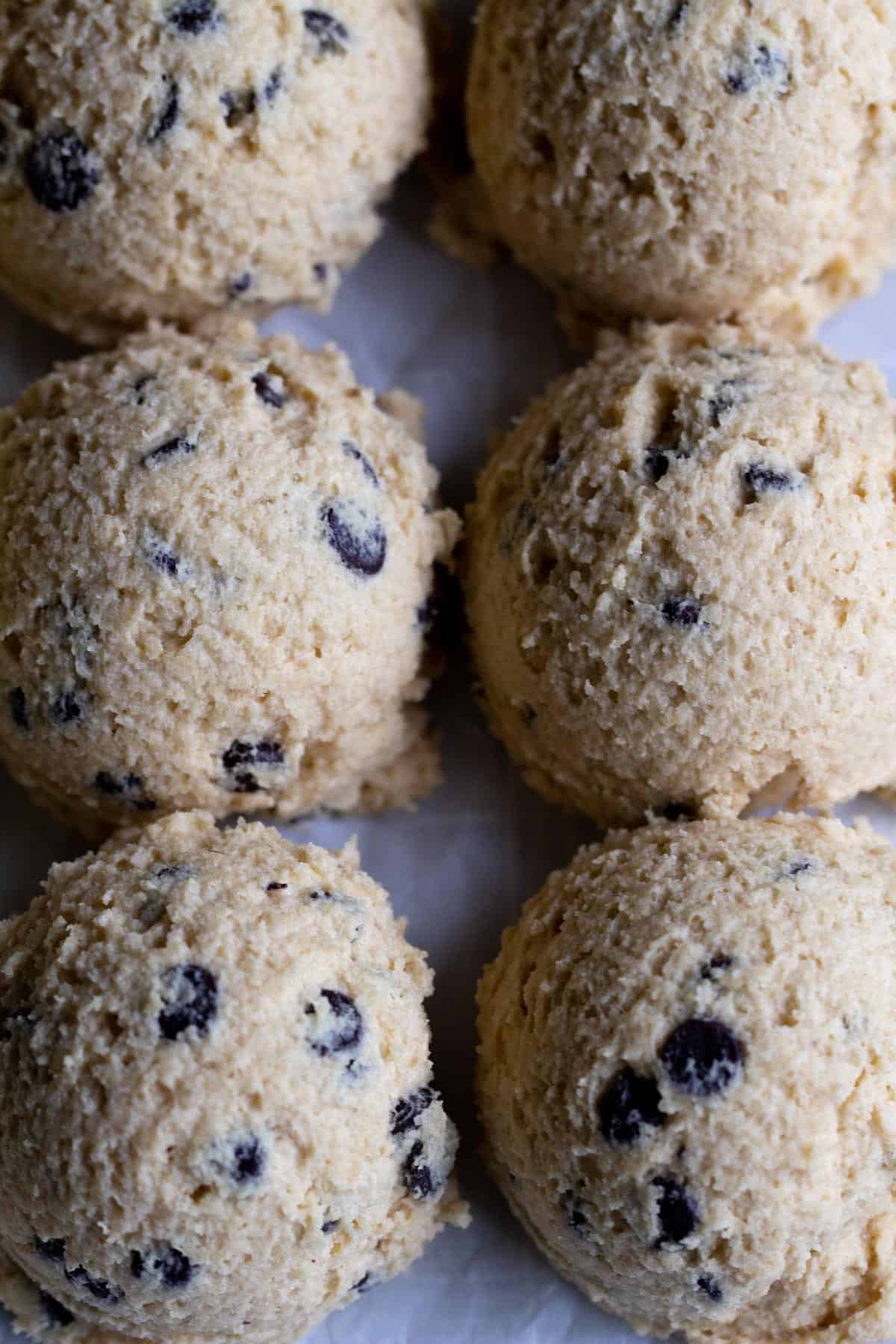 Eggs at room temperature
You have probably seen a lot of baking recipes saying to use eggs that are at room temperature but have you ever wondered why?
Using room temperature eggs allows the egg whites and yolks to combine easier into the batter which leads to more even cooking and a lighter texture.
Other Ingredients for keto chocolate chip cookies
Almond Flour
Almond flour is finely ground flour made from blanched almonds. It is rich in healthy fats and protein, while being low in carbohydrates, making it a perfect ingredient for a keto-friendly dessert.
Almond flour adds a nutty flavor and a light texture to the cookies, and it also helps to keep them moist.
Coconut Flour
Coconut flour is another popular ingredient in keto baking. It is made by grinding dried coconut meat into a fine powder.
Coconut flour is high in fiber, low in carbohydrates, and also adds a slightly sweet and nutty flavor to the cookies. It absorbs moisture easily, making it a great ingredient to help hold the cookies together.
Dark chocolate chips
Dark chocolate chips are an ideal ingredient to use in keto chocolate chip cookies because they are low in sugar and high in cocoa solids. Most dark chocolate chips contain at least 70% cocoa solids, which provide a rich, deep chocolate flavor without adding a lot of carbohydrates.
Dark chocolate chips are a perfect ingredient to use in keto chocolate chip cookies, providing a delicious and healthy addition to this classic dessert.
You will also need baking powder, Vanilla extract, Salt, and keto-friendly sweetener.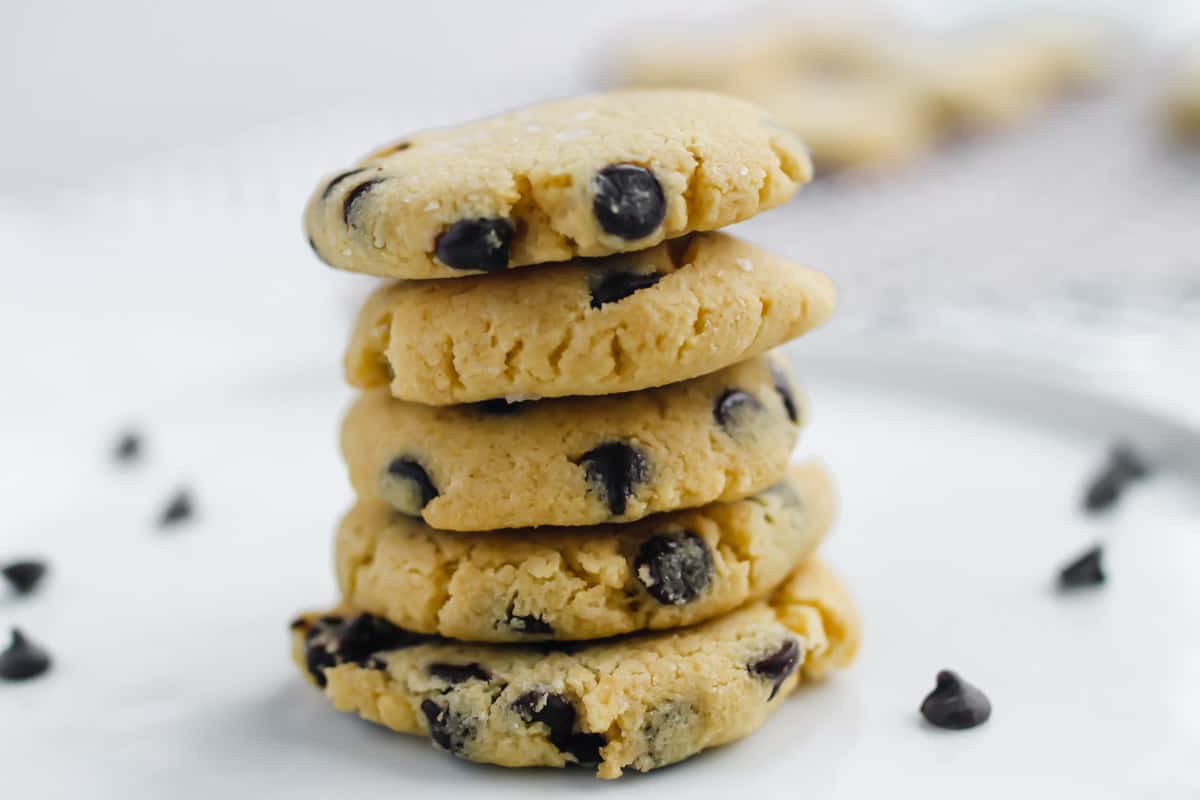 So now that you know all of the secrets are you ready to make the best Keto Chocolate Chips cookies that are chewy, soft, and buttery?? Ah, I'm so excited for you to try these!!
These keto cookies are better than the regular chocolate chip cookies you've tried! It's an amazing recipe and will become your new favorite.
You can enjoy a keto dessert that's absolutely delicious without worrying about your health.
Share this perfect recipe with your keto community!
Looking for more chocolate recipes? You'll love my No Bake Chocolate Peanut Butter Balls, Fudgy Keto Brownies, and Salted Fudge Fat Bombs!
Looking for a light and easy soup recipe? Check out my Clean Keto Butternut Squash Soup. It's so simple but flavorful!
More Keto Recipes to try: