Who says you can't eat Pizza on Keto? This Keto Pizza recipe proves that you don't have to miss out on your favorite food!
Pizza! Who doesn't love it? Seriously though, I don't think I've ever met a person who doesn't like pizza.
It's comfort food that brings everyone together.
For a while, I was bummed out about the Keto diet not being very pizza friendly because I do love it.
Luckily, I discovered the fathead pizza dough recipe. I could hear the "Hallelujah" chorus playing in my head.
Like I've mentioned in a post before, you can pretty much make anything Keto/Low Carb these days. You just need to be creative and take the time to make everything from scratch.
This fathead pizza dough is pretty simple to make and only takes a few ingredients. I've doubled the recipe for a larger pizza because, between myself, my husband, and my pizza-loving toddler the pizza doesn't last long.
Just a few things to note about the pizza dough
Using pre-shredded mozzarella cheese is best
Ensure the cheeses are combined well before you add the almond flour and eggs
The keto pizza dough will be sticky so using two pieces of parchment paper to spread it out is essential
Don't roll the dough out too thin, you don't want it to burn, and the pizza slices will be hard to pick up
Poking holes in the keto pizza dough before cooking prevents bubbles from forming as it cooks.
You can top your pizza dough with whatever you like. This time I was feeling supreme, so I loaded it up.
Watch out for which tomato sauce you use, lots of them have added sugar so make sure you check the label. This tomato sauce is an excellent choice if you are Keto/Low Carb. (It's better to buy it in bulk because after you've had this pizza, you'll want to start having a standard "pizza night")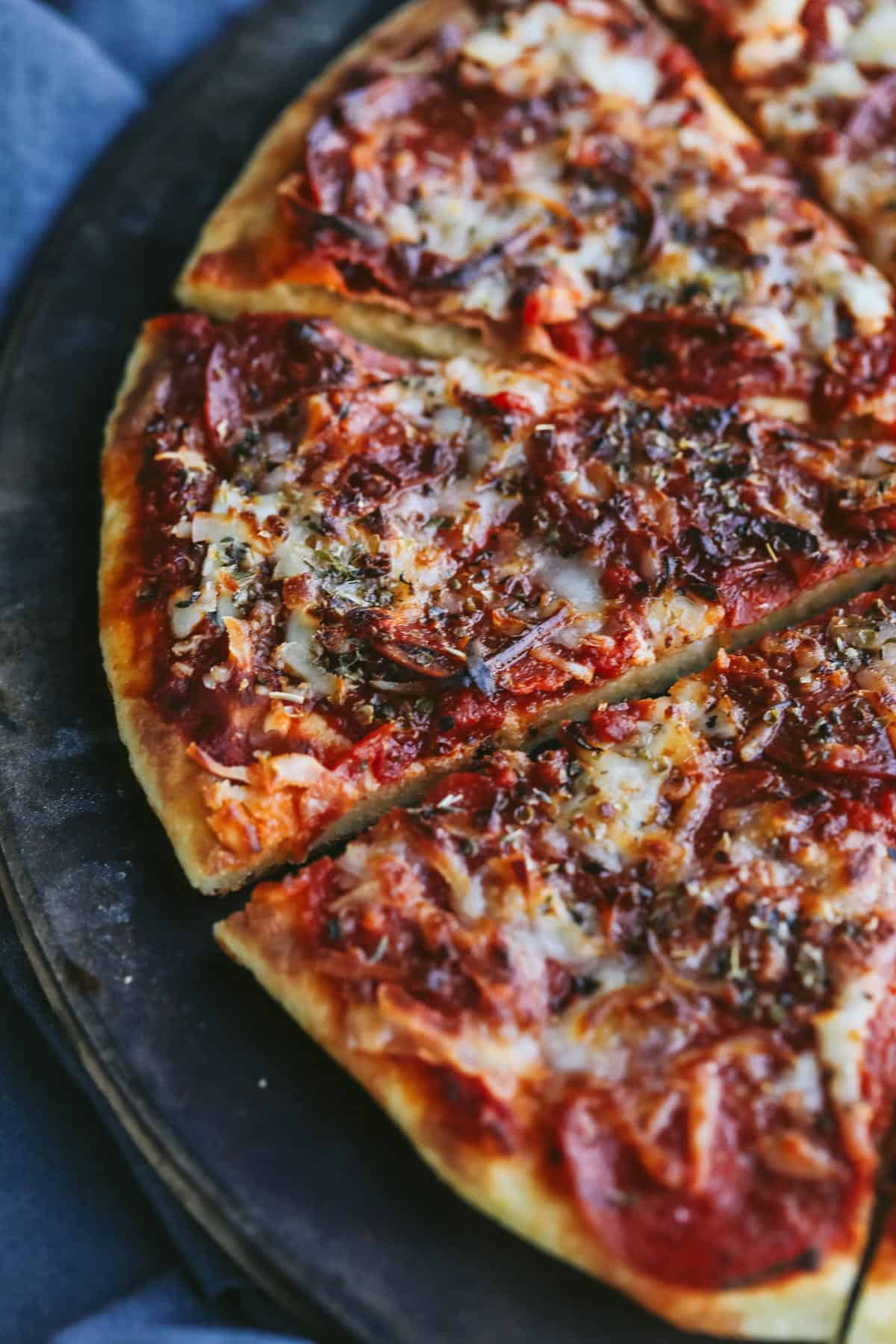 This post contains an affiliate link in which if a purchase is made I receive a commission at no additional cost to you. Just some diaper money. Thank you for your support!
More articles about Keto Diet: