Love waffles but are watching your carb and sugar intake? These Low-Carb Coconut Waffles won't' disappoint!
Looking for a delicious and healthy breakfast that's both low-carb and gluten-free? I present to you – the Best Keto Waffles!
Made with coconut flour and coconut milk, these waffles are not only nutritious but also packed with tropical flavors. If you're trying to reduce your gluten intake, or simply looking for a new breakfast recipe to try, these waffles are a great option.
Plus, they're easy to make and can be customized to your taste with your favorite toppings. In this blog post, I will share the recipe for these delicious waffles, along with tips and tricks for making the perfect healthy breakfast.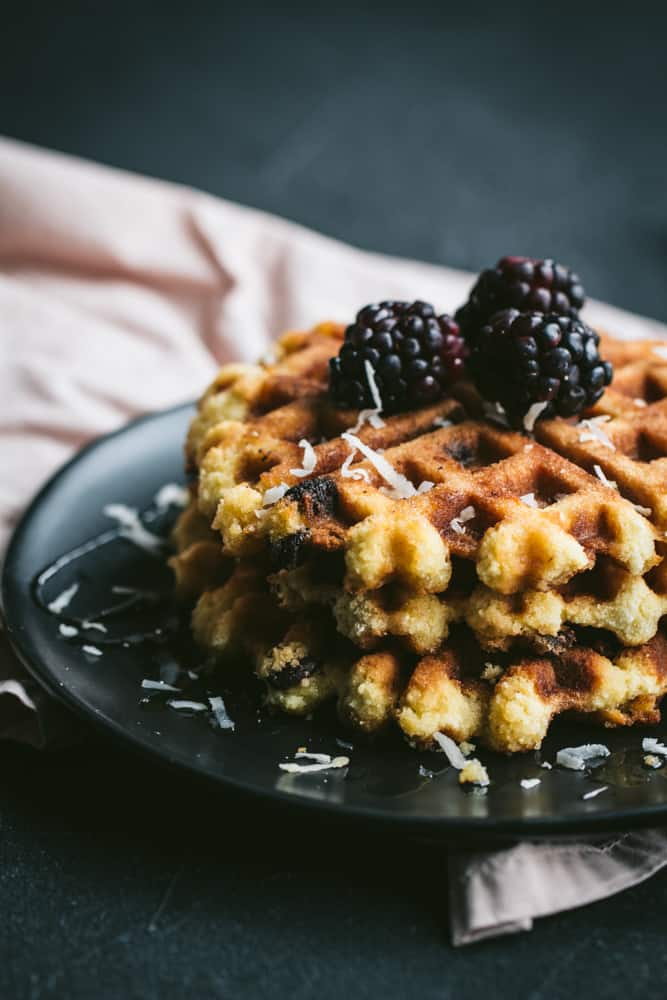 Most people find it difficult to find meals that the whole family will enjoy. But when it comes to breakfast – waffles are always a hit! And these keto waffles with coconut flour make an excellent replacement for the flour- and the sugar-filled version I grew up with.
Do you enjoy having waffles for breakfast too as much as I do?
Crispy on the outside, and soft and fluffy on the inside – these keto waffles make for a tasty breakfast that also happens to be healthy, too!
This super easy keto waffle recipe will become your new favorite!
Ingredients to Make Low-Carb Coconut Waffles
Low-carb coconut waffles are a delicious and healthy breakfast option that's perfect for anyone looking to reduce their carb intake. To make these low-carb waffles, you'll need the following ingredients:
Coconut flour: This flour is a low-carb and gluten-free alternative to wheat flour. It's made from ground-up coconut meat and is high in fiber and healthy fats.
Baking powder: Baking powder is a leavening agent that helps the waffles rise and become fluffy.
Cinnamon: This warm and flavorful spice adds a delicious aroma and taste to the waffles.
Sweetener: To keep these waffles low-carb, you'll want to use a low-carb sweetener like erythritol, stevia, or monk fruit.
Coconut milk: This dairy-free milk alternative is made from the flesh of mature coconuts and is rich in healthy fats and electrolytes.
Eggs: These will provide the structure and moisture for the waffles.
Vanilla extract: This adds a lovely, sweet flavor to the waffles.
Coconut oil: This healthy oil is a great source of medium-chain triglycerides (MCTs), which are quickly metabolized by the body for energy. Coconut oil is the best option.
Combined together, these ingredients create a delicious and nutritious breakfast that's perfect for anyone looking to eat low-carb.
Keto Waffles as a pre-workout breakfast option
When it comes to fueling your body for a workout, it's important to eat a balanced meal that provides energy and nutrients without weighing you down. Keto waffles can be an excellent pre-workout breakfast option for several reasons.
First, coconut flour is a good source of healthy fats and fiber, which can help you feel full and satisfied while providing sustained energy for your workout. Additionally, coconut flour is lower in carbs than traditional wheat flour, which can help prevent blood sugar spikes and crashes that can leave you feeling sluggish during your workout.
By adding in some protein-rich toppings like almond butter or Greek yogurt, you can further boost the nutritional value of your keto waffles and give your muscles the fuel they need to perform at their best. Plus, the delicious flavor and satisfying texture of these waffles can help you start your day off on a positive note and set the tone for a successful workout.
Overall, keto waffles can be a great pre-workout breakfast option for those following a keto diet, or anyone looking for a tasty and nutritious breakfast that will fuel their body for a morning workout.
Can you freeze Gluten Free Waffles for a Quick and Easy Breakfast?
Meal prepping is a great way to save time and ensure that you have healthy, nutritious meals on hand throughout the week. When it comes to breakfast, meal-prepping low-carb coconut waffles can be a convenient and delicious option.
To meal prep low-carb coconut waffles, start by preparing a large batch of waffle batter according to your favorite recipe. You can add additional ingredients like berries, nuts, or spices to switch up the flavor and add more nutrients.
Next, heat up your waffle maker and cook the waffles until they are lightly golden and cooked through. Once the waffles are done, allow them to cool completely before transferring them to an airtight container or freezer bag.
These coconut flour waffles refrigerate and freeze well, so you can whip up a big batch to save time (great for meal prep!).
Store waffles in the refrigerator in a sealed container for 3-4 days. Extra waffles can also be frozen for up to 6 months. Putting them in zip lock bags will make them less likely to stick together, so you can easily grab a couple for a quick weekday breakfast.
You can also place pieces of parchment paper between them to keep the waffles separate.
To reheat your coconut flour waffles, place them in a toaster, or put them in a preheated oven for about 10 minutes,
By meal-prepping low-carb coconut waffles, you'll have a quick and easy breakfast option that you can enjoy on busy mornings or take with you on the go. Plus, with the added benefits of coconut flour, you'll be starting your day off on a healthy and nutritious note.
Tips for Making Delicious Waffles with Coconut Flour
Waffles are a delicious and versatile breakfast option that can be enjoyed in many ways. However, traditional waffle recipes are often high in carbohydrates due to the use of wheat flour.
If you're following a keto diet, or simply want to cut back on carbs, making waffles with coconut flour is a great option.
Coconut flour is a low-carb alternative to traditional wheat flour that can be used to make healthy waffles.
Coconut flour is made from dried, ground coconut meat and is high in fiber, protein, and healthy fats. It has a slightly sweet, nutty flavor that works well in waffles and other baked goods.
When using coconut flour for waffles, it's important to note that it absorbs more liquid than wheat flour, so you'll need to adjust the amount of liquid in your recipe accordingly. With a little experimentation, you can create light, fluffy waffles that are low in carbs and full of flavor using coconut flour.
Tips for Making Delicious Keto Coconut Flour Waffles Using a Waffle Maker
If you're trying to reduce your carb intake, making waffles with coconut flour is a great option. But to make delicious keto coconut flour waffles, you'll need a good waffle maker.
A high-quality waffle maker also called a waffle iron or waffle press can help you create fluffy, evenly-cooked waffles that are full of flavor whether it big or mini waffle maker.
I try not to keep too many kitchen appliances, but a waffle maker is a fun gadget to keep around!
Here are some tips for making delicious keto coconut flour waffles with a waffle iron. Whether you're a seasoned waffle maker or a newbie in the kitchen, these tips will help you create perfect waffles every time.
Switch on your waffle iron when you start making the batter, so it is nice and hot when you are ready to start cooking.
If you let the batter sit for a few minutes, it will thicken up a bit. But don't leave it too long, otherwise, the coconut flour will absorb too much liquid.
Greasing your waffle iron before you start will make the waffles easier to remove.
What to Serve with Keto Waffles
Combined with blueberries and coconut, these keto waffles make for a hearty breakfast. But there are plenty of other topping options.
You can go classic with strawberries and sugar-free whipped cream. Or serve up your keto waffles dessert style with sugar-free chocolate chips and keto chocolate mousse. Or for the best part – why not serve waffles for dinner – topped with crispy keto chicken and low-carb slaw on the side?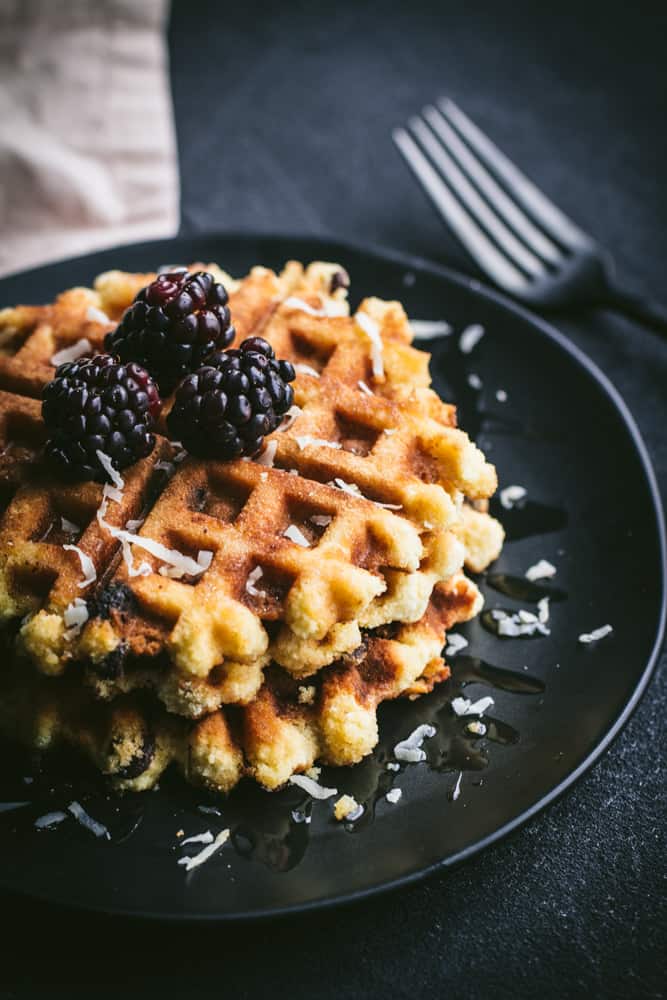 More Keto Recipes to try: