This Keto Teriyaki Salmon Sheet Pan Meal is perfect for a quick and simple weeknight dinner. Broccoli and radishes are paired with wild salmon cooked in a homemade teriyaki sauce.
As a mom of two boys, I don't have a ton of time for lengthy meal prep during the week. I rely heavily on one-pot meals, Instant pot meals, and sheet pan meals.
What Is A Sheet Pan Meal?
A sheet pan meal is a similar concept to a one-pot meal, except you're doing all your cooking on a sheet pan in the oven.
A sheet pan is a wide, shallow baking pan – either made from aluminum or stainless steel. The low sides are important as they encourage airflow and browning.
Sheet pan meals save time and make clean-up a breeze (especially if you line your pan with foil), and don't require any fancy ingredients.
Start with your protein of choice, add vegetables, flavorings, and your fat of choice, then roast until ready.
Wild Versus Farmed Salmon
When it comes to choosing salmon, I prefer to go with wild salmon. Wild salmon refers to salmon caught in natural areas like rivers, lakes, and oceans.
The nutrients found in wild versus farmed salmon differ greatly. According to this article from Healthline: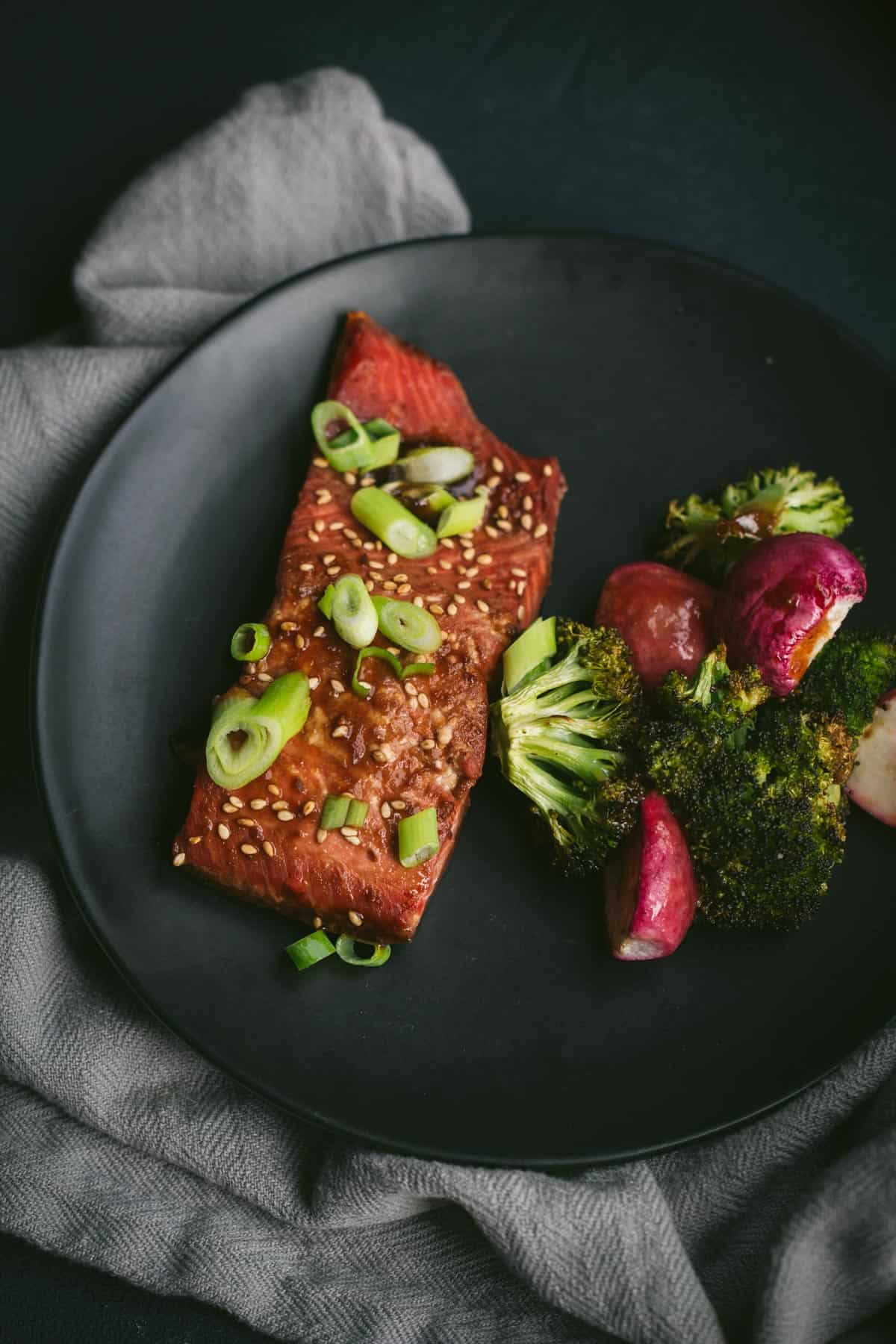 "Farmed salmon is much higher in fat, containing slightly more omega-3s, much more omega-6, and three times the amount of saturated fat. It also has 46% more calories — mostly from fat. Conversely, wild salmon is higher in minerals, including potassium, zinc, and iron."
Farmed salmon also tends to have more contaminants, as well as antibiotics.
For these reasons, I buy wild salmon – it is more expensive, but it is worth it for us.
This recipe can easily be doubled without much effort if you have a larger pan – or you could use two sheet pans.
This salmon sheet pan meal can be eaten on its own, or you could serve it with a side of Cilantro Lime Cauliflower Rice (great for soaking up excess sauce!)
More Keto Recipes to try: