Summer is for Ice Cream. Celebrate the first day of summer with a Keto Chocolate Chip Ice Cream Sandwich!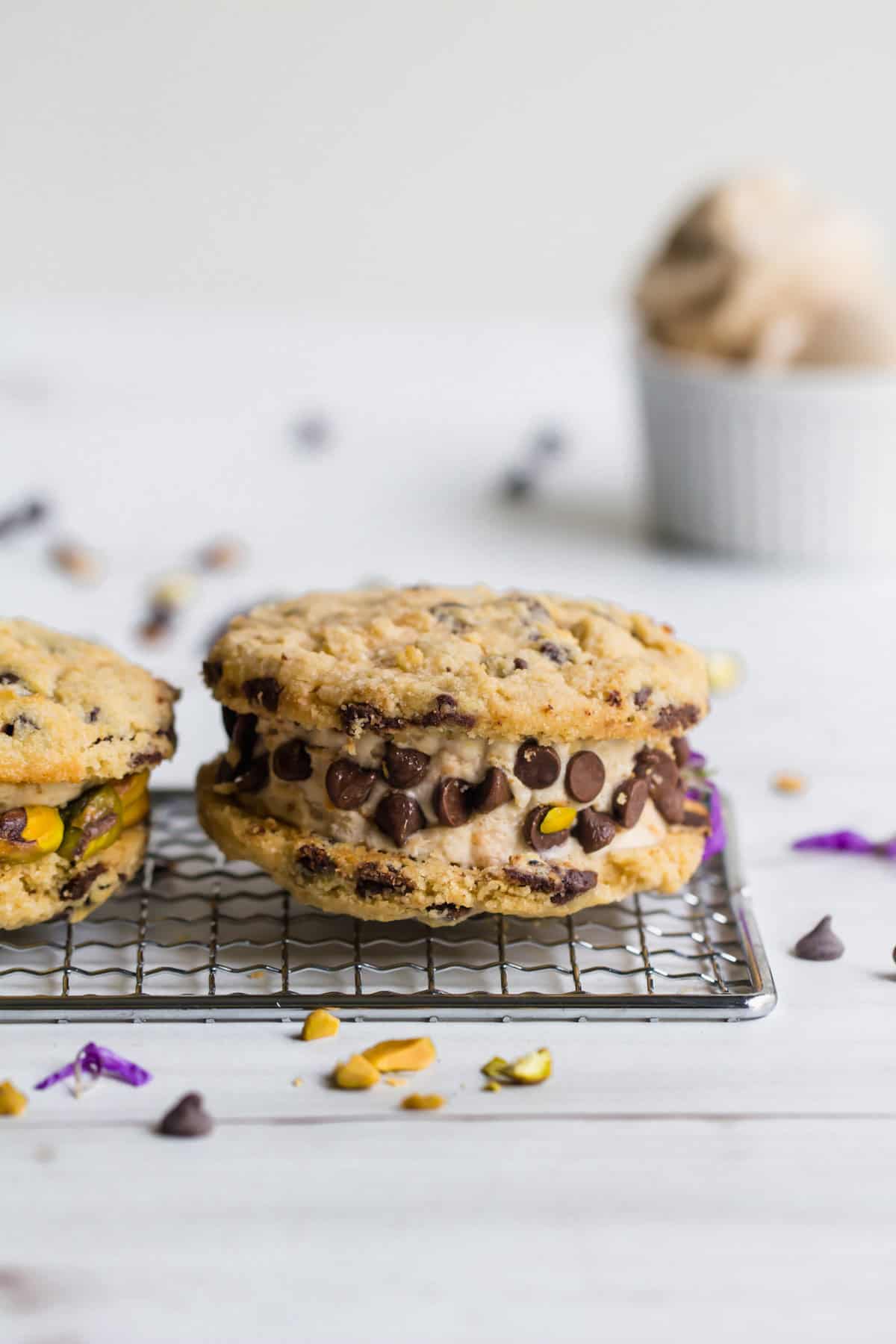 I just Googled "the first day of Summer 2019" and realized that it's tomorrow. Whaaattt? I'm glad I thought about it because I wanted to share this recipe to celebrate the first day of summer. I can't think of a better way to celebrate Summer than Chocolate Chip Ice Cream Sandwiches!!
So, backstory (there's always one). I was never planning on creating a Keto Ice Cream Sandwich.
I was scrolling through my Instagram feed a few weeks ago and I follow @thefeedfeed so their IGTV video came up and they were showing how to make Chocolate Chip Ice Cream Sandwiches.
They looked so good I almost drooled on my phone. It made me want keto Ice Cream Sandwiches so badly but I'm Keto! Then, I realized that I've made Keto Chocolate Chip Cookies before, and Keto Ice Cream exists, so why can't I make a Keto copycat?
I can and I did!! I followed @thefeedfeed's recipe and substituted the non-Keto ingredients such as sugar and flour with almond flour and Keto sweetener.
This recipe is the perfect combination of creamy vanilla ice cream and rich chocolate chips sandwiched between two soft, chewy cookies made with almond flour and erythritol as sweeteners. Not only are they delicious, but they are also keto-friendly and easy to make.
In this blog post, we'll walk you through the simple steps to make these decadent ice cream sandwiches that are sure to satisfy your sweet tooth while still sticking to your low-carb or keto lifestyle
The keto ice cream part was easy because I had a bunch of Rebel and Halo Top keto ice cream in my freezer.
How did they turn out? A-freaking-mazing. OMG!! The cookies are soft and chewy but they don't break apart and they came out nice and big which made hefty sandwiches.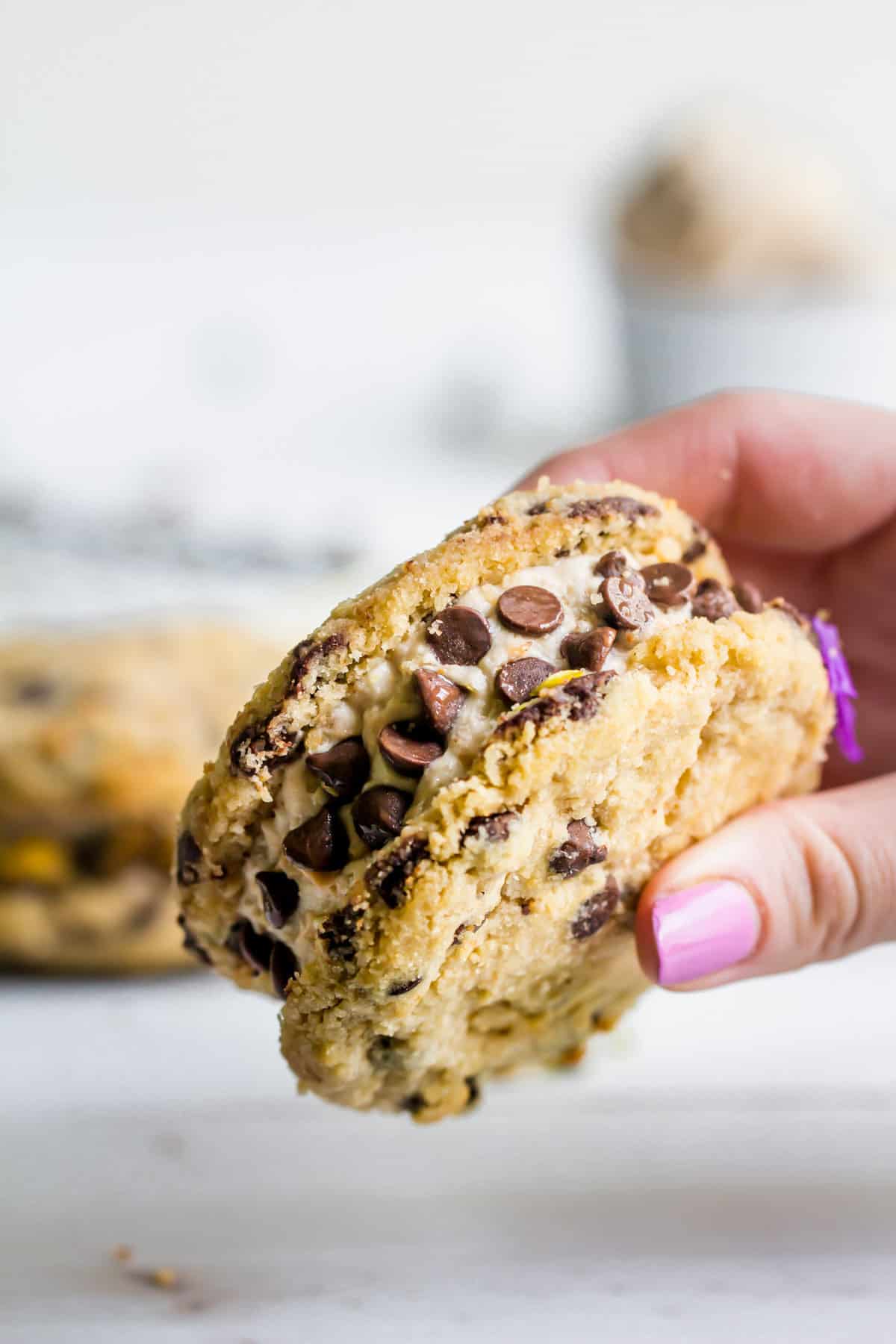 Tips to make Keto Chocolate Chip Ice Cream Sandwiches
Make the cookies big. You'll be tempted to make more cookies for smaller sandwiches but don't do it. reason being, small Keto cookies crumble and break easily.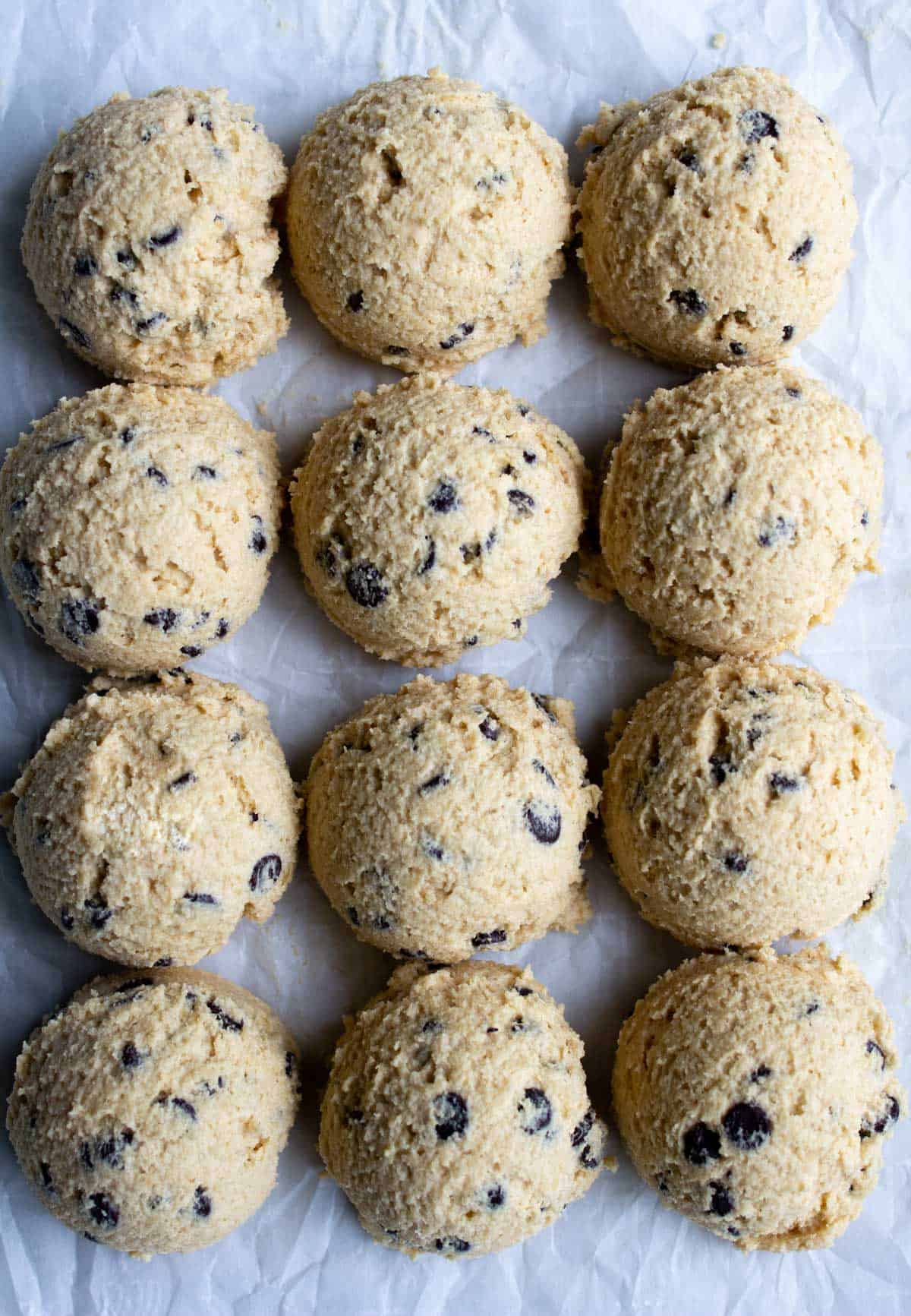 With this recipe, I made 12 giant cookies. I literally used a normal ice cream scoop to scoop out the batter.
Chill the dough for at least 30 min, overnight if you can. This is an important step especially for this recipe because chilling the dough allows the cookies to be chewy and sturdy. If you don't chill the dough, the fat melts quicker resulting in a "pancake cookie". You don't want that.
Cut the ice cream pint into sections using a serrated knife. Using pints is easier because you can cut through the cardboard and get even slices that go directly on the cookie. You can use a cookie cutter to even out the edges and make the keto ice cream slice fit in between the cookies. Do this step fast so the ice cream doesn't melt and as soon as you fill one sandwich, place it back into the freezer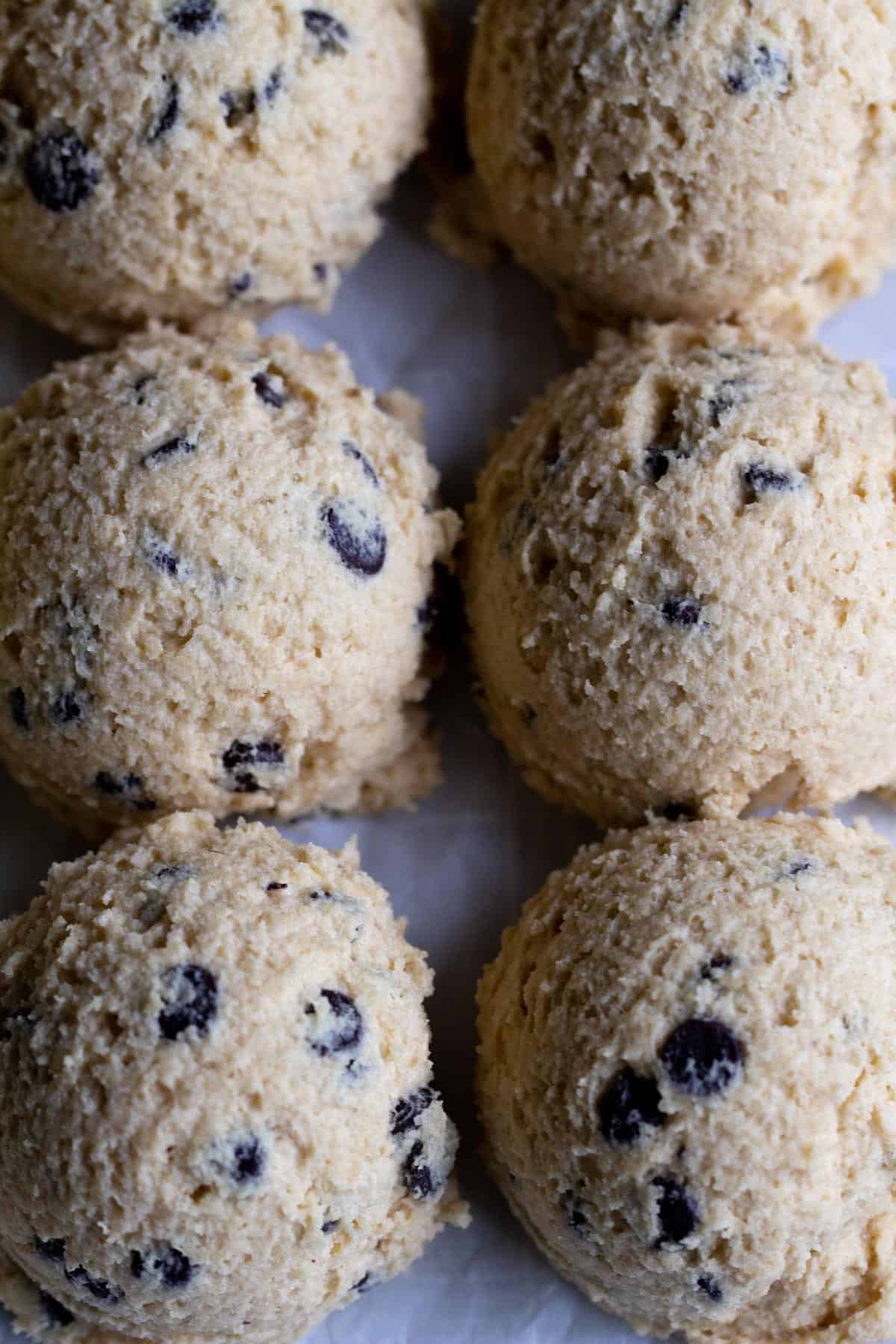 The Nutritional information for this recipe is based on the cookies only. Everyone has their preference for low-carb ice cream so choose your favorite and adjust accordingly!
Each cookie is about 1g NET CARBS
Keto Ice Cream Options:
Halo Top (check the macros, each flavor is different)
Rebel Creamery
Wink
Artic Zero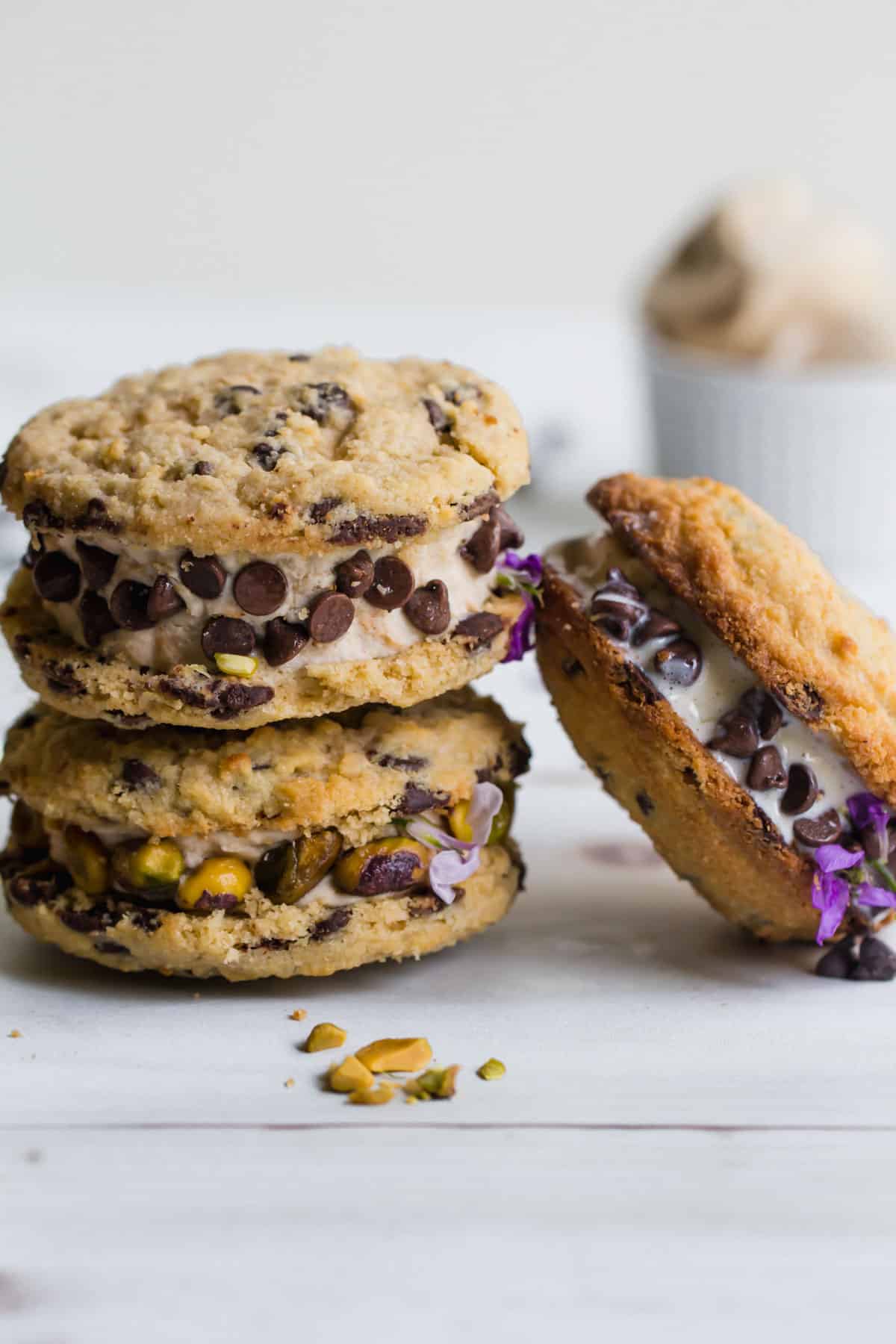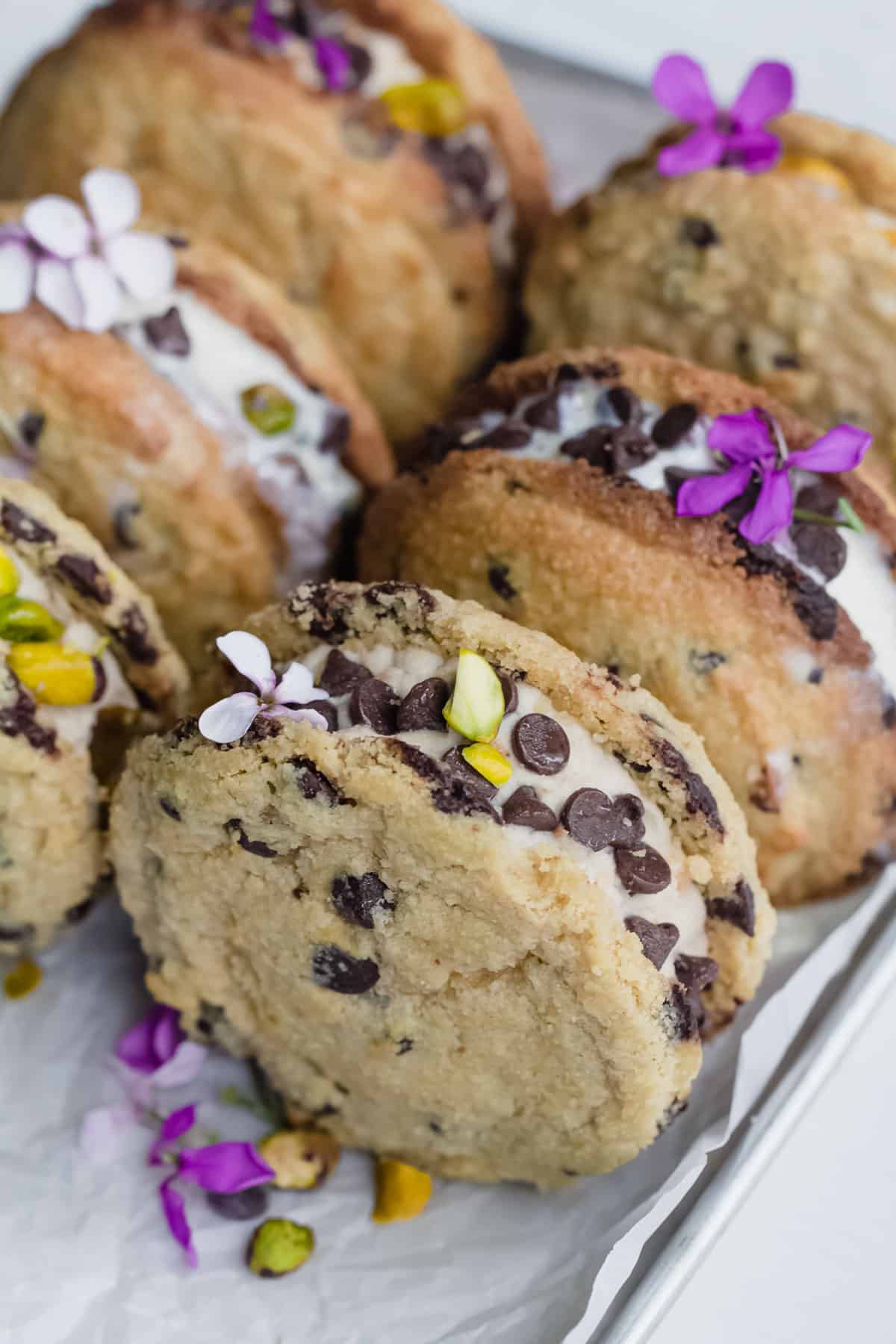 In conclusion, this Keto Chocolate Chip Ice Cream Sandwich recipe is the perfect treat for anyone who wants to indulge in a sweet dessert while still sticking to a low-carb diet. The recipe is easy to follow and requires only a few ingredients, making it an ideal option for a quick and delicious dessert.
Whether you're following a ketogenic diet or just looking for a healthier dessert option, this recipe is sure to satisfy your sweet tooth. So, grab a few ingredients and give it a try – you won't be disappointed!
More Keto Recipes to try: