Take wing night to a different level of flavor with these guilt-free BBQ Bourbon Smoked Wings.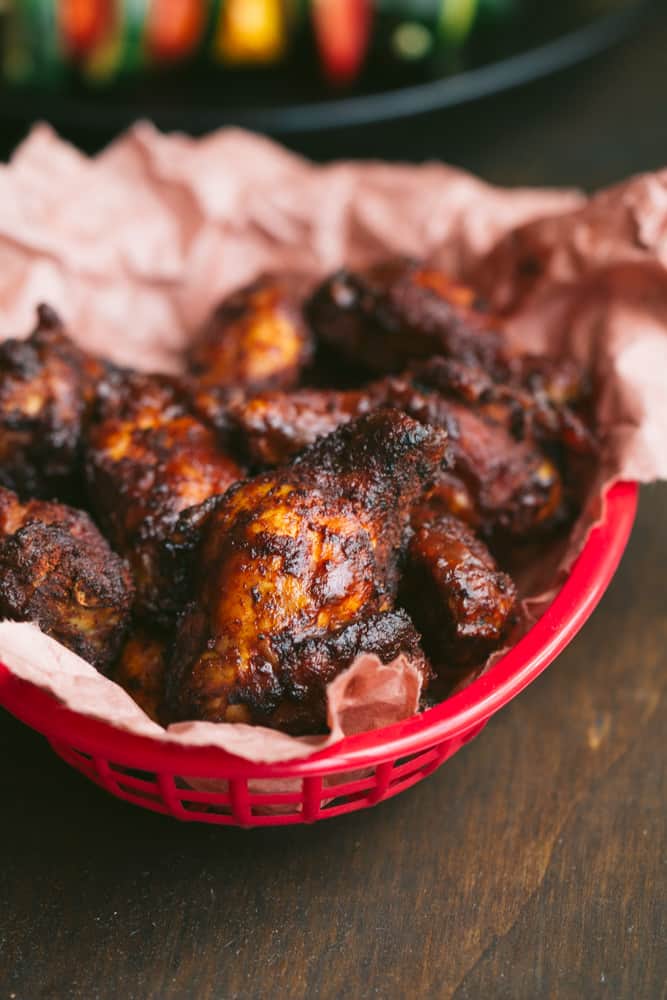 There are many different ways to cook chicken wings, but none of them have the same richness as when you smoke them.
Smoked chicken wings are great for game day or a weekend party – but like with any smoked foods, preplanning is key! Smoking foods takes a while (these BBQ bourbon wings take 2 hours in the smoker) – but it is so worth it!
How to make BBQ Bourbon smoked chicken wings.
The first step when smoking chicken wings is to add a dry rub. I like to use a combination of paprika, salt, chili powder, garlic powder, onion powder, and mustard powder.
The wings will take around 2 hours in the smoker. Use a thermometer to check (you want them to reach an internal temperature of 165 degrees F.)
While the wings are smoking, I prepare the BBQ bourbon sauce. In place of normal brown sugar, I use Lakanto brown sugar to make these are keto (and guilt-free!).
The bourbon adds another layer of smokiness to the sauce.
I like spicy foods, so I use hot sauce in my BBQ bourbon sauce, but you can make the recipe your own – you can add more hot sauce, or omit it entirely.
If you don't have a smoker, you can use your oven and set it to the same temperature – 275 degrees F.
[elementor-template id="5612″]
How do you make smoked chicken skin crispy?
I don't include this in my recipe below as I am happy with the texture of the smoked wings, but I know some prefer to have the skin of the chicken wings crispy.
Two tips I came across were to either increase the smoking temperature to 350 or to put the wings under the broiler for 2-4 minutes before brushing on the sauce.
More Keto Recipes to try: