Take wing night to a different level of flavor with these guilt-free Keto BBQ Bourbon Smoked Wings.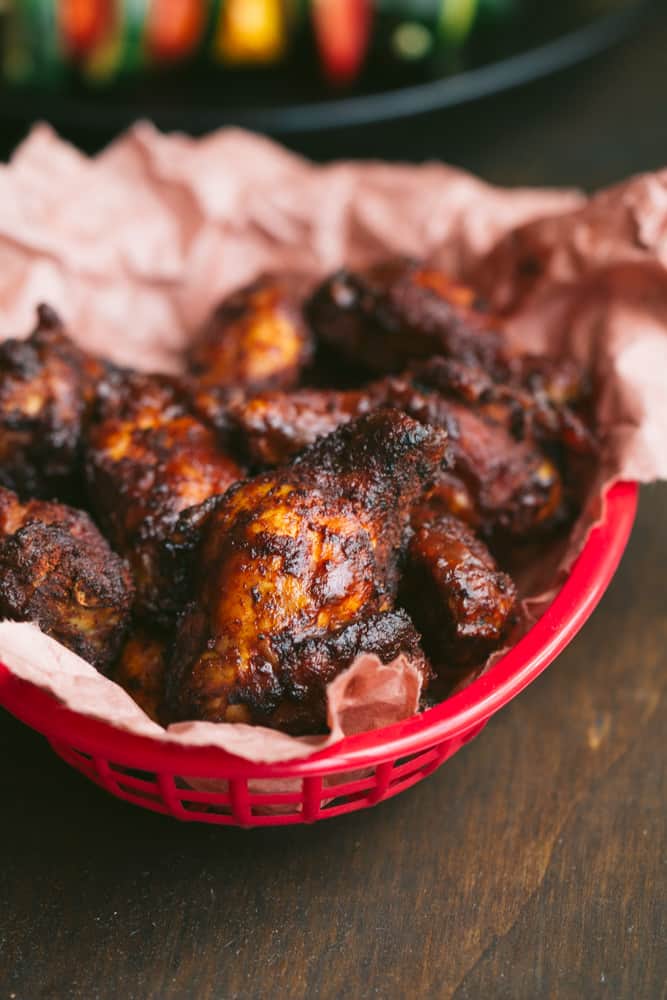 There are many different ways to cook chicken wings, but none of them have the same richness as when you smoke them.
Smoked chicken wings are great for game day or a weekend party – but like with any smoked foods, preplanning is key! Smoking foods takes a while (these BBQ bourbon wings take 2 hours in the smoker) – but it is so worth it!
Smoking chicken is an excellent option for those following a keto diet because it's a great source of protein, healthy fats, and essential nutrients, all while being low in carbs.
When you smoke chicken, you cook it slowly over low heat, which allows the meat to retain its moisture and natural flavors. This method of cooking also results in the chicken being tender and juicy, making it a delicious and satisfying protein source.
Chicken is an excellent source of protein, which is essential for maintaining muscle mass and keeping you feeling full and satisfied. The keto diet is a high-fat, low-carb diet, so it's important to consume sufficient protein to maintain muscle mass while on this diet.
Smoked chicken is an excellent option as it provides a good source of protein while keeping carb intake low. It is also an excellent source of essential nutrients like vitamin B12, vitamin D, and selenium, which are important for overall health and well-being.
Vitamin B12 is essential for healthy nerve and brain function, while vitamin D is important for strong bones and teeth. Selenium is an antioxidant that helps protect cells from damage caused by free radicals.
By incorporating smoked chicken into your meals, you can enjoy delicious, satisfying, and healthy food that fits perfectly into your keto lifestyle.
ingredients you need for bourbon-smoked chicken wings
If you're a fan of smoky, flavorful chicken wings, then you'll love our bourbon-smoked chicken wings recipe. Made with a delicious blend of spices and a touch of bourbon, these wings are perfect for any occasion.
Let's take a closer look at each of these ingredients and how they contribute to the delicious flavor of our bourbon-smoked chicken wings.
for the chicken wings
Here are the simple ingredients you need to prepare the smoked chicken wings:
Chicken Wings: Chicken wings are a great source of protein and are a keto-friendly food. They are high in fat, which makes them perfect for a keto diet. When purchasing chicken wings, look for organic or free-range options for the best quality and health benefits.

Paprika: Paprika is a spice made from ground peppers and is a popular seasoning in many dishes. It adds flavor to the chicken wings and is a keto-friendly ingredient as it is low in carbs and calories.

Salt: Salt is a crucial ingredient in any recipe, as it enhances the flavor of the food. It is also a keto-friendly ingredient, as long as it is not consumed in excess.

Chili Powder: Chili powder is a spice made from ground chili peppers and other spices. It adds a spicy kick to the chicken wings and is low in carbs, making it a great keto-friendly ingredient.

Garlic Powder: Garlic powder is a seasoning made from ground garlic cloves. It adds a delicious garlic flavor to the chicken wings and is low in carbs, making it a great option for a keto-friendly recipe.

Mustard: Mustard is a condiment made from ground mustard seeds, vinegar, and other ingredients. It adds tanginess to the chicken wings and is a keto-friendly ingredient as long as it is free from added sugars. Look for Dijon or stone-ground mustard for the best quality and taste.
for the bbq sauce
Here are the simple ingredients you need to make the bourbon BBQ sauce.
How to make BBQ Bourbon smoked chicken wings
Let me walk you through the steps of making these mouth-watering wings, from marinating the chicken to smoking them to perfection. So, grab your apron and fire up your smoker – it's time to make some delicious BBQ Bourbon smoked chicken wings!
Gather all the ingredients
The first step when smoking chicken wings is to add a dry rub.
Mix the ingredients in a large bowl. I like to use a combination of paprika, salt, chili powder, garlic powder, onion powder, and mustard powder.
Sprinkle rub all over chicken wings
Let them sit while the smoker is getting ready.
Smoke the chicken
Place the wings on the smoker. The wings will take around 2 hours in the smoker. Use a thermometer to check the internal temperature (you want them to reach an internal temperature of 165 degrees F.)
Make the bourbon bbq sauce
While the wings are smoking, I prepare the BBQ bourbon sauce. In place of normal brown sugar, I use Lakanto brown sugar to make this keto (and guilt-free!).
The bourbon adds another layer of smokiness to the sauce.
I like spicy foods, so I use hot sauce in my BBQ bourbon sauce, but you can make the recipe your own – you can add more hot sauce, or omit it entirely.
Melt the butter in a medium saucepan over medium heat. Add in the bbq sauce, brown sugar, hot sauce & bourbon.
Brush the bourbon bbq sauce over the wings
Smoke the chicken for an additional 10 minutes.
If you don't have a smoker, you can use your oven and set it to the same temperature – 275 degrees F.
SERVE and ENJOY
How do you make smoked chicken skin crispy?
I don't include this in my recipe below as I am happy with the texture of the smoked wings, but I know some prefer to have the skin of the chicken wings crispy.
Two tips I came across were to either increase the smoking temperature to 350 or to put the wings under the broiler for 2-4 minutes before brushing on the sauce. These tips can help you achieve crispy skin.
This Keto BBQ Bourbon Smoked Wings recipe is an incredibly delicious and satisfying option for anyone following a keto diet. Smoking the wings adds a depth of flavor that is sure to impress your taste buds while keeping them low-carb and high in protein.
This recipe is also easy to customize, so you can adjust the spice level or add your favorite ingredients to make it your own. Give this recipe a try and enjoy a delicious and keto-friendly twist on classic BBQ chicken wings!
More Keto Recipes to try: