The easiest Clean Keto Balsamic Chicken and Veggies Sheet Pan Meal that's ready in 30 minutes and all cooked on a single pan.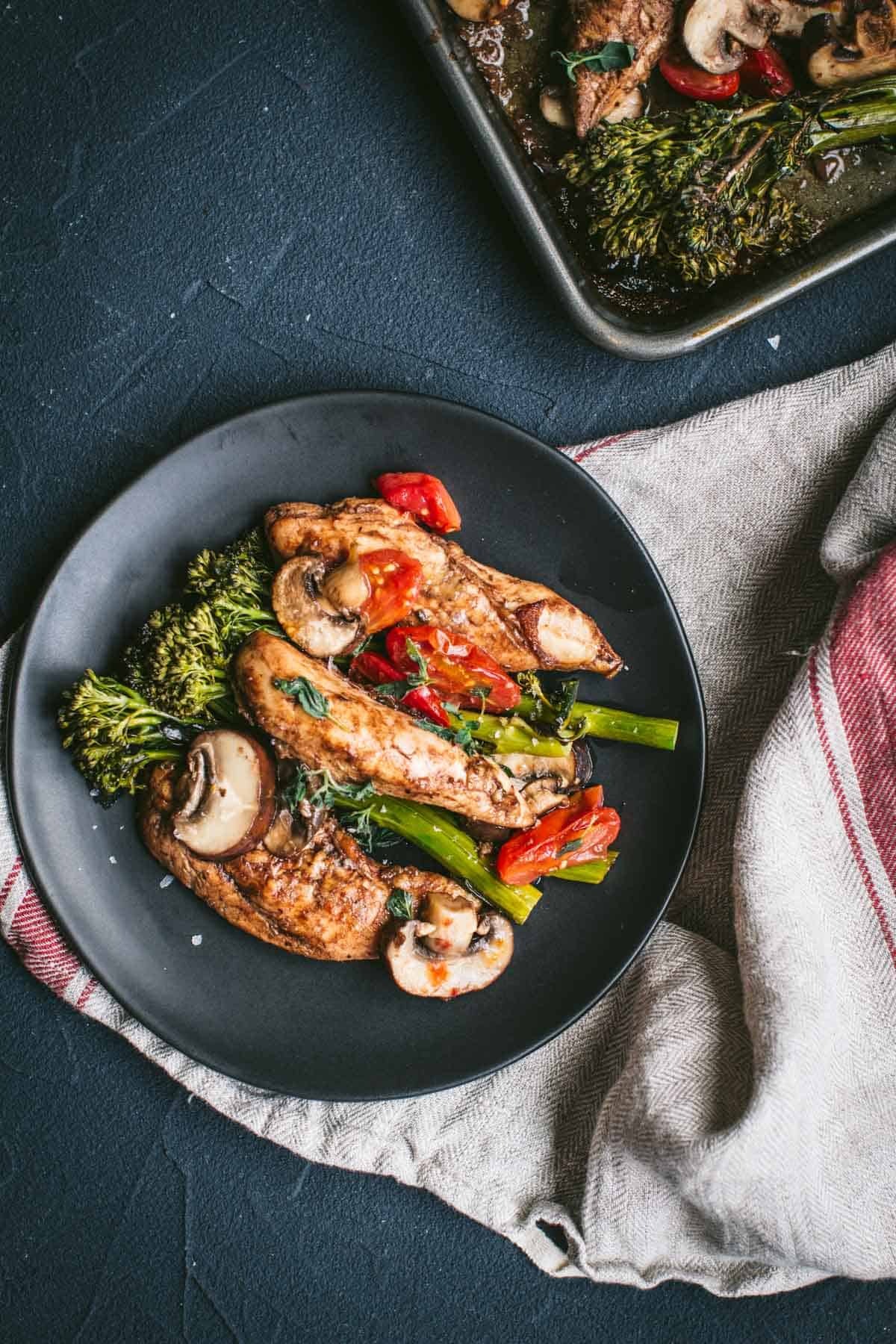 As a busy mom of two girls, I love healthy meals that are easy, quick, and that everyone will enjoy!
One of my go-tos when I'm in a hurry for something delicious and nutritious, is to make a sheet pan dinner. Some of my other sheet pan dinner recipes include Clean Keto Chicken Shawarma Sheet Pan Meal, Keto Teriyaki Salmon Sheet Pan Meal, and if you're not a fan of Balsamic, you can also try out my Italian Chicken and Veggie Sheet Pan Dinner.
One of the great things about sheet pan dinners is that you don't have to even follow a specific recipe. You can use whatever you have on hand. Start with your protein of choice, and add vegetables, flavorings, and fat of your choice. And you have a nutritious – and simple – meal ready to pop in the oven.
The combinations are almost limitless. For this Clean Keto Balsamic Chicken & Veggies Sheet Pan Meal, I used chicken, mushrooms, cherry tomatoes, and broccoli rabe.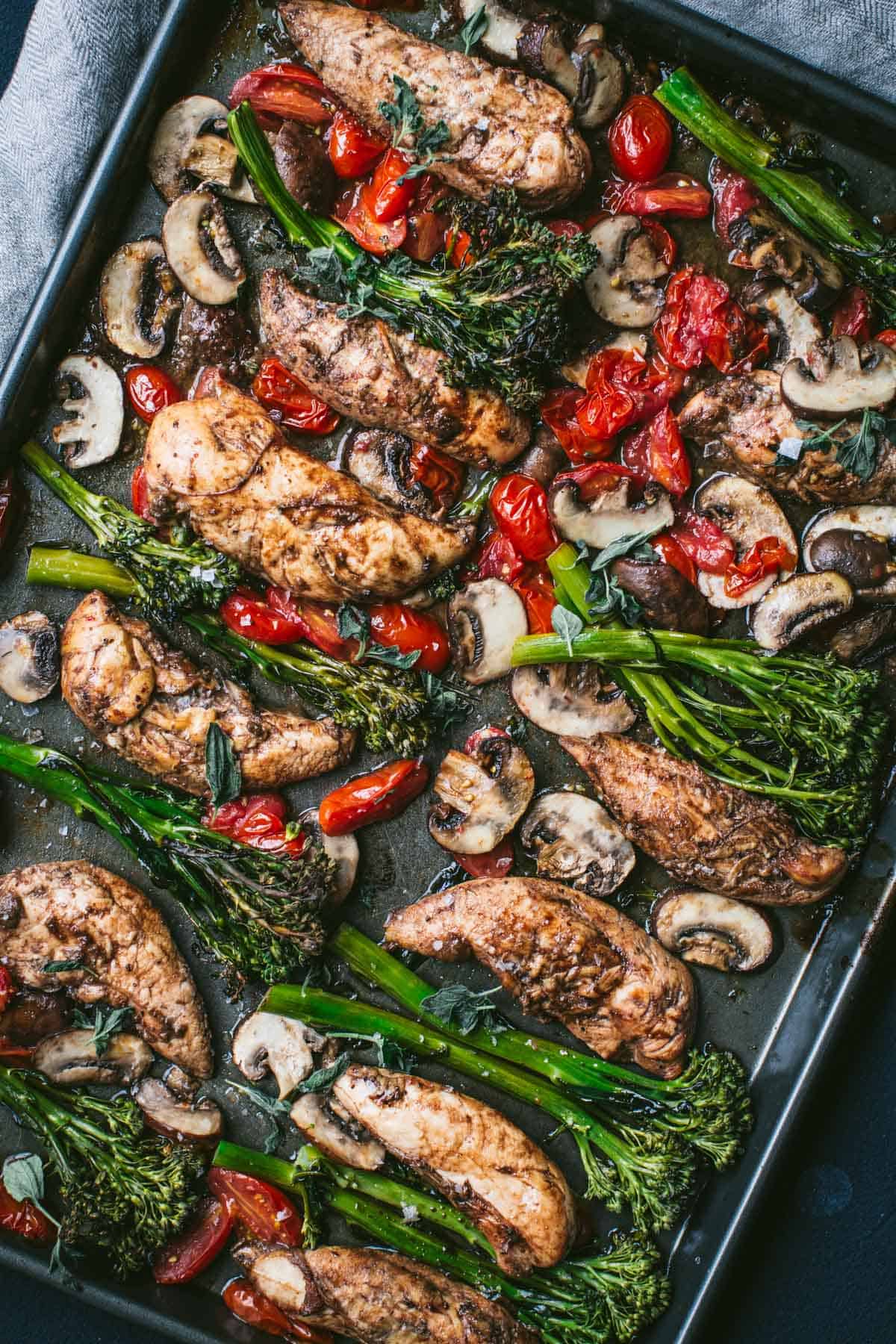 What is Balsamic in Balsamic Chicken & Veggies?
I love Italian flavors – especially balsamic vinegar with its sweet and tangy flavor.
Balsamic vinegar is often used to enhance salad dressings, marinades, and sauces. It can be used as-is or reduced into a glaze. It is a slightly sweet, dark, richly flavored vinegar.
Not all balsamic vinegar is created equal. What you find on most supermarket shelves tends to be the commercial version. It is labeled "balsamic vinegar" or "Aceto balsamico".
It is based on wine vinegar with coloring, thickening agents, and flavoring added so it simulates the flavor and consistency of traditional balsamic vinegar. This is the least expensive option for balsamic vinegar.
The original balsamic vinegar is known as Aceto Balsamico Tradizionale di Modena (or Reggio Emilia). This vinegar is made using the traditional method and is made from only two local grape varieties—Lambrusco and Trebbiano. It must age for a minimum of 12 years.
Want to know more about What is Clean Keto? Check this article!
If you're looking for more keto chicken recipes, try my Keto Roasted Chicken with Lemon and Rosemary.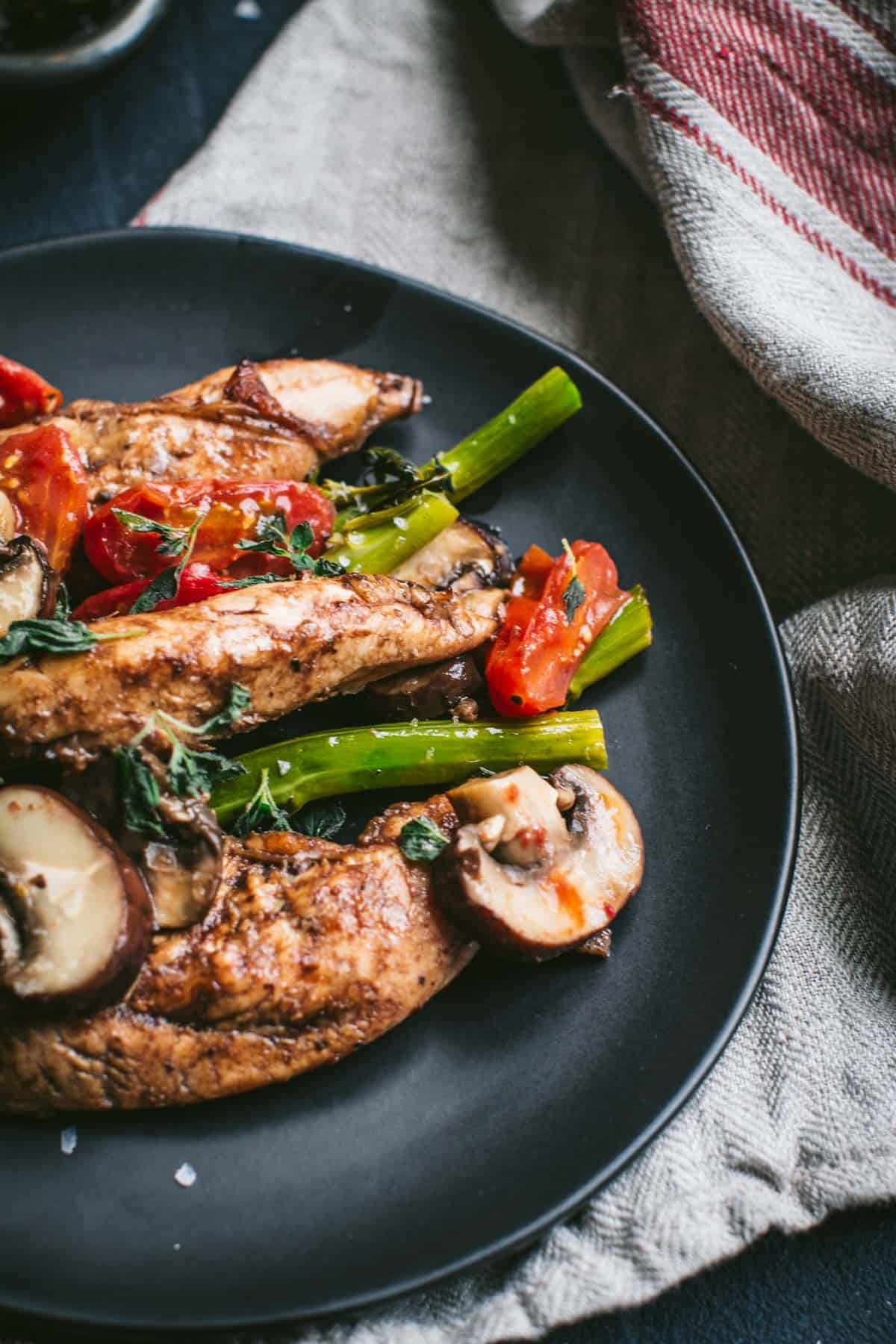 More Keto Recipes to Try: