Get your Mediterranean on with this easy Clean Keto Chicken Shawarma Sheet Pan Meal! These tasty chicken shawarmas use crunchy lettuce leaves instead of pitas – all of the flavor and none of the carbs!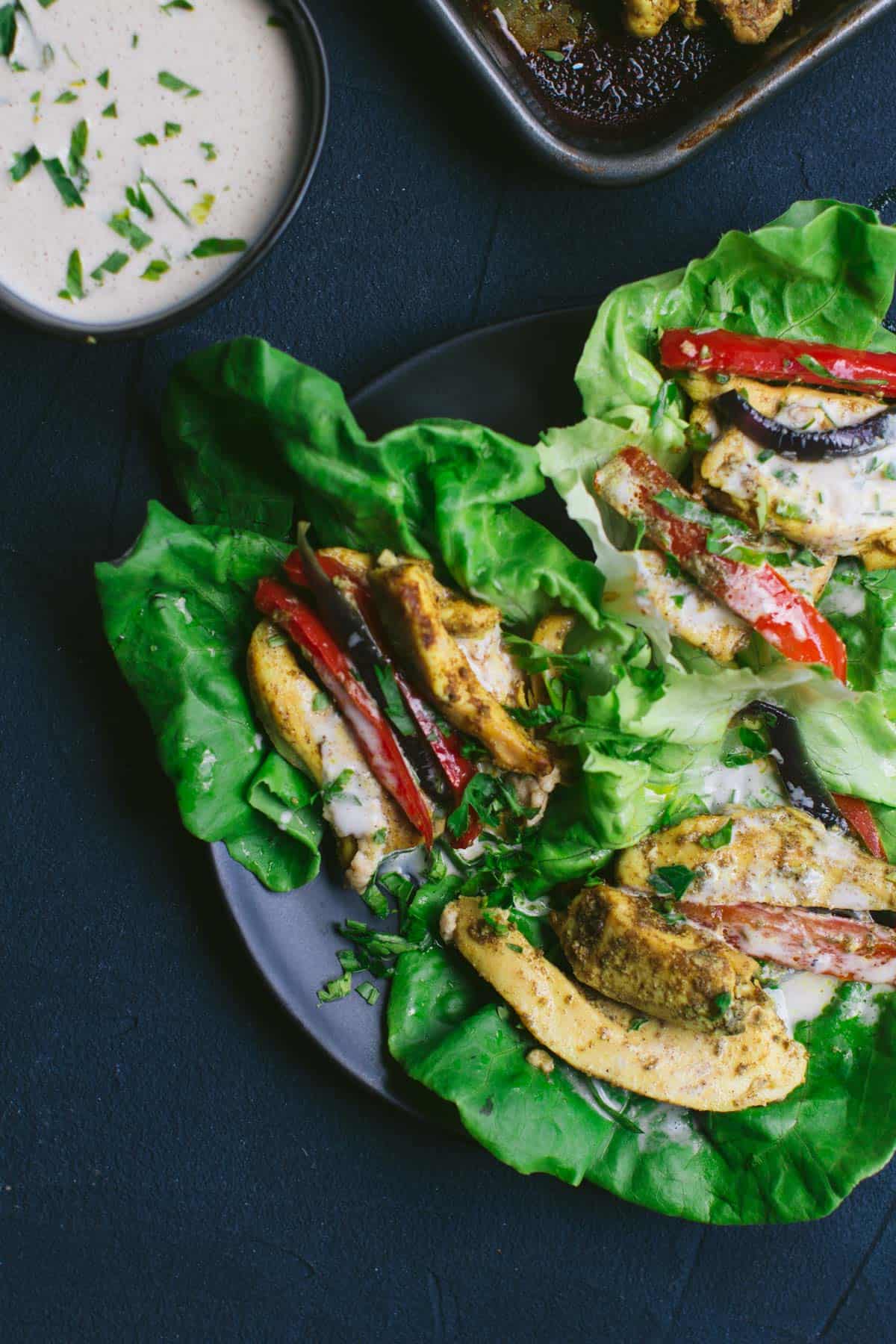 I love shawarmas, but because they are traditionally served in pita bread (and I don't always know exactly what is in the sauce), I haven't had them in ages. I decided it was time to make my own version – one that is low-carb and keto – but still with the same authentic Middle Eastern flavors.
Full disclosure – this isn't authentic Shawarma. Traditionally, shawarmas are cooked on a rotisserie and shaved off to order. But this version is pretty close – especially with the spice mix and tahini sauce.
I've deliberately made this chicken shawarma recipe not spicy – if you prefer yours with a bit of a kick, you can add some cayenne pepper (I recommend starting with half a teaspoon).
Tender chicken tenders
In this chicken shawarma recipe, I use chicken breast as the main ingredient.
Chicken breasts are a great option for those following a keto diet. They have low carb content, high protein content, versatility, and nutrient-rich profile making them a healthy and delicious addition to any keto-friendly meal plan.
A 3-ounce serving of cooked chicken breasts contains only about 1 gram of net carbs, making it a great option for those looking to limit their carb intake. This makes chicken breast a versatile ingredient that can be used in a wide range of keto-friendly recipes.
For this recipe, to ensure your chicken breast doesn't dry out, cut them into equal-sized strips so they all have the same cooking time. To make the chicken strips extra juicy, this recipe also makes use of coconut cream or Greek yogurt in the basting sauce.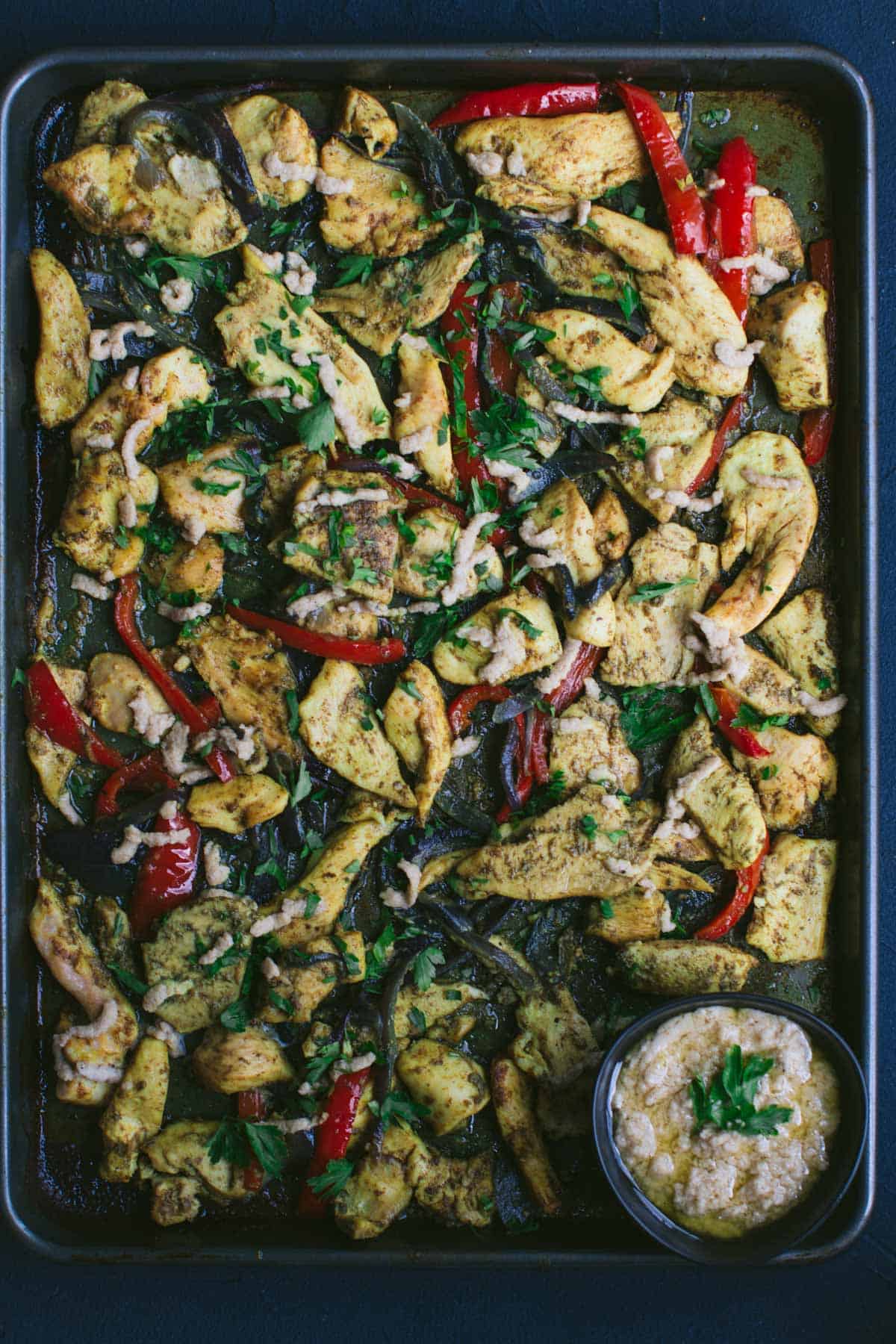 ingredients you need for homemade chicken shawarma
Coconut Cream or Yogurt: The fats in the coconut cream or yogurt will prevent the chicken strips from drying out so they will be perfectly juicy every time.
Coconut cream is a rich, creamy ingredient that is often used in keto recipes as a substitute for dairy-based creams or milk. It is a popular ingredient in many keto-friendly desserts, sauces, and curries, and offers a range of health benefits that make it a great addition to a keto diet.
Yogurt is a fermented dairy product that can be a nutritious addition to a keto diet. While some yogurts can be high in sugar and carbs, there are many low-carb options available that make yogurt a great choice for those on a keto diet.
Cumin: Cumin is a spice commonly used in cooking, particularly in Indian, Middle Eastern, and Mexican cuisines. It has a warm, earthy flavor and is often used in spice blends and rubs for meats
Turmeric: Turmeric is a bright yellow spice commonly used in Indian and Southeast Asian cuisine. It has a warm, slightly bitter flavor.
Cinnamon: Cinnamon is a spice with a sweet, warm flavor that is commonly used in baking and cooking. It is often used in desserts, such as cinnamon rolls and apple pie, but can also be used in savory dishes.
Cinnamon is also believed to have health benefits, such as improving blood sugar control and reducing inflammation.
Salt: Salt is a mineral that is essential to human health and is commonly used as a seasoning in cooking. It enhances the flavor of food and can be used in sweet and savory dishes.
Olive Oil: Olive oil is a popular ingredient in many keto recipes due to its high-fat content, low-carb content, and health benefits. It is a great source of monounsaturated fats, which can help support heart health and is also rich in antioxidants and anti-inflammatory compounds.
Fresh Veggies: I also add fresh veggies to this recipe like red onions and red pepper.
HOW to cook the chicken shawarma
This chicken shawarma recipe is cooked in the oven. While preparing the chicken, preheat the oven to 350°F and gather all the ingredients.
Slice the chicken into strips and place it in a large bowl. Add the coconut cream, cumin, cinnamon, turmeric, and salt. Toss well to combine. Set aside to marinate the chicken.
I Slice the red onions and red pepper into thin strips.
Grease the baking sheet with 2 tbsp olive oil and add the peppers, red onions, and marinated chicken. Bake for 20 minutes.
How to make the tahini sauce
Tahini – liquid gold
If I am being honest, tahini is probably my favorite part about shawarmas! I could eat it on almost anything – that's why I have come up with my own special recipe which I am going to share with you. Zesty. Creamy. Garlicky. Perfect.
Tahini sauce is a popular Middle Eastern condiment made from tahini, a paste made from ground sesame seeds. It has a nutty and slightly bitter flavor and a creamy, smooth texture.
It is a versatile condiment that can be used in a variety of dishes. It is commonly served as a dipping sauce for falafel, shawarma, or grilled meats. It can also be used as a dressing for salads or as a spread on sandwiches and wraps.
In addition, it is also packed with nutrients. It is a great source of healthy fats, protein, and fiber, as well as vitamins and minerals like calcium, iron, and magnesium.
To make the sauce for this chicken shawarma recipe, in a small bowl simply combine tahini paste, water, lemon juice, garlic, and olive oil. You can make the sauce while the chicken is baking.
Make sure to use fresh lemon juice for a zesty flavor.
What to serve with homemade chicken shawarma
I serve my chicken shawarma in Boston Bibb lettuce leaves instead of a pita, to make it keto-friendly and low-carb. I recommend Boston Bibb lettuce because its cupped leaves hold the chicken shawarma mixture well.
Boston Bibb lettuce, also known as Butterhead lettuce, is a popular salad green that is rich in nutrients and low in carbohydrates, making it an excellent choice for a keto diet.
A single cup of shredded Boston Bibb lettuce contains only about 1 gram of net carbs, which is the total carbs minus the fiber. This makes it a great option for those following a keto diet, as it allows for the consumption of nutrient-dense greens while still maintaining a low-carb intake.
Another benefit of Boston Bibb lettuce is its high fiber content. Fiber is important for digestive health and can help keep you feeling full and satisfied, which can be particularly beneficial for those on a low-carb diet.
A cup of shredded Boston Bibb lettuce contains about 1 gram of fiber, which may not seem like much, but can add up quickly when combined with other fiber-rich foods.
Boston Bibb lettuce is also rich in vitamins and minerals. It is particularly high in vitamin K, which is important for bone health and blood clotting, as well as vitamin A, which is important for eye health and immune function.
It also contains smaller amounts of other vitamins and minerals, such as folate, iron, and potassium. So, if you're looking for a delicious and healthy way to boost your keto diet, consider adding Boston Bibb lettuce to your meals like this chicken shawarma recipe.
Benefits of eating clean keto
Clean keto recipes prioritize whole, minimally processed foods and ingredients that are low in carbs and high in healthy fats.
This Chicken Shawarma Sheet Pan Meal is one of my clean keto recipes that offer a number of potential health benefits.
Here are the potential benefits of eating clean keto:
It's important to note that while clean keto can be a healthy way of eating, it's not right for everyone. Those with certain medical conditions or nutritional needs should consult a healthcare professional before starting any new diet.
Want to learn more about Clean Keto Diet? Check out my post to help you understand the Clean Keto Way of Eating and learn why it helps you lose weight faster.
Click here.
Are you looking for Clean Keto Lunch Recipes? I've got you! Check the out here.
Overall, this chicken Shawarma is absolutely delicious and super tasty. This homemade version is a nutritious way to satisfy your cravings while staying on track with your ketogenic diet.
Do you also make chicken shawarma at home?
Looking for more sheet pan easy recipes? Check out my Keto Teriyaki Salmon Sheet Pan Meal, Italian Chicken and Veggie Sheet Pan Dinner, and Clean Keto Lemon Garlic Shrimp and Asparagus.
These are flavorful recipes that are super easy to make and your whole family will enjoy them. Pick one for a delicious dinner tonight.
More articles about Keto Diet: