These Salted Fudge Fat Bombs are so easy to make, plus they are Clean Keto approved!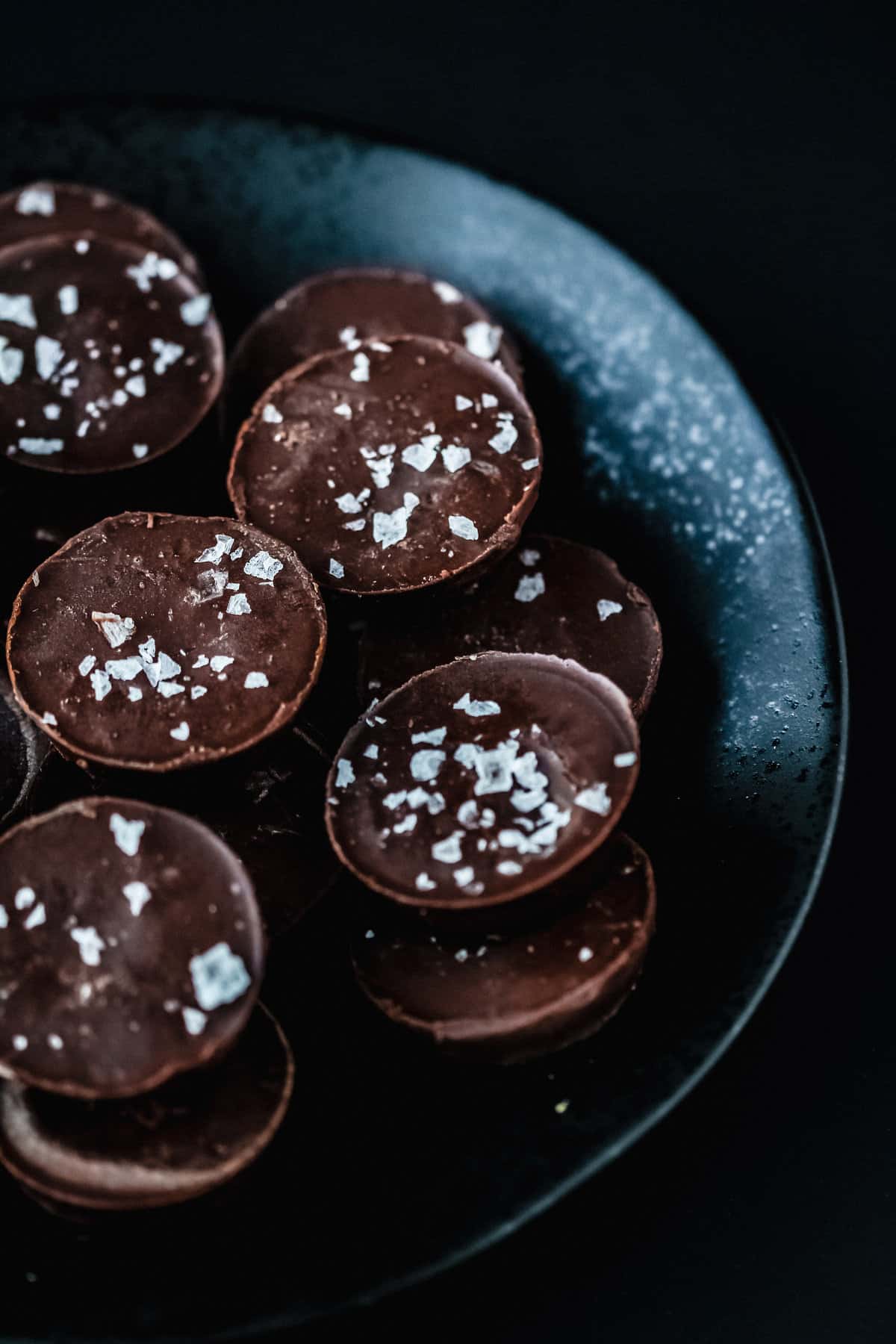 I have never been so excited about a recipe in my life. As I am typing right now I am giddy like a little girl who just got her first baby doll.
Why? Because I developed a salted fudge fat bomb recipe that is amazing and 100% CLEAN.
Since it's January, I decided it was time for a reset and to go back to eating Clean Keto. What is Clean Keto?
I wrote an entire post about it HERE.
Anyways, with Clean Keto, sweeteners, dairy and desserts are off-limits. I am only doing this challenge for 30-days and if you are interested in joining me, I made a Free Meal Plan and Grocery List that you can get Here.
To get back on track, I can't have any desserts, use sweeteners or dairy and I am ok with that.
However, there are still times when I want something "sweet". It's a mental thing more than anything.
Fat bombs are a great way to get good fats and energy but the problem is, every single recipe I have ever seen on Fat Bombs has some kind of sweetener in them!
This brings me to the secret ingredient that I discovered recently; Coconut Manna. I don't know why in the last 3 years of following Keto I haven't tried this stuff yet.
Ok, maybe I do. I am sure I have seen it, looked at the price, and figured it was just like coconut oil and not worth it since I buy coconut oil in gallons.
Boy, was I wrong! I finally decided to order some from Thrive Market because my dear friend Leili told me she has a spoonful anytime she craves something sweet.
I thought, it must be sweet or at least taste good if she eats a spoonful of it.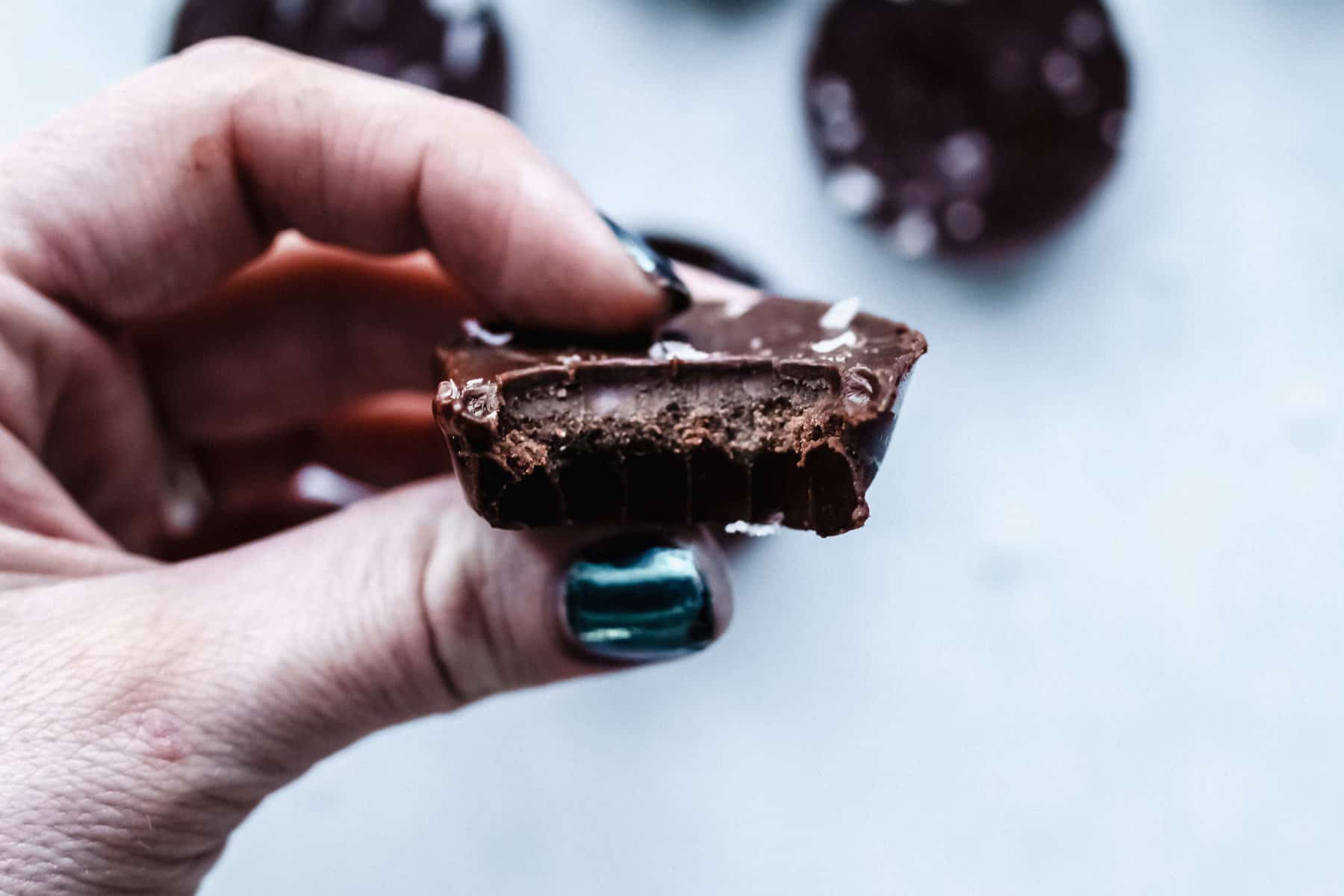 The Coconut Manna came, and it was pretty solid because it's winter here in Ohio. I put the jar in a bowl of hot water and then mixed it all up when it melted. Part of it is pure coconut oil and the other part is the "coconut butter".
The ingredients say "Coconut Puree". That is all. It can't get any clearer than that.
I tasted it and OMG! It is AMAZING. Where has this been all my life?!!! Why haven't I tried this sooner?
It was sweet and smooth and coconut-y. I am obsessed with coconut in general, so you can only imagine how excited I was.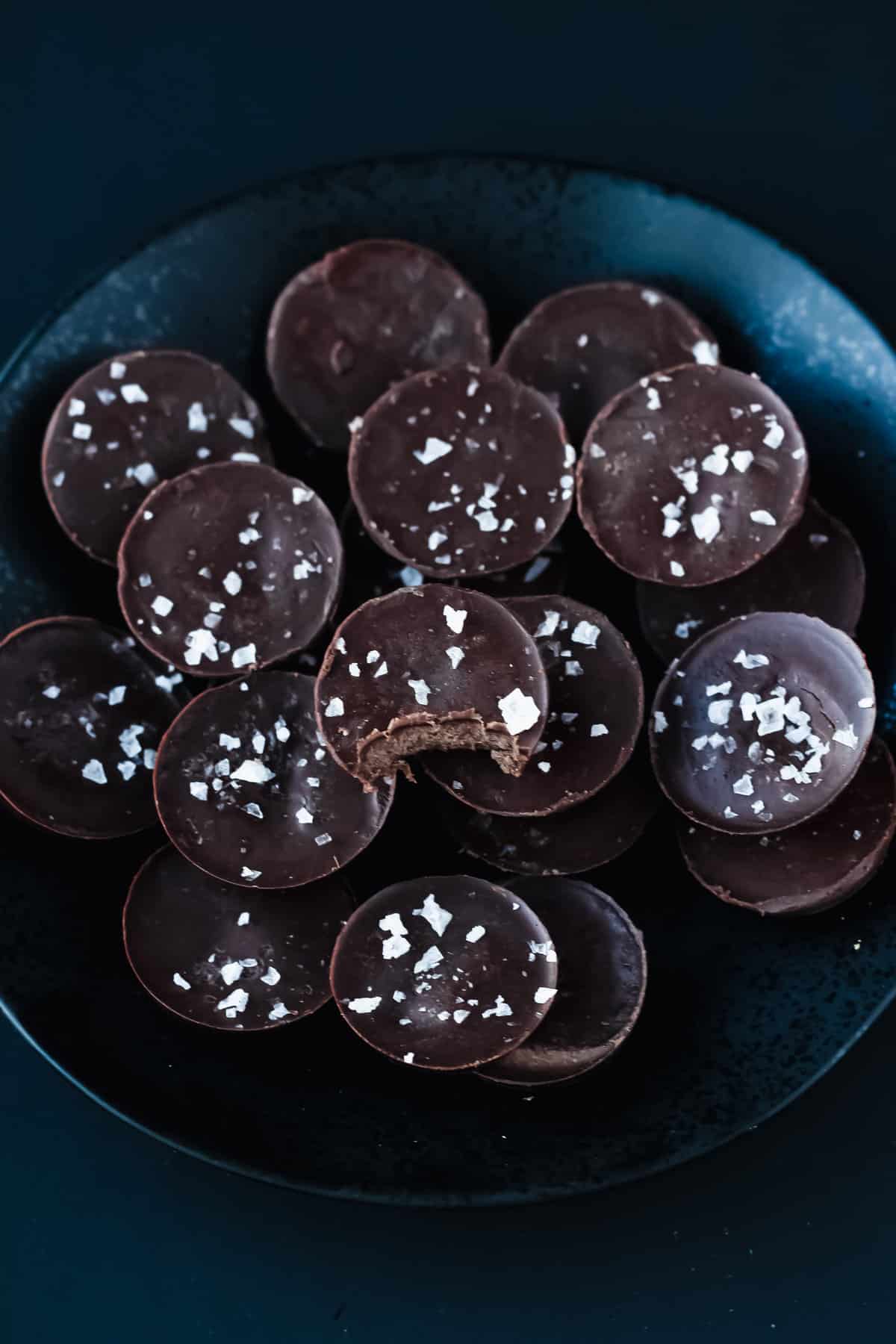 Then, I thought to myself, if this tastes sweet, why can't I combine it with some other Clean Keto ingredients such as cocoa powder, almond butter, and coconut oil and make a salted fudge fat bomb?
I immediately started the burner and got to work. I started getting so excited, thinking if this taste good then I can have a Keto treat for this challenge and not feel bad about it.
These salted fudge fat bombs are ridiculously easy to make. All you do is combine all of the ingredients in a saucepan.
When they are all melted together, you pour the liquid into a fat bomb mold and place it into the freezer for 10-15 minutes,
Then, you take them out, top them with flaky salt, and put them back in the freezer for 30-45 minutes or until they harden.
Adding the flaky salt makes them taste sweeter and elevates them so much more.
Plus, salt is an electrolyte which is always a bonus when you are doing Keto.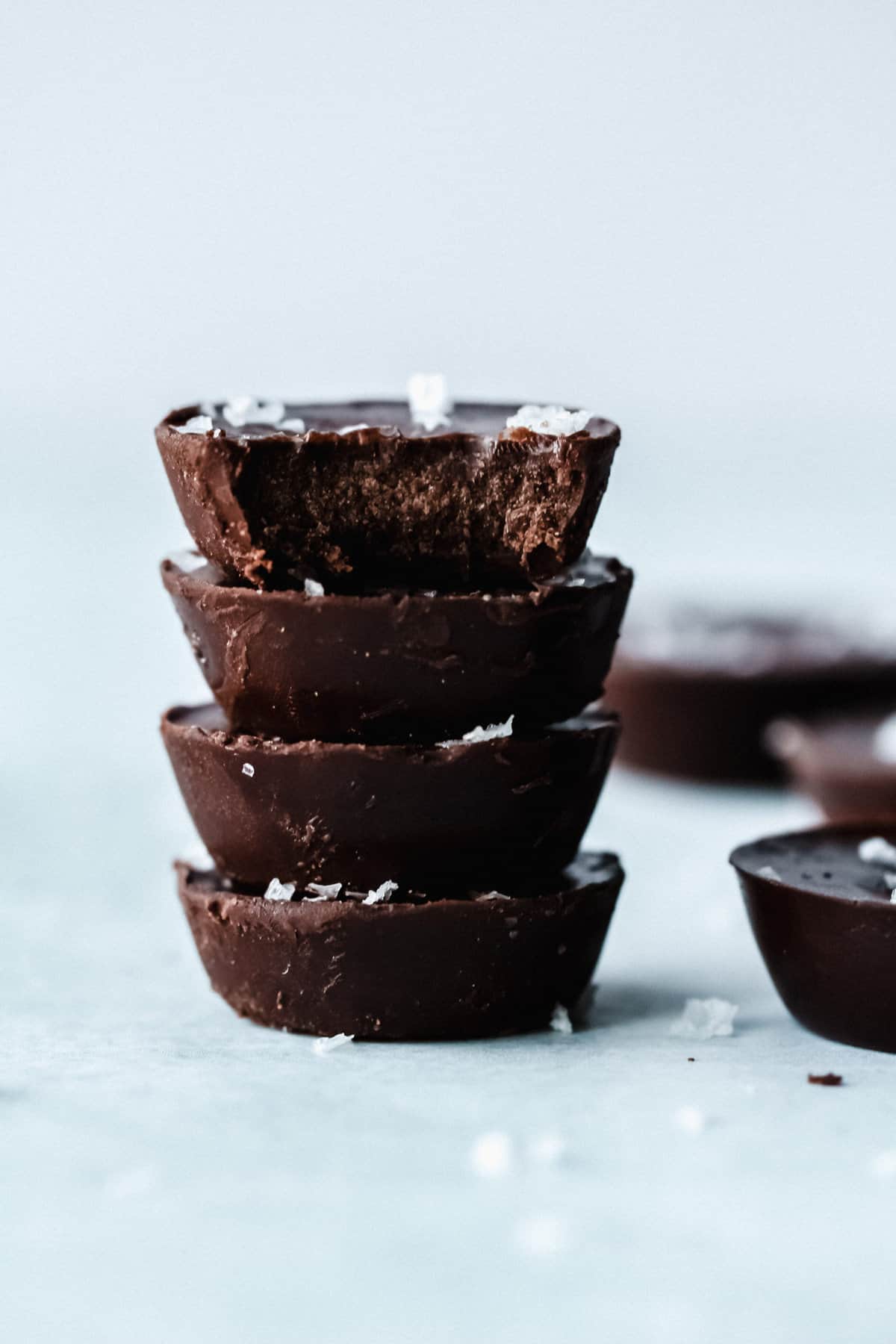 Let's talk about why these are the BEST salted fudge fat bombs ever:
They are gluten-free– I used coconut oil to give them a fudgy texture
They are dairy free- No need for butter or heavy cream in these
They are free from sweeteners– This is a BIG deal. Almost every fat bomb recipe out there has some kind of sweetener in them. Sweeteners can cause inflammation, give you digestive issues and can cause you to hit a weight loss stall. Not to mention, they can trigger cravings for sugar
They are vegan- Yay! send this recipe to your Vegan friends!
They give you instant energy– Pop one of these bad boys in and you'll be ready for anything. Seriously though, the MCT's from the coconut oil gave me so much energy, I wanted to go make 10 batches right there and then and pass them around to my neighbors. ( I am that crazy though)
Salted Fudge– Do I even need an explanation for this one?
Most likely, you get the point and are as excited about how to make these as I am about making more.
Especially if you are doing the 30-day Clean Keto challenge with me.
A couple of things to note. You will need to buy flaky salt if you want these to turn out the way they are supposed to.
You can get away with using Sea Salt if you grind it really thick but flaky salt is optimal.
Make sure that the almond butter you chose is clean and contains only almonds and not any added sugar. The same goes for cocoa powder.
Ok, let's get to the recipe already shall we?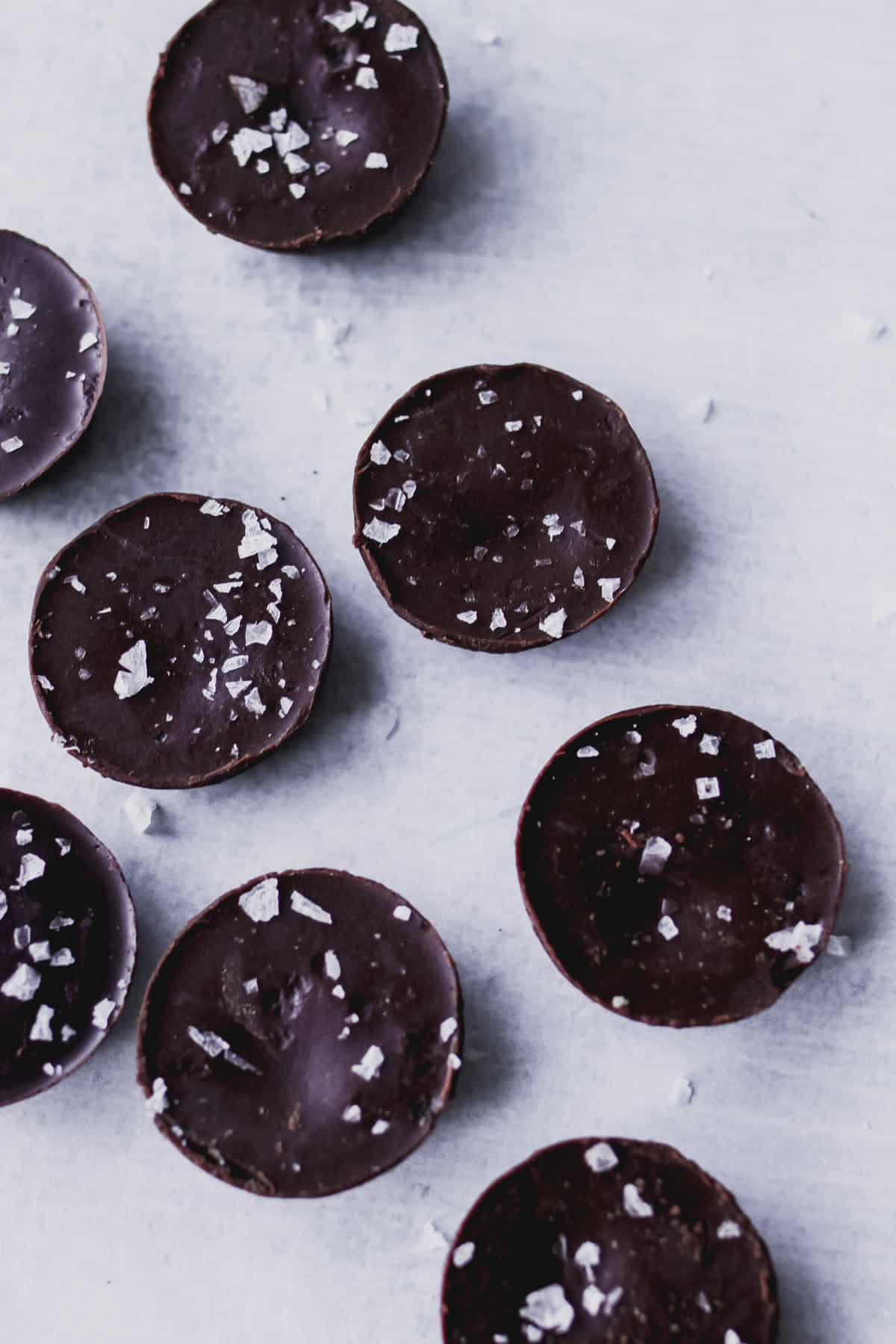 Looking for more fat bomb recipes? Try my Maple Pecan Fat-Bombs.
This post contains an affiliate link in which if a purchase is made I receive a commission at no additional cost to you. Thank you for your support.
More Keto Recipes to try: