This low-carb pecan stuffing uses Keto Cornbread, apples, and pecans to make a perfect dressing for your roast.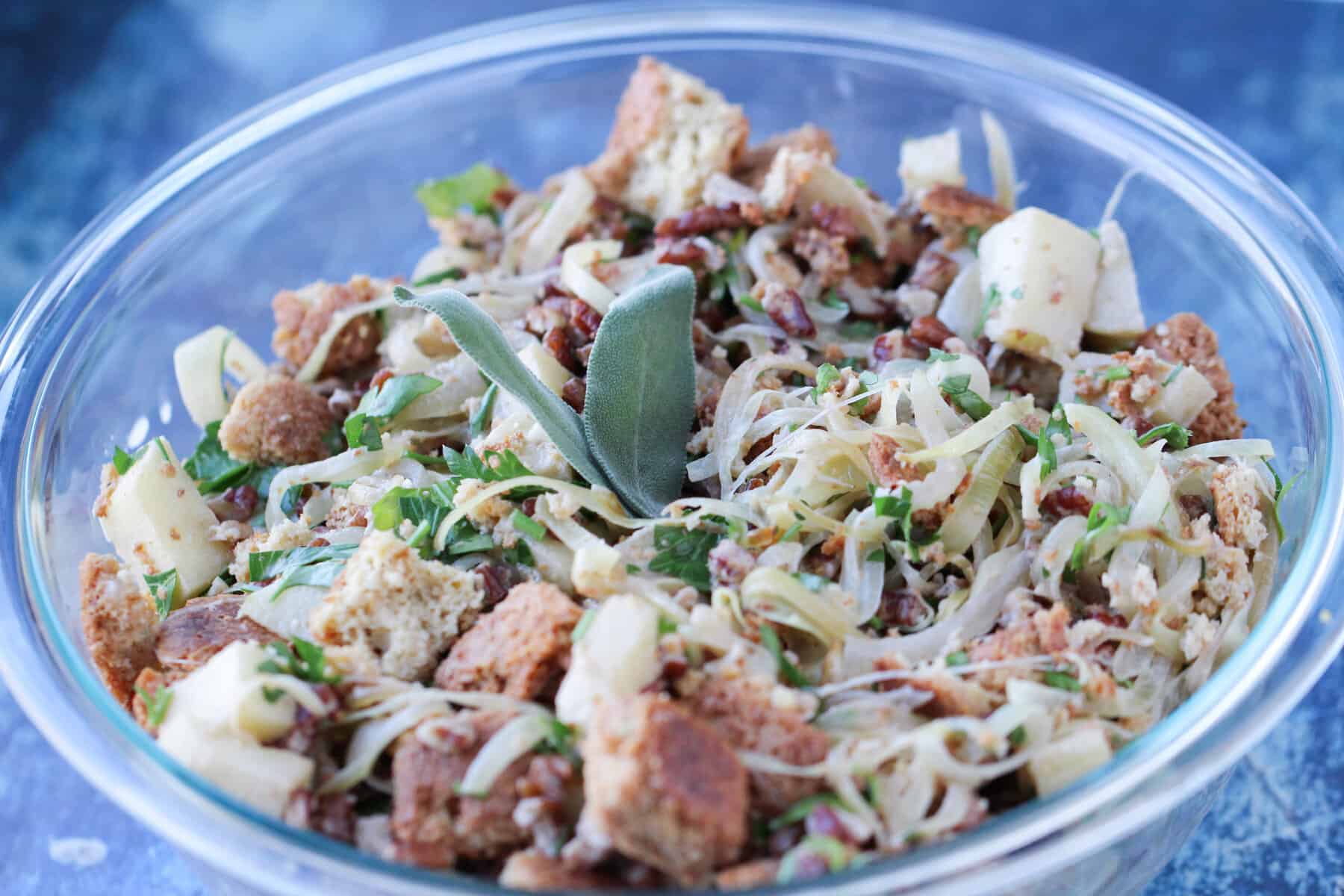 So I am going, to be honest with you. I never really cared for stuffing. Growing up, my mom never made it and I never really knew what it was until high school probably. Sad, but true. I was very uncultured as a child.
In a Ukrainian household, we would never "stuff our turkey" and we didn't make the traditional Holiday foods that Americans make. Mainly because we didn't know what they were.
To this day I am still not a fan of stuffing. When I got married, things changed. My husband is as American as they come. He is all about all the traditions and stuffing is one of them. He had asked for stuffing last year during Thanksgiving so I made Anthony Bourdain (RIP) Chesnut mushroom stuffing. It was really tasty, however, I could go without it.
This year, for our Keto Christmas Dinner party, the Smoked Pork Crown Roast had an Apple Pecan Stuffing that was supposed to go with it. I was going to skip it, however, I wanted it to be authentic and decided to just run with it.
Now, I know apples aren't technically a Keto food, that is why I am calling this recipe Low carb stuffing and not Keto stuffing. The only other thing I had to substitute was the bread. I am not very good at developing my own Keto baking recipes yet so I used Cast Iron Keto's cornbread recipe for the bread substitute.
The result? It was really good!! For someone who doesn't like stuffing in general, I thought it was delicious.
If you love stuffing and are following a low-carb diet, this is probably going to be your favorite stuffing recipe, if you aren't afraid of a little apple. It had a great combination of flavor and texture.
If you have a favorite Keto bread recipe that you've already found and always make, feel free to use that instead!
Now to the recipe.
'Want to see the rest of my Keto Christmas Recipes? You can find them HERE.'Want to see the rest of my Keto Christmas Recipes? You can find them HERE.
More Keto Recipes to try: