This Keto Lemon Poppy Seed Cake is citrisy and refreshing and perfect for spring!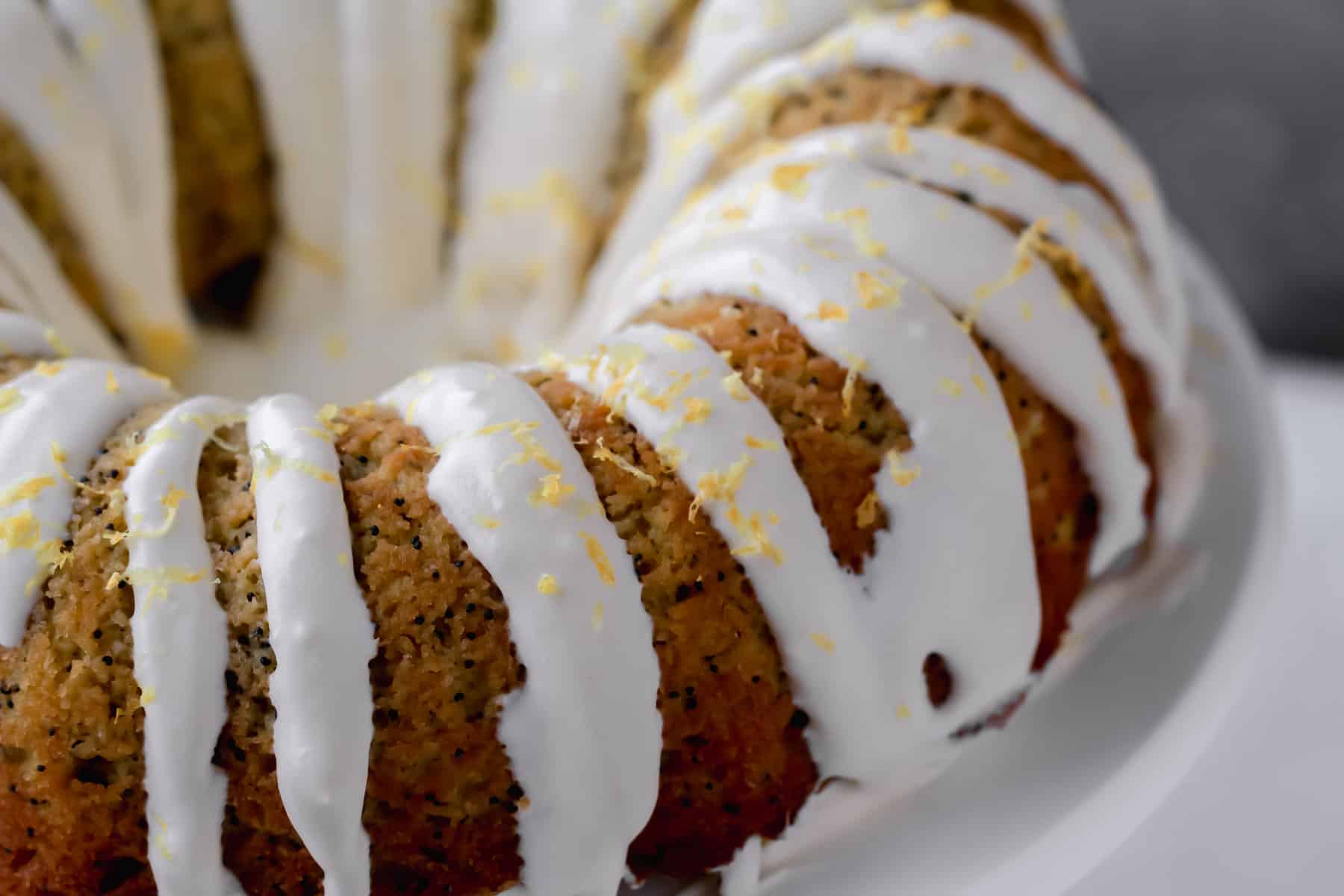 It's supposed to be Spring; April is tomorrow, but I am staring out of the window, and all I see is snow. Lots of it.
I spent the weekend in Ohio to get a little reprieve from motherhood, and last night it snowed like 6 inches. It's insane. The weather in Ohio is so bipolar, but eventually, Spring will be here, and I will greet it warmly with this Keto Lemon Poppy Seed Cake.
I love lemon flavor desserts. If you haven't made my Coconut Lemon Zucchini Cake, you should try that one too, it's AMAZING. The citrusy and sweet together is such a great combination, and it reminds me of all things warm.
Poppy seeds, on the other hand, remind me of my childhood. Growing up in a European household, we would always have poppyseed rolls. I remember I would always eat the inside and leave the crust. What is with that?
Now my daughter does that all the time, and it makes me so mad. Oftentimes, the crust is the best part!!
Anyways, this lemon flavor poppy seed cake is great when you are looking for something refreshing and sweet that is easy to make.
What kind of flour can I use for Lemon Poppy Seed Cake?
I used both Almond flour and Coconut flour but mostly almond. Coconut flour makes baked goods more "cake like" but it doesn't hold together as well as almond flour. If you want your cake to be more "cakey" you can add more coconut flour.
How thick or thin should the batter be?
You should be able to pour the batter into the bundt pan, but it shouldn't be pancake batter thin. If it's too thick you can add in more coconut milk and if it's too thin, add more flour.
Where can I get poppy seeds?
Poppyseeds are usually in the spices and seasonings aisle in the store. Also, you can check the baking aisle, and of course, you can get them on Amazon.
Can I use almond milk or heavy cream instead of coconut milk?
Yes, you can substitute the exact amount of coconut milk with almond milk. If you want to use heavy cream, I would only use half of the amount and you can add water if your batter is too thick.
It goes great with a cup of coffee or a glass of rosé too!! Invite some friends over, chill a bottle, and enjoy!
More Keto Recipes to Try: