Simple and delish, Harissa Salmon with Kale is a dinner win-win.
I used to be so nervous to cook fish – especially salmon! I was always worried I would overcook it, and it would end up rubbery and tasteless. And it's not like salmon is cheap! I didn't want to risk wasting food.
It turns out – I had nothing to worry about. Salmon is so easy to cook – whether baking or frying.
Fish and shellfish, in general,l are very keto-friendly foods. Salmon is rich in B vitamins, potassium, and selenium, and is virtually carb-free.
I really enjoy pairing salmon with spicy flavors. Before I was eating low carb, I used to love spicy salmon California rolls! I think it pairs so well because – despite having a delicate flavor – the fattiness of the fish can stand up to spices.
In this particular Harissa Salmon with Kale recipe, the spice and heat come from harissa paste.
I've been asked if spinach can be used instead of kale. While it can, I wouldn't actually recommend it for this recipe specifically. Kale is a lot 'hardier' than spinach and holds up better in the oven. The end result of this dish would be quite different from soft, wilted spinach.
What Is Harissa
Harissa is a chile paste known for being spicy and aromatic. It is a staple in North African and Middle Eastern cooking. You'll find different variations of harissa, but a standard recipe will include hot chile peppers (often smoked), garlic, olive, and spices such as cumin, coriander, caraway, and mint.
Harissa packs quite a punch, and a little goes a long way! A jar of harissa paste will probably last you quite a while.
What Is A Substitute For Harissa?
If you don't have any harissa paste on hand for your Harissa Salmon with Kale, you can use a number of substitutes. You could use chile paste or a blend of chopped fresh chilies and caraway seeds. For a milder option, you can substitute the harissa paste for hot sauce.
More Keto Recipes to Try: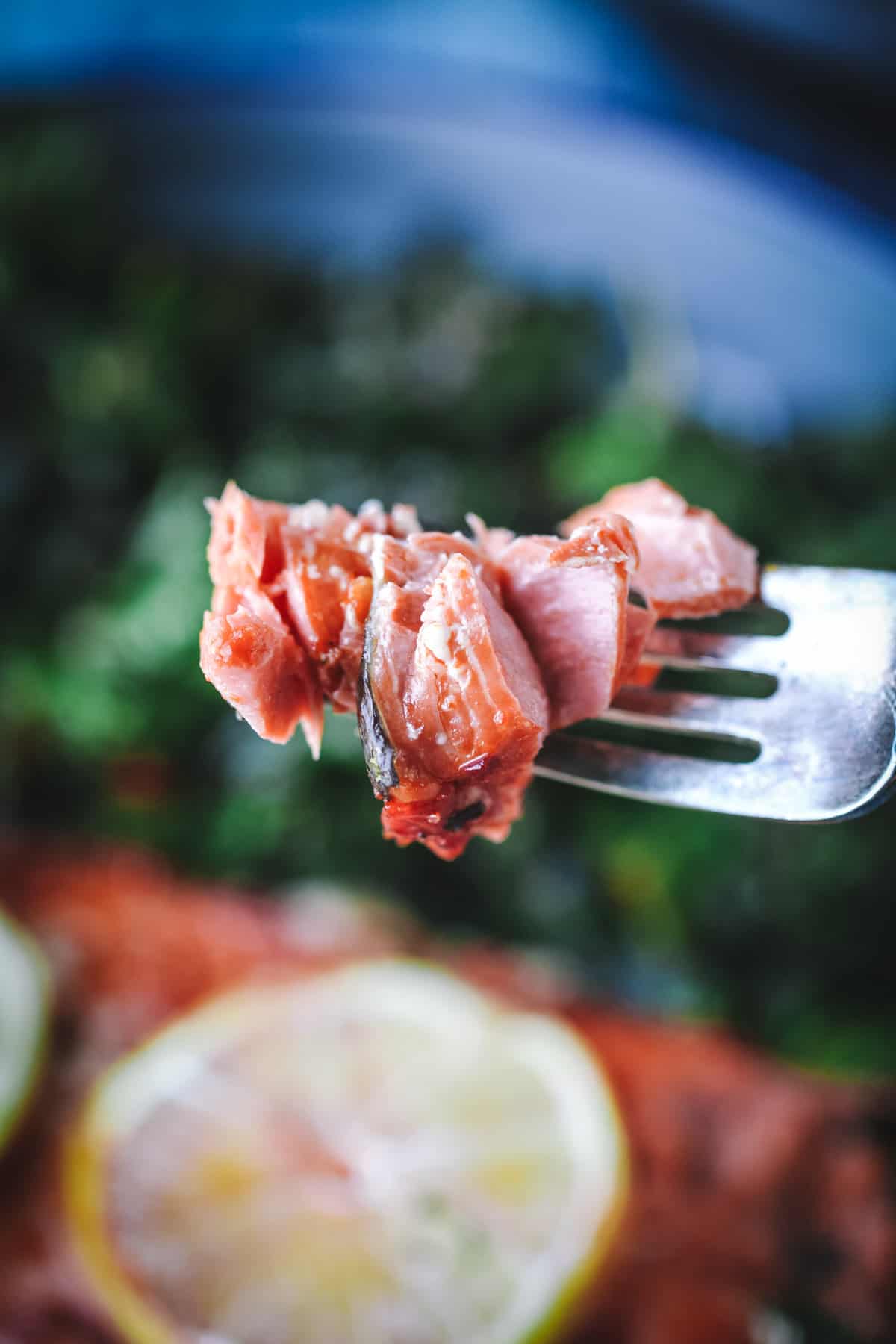 Check out my Keto Kale Salad recipe for more options!