With tender chunks of succulent beef and hearty vegetables, this clean keto beef stew recipe is a perfect winter dish.
I love comfort food in winter. And stews are some of my favorite comfort meals! Rich, hearty, and full of amazing flavors. And let's not forget – they happen to be easy to prepare and cook.
How to Make Low Carb Beef Stew
Stew recipes generally include potatoes, but I have a low-carb trick for you – use turnips!
The turnips soak up all the beef flavors and get a smooth texture after cooking. You won't even miss the potatoes!
Put the veggies in the pot only during the last half hour, otherwise, they will get too soft.
I use my Dutch Oven to make stews because I can sear the meat and cook the stew in one dish. If you don't have a Dutch oven, you can use a large pot, a slow cooker (you'll need to sear the meat separately first), or an InstantPot.
Red wine is not a must, some people skip it to lower the carb count, and make the dish more kid-friendly. I love the flavor it adds to the final dish.
What low-carb veggies are best for a low carb beef stew?
In this recipe, I've used turnips and celery, but you can also add radishes, mushrooms, green beans, celery root, and rutabaga. The best veggies are ones that can stand up well to the long cooking time. I will sometimes also chop up some kale or spinach and add it to the pot a couple of minutes before serving.
You'll see some recipes include carrots, but I prefer to skip them because of the carb count (but you can totally include them if you want!)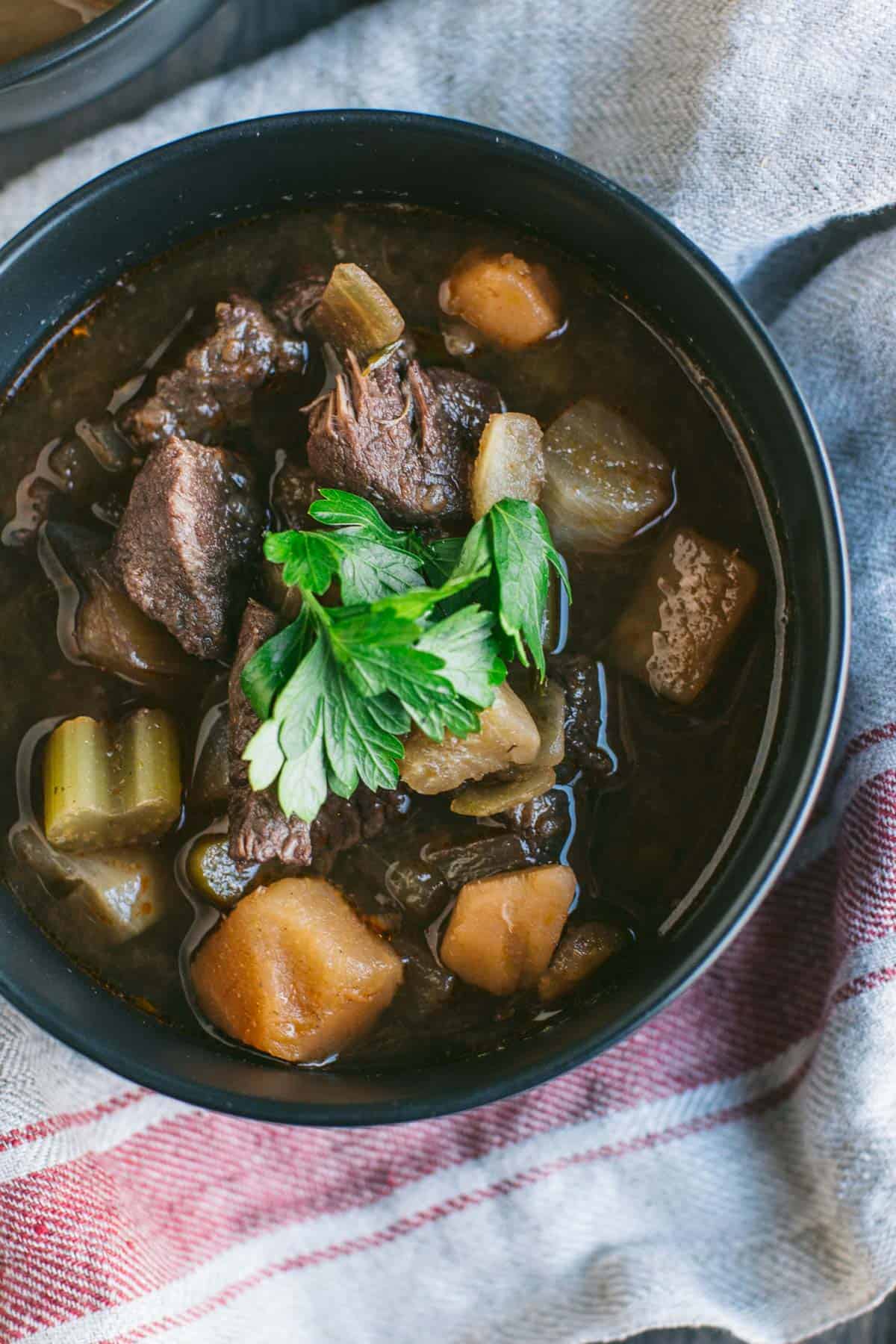 What to serve with low carb beef stew?
Keto Beef Stew recipe is a hearty and delicious meal that is perfect for those who are following a low-carb, high-fat ketogenic diet.
This dish is packed with protein, healthy fats, and nutrient-rich vegetables, making it a great choice for anyone looking to stay healthy while enjoying a satisfying meal.
However, finding the right side dishes to pair with keto beef stew can be a challenge. In this blog post, we will explore some keto-friendly side dishes that pair well with beef stew.
1. Roasted Vegetables
Roasted vegetables are a great side dish for keto beef stew.
They are packed with fiber, vitamins, and minerals, and they add a nice crunch to the meal.
Some good options for roasted vegetables include cauliflower, broccoli, zucchini, and Brussels sprouts.
Simply toss them in some olive oil and seasonings, and roast them in the oven until they are tender and caramelized.
2. Cauliflower Mash
Cauliflower mash is a great low-carb alternative to mashed potatoes.
It has a similar texture and taste, but it is much lower in carbs.
To make cauliflower mash, simply boil some cauliflower until it is soft, and then mash it with butter, cream, and seasonings. This dish pairs well with beef stew because it adds a creamy and indulgent element to the meal. You can check out my Cauliflower Mash recipe here, it's pretty amazing if I can say so myself.
3. Salad
A fresh salad is a great way to add some crunch and freshness to your keto beef stew meal.
A simple green salad with lettuce, cucumber, and tomato is a good option, but you can also add some more interesting ingredients like avocado, feta cheese, and olives.
Be sure to dress your salad with a keto-friendly dressing, such as olive oil and vinegar.
4. Zucchini Noodles
Zucchini noodles, also known as "zoodles," are a great low-carb alternative to pasta.
They are made by spiralizing zucchini into thin noodles and then sautéing them in some butter or olive oil.
Zucchini noodles pair well with beef stew because they add a light and refreshing element to the meal.
5. Broccoli Salad
Broccoli salad is a great side dish for beef stew because it is low-carb, high-fiber, and packed with nutrients.
To make broccoli salad, simply chop up some broccoli florets and mix them with some mayonnaise, bacon, and cheese.
This dish is both delicious and satisfying, and it pairs well with the rich and hearty flavors of beef stew.
Whether you choose to serve roasted vegetables, cauliflower mash, salad, zucchini noodles, or broccoli salad, you can be sure that your meal will be both healthy and delicious.
So the next time you make beef stew, try one of these side dishes to add some variety and flavor to your meal.
How to Store & Freeze Keto Beef Stew
if you're making a large amount of keto beef stew and don't plan to eat it all at once, you'll need to know how to store and freeze it properly to keep it fresh and tasty.
Here are some tips for storing and freezing your keto beef stew:
1. Refrigerating keto beef stew If you plan to eat your keto beef stew within the next few days, storing it in the refrigerator is your best bet.
2. To do so, let the stew cool down completely to room temperature. Then, transfer it to an airtight container and refrigerate it. Your keto beef stew should be good for up to four days in the refrigerator.
3. Freezing keto beef stew If you want to store your keto beef stew for longer than four days, freezing it is a great option. To do so, follow these steps:
Allow the stew to cool down completely to room temperature.
Transfer it to an airtight container or a freezer-safe resealable bag. If using a container, make sure to leave some space at the top to allow for expansion during freezing.
Label the container or bag with the date and contents, so you can easily identify it later.
Place the container or bag in the freezer and freeze for up to three months.
4. Thawing and reheating keto beef stew When you're ready to eat your frozen keto beef stew, you'll need to thaw it first. There are a few ways to do this:
Thaw the stew overnight in the refrigerator.
Place the frozen stew in a pot on the stove over low heat, and stir occasionally until it's thawed.
Use a microwave to defrost the stew, following the manufacturer's instructions.
Once your keto beef stew is thawed, you can reheat it on the stove or in the microwave. To avoid overcooking the meat, heat it slowly over low to medium heat, stirring occasionally. Be sure to check the temperature of the stew before serving, and make sure it's heated all the way through.
Whether you're refrigerating or freezing your stew, be sure to use airtight containers and label them clearly. And when you're ready to eat, remember to thaw your stew safely and heat it slowly to maintain its flavor and texture.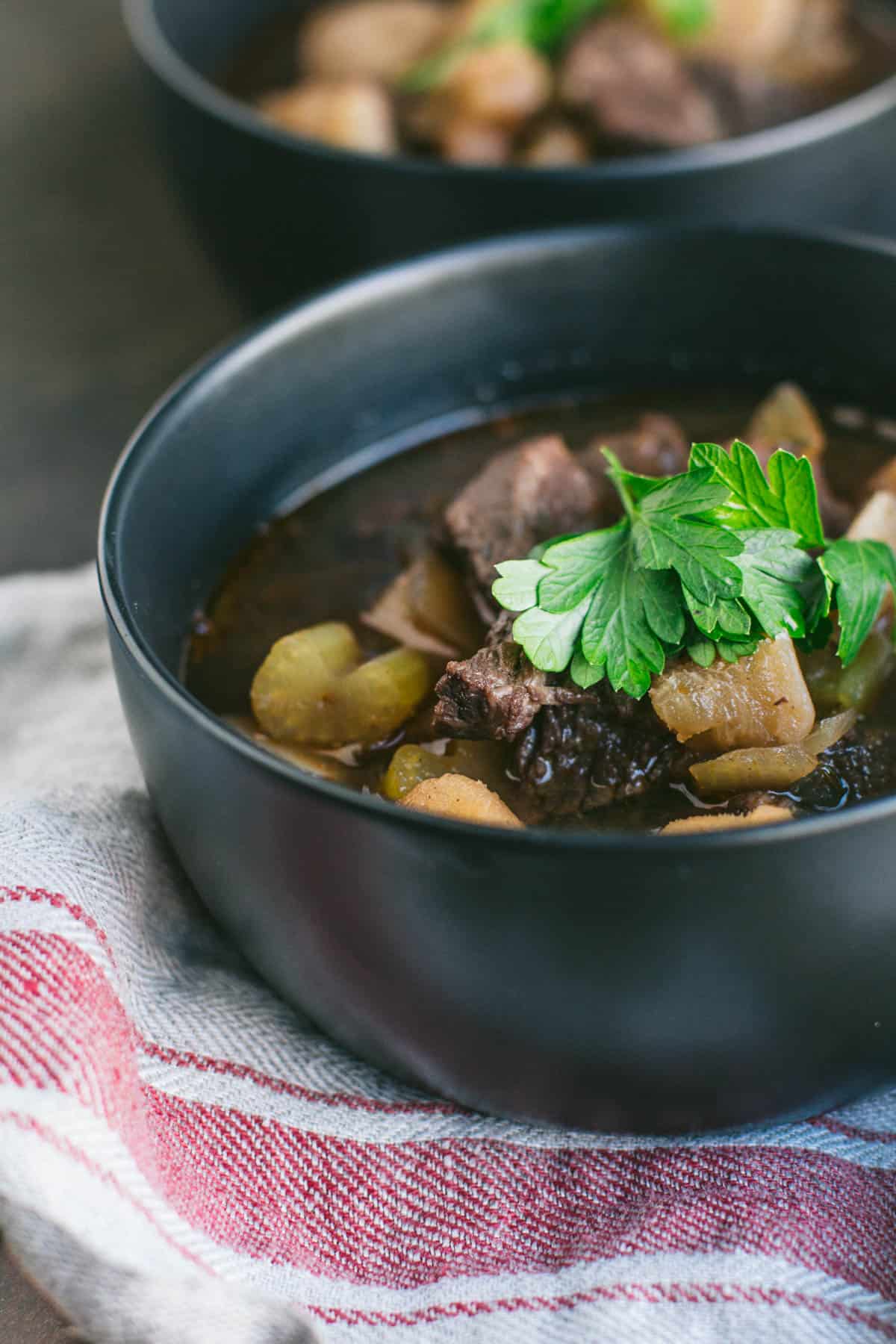 More Keto Recipes to try: