This is one of my favorite Brussels Sprouts recipes. With Keto Bacon Maple Brussels Sprouts, you get the sweetness from the maple syrup and the salty from the bacon.
Brussels Sprouts! I used to hate them. I remember them being bland and boring.
There is little creativity in steamed Brussels sprouts on a plate with a "You better eat your vegetables" look.
Now, I am all about eating my veggies, but I am a foodie, so I want my food to taste amazing.
I will find a way to make anything taste delicious, brussels sprouts included.
Say goodbye to soggy, bland, tasteless sprouts, and say hello to Sweet and Salty Maple Bacon Brussels Sprouts. I mean, the name even makes you want to try them even if you are not a fan of the mini cabbages.
And if you're a fan of maple and bacon, rejoice!
Brussels sprouts are a member of the Brassicaceae family, which includes other popular vegetables like kale, broccoli, and cauliflower. These miniature cabbage-like vegetables are packed with nutrients and have become increasingly popular in recent years due to their versatility and health benefits.
Here are some nutritional reasons why you should be a fan of Brussels Sprouts:
They are high in Vitamin K which is excellent for bone health
They are an excellent source of Vitamin C which helps your immune system and protects your cells
Also, high in Fiber (we all know what that is good for)
Also, Rich in Antioxidants (cancer and disease prevention)
They are anti-inflammatory
And if those aren't enough, know that they are delicious if you make this recipe.
I am a sucker for the sweet and salty combination. I remember I made Brussels sprouts on the skillet using Great Lakes Christmas Ale, Maple Syrup, and bacon. They were the best sprouts I have ever had. EVER.
Sadly, Christmas Ale is not very low-carb friendly, as is Maple syrup…until I discovered Lakanto. Thank God for these syrups because I am a maple syrup addict and I've tried making my own but the process is too long, and the result was just not to my standard.
Luckily, Lakanto has a fantastic line of syrups, so for this recipe, I got to use their maple syrup to replicate the most amazing sprouts I've ever had. (sorry beer, you're not invited to this party)
Pair these Brussels sprouts with the Perfect Tomahawk Steak.
Selecting and Storing Brussels Sprouts
When selecting Brussels sprouts, look for firm, compact heads with tightly packed leaves and avoid any sprouts with yellow or wilted leaves or spots of discoloration. It's best to choose sprouts that are similar in size to ensure even cooking.
Once you bring them home, store Brussels sprouts in the refrigerator in a perforated plastic bag to allow for air circulation. They will last for up to a week when stored properly.
Preparing Brussels Sprouts
Before cooking, rinse the Brussels sprouts under cold water and trim off the stem end. Some people like to cut an "X" into the bottom of each sprout, which helps them cook more evenly.
Remove any discolored or damaged leaves.
There are many ways to prepare Brussels sprouts, but roasting and sautéing are two of the most popular methods. In this Maple Bacon Brussels Sprouts recipe, I roasted the Brussels sprouts.
Ingredients for the Bacon Maple Brussels Sprouts
Bacon
Bacon is a type of salt-cured pork that is typically sliced into thin strips and used as a flavoring in dishes. In this Maple Bacon Brussels Sprouts recipe, the bacon is used to add a savory and salty flavor to the roasted Brussels sprouts, while also providing some protein and healthy fats.
If you love bacon, you'll love this recipe! Brussels sprouts and bacon provide scrumptious flavor.
Butter
Butter is a dairy product made from churning cream or milk. It is often used in cooking to add richness and flavor to dishes. In this Maple Bacon Brussels Sprouts recipe, the butter is melted, whisk in the Maple Syrup, and drizzled over the roasted Brussels sprouts.
Maple Syrup
Maple syrup is a sweet syrup made from the sap of maple trees. It is a natural sweetener that is often used in baking and cooking to add flavor and sweetness to dishes.
In this Maple Bacon Brussels Sprouts recipe, maple syrup is used to add a sweet and slightly caramelized flavor to the roasted Brussels sprouts. I used a low-carb keto sweetener instead of traditional maple syrup to keep the dish low in carbs and suitable for a ketogenic diet.
Salt and Pepper
Salt and pepper are common seasonings used in cooking to enhance the flavor of dishes.
In this Maple Bacon Brussels Sprouts recipe, they are used to add a savory and slightly spicy flavor to the roasted Brussels sprouts. Salt also helps to draw out moisture from the vegetables, which can help them cook more evenly and become more tender when roasted.
How to make keto-friendly Bacon Maple Brussels Sprouts
1. Cook bacon on the skillet to desired crispiness. Set aside the bacon fat.
2. Trim and split the sprouts in half.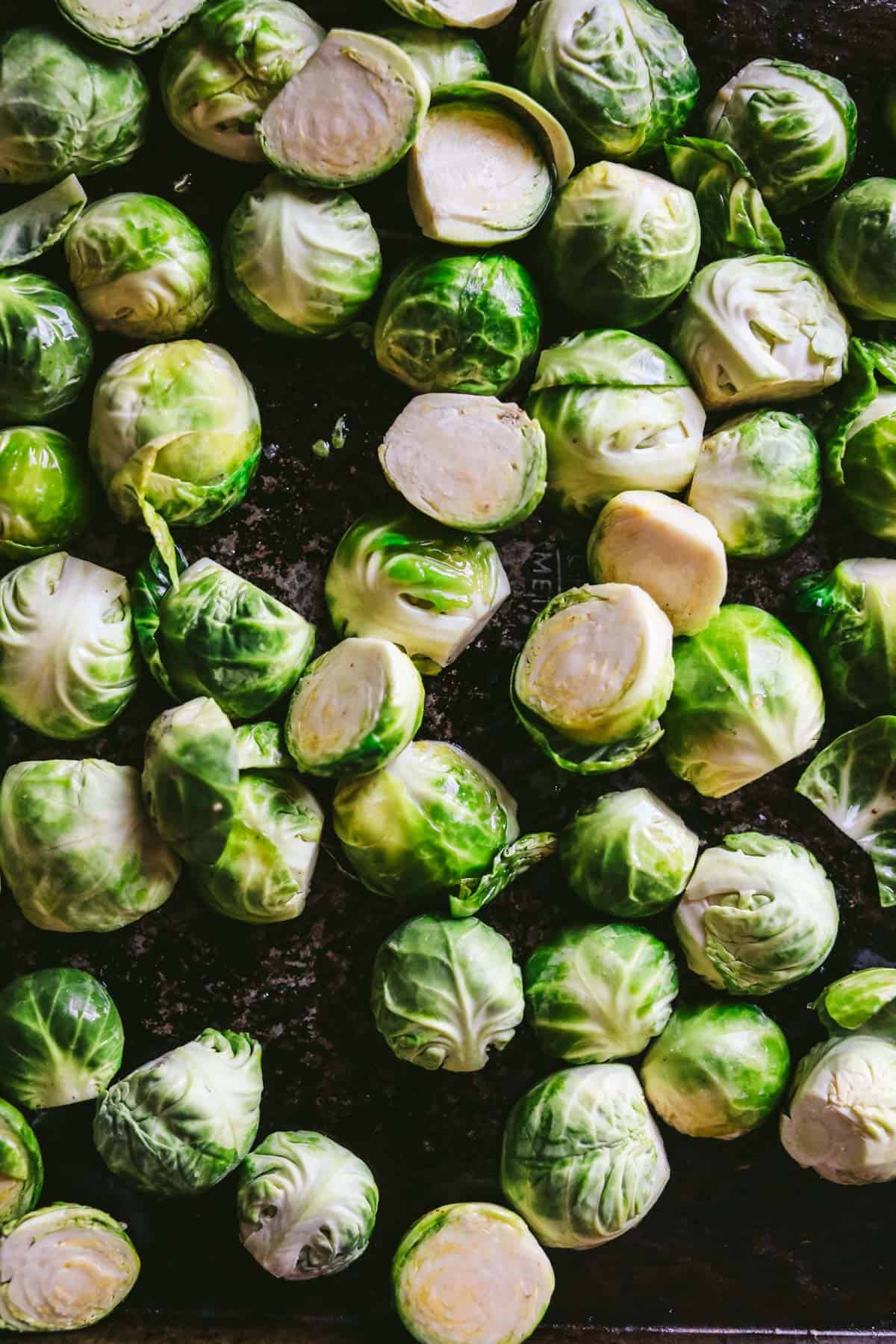 In a large bowl, toss the sprouts and saved bacon fat. Season with salt.
Spread the sprouts on a half-sheet pan cut side down.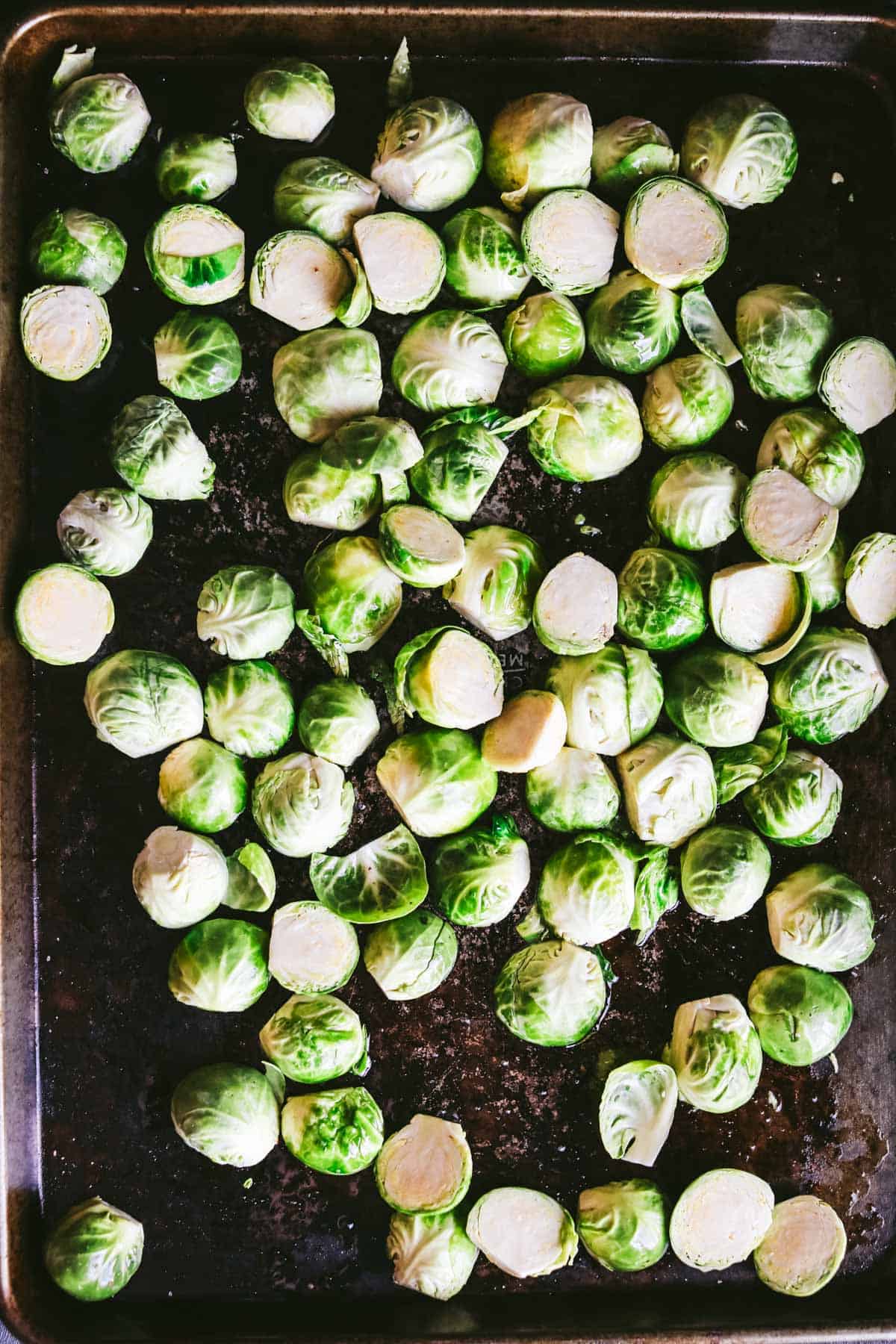 Roast for 25-30 minutes, flipping halfway.
Melt the butter and whisk in the maple syrup IN A SMALL BOWL until combined well.
Pour the butter and syrup mixture on the roasted Brussels sprouts and top with crumbled bacon pieces.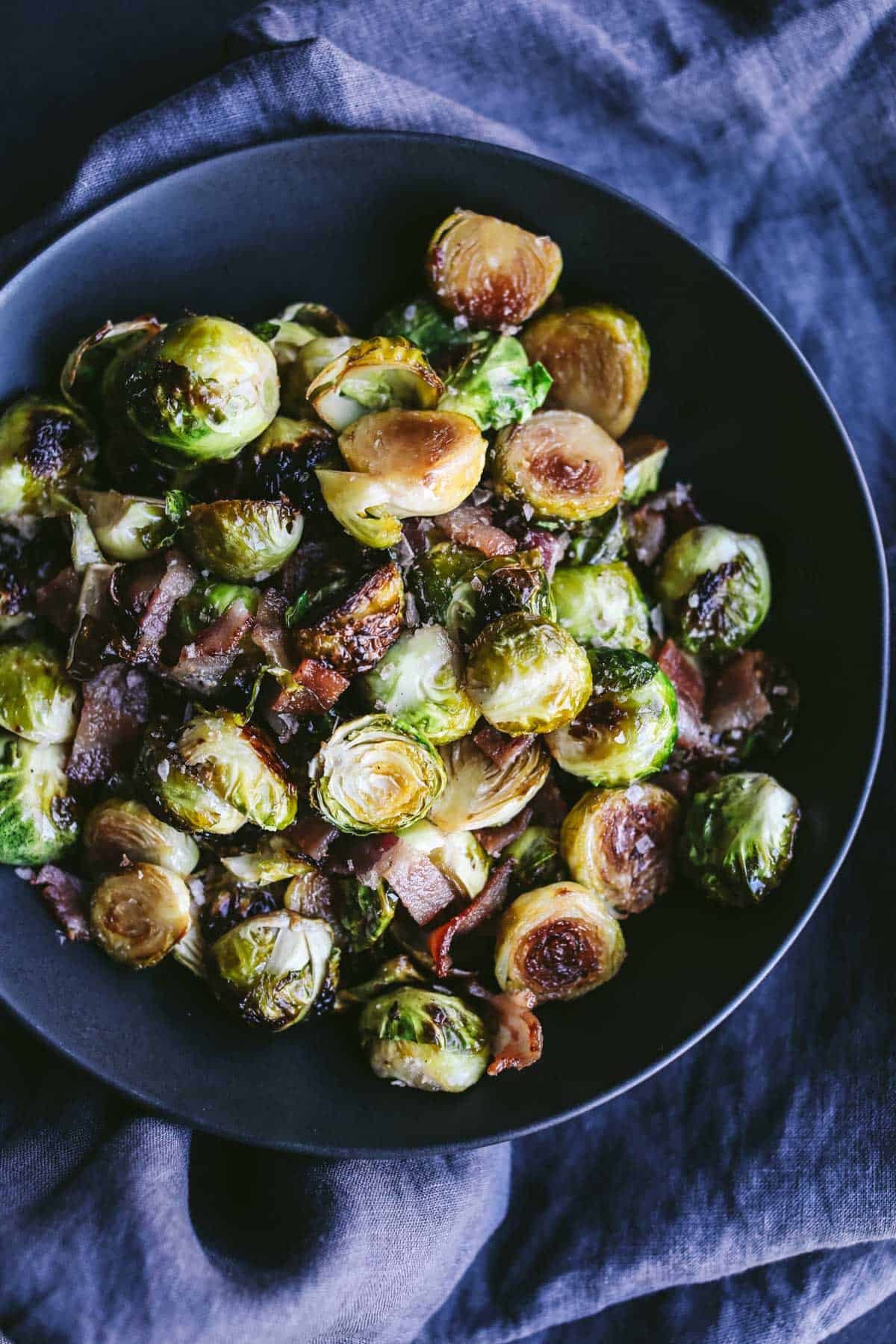 More Keto Recipes to try:
Keto Bacon Maple Brussels Sprouts is a delicious and easy-to-make side dish that is perfect for any occasion. These roasted Brussels sprouts are crispy on the outside and tender on the inside, with a savory and slightly sweet flavor that will surely please your taste buds.
With the addition of bacon and butter, they're packed with healthy fats and protein, making them a satisfying and nutritious side dish.
When making this Maple Bacon Brussels Sprouts recipe, be sure to select fresh and firm Brussels sprouts, and store them in the fridge until ready to use. Remove any discolored outer leaves.
Choose a keto sweetener that fits your taste preferences and dietary needs, and use it in moderation to keep the dish low-carb. Don't skip the step of roasting the Brussels sprouts in the oven, as this helps to bring out their natural sweetness and enhances their flavor.
Overall, Keto Bacon Maple Brussels Sprouts is a delicious and healthy side dish that is perfect for anyone following a ketogenic or low-carb diet. Give this recipe a try and enjoy the sweet and savory flavors, and the nutritional benefits of Brussels sprouts today!