Take your brussels sprouts to a whole new level with this rich and cheesy keto brussels sprouts gratin with the salty pancetta.
I don't know about you, but if I see "Cheesy" in the title of anything, I click on it.
I loooooveee cheese. Way more than it loves me because I get bloated when I eat too much. However, for the Holidays, isn't being bloated a right of passage?
Having mentioned that, this year I will not put on 10 lbs like I do each year for the Holidays because I am following Keto (ok, last year I put on 60lbs from pregnancy but let's not talk about that right now). The point is, it's ok to overeat and feel bloated sometimes, as long as it's not an everyday routine.
Let's get back on track here. Ok, cheese is good, cheese is great, but combine it with heavy cream, brussels sprouts, and pancetta? That my friend is heavenly.
At first, I was skeptical because come on, Au Gratin is meant to be for potatoes, and maybe eggplant. Brussels sprouts are usually made two ways in my house, fried with bacon or shredded in a salad. I wanted to do something different with the mini cabbages this year for my Christmas party, so I decided to give this recipe a whirl.
Happy, happy, happy. That is how I felt when I took the first bite. The sprouts soaked up all the creamy goodness of the cheese and cream, and the salty pancetta was enough to break down all the richness. Not to mention, the walnut, thyme, and red pepper gremolata that goes on top of this casserole give the dish an added crunch with a bit of heat.
As always, Bon Appetit nailed it. I wish I could take credit for some of these fantastic recipes, but most of the recipes I have chosen for my dinner party are pretty Keto-friendly already, and I don't have to change anything. I love developing my recipes, but for my dinner party, I'm a Bon Appetit snob, and I don't see that changing for a while.
How to make Cheesy Keto Brussels Sprouts Gratin
Step 1- Get your ingredients ready
Step 2- Combined cooked pancetta (see full recipe), brussels sprouts, half of the thyme, shallots and butter into a large bowl
Step 3- Transfer to a baking dish and bake for 20 minutes until brussels sprouts get a carmelized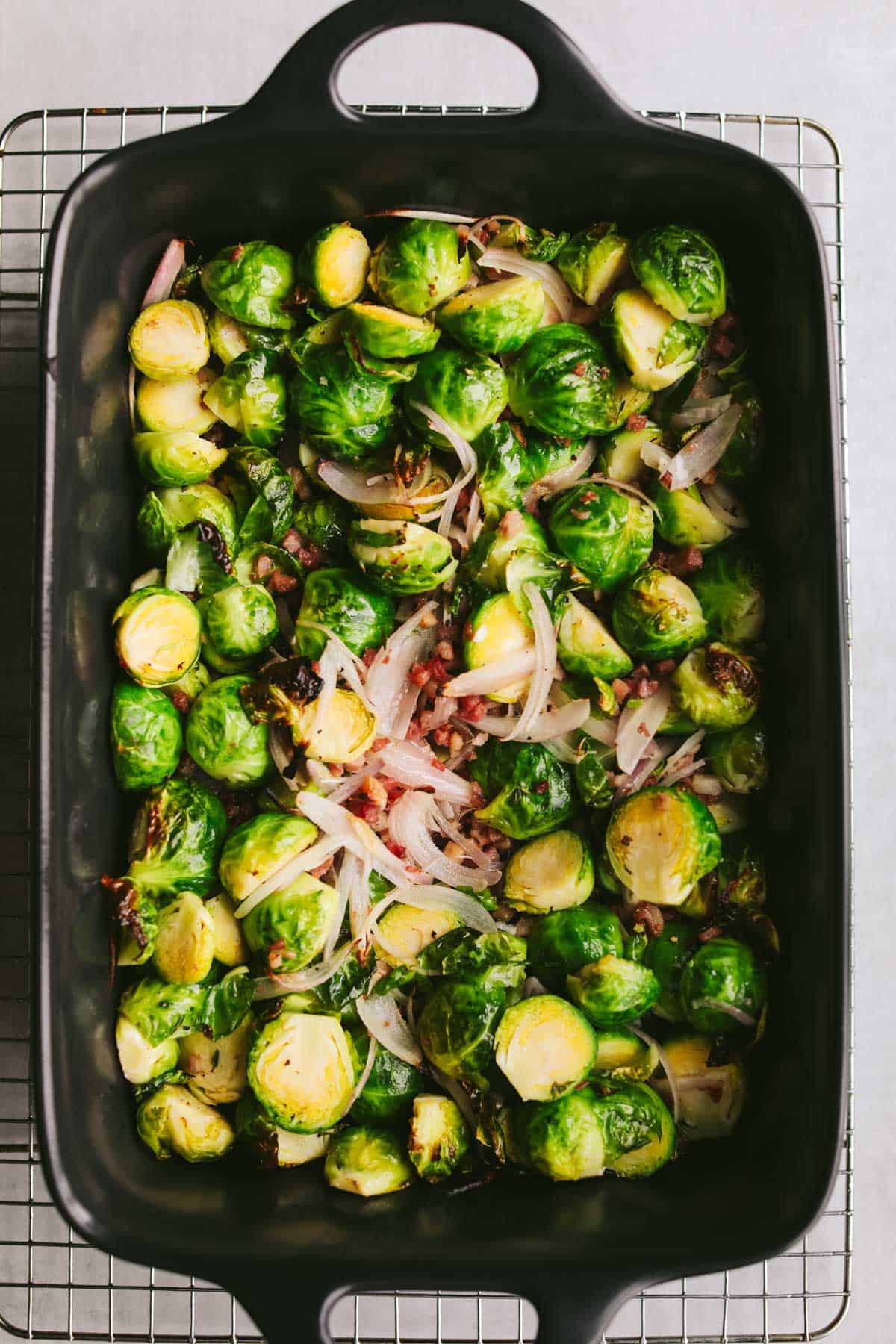 Step 4- Meanwhile, make the cream sauce by combining the cream ingredients (see recipe)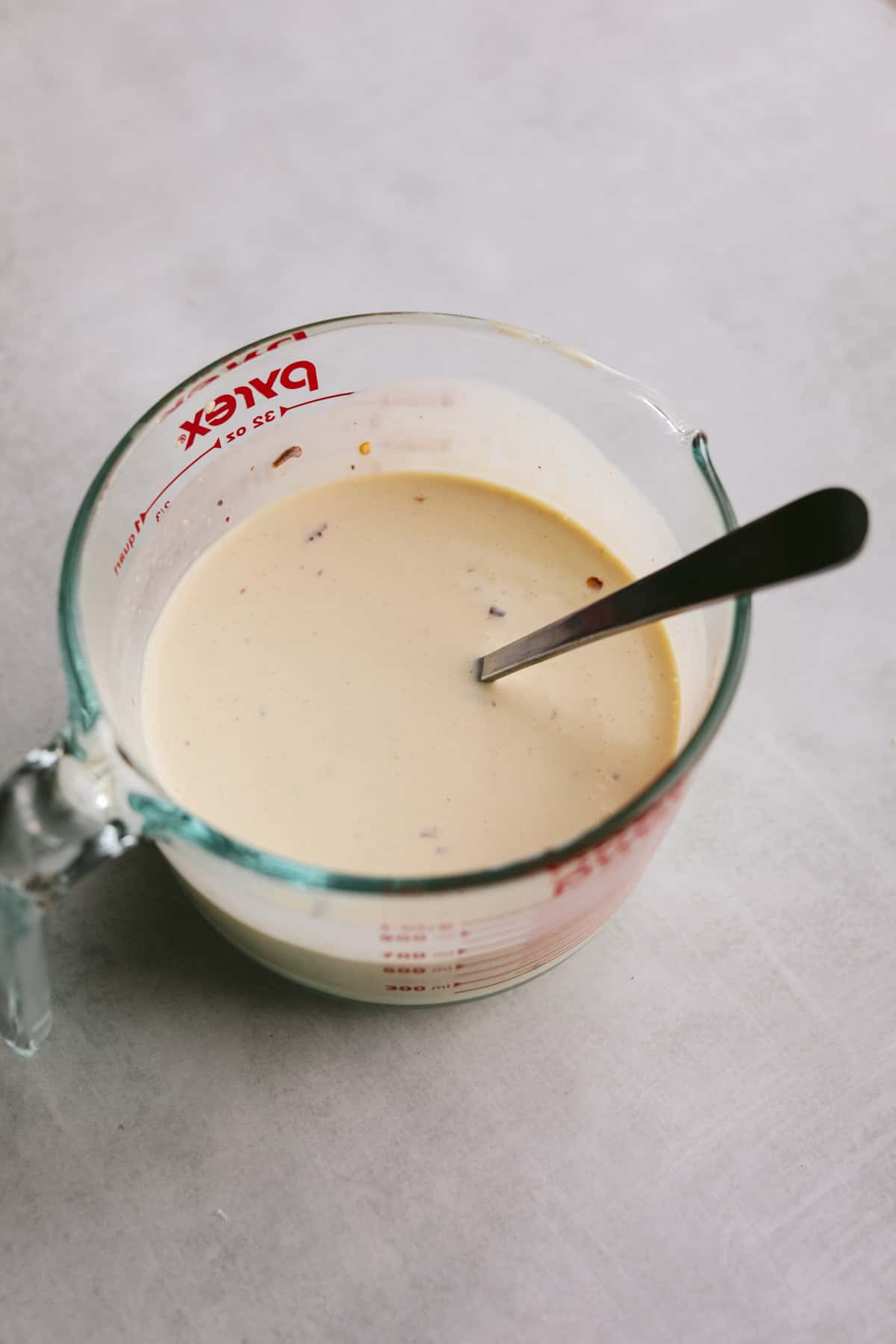 Step 5- Add the cream to the Brussels sprouts, the cheese and bake until melted
Tips on making the best Cheesy Brussels Sprouts Gratin with Pancetta
Fry the sprouts on the stove top in a large enough skillet that all of the sprouts get crispy and caramelized. When I roasted it in the baking dish, not all of them got the caramelization love.
I would double the amount of pancetta I used, or find pancetta I can cube myself. My store only had pre-cubed tiny pieces of it, and I wanted to get more pancetta in the bites.
Reduce the garlic, as always; I can't control my garlic input. Ok, the main issue is that for some reason, I get enormous cloves of garlic and count it as one so three large garlic cloves will overpower the dish
Add more dijon mustard. I barely tasted it with the heavy cream.
It's best to bake this and let it sit for 20 minutes to allow the sauce to thicken before serving. Enjoy!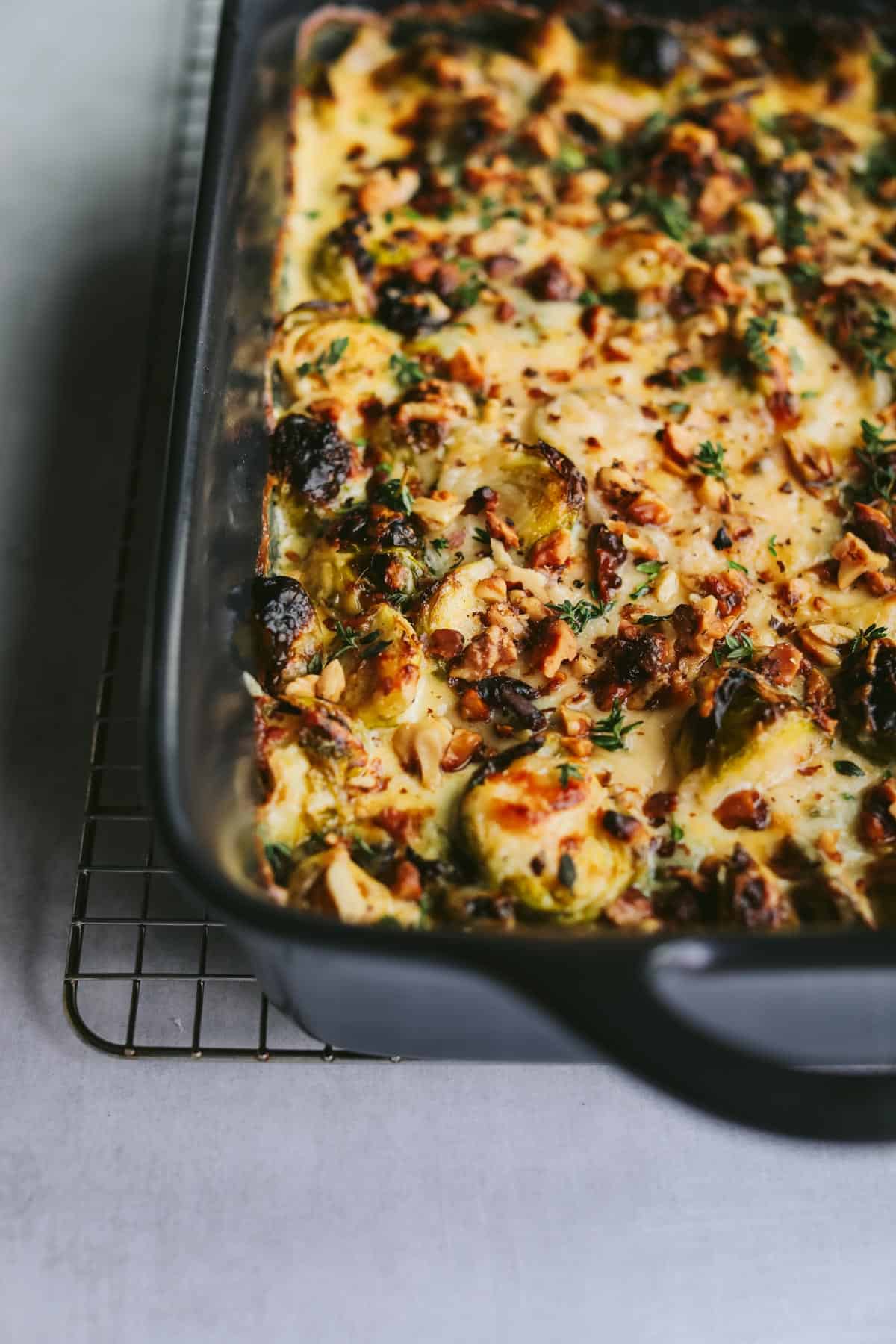 Want to see the rest of my Keto Christmas Recipes? You can find them HERE. You can also check my Keto Christmas Dinner Party Menu.
This post contains an affiliate link in which if a purchase is made I receive a commission at no additional cost to you. Thank you for your support!