A Clean Keto, dairy-free version of the Olive Garden classic, Zuppa Toscana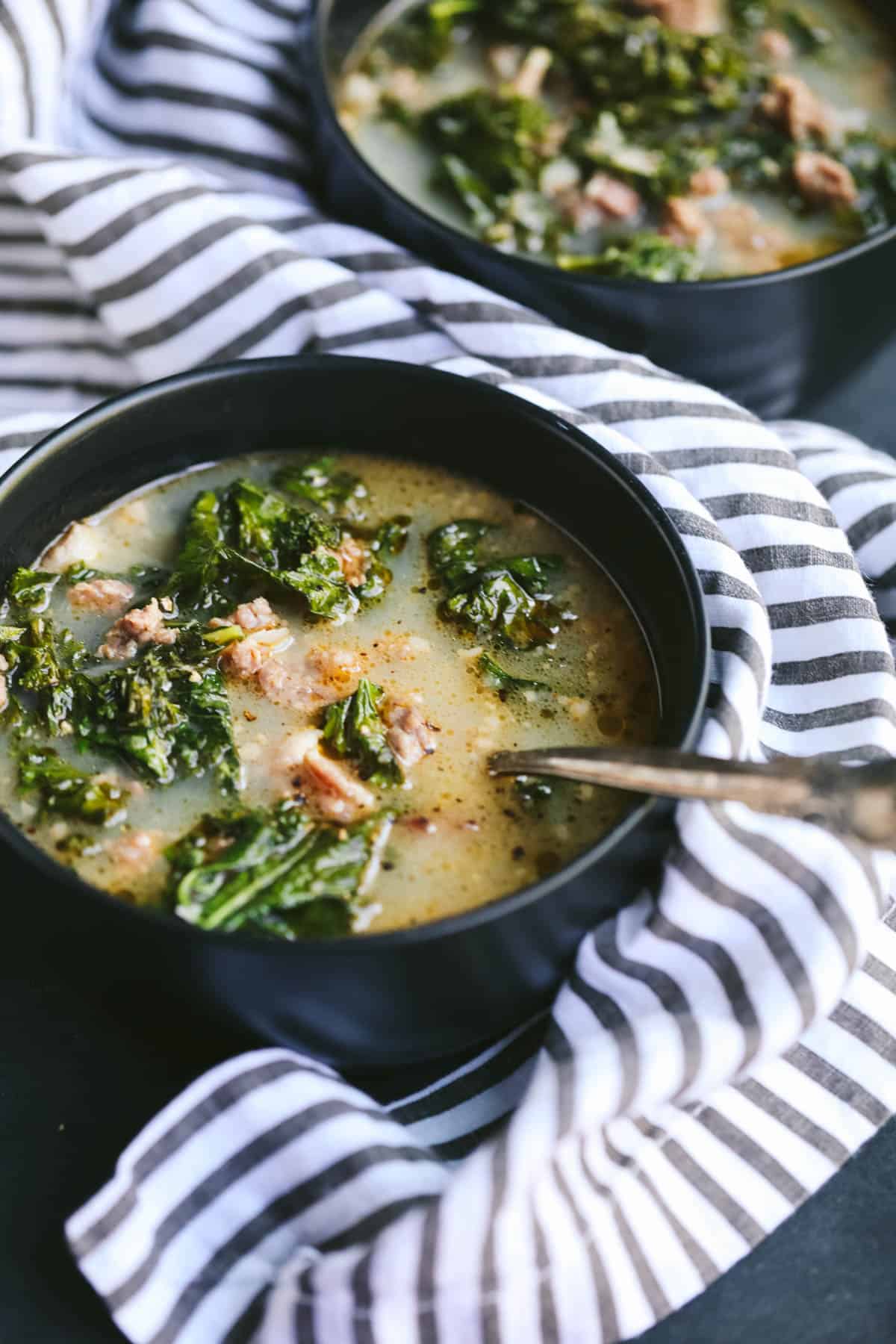 It's officially soup weather ya'll. Well, it's been soup weather for about 2 months now here in Ohio, but I am finally getting to posting the first soup recipe on my blog!!
I will probably look back at this recipe year from now when I have tons of soup recipes, and be embarrassed about how bad my food photography and writing were. I keep telling myself, that is a good thing though. It means I didn't wait until everything was "perfect" to start achieving my goals.
Wow, I can so quickly get off-topic. Soup, you are here for perfect soup, come on Lesya, get back to the program. Ok, Zuppa Toscana Recipe!!
Growing up, I used to go to Olive Garden a lot on Sundays with the Church Youth Group.
We tipped horribly. In my defense, I was like 13 and didn't even know about tipping. We were first-generation immigrants so we didn't know much about common American etiquette.
Needless to say, we got our money's worth. I can't even remember how much it cost back then for endless soup or salad. $5? Maybe $7?
Anyway, I would rotate, one week I would do unlimited salad and the next I would do soup. Zuppa Toscana, that is.
It was my all-time favorite. Creamy, rich broth, spicy Italian sausage, sweet potatoes, kale, and topped with mounds of grated Parmesan of course.
I remember thinking, "Why can't I eat more than 2 bowls of this stuff." It's just soup. I am now laughing to myself knowing what I know now about food and nutrition.
Let's see, we have heavy cream, sausage, and sweet potatoes. That is some filling stuff!!
Anyway, now that I've adapted to the Ketogenic diet, I love taking my favorite foods and making them Keto approved.
Zuppa Toscana is one of the easiest recipes to make Keto-friendly because all you have to do is replace the potatoes or just omit them altogether.
I know some recipes involve flour, I don't know if Olive Garden uses flour in their soup, but I really don't see a need for it. I think the Zuppa Toscana soup gets pretty thick with the heavy cream and Kale.
My Zuppa Toscana recipe is so easy because all you need to do is cook the sausage, then throw all of the ingredients in the slow cooker and get on with your day.
By dinner, you will have a hearty, tasty Keto version of this Italian classic.
At first, I was going to substitute the potatoes with turnips, but to be honest, I forgot to look for them when I was at the grocery store.
Plus, turnips are higher in carb content so it would increase the carbs per serving. If you aren't too concerned with that, slicing turnips would be a great alternative to using potatoes.
I have also seen recipes using cauliflower, but I just don't think that it pairs well with this Zuppa Toscana soup and the flavors that I want from it.
I of all people adore cauliflower and its versatility when it comes to Ketogenic cooking, however, I don't think it fits in really well in Zuppa Toscana.
Just my opinion, feel free to add it if you would like.
If you are not trying to eat clean keto, feel free to use heavy cream or half-and-half for this Zuppa Toscana soup recipe, and adjust the carb content accordingly.
I also recommend using mild to medium Italian sausage to make this Zuppa Toscana soup really pop out.
You can make this soup in a soup pot or use the slow cooker or InstaPot.
If you don't own a slow cooker, it's a really good investment, I have this one and I love it.
Regardless of how you make this Zuppa Toscana soup, I think it will become one of your favorite recipes because it is super easy to make and really hearty.
Eating one bowl with a salad will probably keep you full for a long time!
How To Make Dairy-free Keto Zuppa Toscana
1. Prepare all of your ingredients
Italian Sausage
This ingredient is a key component of Zuppa Toscana and adds a savory and slightly spicy flavor to the soup. Look for an Italian sausage that is free of dairy and added sugars to keep it keto-friendly.
Here are the different versions of Italian sausage that you can use for this soup recipe.
Mild Italian Sausage – This is the most common type of Italian sausage and has a subtle, yet flavorful taste. It is a good choice if you want to keep the soup on the milder side.

Hot Italian Sausage – If you prefer a spicier soup, then you can opt for a hot version. It has a stronger flavor and a higher level of spiciness compared to the mild version.

Sweet Italian Sausage – This type of Italian sausage is made with a blend of herbs and spices, such as fennel, paprika, and garlic, but does not include any chili pepper flakes. It has a sweeter taste and is a good option if you prefer a less spicy soup.

Spicy Italian Sausage – This type of Italian sausage is similar to hot Italian sausage, but may also include additional spices, such as red pepper flakes or cayenne pepper. It has a more intense and complex flavor profile but may be too spicy for some tastes.
kale
Kale is a nutrient-dense leafy green that adds texture and color to the soup. It also provides a variety of vitamins, minerals, and antioxidants to support overall health and wellness.
Bacon
Bacon adds a smoky and salty flavor to the soup, and also adds some additional protein and fat to the dish. Be sure to choose bacon that is free of added sugars or other non-keto ingredients.
Chicken Broth
Chicken broth provides the base for the soup and adds a savory flavor to the dish. Choose a broth that is free of added sugars or other non-keto ingredients, and opt for a low-sodium version if possible.
Coconut Milk
Coconut milk is a dairy-free alternative to heavy cream and adds a creamy and slightly coconut flavor to the soup. Coconut milk is commonly used in dairy-free and keto-friendly recipes.
Coconut milk adds a creamy and slightly sweet flavor to the soup, which helps to balance out the savory and spicy flavors of the other ingredients.
Coconut milk is also a good source of medium-chain triglycerides (MCTs), which are a type of healthy fat that can provide a quick source of energy and may help with weight loss and appetite control. Additionally, coconut milk is rich in lauric acid, which has antibacterial and antiviral properties that can help support immune system health.
When choosing coconut milk for this recipe, look for a full-fat version to ensure that the soup is rich and satisfying, and opt for a brand that is free of added sugars and other non-keto ingredients.
onion
Onion provides a sweet and slightly pungent flavor to the soup and also adds some fiber and other nutrients to the dish. Make sure to finely chop the onion so that it blends well with the other ingredients.
Garlic
Garlic provides a strong and pungent flavor to the soup, as well as some anti-inflammatory and immune-boosting benefits. Finely chop or mince the garlic to ensure it is evenly distributed throughout the soup.
Salt and Pepper
Salt and pepper are essential for seasoning the soup and bringing out the flavors of the other ingredients. Use them to taste, and adjust as needed to achieve the perfect balance of flavors.
If you want your soup spicy, you can add Red pepper flakes.
Red pepper flakes add a spicy kick to the soup, and can also provide some anti-inflammatory and metabolism-boosting benefits. Use them sparingly if you prefer a milder soup, or add more if you like things extra spicy.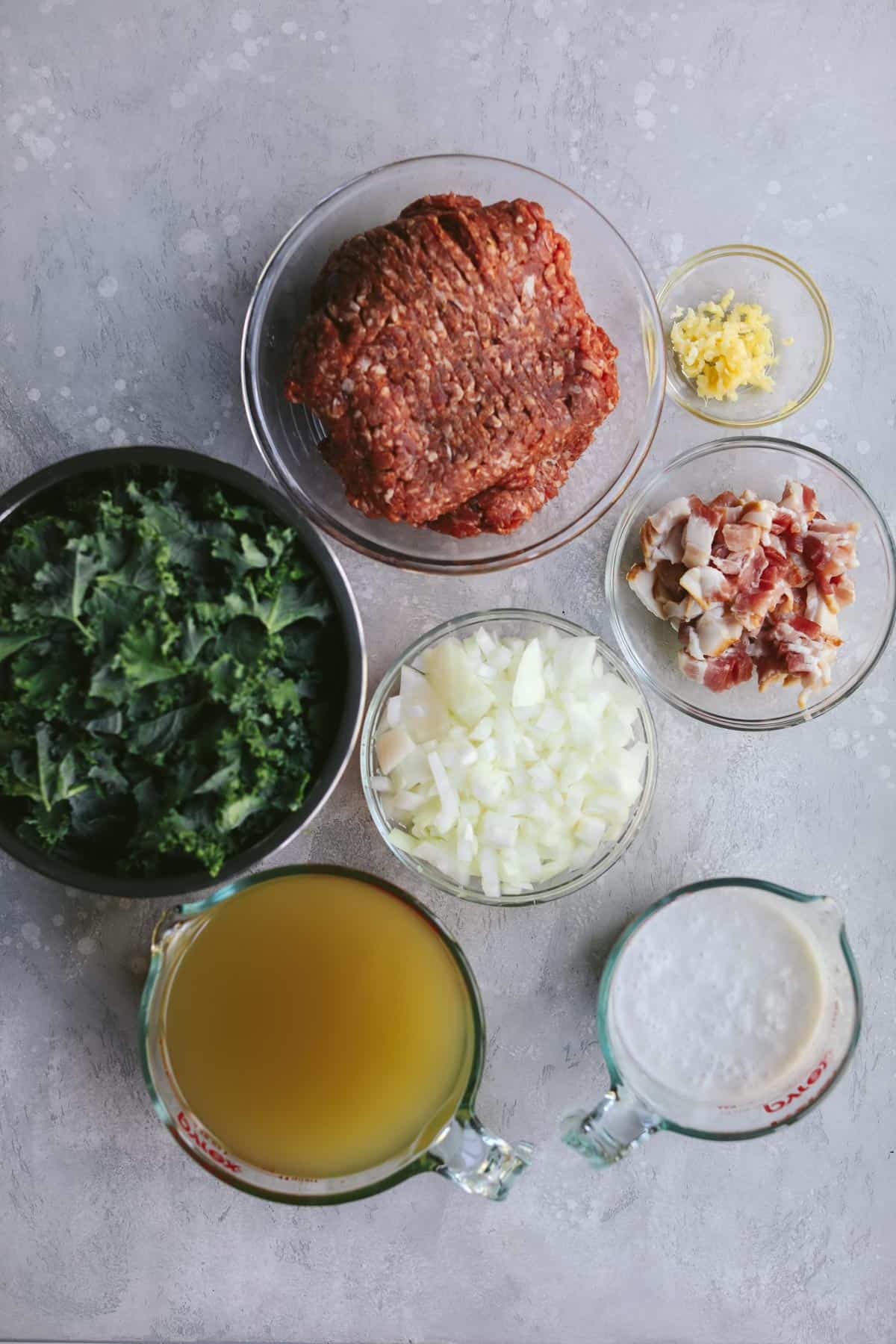 2. Cook the bacon in a large Dutch oven
3. Add the garlic, onions, and sausage and cook until the sausage is almost cooked through
4. Add in the chicken broth and simmer for 20 min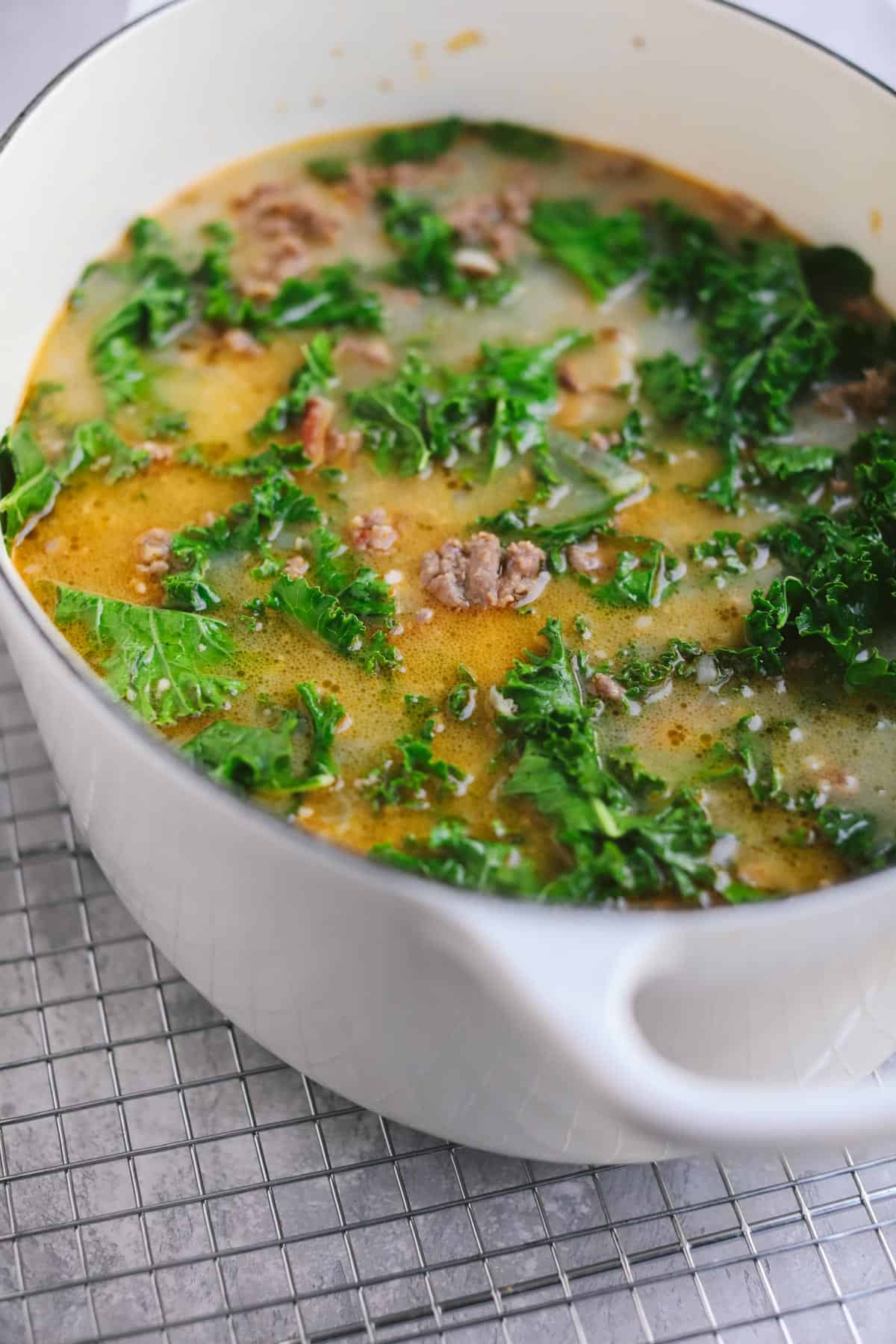 5. Add the coconut milk and kale
Simmer for 10 minutes or until kale is withered a bit. Season to taste with salt and pepper.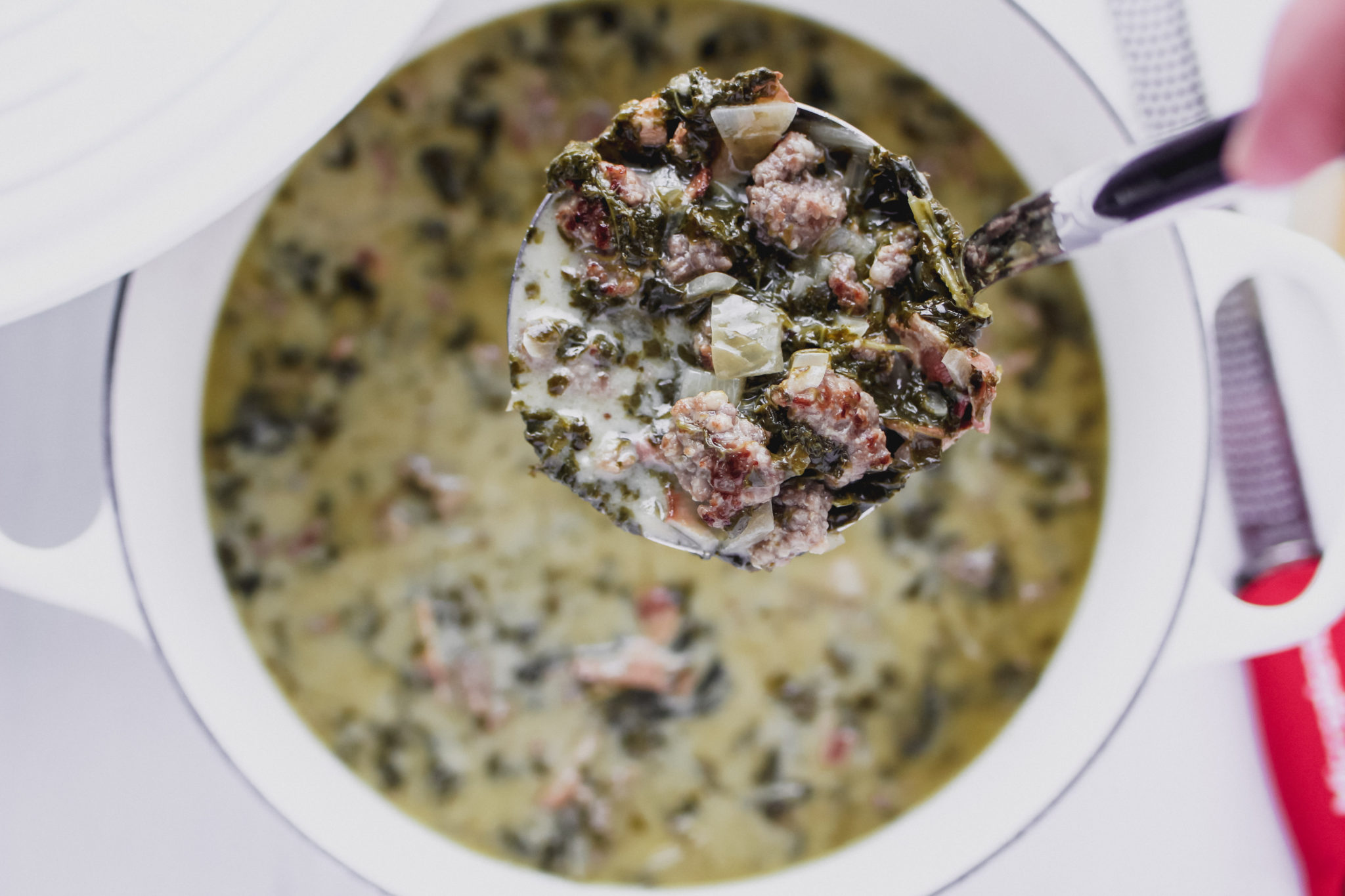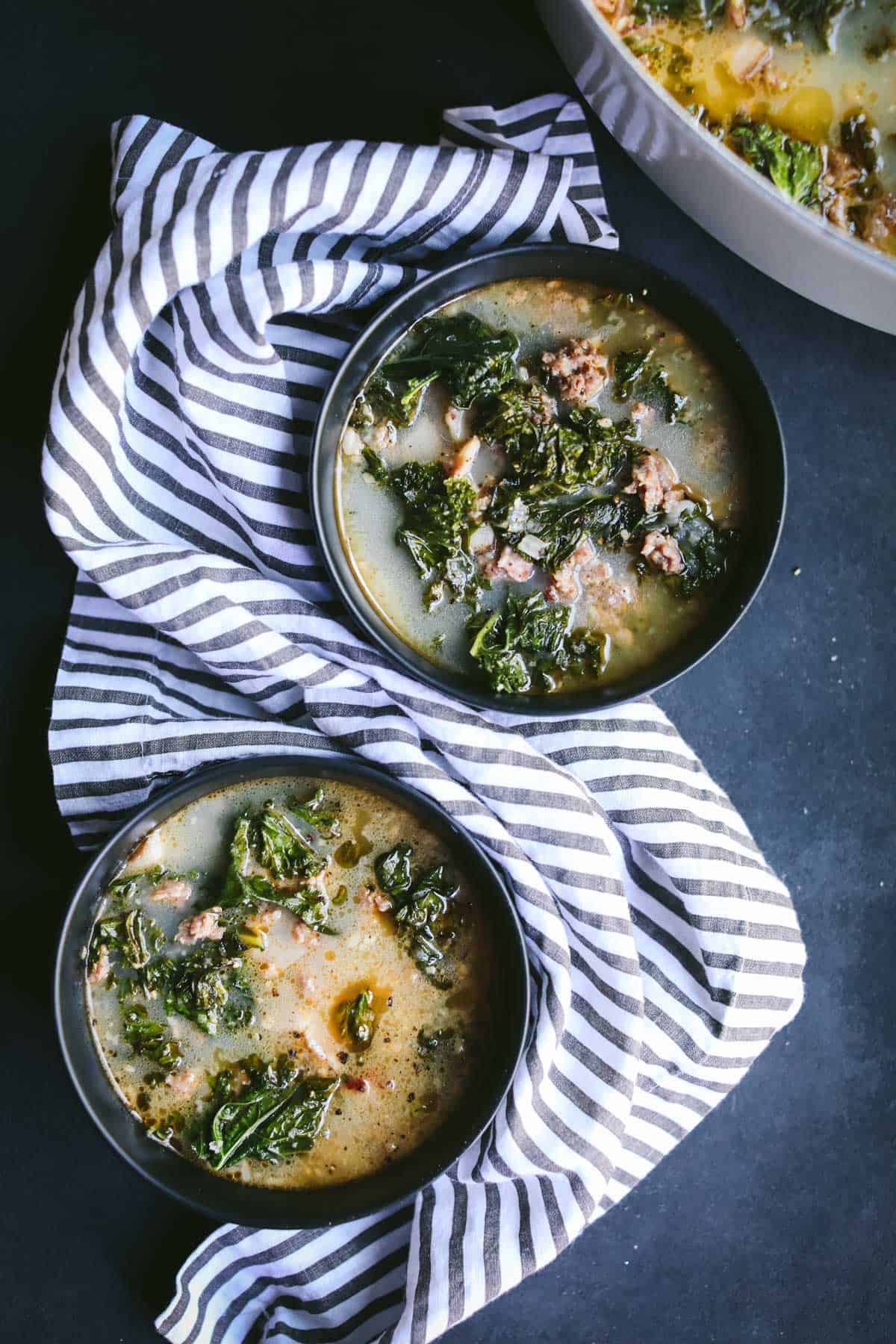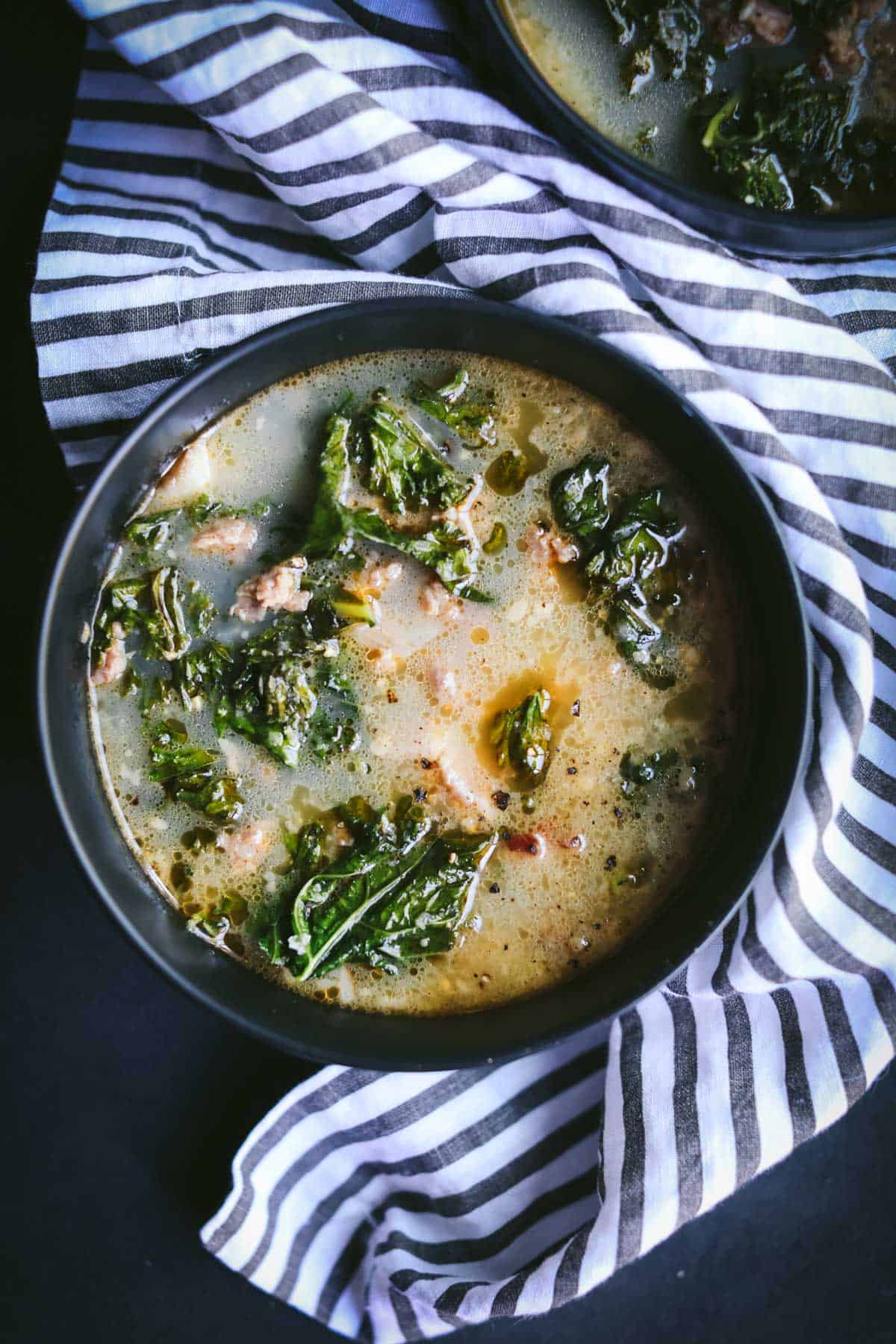 Dairy-free Keto Zuppa Toscana is a delicious and healthy recipe that the whole family can enjoy. With its savory and spicy flavor profile, this soup is sure to taste amazing and satisfy your hunger without derailing your keto diet.
By using nutrient-dense ingredients like kale, coconut milk, and Italian sausage, you can create a healthy Zuppa Toscana that will keep you feeling full and energized throughout the day.
Whether you're looking for a quick and easy meal for a busy weeknight or want to impress your friends and family with your culinary skills, this dairy-free keto Zuppa Toscana is a recipe that you won't want to miss!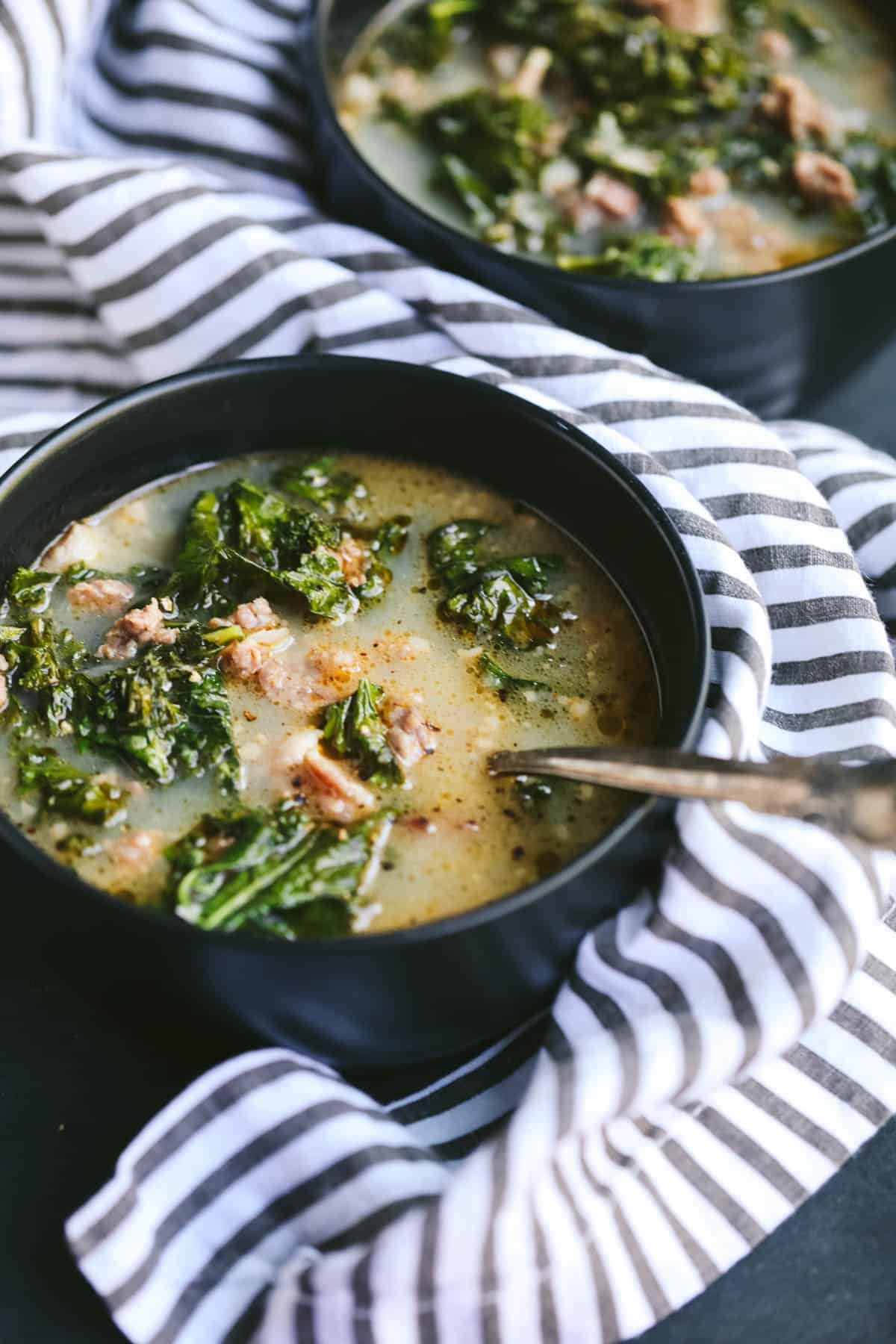 More Keto Recipes to try: