Nutella Stuffed in a Chocolate Chip Skillet Cookie?! Ok, I've officially died and gone to heaven. Keto dessert heaven that is. Welcome, Nutella Keto Skillet Cookie.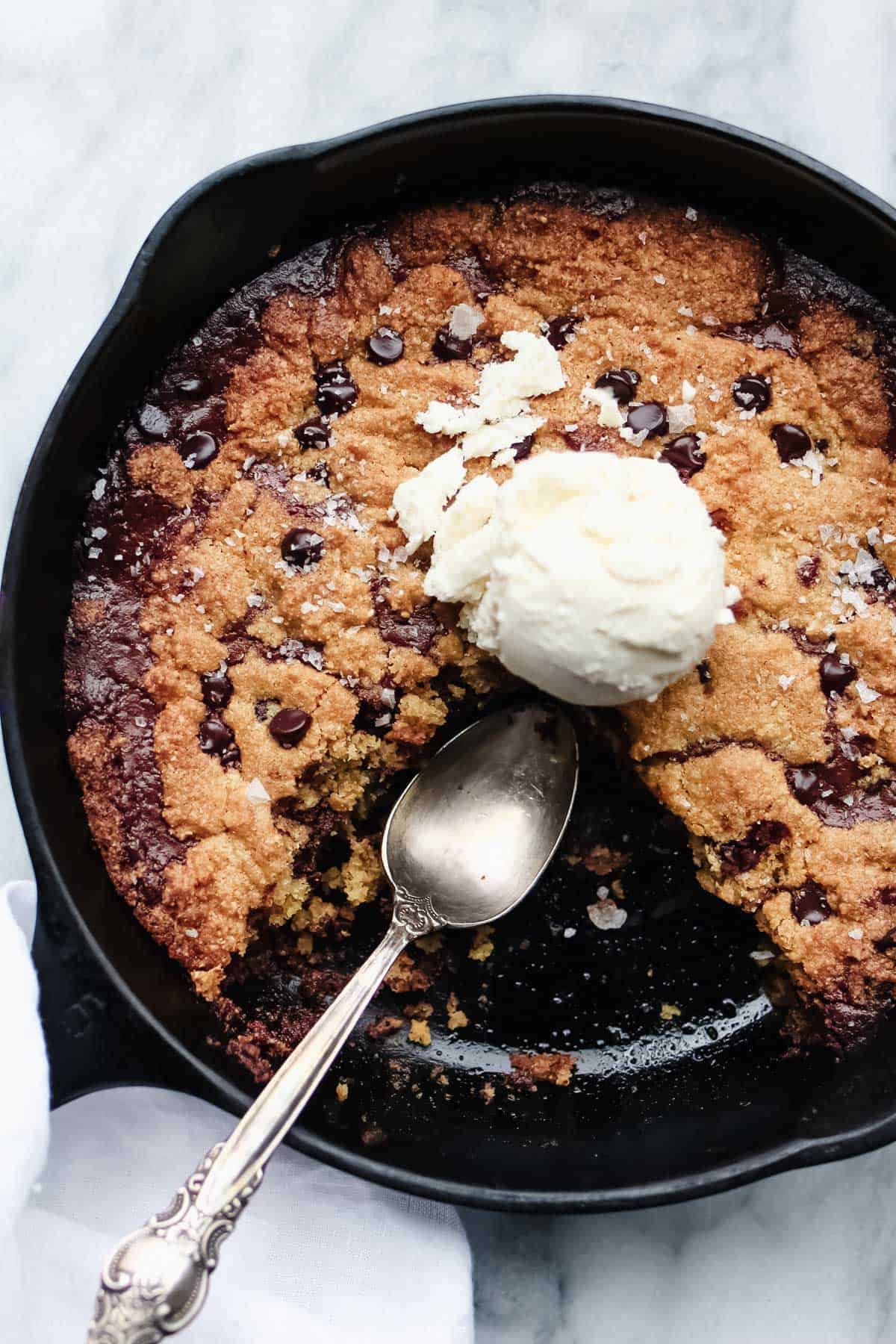 Friends, I have been dying to post this recipe, and as soon as I thought about it, something would come up and distract my attention. I made this skillet cookie months ago because I was missing Nutella and a skillet cookie sounded terrific.
I figured there had to be a Keto Nutella recipe out there, and of course, there was! Carolyn from All Day I Dream About Food had one, of course (she is the Keto dessert Queen). I used her recipe to make this fantastic Nutella Keto Skillet Cookie.
I love the idea of a skillet cookie because it's so inviting and share-worthy. Nothing is better than grabbing a few forks, scooping some cold ice cream on top of a warm skillet cookie and sharing it with the ones you love.
This Nutella Keto Skillet Cookie can serve 6-8 people depending on how generous you cut the slices (I aim for generous, always ????)
Each serving of this Nutella Keto Skillet cookie is around 6g of NET carbs. That's pretty awesome when it comes to carbs in Keto desserts. It's so worth it.
Before I go into the details of this Nutella Keto Skillet Cookie recipe, I want to share a personal story with you about my youngest daughter Zoë and our recent health scare.
April was a hard month for us mainly because of what happened with baby Zoë, and since she was very present during the shoot of this recipe, I figured this would be a great post to share her story.
If you are one of those people who doesn't give a crap about me or my personal life and just want this recipe, feel free to scroll down to the recipe. I hope you enjoy it and share it with everyone you know ????.
As for the rest of you, hold on tight, I'm about to share some craziness with ya'll.
Ok, so during April we were all sick. We kept taking turns with getting the cold and I had the flu for a few days so naturally, everyone in the house ended up getting sick.
Our 15-month-old, Zoë started getting a runny nose, which turned into a stuffed nose and then a fever.
She woke up one morning on fire and of course, I couldn't find the one thermometer we have in the house anywhere.
I gave her some Tylenol and Benadryl and thought nothing of it. Kids get sick all the time; she will get over it, is what I thought.
Well, a couple of days went by, and her fever was not going away, and she was getting worse. She started randomly vomiting, wouldn't eat anything and was super sluggish and just wanted to be held.
At that point, my husband suggested that I take her to Urgent Care. He is a worry wart. If anything happens, his response is to go to the hospital right away. I think that's dramatic. I am more like, who cares, it's not a big deal, "they will be ok" type of personality.
SO, of course, I brushed it off and told him she will get over it; but then she started vomiting everything I was giving her. I decided to take her to the nearest Urgent Care.
At this point, she also started developing a rash on her body. It was pink and bumpy and mostly around her legs and groin area. I took her in, and they checked her fever, it was at 104°. She didn't have, so they gave her some Tylenol and pretty much sent us on our way. They said the rash was probably a viral rash and would go away once the fever subsided.
"If her fever doesn't break in 24 hours, call your Dr." is what was told to me. So we went home, and the next day, her fever was still not gone, and the rash was getting worse. I called her Doctor, and they kept saying the same thing, "Give her Tylenol," "Give her fluids" "Call back in 24 hours".
Sunday morning, her fever was on and off, and she was utterly miserable. At this point, she wasn't eating much, didn't want to walk and to sleep most of the day. Not to mention, her eyes became bloodshot red, like she barely slept for days
My husband went to church in the morning, and I stayed home with the girls. He came back from church, went upstairs to check on her because she had woken up, grabbed her out of her crib, and went straight to Nationwide Children's' hospital in downtown Columbus.
"So dramatic." I thought. That would be the last time that I ever thought my husband was dramatic for taking our kid to the ER. If it wasn't for him, I don't even want to think of what could have happened. I am forever grateful for what my husband did that day.
A few hours later, he texted me to tell me that they were doing blood work to check if she had a disease, in particular, Kawasaki Disease.
Apparently, after analyzing her symptoms, they were led to believe that she may have Kawasaki. At this point her rash was terrible, fever was 104, she was vomiting, and her eyes were bloodshot red.
A couple of hours later, my husband sent me a text that confirmed the diagnosis; Zoë has Kawasaki Disease.
What is Kawasaki Disease?
Kawasaki disease causes inflammation in the walls of medium-sized arteries throughout the body. It primarily affects children. The inflammation tends to affect the coronary arteries, which supply blood to the heart muscle.
Kawasaki disease is sometimes called mucocutaneous lymph node syndrome because it also affects lymph nodes, skin, and the mucous membranes inside the mouth, nose, and throat.
Signs of Kawasaki disease, such as a high fever and peeling skin. -Per the Mayo Clinic
HOLY MOLY.
My world just flipped upside down. How can I 15-month-old baby get a disease like this? Like what in the world?? So many things were going through my head, but the number one question was, can this be treated and what are the side effects?
The answer to my question was yes, it can be treated, and yes, there can be some side effects. Kawasaki Disease may cause future heart issues. Luckily we caught it early enough (thank God for my husband) that there wasn't any significant damage to baby Zoë's heart.
That week was rough. Zoë was admitted on Sunday and spent three nights at the hospital. At this point, she was in stage 2 of the disease, and her skin started peeling, her eye was inflamed, and the rash was worse. Just thinking about it brings tears to my eyes.
They monitored her overnight on Sunday and didn't start the treatment until mid-day Monday which drove me crazy. I just wanted my baby to feel better already.
Finally, they gave her an IV Plasma drip for 13 consecutive hours, and she slowly started to get better. However, her fevers kept spiking, so they had to keep her longer than expected.
She was poked and pricked and messed with every 15-20 minutes. They had to sedate her to do an ECHO on her heart. Anytime anyone came into the room that was wearing yellow scrubs; she would freak out.
Finally, her fever started to go down and stay consistent, and they let us go home. Zoë slowly started to smile again, eat solid food and poop (yeah, that was a battle on its own). I had to add that part in there because any mom with a constipated kid will tell you how awful it is.
At home, it took a while for things to get back to normal. Zoë forgot how to walk during her hospital stay and was hesitant about walking and would fall over quite often for a few days. She was very clingy and would randomly scream like a crazy person.
However, the disease is "gone." Now it's all about monitoring her fevers and checking her heart. She had a follow-up ECHO last week, and she will have one again next month. She is taking baby aspirin for six weeks. Every year we will have to get her heart checked, and when she gets a fever, we will have to be extra cautious with her.
God is good. That is all I can say from this experience. I don't know why this happened but in my soul, I feel that God was speaking to me and this is what he was saying:
"Where do your priorities lie?" "What do you care about most in your life?"
I say this because ever since I started this blog, my priorities have been, well, this blog. I so eagerly want to be successful with it, share recipes, health advice and help people on their health journey; however, at what cost? Is it at the expense of neglecting my family and not being present?
This whole experience was such an eye-opener to me, and I had to stop and rethink my life.
NOTHING, and I mean nothing is more important than my family. Without them, none of this matters. That is the lesson I learned.
Thank you for reading baby Zoe's story. I hope that when you make this Nutella Keto Skillet Cookie, that it will make you think of baby Zoe, and that you will share it with your family and be thankful for them, for their health and all of the blessings in your life.
If you made this Nutella Stuffed Keto Skillet Cookie, please leave a review! The reviews really help me! Thank you!
More Keto Recipes to try:
This post may contain affiliate links in which if a purchase is made I receive a commission at no additional cost to you. Thank you for your support!
Summary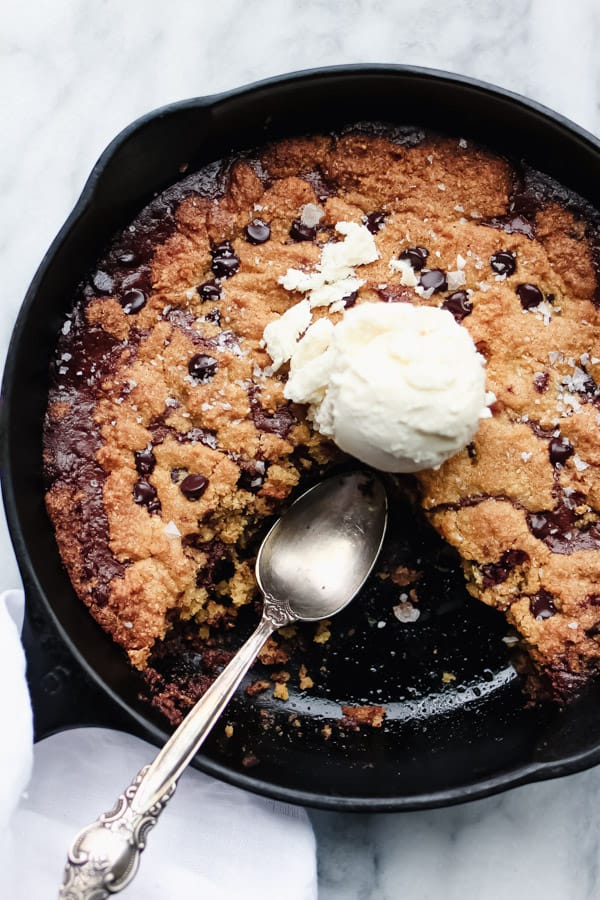 Recipe Name
Nutella Stuffed Keto Skillet Cookie
Author Name
Preparation Time
Cook Time
Average Rating





Based on 1 Review(s)