Keto Mississippi pot roast is a great set-it and forget-it meal that the whole family will enjoy!
If I had to share my favorite pieces of kitchen equipment, my slow cooker (crockpot) would be near the top of the list!
I use it multiple times a week in the fall and winter. I just love how I can just put all my ingredients in the dish, switch it on, and then just forget about it while I go about my day. Then come dinner time – a delicious meal is ready and waiting.
A slow cooker favorite in this household is Keto Mississippi Pot Roast. A Mississippi Pot Roast – also known as a pepperoncini roast, is a chuck roast seasoned with a packet of ranch seasoning mix, a packet of Au jus gravy, pepperoncini peppers, and a stick of butter.
When you're in the store, take care to read the ingredients on the ranch season and Au jus gravy. You'll want to skip ones that have added sugar or any other unnecessary additives.
If you're worried about the pepperoncini peppers making this dish too spicy – don't fret. What actually happens is that the pepperoncini brine gently tenderizes the meat, without tasting spicy. So you get the fall-apart meat and delicious flavors without it being hot.
what is Mississippi Pot Roast?
If you're looking for a comfort food that will satisfy your cravings and leave you wanting more, then you might want to try the Mississippi roast.
This dish has gained popularity over the years and has become a staple in many households, especially in the southern United States.
So, what is Mississippi roast, and why is it so delicious?
Mississippi roast is a slow-cooked beef dish that is tender, juicy, and bursting with flavor. It typically consists of a beef chuck roast that is seasoned with a combination of dry ranch dressing mix, au jus gravy mix, butter, and pepperoncini peppers.
The meat is then cooked low and slow until it is fork-tender and falls apart.
The origin of Mississippi roast is a bit of a mystery, but it is believed to have originated in Mississippi, hence the name.
It's a simple recipe that has been passed down from generation to generation, and it has become a favorite in many households.
The recipe has also been modified and adapted to suit different tastes and preferences.
One of the reasons why Mississippi roast is so popular is because it is incredibly easy to make. You only need a few ingredients, and the preparation is straightforward.
All you need to do is combine the seasonings, rub them on the beef, add the butter and peppers, and let it cook for several hours.
The result is a delicious and satisfying meal that will have your taste buds singing.
Another reason why Mississippi roast is so delicious is because of the combination of flavors.
The ranch dressing mix adds a savory, herbaceous flavor to the beef, while the au jus gravy mix adds a rich, meaty flavor.
The butter adds richness and depth, and the pepperoncini peppers add a bit of tang and heat.
The result is a mouth-watering combination of flavors that will leave you wanting more.
Mississippi roast is also versatile and can be served in a variety of ways.
You can serve it as a main dish with mashed potatoes and green beans, or you can shred the beef and use it as a filling for sandwiches or tacos.
You can also use the leftover beef to make a delicious beef stew or chili.
Is Mississippi Roast Keto?
The keto diet has become increasingly popular in recent years due to its many health benefits. One of the challenges of following a keto diet is finding delicious and satisfying meals that fit within its restrictions.
One popular dish that many people wonder about when it comes to keto-friendliness is the Mississippi roast. So, is Mississippi roast keto? Let's find out.
The short answer is that Mississippi roast can be keto-friendly, but it depends on how you prepare it.
The traditional Mississippi roast recipe includes a seasoning packet that may contain ingredients like sugar, cornstarch, or other additives that are not keto-friendly. However, there are many ways to modify the recipe to make it keto-friendly.
For example, you can make your own seasoning mix using keto-friendly herbs and spices like garlic powder, onion powder, dried thyme, and dried parsley.
You can also use a low-carb, gluten-free gravy mix or make your own using beef broth and xanthan gum as a thickener.
Another concern with Mississippi roast is the pepperoncini peppers. While they are low in carbs, they do contain a small amount of sugar. However, the amount used in the recipe is usually small, so it should not have a significant impact on your carb intake.
If you are concerned about the sugar content, you can reduce the number of peppers or omit them entirely.
When it comes to meat, beef chuck roast is a keto-friendly cut of meat. It's high in fat and protein, making it an excellent choice for the keto diet.
Just be sure to trim any excess fat from the meat before cooking.
Overall, Mississippi roast can be a keto-friendly dish with a few modifications.
By making your own seasoning mix and using a low-carb gravy, you can enjoy this delicious comfort food while staying within your keto diet's restrictions.
Chuck roast is ideal for the slow cooker, but if you can't find it, bottom round, rump roast, or even a pork shoulder will all do well as they take well too long, slow heating, and create their own juices for flavorful gravies.
Serve this keto Mississippi pot roast on a bed of cauliflower mash or roasted radishes, with a serving of low-carb veggies on the side.
And the next day, you can use the leftovers to make sandwiches on low-carb bread or in lettuce wraps. Or eat it cold topped on a green salad. There are so many ways to use up this roast!
WHAT IS THE BEST CUT OF BEEF FOR A POT ROAST?
The best cut of meat to use for keto Mississippi roast is beef chuck roast.
This cut of meat comes from the shoulder area of the cow and is typically well-marbled, meaning it has a good amount of fat throughout the meat.
This fat content is perfect for the keto diet, as it provides the necessary fat content for the diet and helps keep the meat juicy and tender.
Beef chuck roast is also an affordable cut of meat, making it an ideal choice for meal planning or feeding a crowd.
It's also readily available at most grocery stores and can be found in a variety of sizes, depending on how much meat you need for your recipe.
When choosing beef chuck roast for your keto Mississippi roast, look for a roast that has some marbling, but not too much.
You want enough fat to keep the meat tender and juicy, but not so much that the meat is overly fatty. A three to four-pound roast is typically the perfect size for this recipe, but you can adjust the size based on your needs.
How to Make Keto Mississippi POT Roast
Step 1- Get all of the ingredients ready
Step 2- Brown the KETO roast on both sides for 5 minutes
Step 3- Transfer to the slow cooker. Add the rest of the ingredients and cook on high for 6 minutes until fork tender.
Can I make it in the instant pot?
Traditionally, it is made in a slow cooker, but what if you don't have one or want to make it more quickly? Here's how to make keto Mississippi roast in the Instant Pot instead of the crockpot.
Instructions:
Turn on the Instant Pot and select the "Saute" function. Add the butter to the pot and wait until it melts.
Add the beef chuck roast to the pot and sear it on both sides until it's browned.
Add the beef broth to the pot and use a wooden spoon to scrape any browned bits from the bottom of the pot.
Sprinkle the ranch seasoning and au jus gravy mix over the top of the roast.
Add the pepperoncini peppers to the pot.
Close the Instant Pot lid and set the valve to "Sealing." Select the "Manual" or "Pressure Cook" function and set the time for 60-80 minutes, depending on the size of the roast.
After the cooking time is complete, allow the Instant Pot to naturally release pressure for 10-15 minutes.
Carefully open the lid and use tongs to remove the roast from the pot. Shred the meat with two forks.
If desired, you can use an immersion blender to blend the remaining liquid in the pot to create a thicker gravy.
Serve the shredded meat with the gravy on top.
Tips:
Make sure to use low-sodium beef broth and au jus gravy mix to keep the sodium levels in check.
If you want to add more flavor, you can saute some garlic and onions in the butter before adding the roast to the pot.
If you prefer a spicier flavor, you can add more pepperoncini peppers or even some diced jalapenos.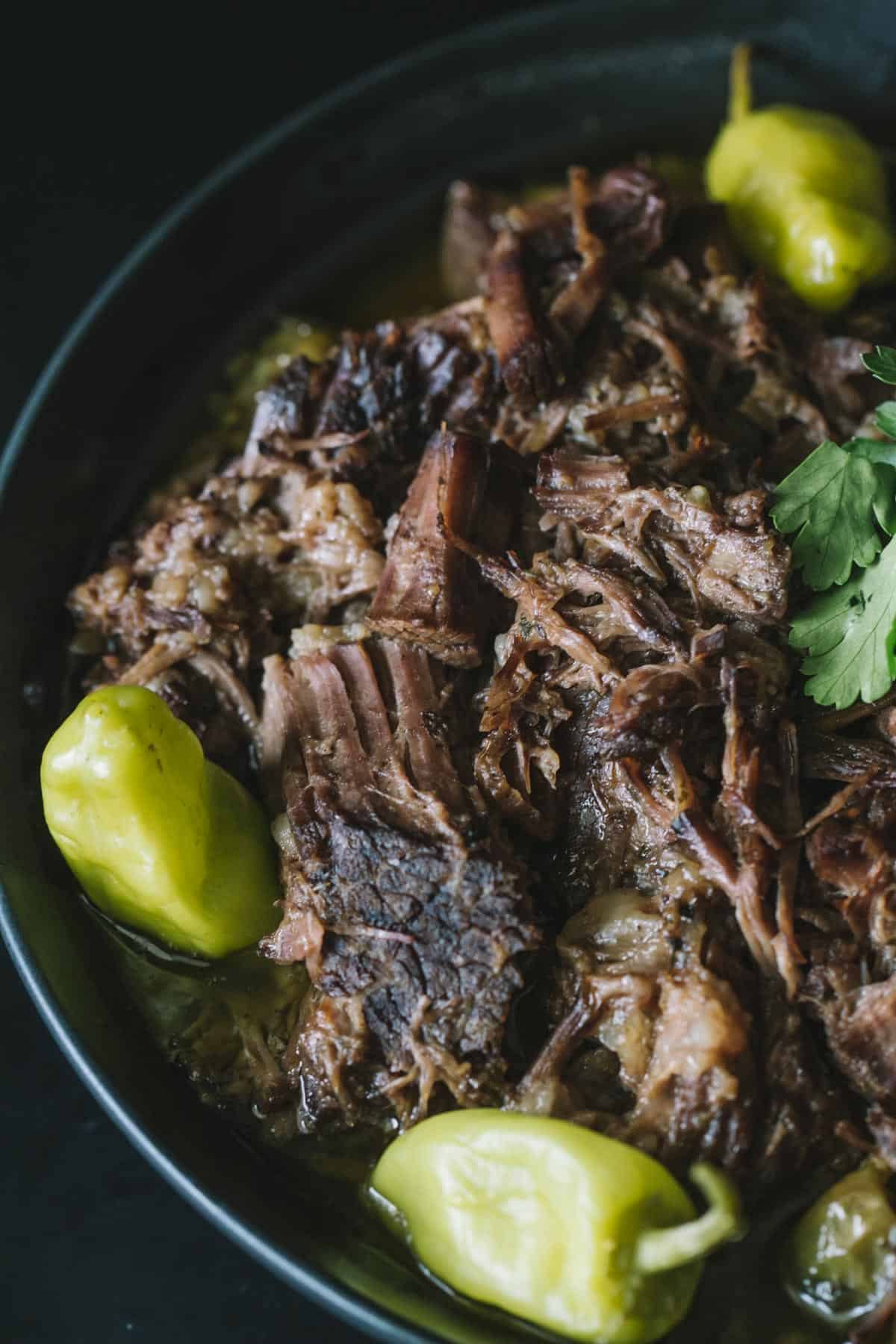 How to Store, Reheat, and Freeze Keto Mississippi Pot Roast
Keto Mississippi pot roast is a delicious and satisfying meal that's perfect for the keto diet. It's easy to make and perfect for meal prep, but what do you do with the leftovers?
Storing Keto Mississippi Pot Roast
If you have leftovers, you can store keto Mississippi pot roast in an airtight container in the refrigerator for up to four days.
Before storing, make sure the meat has cooled to room temperature. You can also store the pot roast in the gravy or separate the meat and gravy if you prefer.
Reheating Keto Mississippi Pot Roast
To reheat keto Mississippi pot roast, you can either use a microwave or oven.
If using a microwave, transfer the pot roast and gravy to a microwave-safe dish and heat in 30-second intervals until heated through.
Stir the pot roast and gravy after each interval to ensure even heating.
If using an oven, preheat the oven to 350°F. Transfer the pot roast and gravy to an oven-safe dish and cover with foil.
Heat in the oven for 10-15 minutes or until heated through. Stir the pot roast and gravy occasionally to ensure even heating.
Freezing Keto Mississippi Pot Roast
If you want to freeze your keto Mississippi pot roast, you can store it in an airtight container or freezer bag for up to three months.
Before freezing, make sure the pot roast has cooled to room temperature.
You can also freeze the pot roast and gravy separately or together, depending on your preference.
To reheat frozen keto Mississippi pot roast, thaw it in the refrigerator overnight. Once thawed, you can reheat it using the microwave or oven methods mentioned above.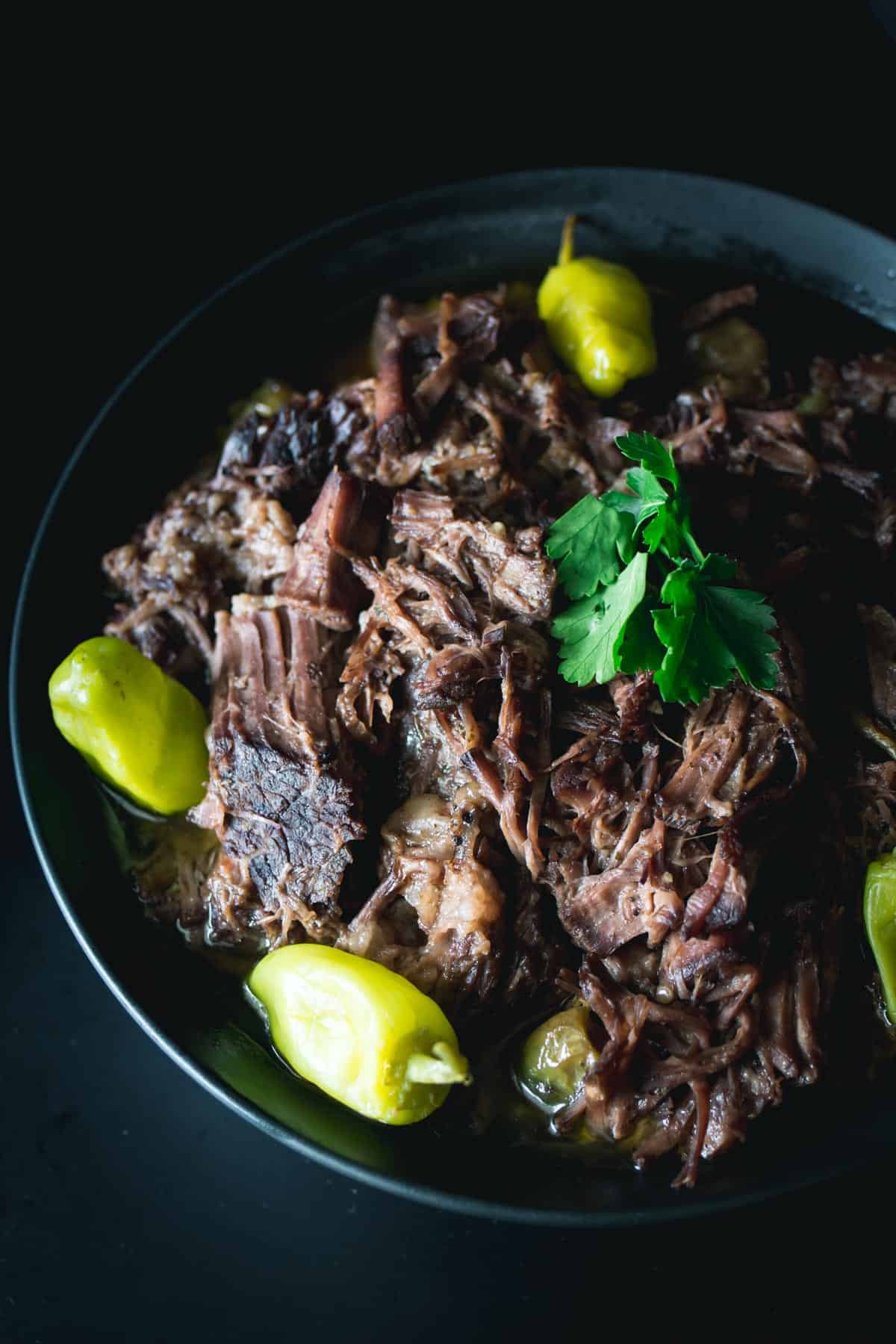 what can I serve with this keto pot roast?
Roasted Vegetables
Roasted vegetables are an easy and delicious side dish that pairs well with Mississippi pot roast.
Some great options include roasted Brussels sprouts, asparagus, or cauliflower. Simply toss your vegetables in olive oil, season with salt, pepper, and any other herbs or spices you like, and roast in the oven until tender.
Creamed Spinach
Creamed spinach is a rich and creamy side dish that's low in carbs and high in flavor. To make this dish, sauté spinach in butter and garlic until wilted, then add heavy cream and cream cheese. Stir until the cream cheese is melted and the sauce is thick and creamy.
Cauliflower Mash
Cauliflower mash is a keto-friendly alternative to mashed potatoes that's just as creamy and delicious.
Simply boil cauliflower florets until tender, then mash them with butter, heavy cream, and any herbs or spices you like. It's a comforting and satisfying side dish that pairs perfectly with Mississippi pot roast.
Green Salad
A simple green salad is a refreshing and low-carb side dish that's easy to make and pairs well with any main dish.
Use a mix of greens, such as spinach, arugula, or kale, and add some sliced cucumber, cherry tomatoes, and a homemade vinaigrette for a flavorful and healthy side.
Roasted Mushrooms
Roasted mushrooms are another simple and delicious side dish that pairs well with Mississippi pot roast.
Toss sliced mushrooms in olive oil, season with salt, pepper, and any herbs or spices you like, and roast in the oven until tender and golden brown.
More Keto Recipes to try: