There is cheesecake, and there is Lavender Cheesecake.
There are so many wonderful, delicious cheesecake recipes out there. So many different flavors and styles. And you know what? That makes me happy.
I adore cheesecake. It was my dessert of choice when out at restaurants, before eating a low-carb diet.
I never used to make it, because cheesecake does involve a fair bit of effort (especially baked cheesecake), and it was always really easy to be able to buy it.
Now that my family follows a low-carb way of eating, it was time to learn how to make a healthy, low-carb version of my favorite treat.
How To Make Keto Cheesecake
Taking a traditional cheesecake and making it keto involves changing up a few key ingredients for the sweetener and the crust. The method will stay the same. And the method is an important part of making delicious baked cheesecake.
For the buttery crust, I use a combination of ground pecans, almond flour, and coconut flour. The sweetness comes from my favorite sweetener – Lakanto Monk Fruit Sweetener.
I don't recommend using a liquid sweetener as it will change the wet/dry ratio of the crust and filling. When it comes to flour replacements, you can use almond meals if that is what you have on hand, but the texture won't be as nice as with almond flour.
This Keto Lavender Cheesecake is just as rich and tasty as its sugar- and carb-filled counterparts!
If you have never cooked with lavender – you are in for a treat! The delicate flavor is unique and sophisticated.
Take care to not add too much though – you are going for a hint of lavender, rather than it being an obvious flavor.
For this keto lavender cheesecake, I used dried lavender buds. When using lavender buds in your cooking, purchase ones that are specifically culinary grade.
Commercial lavender growers will often spray their plants with pesticides so it is not recommended to use lavender from nurseries, florists, or garden stores.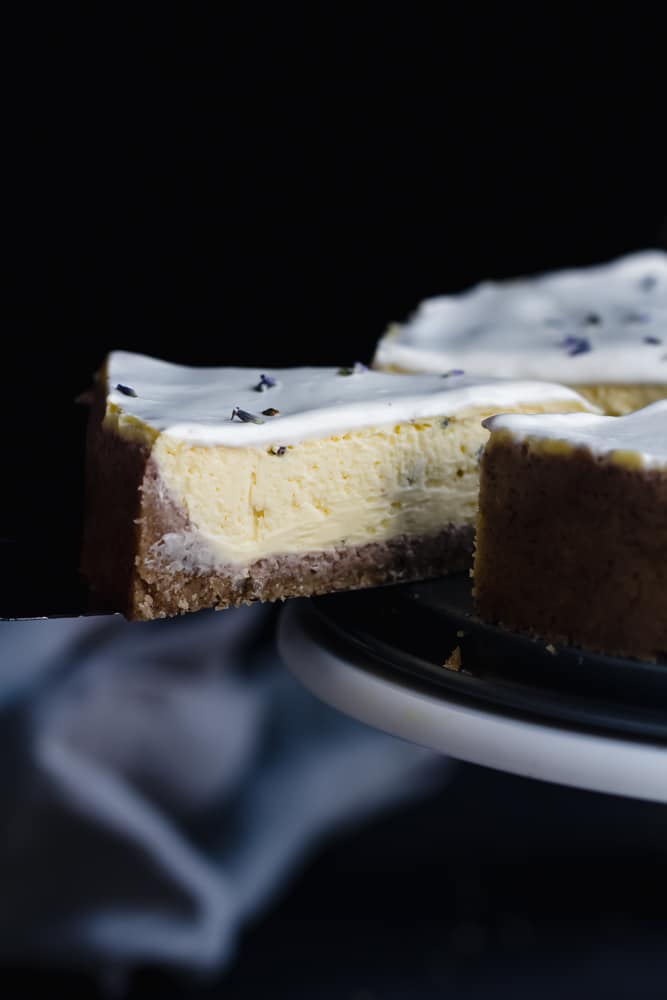 More Keto Recipes to try:
Have you heard about Clean Keto Carb Cycling? Check out my blog about What is Clean Keto Carb Cycling and learn if this way of eating is right for you.