Summer isn't complete without my favorite vegetarian dish; Keto Zoodles with Walnut Pesto. Easy and delicious!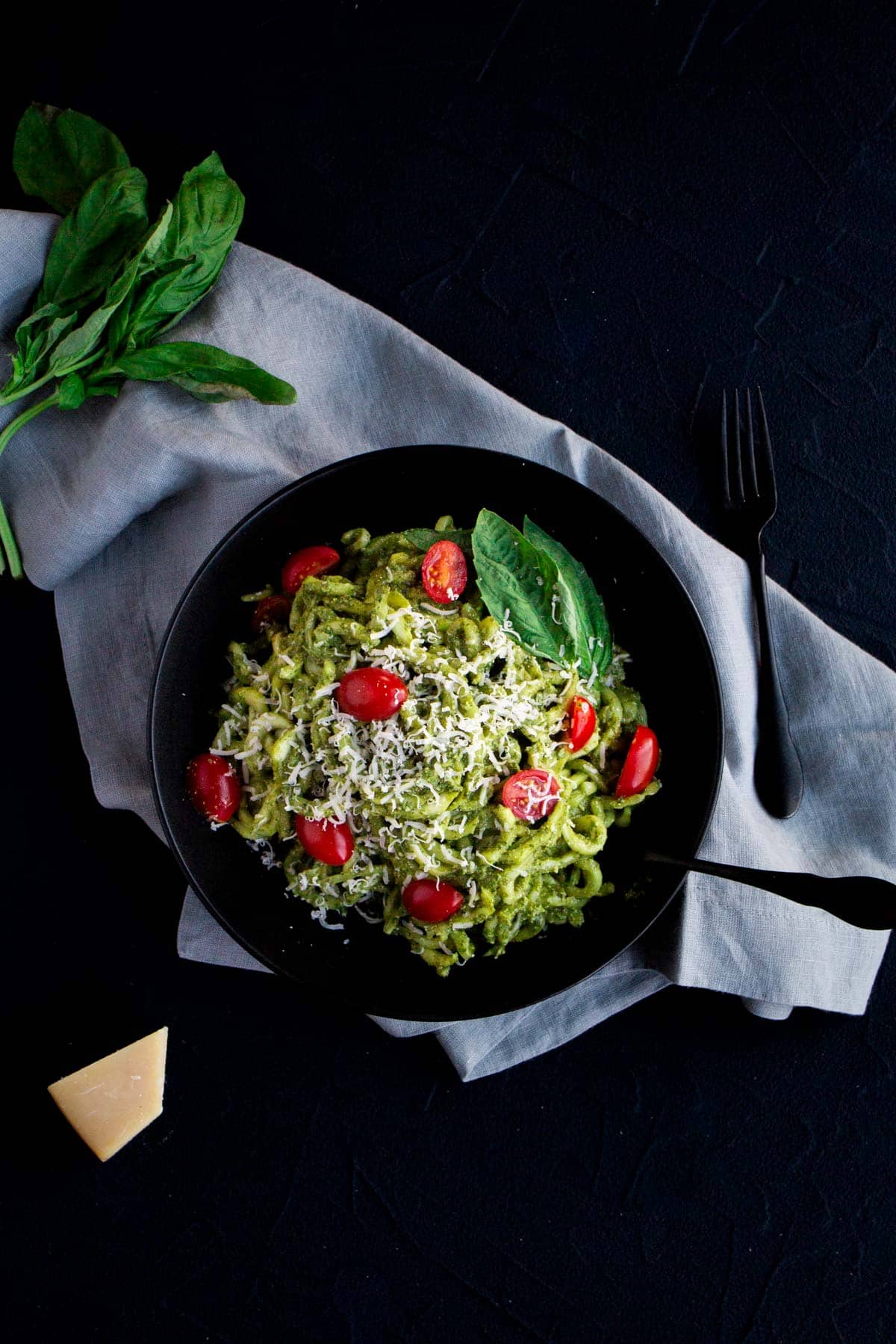 If you are looking for a quick and delicious meal that also happens to be Keto, low-carb and vegetarian, look no further! This Keto Zoodles with Walnut Pesto is one of my favorite dishes, and I started making them after I got married even before I began a Ketogenic diet. Zoodles were becoming trendy, and I was intrigued!
It took me a while to learn the tips and tricks to making zoodles the right way. Because Zucchini has so much water, the zoodles can quickly become mushy fast but don't worry, and I'll share all of my secrets!!
As far as the pesto goes, you don't have to pay $20 for 1/2 cup of Pine Nuts which is what traditional pesto is made from. You can use almonds or even walnuts, and it will be just as yummy!!
Although this dish is vegetarian, feel free to add in some grilled chicken for a high-protein meal. Throw a few thighs on the grill, slice them up and toss them in. So good!
Each serving of Zoodles and Walnut Pesto is 5g of NET carbs.
What are Zoodles?
You may have heard the term before, or perhaps you haven't but Zoodles are zucchini noodles. You do need a special tool to make them. Here are the 3 different ways you can make Zoodles:
This is the cheapest used to make Zoodles. It's also the hardest way to make them (in my opinion) and the most inconsistent when it comes to the size of the noodles. Not to mention, if you are making a lot of zoodles, your hand will probably start hurting eventually.
This is the most popular way to make zoodles because it's a stand-alone gadget with many settings and full control. It is a pain in the butt to the store because it's not the smallest kitchen gadget. However, everything fits back in the box, and it's easy to use. I used a spiralizer for years before I upgraded to the Kitchen Aid attachment.
This is the best of the best when it comes to making zoodles if you have a Kitchen Aid mixer. All you do is attach the device to your mixer, pierce the zucchini in and turn on the mixer to a low speed and it does the work for you! So easy and consistent.
How do you make Zoodles not soggy?
This is the million-dollar question, my friend. For years, I made Zoodles, and they ended up a pile of mush before I even got to add the sauce. It was so frustrating and such a waste. I've developed some tricks to make the crispiest, non-soggy Zoodles, so pay attention to these steps and follow them to a T to make sure you get the best out of this recipe!
Step 1-
Buy the firmest Zucchini.
Look for Zuccchni that are fresh and firm, that don't look like they have gone through world war 2, and that doesn't have a lot of bruises and dents in them.
Step 2-
Zoodle the zucchinis onto a large kitchen towel.
This will make the next steps easier. The key to crisp Zoodles is to remove as much water from them as possible. If you make them straight on the kitchen towel, you can spread them out and let them soak.
Step 3-
Sprinkle the zoodles with a little salt.
Not too much but not too little. 1/2 tsp of salt for about 3 zucchinis is good.
Step 4-
Mix the salt into the zoodles and spread them out evenly on the towel to soak.
Make sure you don't pile the zoodles on top of each other. You want to give them room to "sweat out" excess water.
Step 5-
Lay paper towels on top of the zoodles and squeeze out some of the water.
As you are prepping your sauce, go back to the zoodles and occasionally squeeze out some water with paper towels.
Step 6-
Using the kitchen towel, roll the zoodles in it and twist out the excess water over a sink.
Try to make the towel as tight as possible and really squeeze out as much water out as you can.
When storing Zoodles, put them in an airtight container in the refrigerator.
If you're looking for more zoodle recipes, check out my Clean Keto Zoodles with Meatballs and Zoodles with Turkey Bolognese recipe. They are also keto-friendly recipes and easy to make.
More Keto Recipes to try: