The hottest trend on Tik Tok right now is this Keto Fried Pickle Chaffle, and it doesn't disappoint.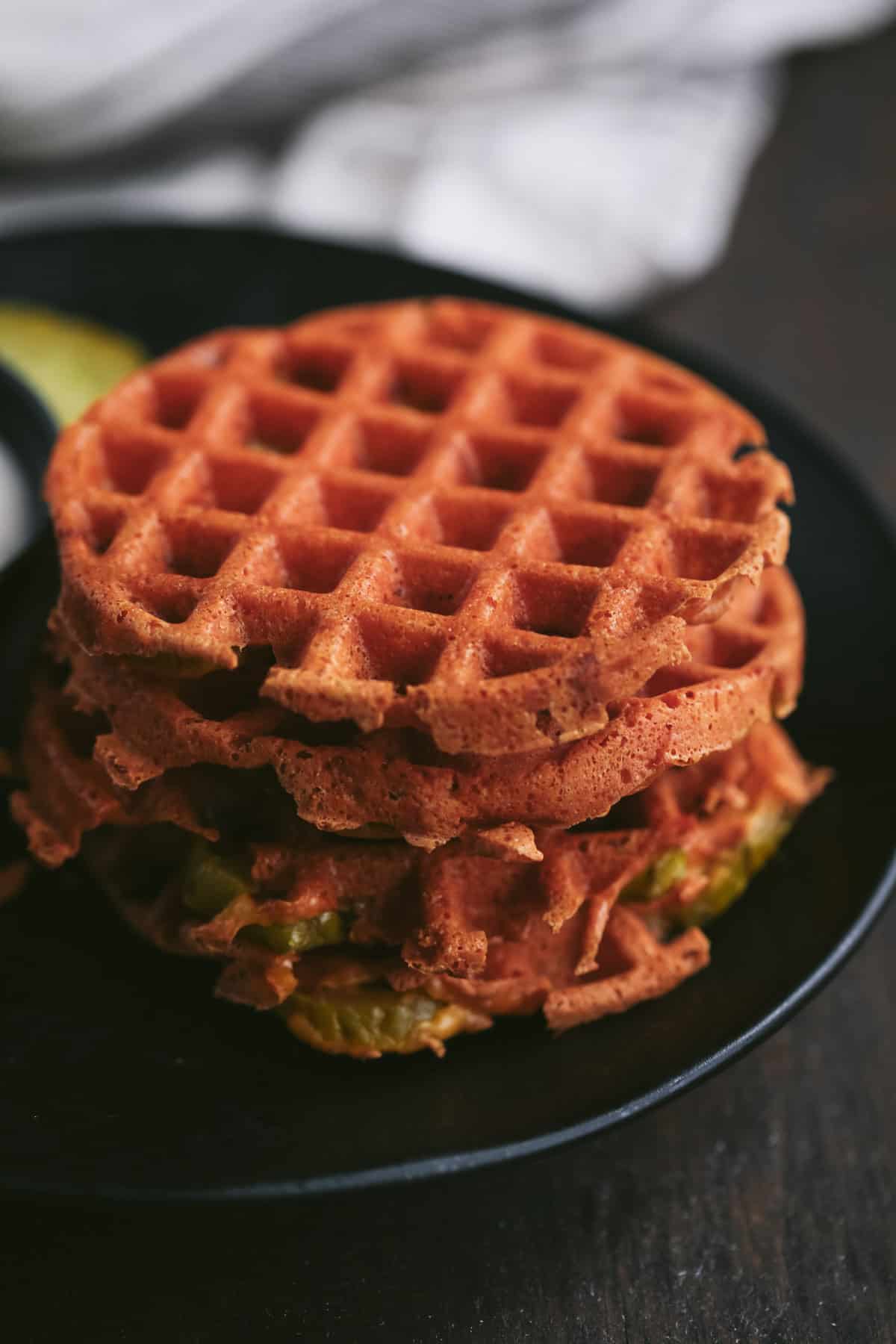 So, I caved and got a Tik Tok. I know, I know, I'm too old for that crap. But, I figured if I'm going to be using Instagram Reels, I might as well get on Tik Tok and repurpose content.
That is what smart online business owners do. Right?
Anyway, if you are on Tik Tok, go follow me HERE. Also, if you do use the platform you might have seen the Keto Fried Pickle trend.
I saw it and I had to try it.
Now mind you, I keep my eating pretty Clean Keto, and this recipe is NOT Clean Keto, however, once in a while, it's worth experiencing some bloat and swelling from dairy.
At Least it is for me! It's not something I would eat every day but my husband loves pickles (and cheese) so I had to try it.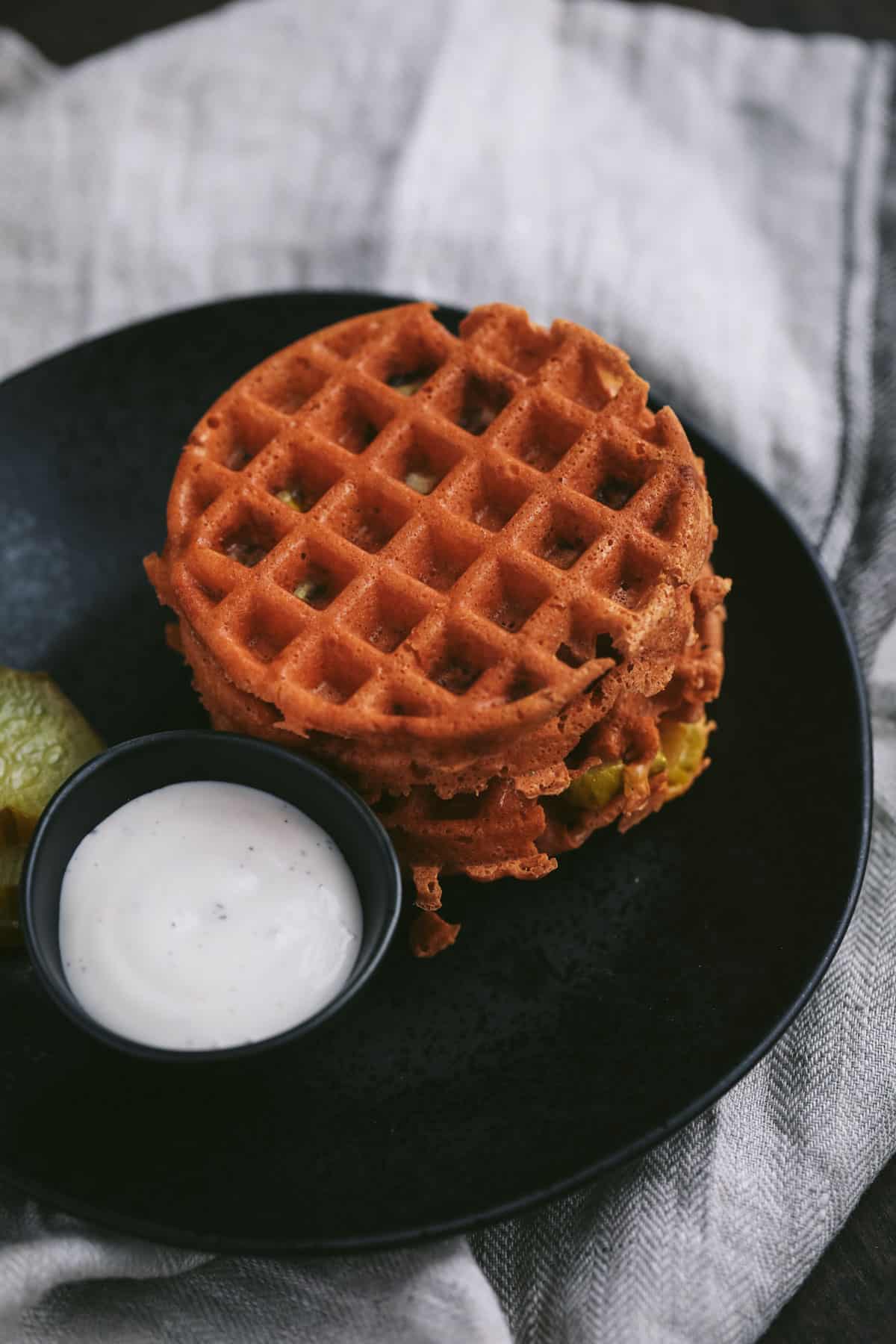 What is a Keto Fried Pickle Chaffle?
So, what is a Fried Pickle Chaffle anyway? Try saying that ten times fast.
It's a chaffle, which is a cheese waffle with pickles in the middle.
Someone on the internet created a Chaffle which is egg and cheese that you put into your waffle maker and walla… you have a Chaffle!
Well, this is like that, minus the egg, but with pickles!
How many carbs does a Keto Fried Pickle Chaffle have?
The carb content is going to depend on A. What type of Cheese do you use B. What kind of pickles do you use?
For cheese, I used cheddar and regular dill pickles which makes this fried pickle chaffle a total of 5g of carbs.
When it comes to buying pickles, make sure you read the ingredients labels and don't buy anything that has added sugar in it. That will take the carbs up.
What kind of waffle maker do I need to make a Keto Fried Pickle Chaffle?
A Mini Dash is going to work the best. I tried to make these with my normal size waffle maker and it did not turn out.
I've seen people use their normal-size waffle makers that were non-stick, but they kept the ingredients in the middle of the waffle maker.
You can try it, but I think it's best to buy this Mini Dash off of Amazon and save yourself the frustration.
How do I make a Keto Fried Pickle Chaffle?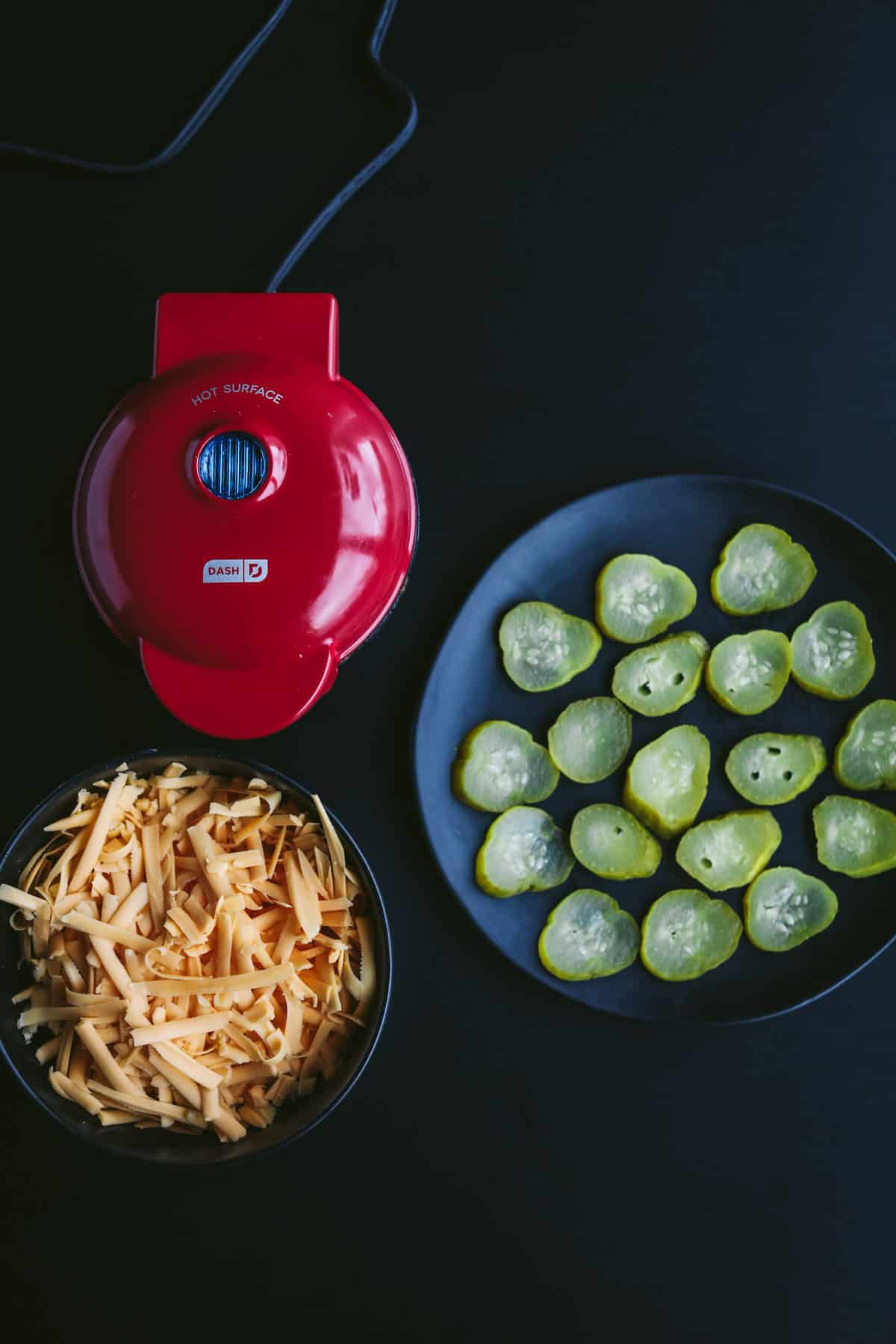 Ok, pay attention year, because I messed this up and wasted almost a pound of cheese because of it.
1. First, you need to use a Mini Waffle Maker. As I mentioned earlier, I tried using my husband's grandmother's hand-me-down waffle maker which is a regular size and it did not work out well.
I had to fork over the $ and buy a Mini Dash. It was pretty cheap. Just do it.
2. Get your pickles as dry as possible. Slice them onto a plate with paper towels and press down with another layer of paper towels. This will help the chaffle crisp up quicker and not get soggy.
3. Get the mini waffle maker really hot.
4. Spray it with nonstick cooking spray.
5. Then, add a layer of shredded cheese. About 2-3 tbsp on the bottom part of the waffle maker.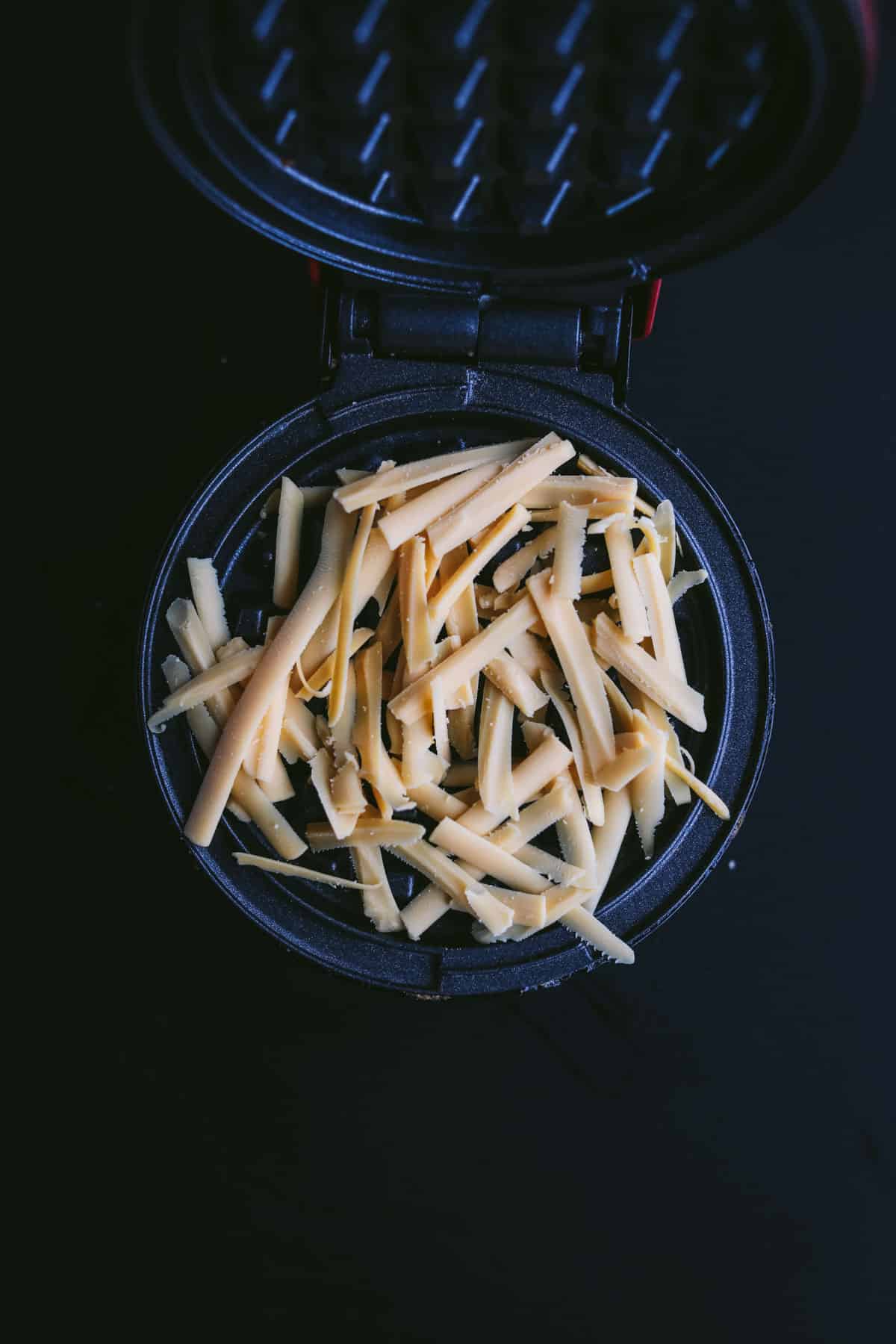 Add about 3 pickles on top of the shredded cheese and then another 2-3 tbsp of cheese on top of that.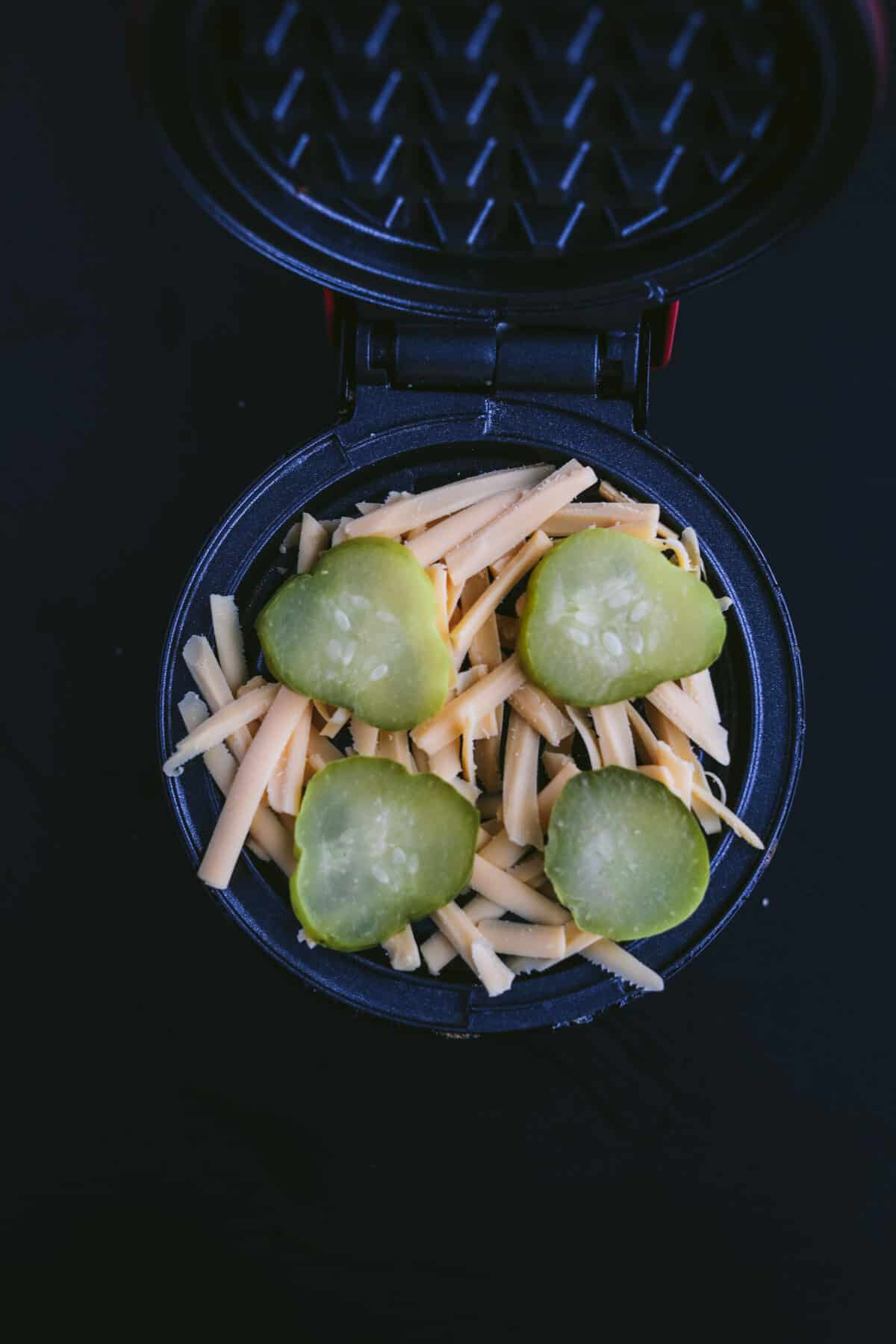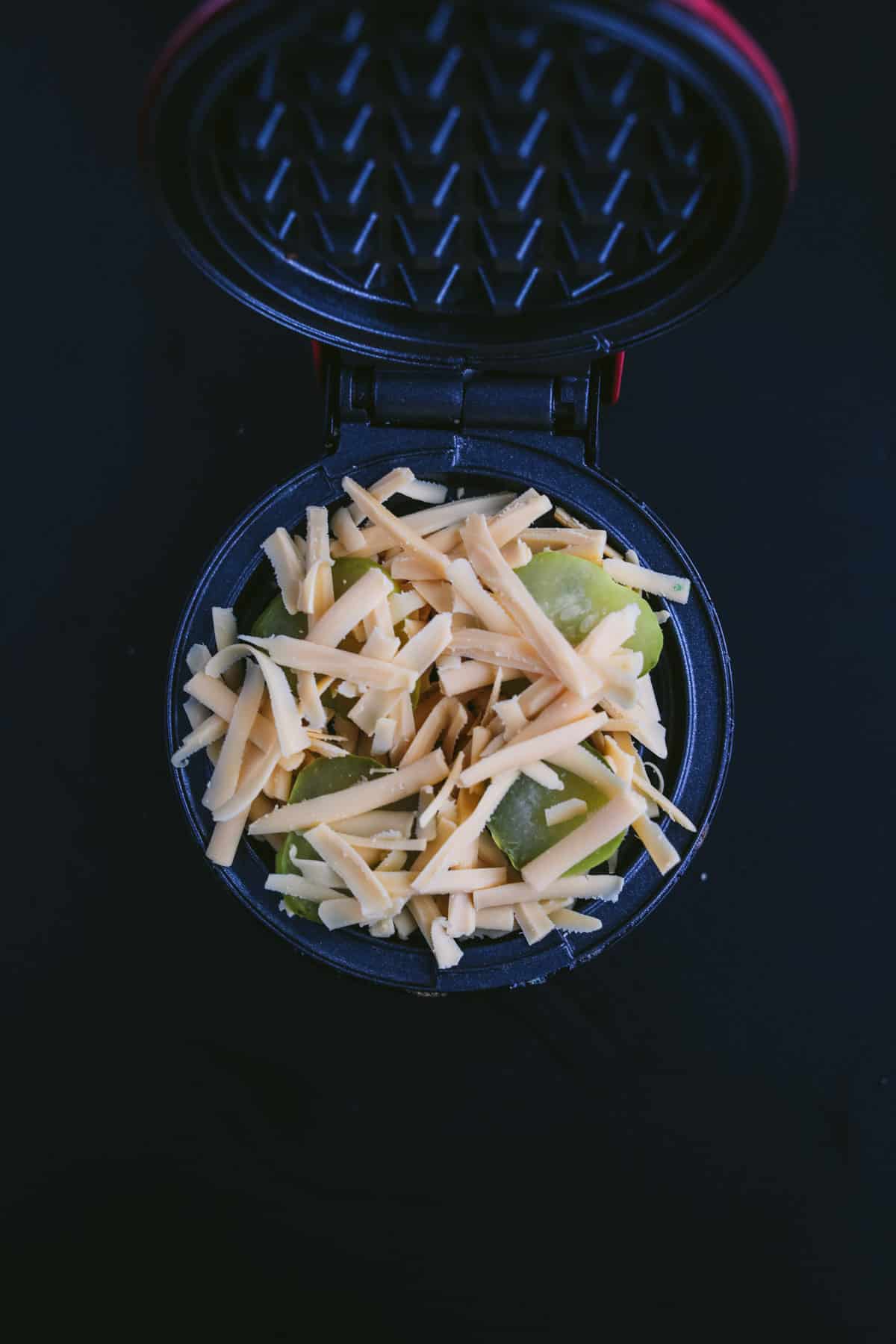 After that, close the waffle maker and do not open it for at least 2-3 minutes.
DON'T DO IT!
If you open it too soon, it will ruin the cheese. On the other hand, if you leave it for too long, it will burn the cheese.
This is all about trial and error here. It took me about 10 of these to get it right. I am giving you directions so you can get it right on your first try.
You're welcome 🙂
After you open it, turn off the waffle maker and let it form. Then, using a butter knife, you can easily peel it off and retain the pretty waffle form.
What ingredients do I need to make a Keto Fried Pickle Chaffle?
You'll need some good-quality shredded cheese. Cheddar or Pepper Jack works great.
Pickles. Dill is fine. Just avoid added sugar.
You can also add some banana peppers to your chaffle if you would like.
If you want something to dip it in, the ranch is the best.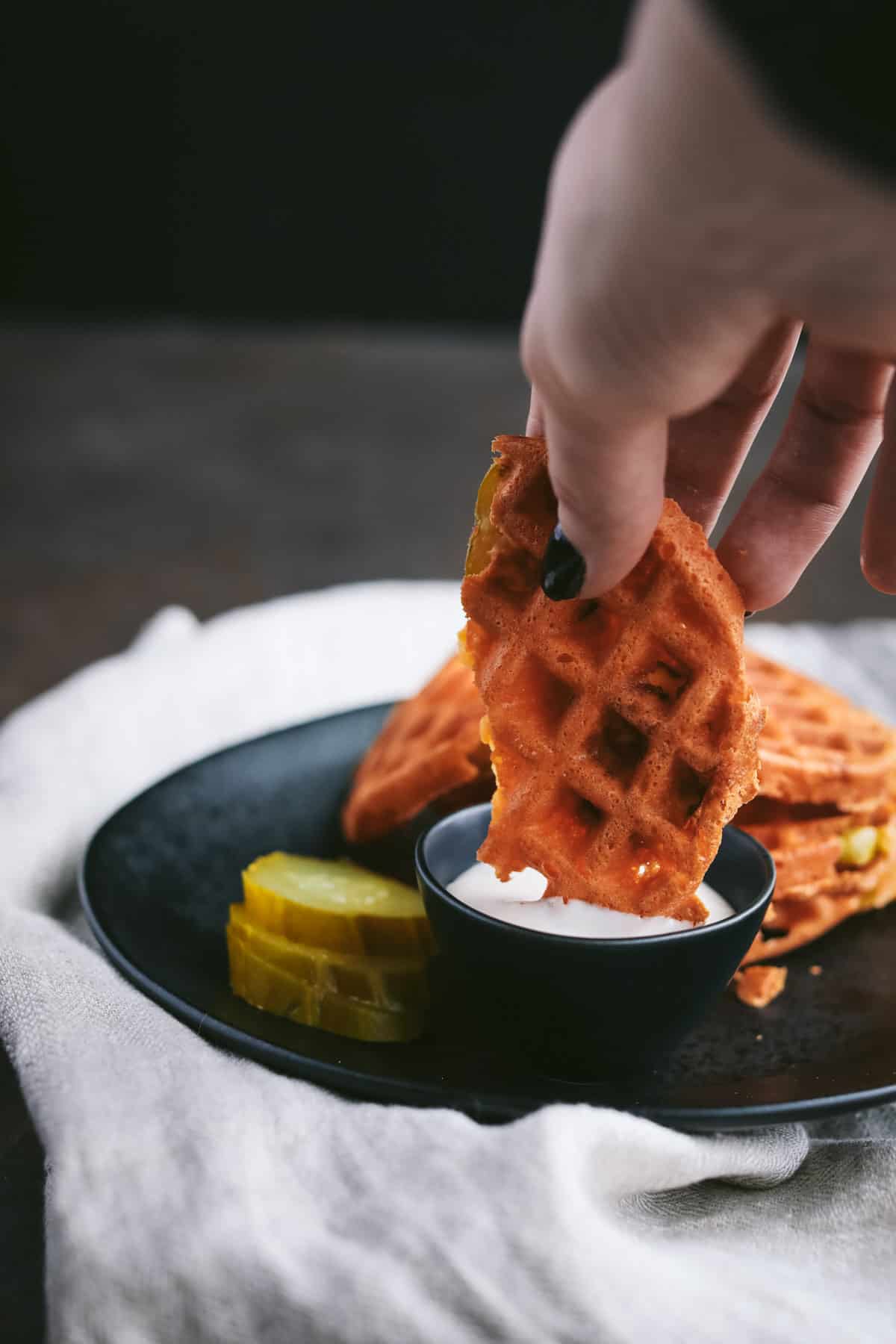 What kind of pickles is the best for Pickle Chaffle?
I like dill pickles but you can use any pickles that you prefer.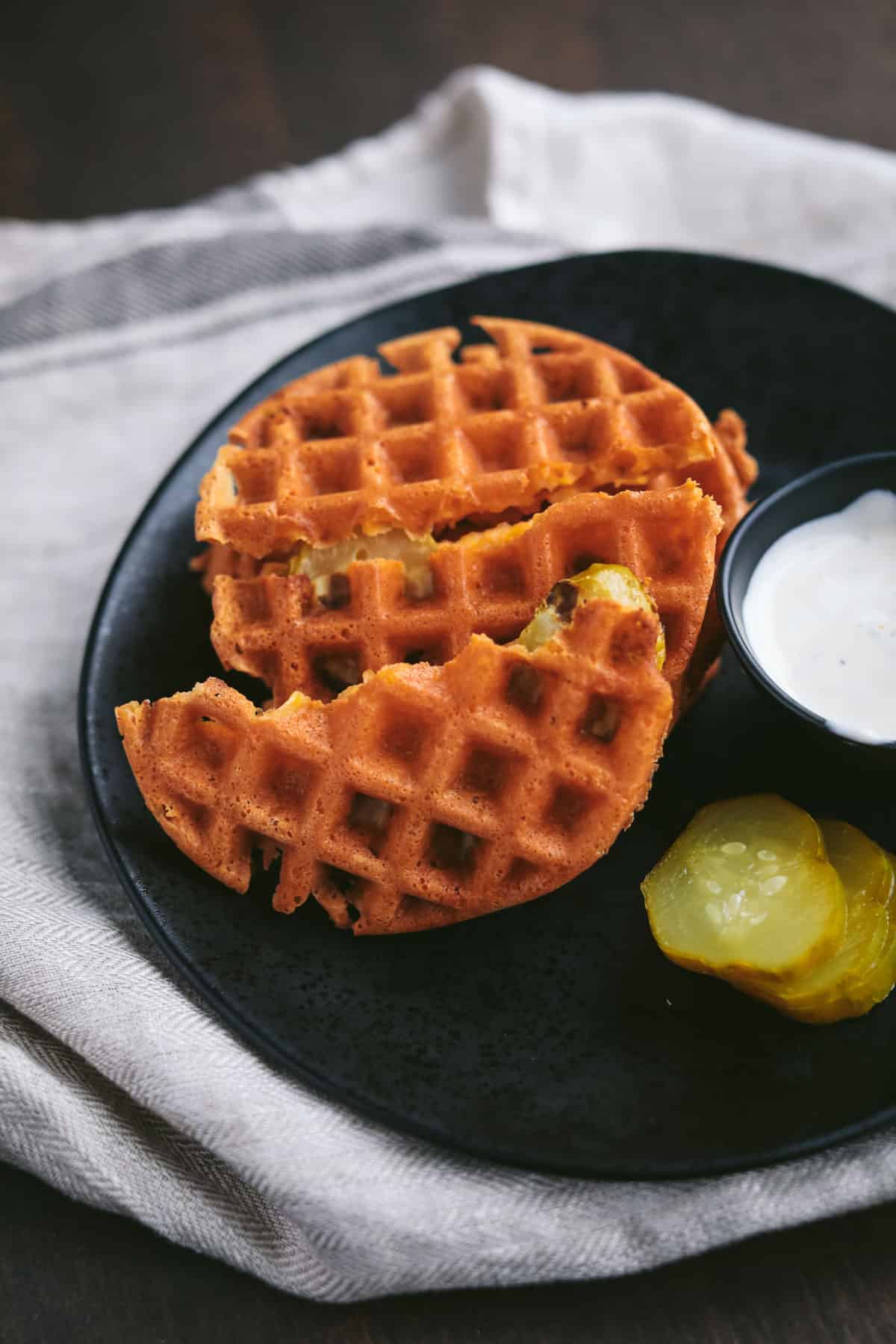 Can I freeze these Fried Pickle Chaffles?
I think these are best eaten fresh. I let a few sit out for a bit after I made them and they weren't that great.
I would not recommend freezing them. You could try and pop them back in the air fryer if you have one. Let me know how that works out!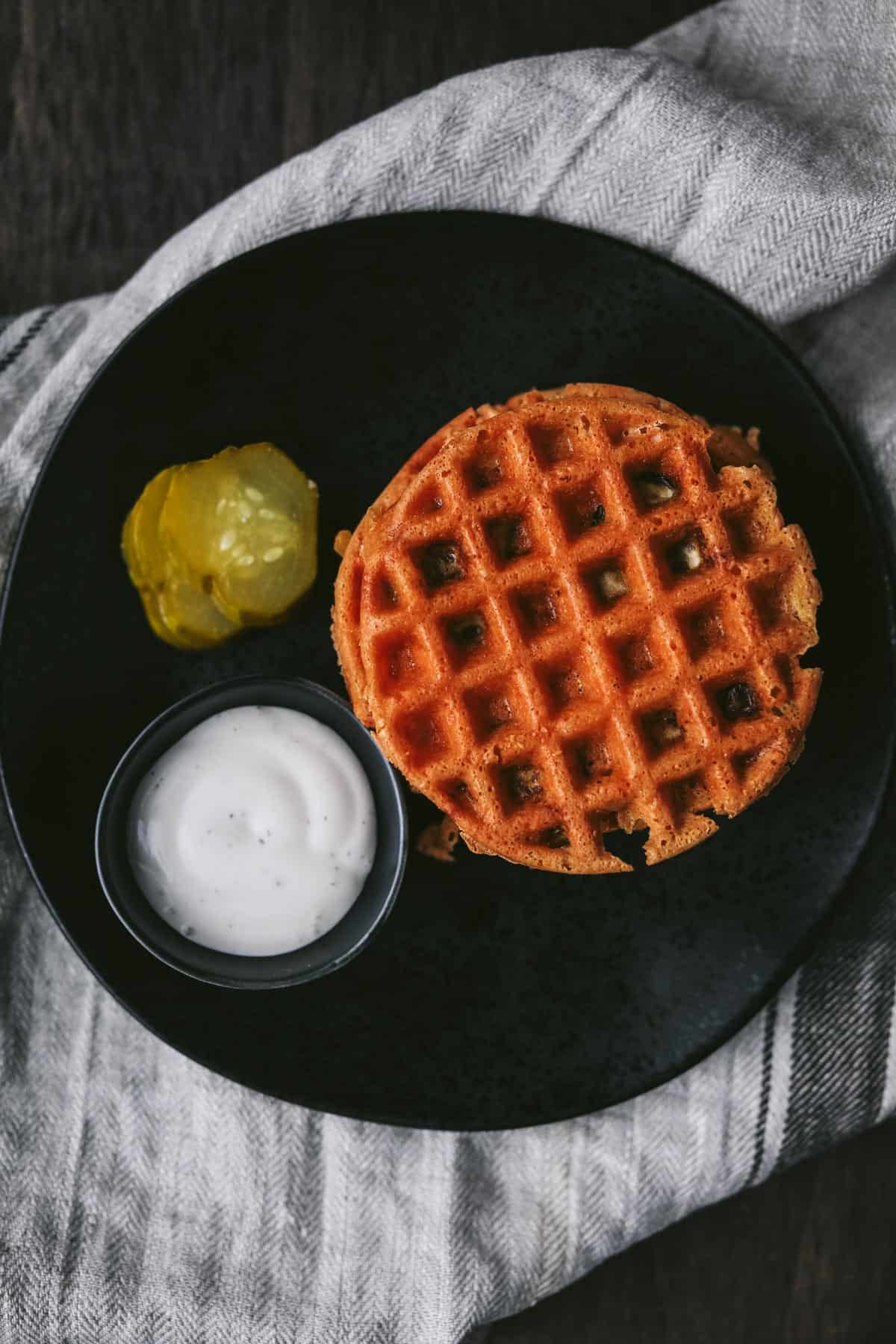 If you are looking for more great keto snacks, check them out here!
More Keto Recipes to try: